Karen Kaz Lucas is the revolutionary brainchild behind Africa's best-known sex positive podcast, The Spread. Three years in, the 52 podcast episodes, covering a range of diverse topics including: The Male-Female Pleasure Gap, Sex positive parenting, LGBTQIA+ issues, Kink, Reproductive Rights, and Porn vs. Reality, has listeners ranging from 6,000 to 21,000 and episode on SoundCloud.
Recently, The Spread had its first major event TheSpreadFest, a day-long event attracting over 600 people with diverse panels, workshops and more. It's been hailed as a truly safe and inclusive space for people of all sexual identities. Okayafrica contributor, Ciku Kimeria speaks to The Spread creator Kaz on her journey to decolonize sexuality, her motivation, and her hopes for the continent relating to matters of sex and sexuality.
Read the conversation below.
Karen Kaz LucasImage courtesy of 'The Spread'
What made you start The Spread podcast?

It was to address the key gaps in discussions around sex and sexuality and to create a safe space to discuss them. Younger people were either learning about sex from porn or on the flip side from a religious standpoint or the education system, where the focus is on the risks of engaging in sex (teen pregnancy, STIs etc). As such they were either getting information from a fear-based system, shame-based system or porn that has very little to do with real life sexual situations and intimacy. I wanted to create a safe space where people could talk about all issues related to sexuality but in an open, accepting and enlightening way. For me, this is an informal form of sex education that allows people to explore their sexuality from an unbiased perspective—no judgement, no shaming.
What's the reception been like so far?
The reception has been overwhelmingly positive. I had no idea that the podcast would grow and be as successful as it is now. People are hungry to meet similar people and have discussions without judgement. Of course, there are also people who react negatively to my work and say that this is a result of "Western influence." To those people, I say that they should know that the majority of my work is focused on decolonizing sexuality.
Great transition. I first saw the term "decolonizing sexuality" in your Instagram bio. What exactly does that mean?
Prior to Western intrusion, we already had our own sexual culture. I'm trying to remind people that certain things we embrace as "African" and defend when it comes to sex and sexuality, are elements that came to us through religion, Westernized education etc. The shame associated with sex and sexuality on the continent are remnants of Western teachings.
Prior to colonization many ethnic groups had religious healers who were neither considered male nor female but were gender fluid or intersex. There were ethnic groups that didn't base gender on anatomy but on energy. Gender fluidity on the continent was observed even more than you would find in the most liberal country right now. For some, you could physically have male features but possess female energy and live as a woman. Some people worshipped androgynous or intersex deities and believed that the perfect human being is both male and female. Certain tribes did not ascribe a gender to anyone until the age of puberty. In other communities, their priests were transgender, and they were the only ones who could conduct certain spiritual ceremonies. There is evidence that for several ethnic groups gay and lesbian relationships were not taboo. Unfortunately, a lot of this history has not been publicized or it is being revised as it does not fit in well with the idea that the continent is trying to now uphold as a patriarchal, heteronormative society. That is why the work of decolonizing sexuality is extremely important as we now have a generation that is open to questioning themselves. The generation of our parents lived in a time of oppressed and suppressed sexuality (among other things) as they themselves or their parents had suffered the colonial rape and pillage [both literally and metaphorically] of their lives. All they could carry was anger and fear. To survive they had to conform to what the oppressor enforced on them through religion, western education etc.
[Recently deceased] Kenyan writer and gay activist, Binyavanga Wainaina clearly outlines how it is only former British colonies that have anti-sodomy laws, which came during colonial times from the fear that British soldiers and colonial administrators would be corrupted by the natives while they were away from their wives. The law, the fears by the British government at the time, really are proof that some of the natives were already practicing sodomy.
Image courtesy of 'The Spread'
What for you is the link between sex positive work and women's empowerment?

The average person might think that the type of work I'm doing is frivolous, but the reality is that when a society believes they have any right over women's bodies, we see all the terrible things that happen to women: rape, rampant femicide, violence against women and more. Reclaiming your sexuality as a woman is about asserting your own authority over your body—declaring the right to fulfilling, consensual sex of your own liking, the right to having children, or not having children if you don't want to, postponing or terminating a pregnancy. Once we accept the policing of women's bodies, it's a slippery slope.
Feminism is about women having equal rights and opportunities as men, and that also extends to their sex lives. My body, my choice. For those who are always ready to bash feminism, seeing it as women somehow trying to take over, dominate men, oppress men etc. They should realize that the only reason feminism exists, is because we live in a patriarchal world. Women are at the bottom of the rung, oppressed in thousands of ways. All we are trying to do, is get the same rights that men take for granted. Of course, to the ones who hold power, it will feel like a loss of power.
This is the reason why the topics we cover span everything from women's sexual pleasure to gender-based violence to LGBTQIA+ rights to women's reproductive health. All these discussions must happen in tandem.
Let's talk about the state of affairs in Kenya around various key issues, starting with female reproductive rights.
I'm working very closely with two organizations working on women's reproductive rights and abortion rights. The problem in Kenya is that there is so much misinformation. I plan to release a video very soon on the topic. I only recently found out all public hospitals in Kenya provide post-abortal care. Even though, abortions are illegal except in certain circumstances, post-abortal care is available throughout the country. Lack of information makes women especially vulnerable to the influence of quacks, back-alley doctors, or police who threaten them with imprisonment if they don't pay exorbitant bribes. The Kenyan law is that you are not allowed to administer an abortion unless the health of the mother or child is in danger. Health also includes mental health. As such, people with severe depression or suicidal thoughts do legally qualify for abortions, but most people don't know this.
Image courtesy of 'The Spread'
What about on the issue of sexual violence against women and children?

Sexual violence against women and children isn't taken as seriously as it should be. Sensitivity training across police stations is still lacking. Rape is extremely underreported in the country as most people don't expect to be treated with discretion, sensitivity or any consideration once they do get into the system. I did a whole video series years back interviewing female rape survivors and their experiences highlight the challenges with our police system including the trivialization of the crime by police officers who consider rape almost routine, given how often this happens. The statistics are masking the issue, rape survivors don't know who to turn to and feel completely isolated. The issues of male sexual violence against men isn't even spoken about as the survivors fear further shunning and stigmatization from society. Kenya doesn't yet have the right structures—including mental health structures—to deal with the normalization of rape and sexual violence against women.
In 2015 three men gangraped a teenage girl as she was on her way home from her grandfather's funeral. After the attack, they dumped her in an open sewer, leaving her with a spinal injury that has confined her to a wheelchair. When the men were taken to the police station, their punishment was to cut the grass around the police station. The incident made it to the news, sparking international outrage, resulting in a signed petition and leading to protests in the country demanding #justiceforliz. As a result, the men were eventually sentenced to 15 years in prison. While we can celebrate this particular win, it also makes us reflect on all the other hundreds of thousands of cases, where the survivors remain silent or seek justice, but never get it.
What about LGBTQIA+ rights?
The definition I adhere to for this group is actually a longer, more confusing acronym, but also one I hope makes more people feel included. LGBTQQIAPPK, which is lesbian, gay, bisexual, transsexual & transgender, queer, questioning, intersex, asexual, polyamourous, pansexual and kink.
We have some cause for celebration, but also a very long way to go. We were hopeful recently when the High Court reviewed the key law banning gay sex, but unfortunately, they chose to uphold it. Last year, we did have a small win when the courts deemed unlawful the use of forced anal exams to test whether two men had sex.
The National Gay and Lesbian Human Rights commission of Kenya are doing a really great job in trying to get colonial era penal codes repealed. They are the legal team behind the court cases for the repeal of these laws. From a legal standpoint it's great, but from a social standpoint, it's still so sad that our binary understanding of gender is tied to what the colonizers forced on us. The worst argument is when people say that any deviation from the heteronormative narrative is "un-African." My question then is "Do you really know your history? Are you willing to educate yourself and to take off the yoke of colonialism and even consider the idea that what you consider normal is based on systems that came to you through oppression and repression?
For a country that is so progressive in many ways, this particular issue still remains an uphill battle.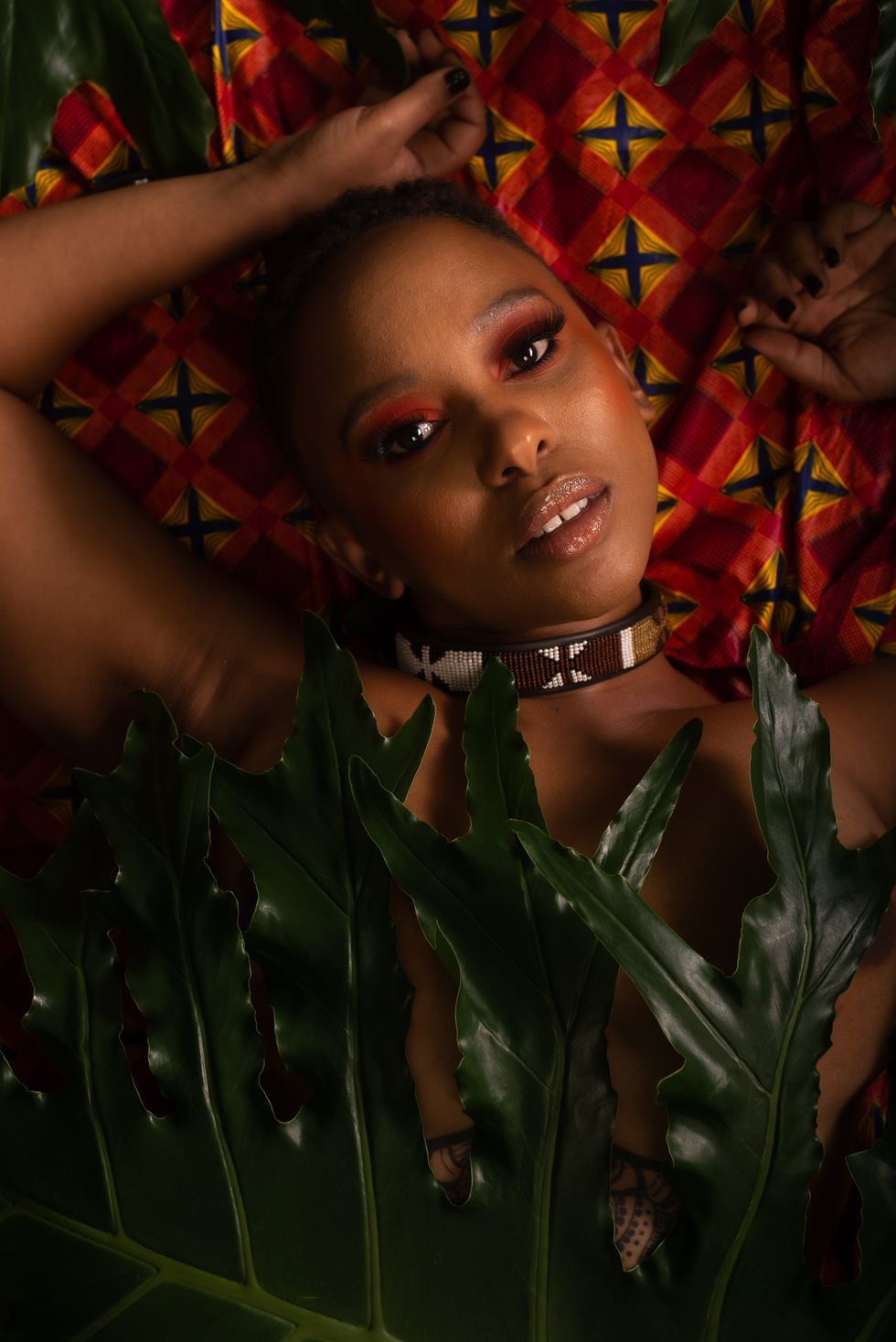 Image courtesy of 'The Spread'
What about women's sexuality, sexual pleasure?

All the events we have are 95% women. Men are scared to admit they might not know it all. Society paints them to be macho and [makes them think] that they should somehow know it all, but they are scared to learn about their sexuality as they feel that it will take away from their masculinity. For women, it's empowering. Men are frightened about women learning and embracing their sexuality.
I want to be a part of this revolution, spearheading it on the continent.
Finally, tell us about The Spread Fest and your plans for it?
Our objective for the festival is to foster learning, inspiration and wonder—and to spark conversations that matter. The aim is to be more empathetic about our diversity, but also to leave people knowing more about sex and sexuality. This year we had 600 people in attendance, 5 panels, one workshop and it was a full day event. Next year, we plan to double everything.