News
Stream THEESatisfaction's 'EarthEE' LP In Its Entirety
Hear Seattle-based experimental hip-hop duo THEESatisfaction's sophomore LP Earthee, featuring collaborations with Shabazz Palaces.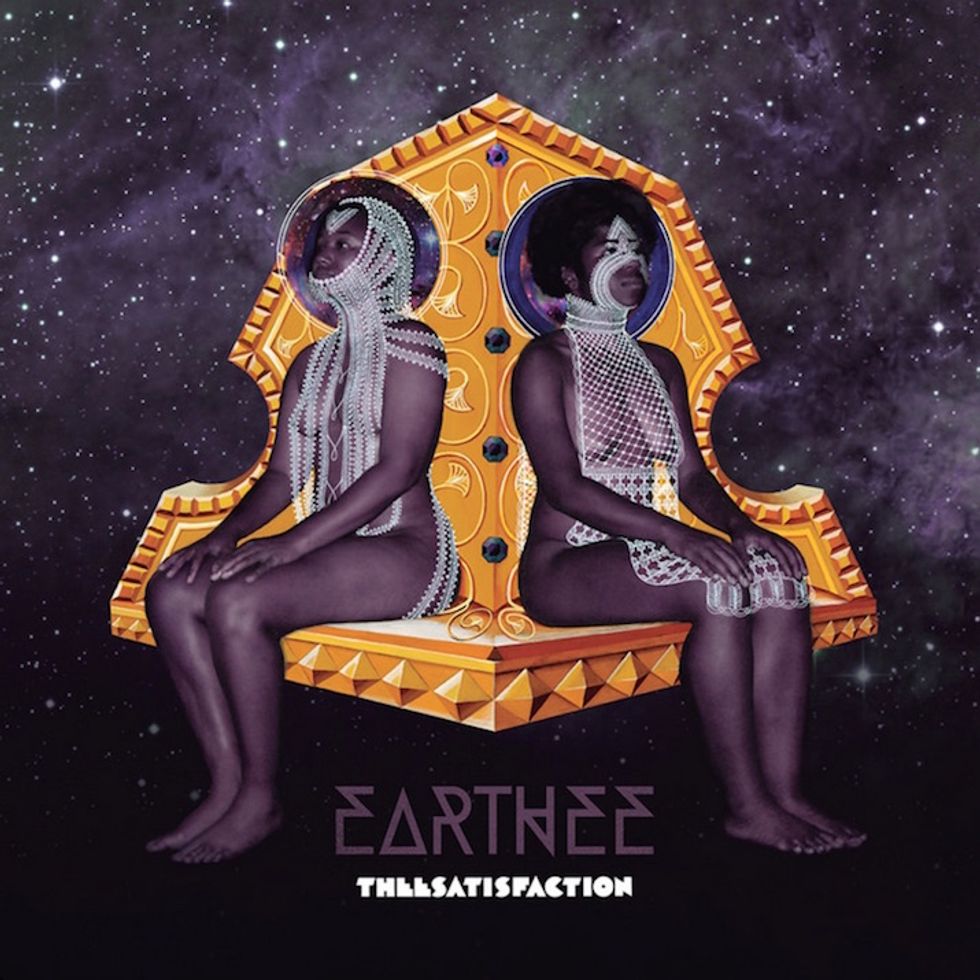 ---
The Seattle-based experimental hip-hop/R&B duo of rapper STAS and vocalist CAT, better known collectively as THEESatisfaction, have been teasing singles from EarthEE, the follow-up to their 2012 debut awE naturalE, for a few months now. Through the ancient Egyptian-inspired visuals for "Recognition" and the whirring electronics of title track "EarthEE," the duo's hinted at the evolution of their otherworldly, avant-garde take on hip-hop, which is both influenced by spoken word poetry and an afrofuturistic aesthetic.
Their 13-track sophomore effort EarthEE, which was recorded in Seattle and Brooklyn, features several collaborations with Shabazz Palaces' Ishmael Butler & Tendai 'Baba' Maraire, Taylor Brown, Porter Ray, and Meshell Ndegeocello. The full-length is up for streaming in its entirety now, via NPR's First Listen. Highlights include the smooth "Planet For Sale," "Fetch/Catch," and the previously mentioned "EarthEE" (streaming below). For more from THEESatisfaction, check out CAT's first solo mixtape as Sassyblack, Me And Mines (Cute Chicks). The duo's EarthEE LP is will be out next week on February 24 via Sub Pop.
>>>Stream THEESatisfaction's EarthEE LP (via NPR)
EarthEE Tracklist
01. "Prophetic Perfection"
02. "No GMO" feat. Taylor Brown)
03. "Planet for Sale"
04. "Blandland" (feat. Ishmael Butler of Shabazz Palaces)
05. "Fetch/Catch" (feat. Taylor Brown)
06. "Nature's Candy"
07. "EarthEE" (feat. Shabazz Palaces, Porter Ray, and Erik Blood)
08. "Post Black, Anyway"
09. "Universal Perspective" (feat. Meshell Ndegeocello)
10. "WerQ" (feat. Meshell Ndegeocello)
11. "Sir Come Navigate" (feat. Tendai Maraire of Shabazz Palaces)
12. "Recognition" (feat. Shabazz Palaces and Erik Blood)
13. "I Read You" (feat. Erik Blood)