Despite the strides made in the entertainment industry across the world, unbeknown to many, there are only a handful of women music producers in East Africa. "Our male colleagues think that we are not good enough and that the work of production is reserved for male not females," Namakula Nittie, a 22 year-old producer, tells OkayAfrica. "They look down on you when you are a female producer. You have to prove to them that you are better."
Nittie is one of a handful of women producers who are trying to change things in Kampala, where she lives. Indeed, the lack of women in production and in the genre of electronic music has long been an issue that groups like Femme Electronic have, in the past, tried to address.
---
Lack of empirical data has also made it difficult to equate the number of African women in music production today. But it's plain to see, there isn't a conducive environment for many women producers to thrive in. Nittie and other women producers have been working to try change how they are viewed, by taking part in a training program at a studio in Muyenga, where East Africa Records is housed.
The training program was devised by David Cecil, himself a music producer and co-founder of East Africa Records. Cecil collaborated with the French Embassy to train more women in his studio so they may be better equipped to join an industry that is so often dominated by men, and to help make room for more women venturing into music production.
Newcomers who want to increase their knowledge and understanding of how music is produced are given the chance to learn from those who've been working in the business for some time. 24-year-old Mujuni Norah Blessings, who goes by the studio name Akeine, underwent a week-long intensive training schedule, as part of the East Africa Records program. The singer-songwriter, who produces music too, got the chance to be reintroduced to the basics: from the foundations of building a beat to understanding the digital audio workspace and sound manipulation.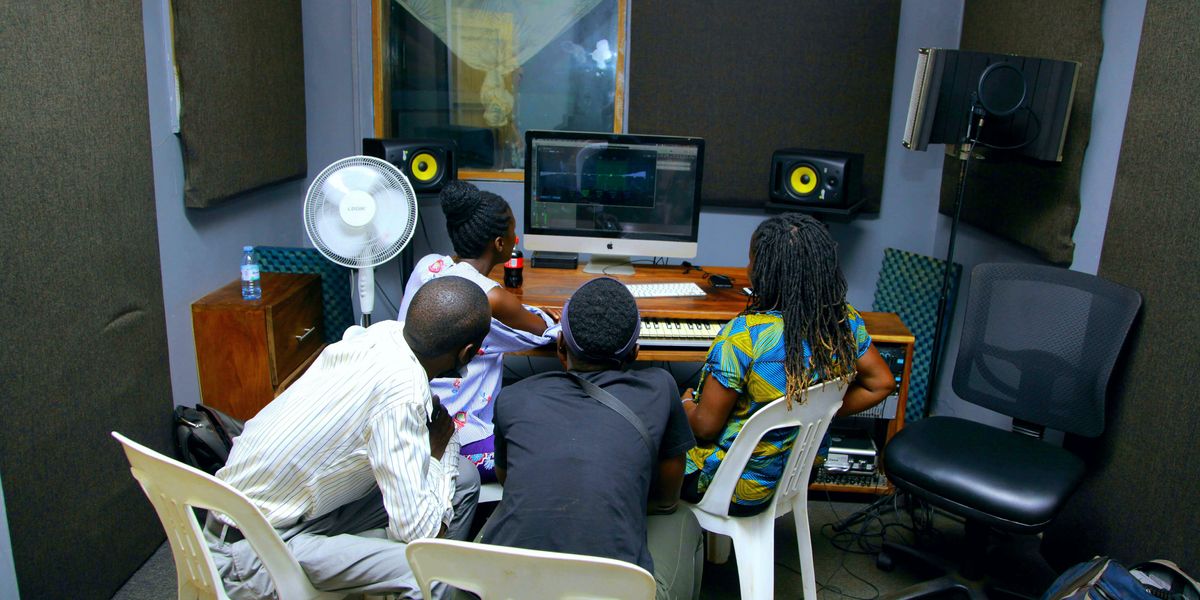 One of the training sessions being run by East Africa Records to help more women producers get into the fieldPhoto: East Africa Records
"Although it was a crash course that lasted for a week, I learnt so much," Akeine tells OkayAfrica. "The course was hands-on. We would also break into groups during the afternoon sessions, and work on personal projects too. We would go through them and learn from each other. My best part of the training was when we were taught about sound and film, as I hadn't realized how much they complement each other."
Akeine, who started writing music at the age of 10, also picked up how to incorporate traditional instruments, like drums, the indingiti, and the inānga, into producing songs. She lauded East African Records for giving her the time and space to work on her projects, one of which she plans to release in February. "I am actually dropping an EP I co-produced with a colleague," she says. "There are so many other singles I am working on, but I collaborate mostly with other producers. My input includes suggesting the base or melody. I would like to be remembered for collaborating with other people because I feel there is so much magic in it."
Akeine wants other women interested in music production to go for it, aggressively and passionately, something Nittie echoes. She's also thankful for the likes of East Africa Records, and its initiative to train more women. "The East Africa Records won't take time to teach you. They will teach you everything in the shortest time possible," she says. Efficiency is the name of the game, and for Nittie, getting the chance to hone her skills also afforded her the opportunity to create a project she's aiming to release soon, too.
"For celebrated and famous artists, they always ask whether you have worked with big names in the industry, and if you tell them no, they cannot entrust you with their work," says Nittie. "Although I would like to work with the likes of Shiba, Juliana Kanyamozi, and King Saha among others, I need to work on my portfolio first."

Unlike Akeine, who is incorporating traditional African instruments into her work, Nittie plans to produce amapiano, afro, dancehall and zuqa, and feels she is called to make music. She urges aspiring women producers to follow their hearts, and not let anything stop them from realizing their dreams. "It all starts with passion, practice to achieve and sticking to your dream of being a producer. Like me, I am enjoying it; it is a fulfilling profession," she says.
Although the low number of women producers and the intimidation they encounter in studios is off-putting, Nittie remains optimistic about where local music production is heading, and the added benefit many women bring to the field, especially for women musicians. "For women singers, a female producer would be the best option because they would feel more free working with someone who can understand them, who can understand what a male producer cannot," she adds.