Interview
The Punk Rock Electronica of Uganda's Ecko Bazz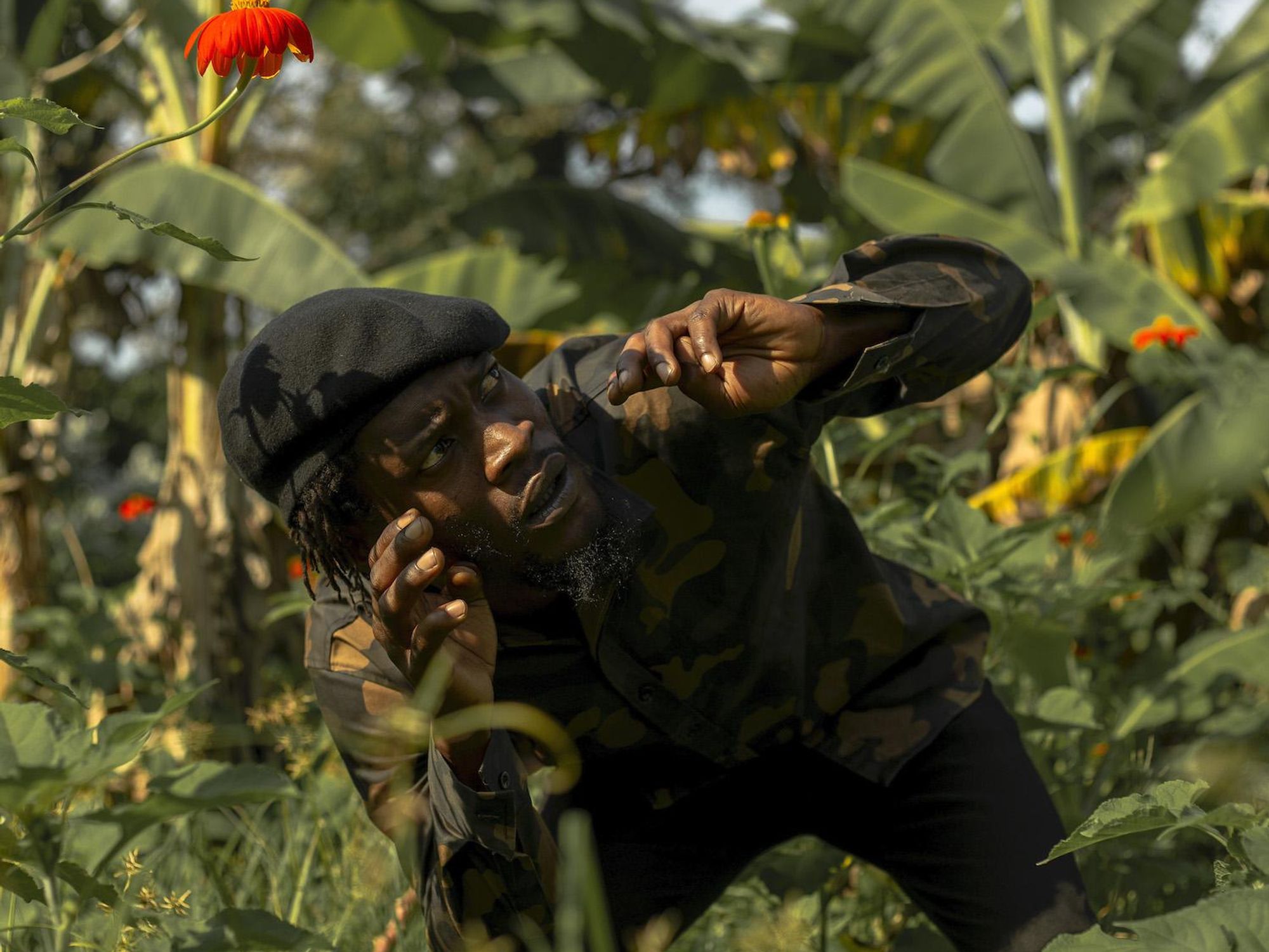 Image courtesy of the artist.
We talk to the Kampala-based rapper about his debut album Mmaso and its forward-thinking sound.
Ecko Bazz, the immensely talented 34-year-old Ugandan rapper, is finally having the time of his life. As he goes from stage to stage across central and Eastern Europe, performing to eager crowds enveloped by his cathartic performances, there is a sense that his mission is beginning to take shape. ''I do music to express what's inside me for the world to see," he says, "money has no value beyond paper and digits—I don't need a new car as much as I need to give value for what's real to me".
There is no doubting this Kampala-based rapper's sense of his own talent, neither here nor on his debut album Mmaso, which surfaced this spring on Ugandan underground label Hakuna Kulala. It is ferocious punk rock electronica MC'd by a voice that evokes the religious incantations of a doomy firebrand—a demonic dancehall toaster blasting threats around a mesmerising kick drum, double, sometimes triple time over the beat.
---
The title track is suitably end of days stuff. Ecko Bazz raps aggressively in the tongue of Luganda, the Bantu language of his tribe. A voice spitting blood, as vicious as it is agonised. Whereas on these tracks he refers back to the injustices of life back home in East Africa, in person he is more disarming: "This is a record of the way that I perceive life; on why my energy is the way it is. How we can work on ourselves to become better," he says, "I just let it out the way it is, yo."
This is an album that chimes more of a man on the edge. The track "Teli" is the warped and paranoid voice of a man trying to make sense of his surroundings. At times it is as if he is surrendering gleefully to despair. It is neither meditative or philosophical.
As he leans forward intently in his hotel lobby, Ecko Bazz is determined on leaving a life behind him as he forges ahead on this new journey. He explains it as a driving momentum that he has made a way of life: "I refuse to be mind-controlled. Going forward is my self-determination" he explains, "I keep things that are not good for me in the past by never going backward. All truth is in the future".
Ecko Bazz.
As Europe opens up to the thumping grime subs and whirring trap hi-hats of his tour, the reality of his performances bringing meaning to his life becomes set within him: "For me right now, it's not whether you can survive on music. The first step of a successful tour is how people relate to your work," he says, " [although] you want to go home with money in your pocket of course..." The sentence stops him there, as he wrestles with the fact that you cannot live on Instagram likes alone, it is a thought that is quickly swept away. Tonight he is in Venice playing a show in "a city they built on water." The miraculous sense of living in the moment and whatever it may bring emboldens him again and is fed into the rasping fury of his performance later on that evening.
With this tour as an unforgettable experience to build upon, Ecko Bazz will return to Kampala to channel the energy into new music in a place where he is already considered an anomaly. Where he is sometimes more respected than he is understood by his peers.
Back in East Africa he feels "that the mental state for many people is broadening" and the power of youth to ask the big questions of "how, when and why" inspiring. Here, beyond the heavy obscurity of his sound, there is a tremendous hope that surges through him as he brings it to an end: "I want to travel the entire of Africa and all around the Earth, all the same time liberating people's minds—I want to be the keys to their ultimate freedom." And with that he disappears to roar into a microphone as if a failing world depended on him to do so.