There is good reason to be excited about this year's Architecture Biennale – for one, more than half of the participants will be from Africa or the diaspora. The tagline is "The laboratory of the future," and, as Biennale curator Lesley Lokko said in an interview with OkayAfrica, the unfinished part of that is, "Africa is…the laboratory of the future."
And instead of paying lip service to this, as some previous iterations of international art exhibitions have tended to do, this year's Biennale is acting on its words – by ensuring African architects are included in every part of the high-profile event. Add to that, the gender balance being 50/50, too, and the average age of the participants skewing a little younger than in the past, and you have an enticing event that looks set to shake up the international architecture world.
Lokko, the first Black curator of the Biennale and a formidable presence in architecture, who was awarded an Office of the Order of the British Empire (OBE) – the second-highest Order of the British Empire award for her services to architecture and education – believes the story of architecture is incomplete.
"The dominant voice has historically been a singular, exclusive voice, whose reach and power ignores huge swathes of humanity — financially, creatively, conceptually — as though we have been listening and speaking in one tongue only," she says. Through this year's event, she intends to help bring in more voices to further the conversation, and broaden the understanding of what architecture is, and can be.
The Scottish Ghanaian architect and academic — who is also a best-selling novelist — has taught at universities around the world, and founded the Graduate School of Architecture at the University of Johannesburg. She returned to Ghana to start the African Futures Institute in 2021, in collaboration with Sir David Adjaye, to bolster further education about architecture and how it can bring people together. Lokko is enlisting her years of experience to help create a shift within the Biennale, one that sees it become a cauldron of new ideas and an agent of change.
"Change is the one thing that everybody hollers for and longs for, but when it actually arrives, most people don't want it," she says. "It's a complex thing." But she sees the Biennale as a great opportunity to show how change can happen not only on a grand scale, but also on a very small one, too.
OkayAfrica spoke to Lokko ahead of the event, which kicks off in May, and will run for 6 months as an exhibition of six parts with the two overarching themes of decolonization and decarbonization.
This interview has been edited for length and clarity.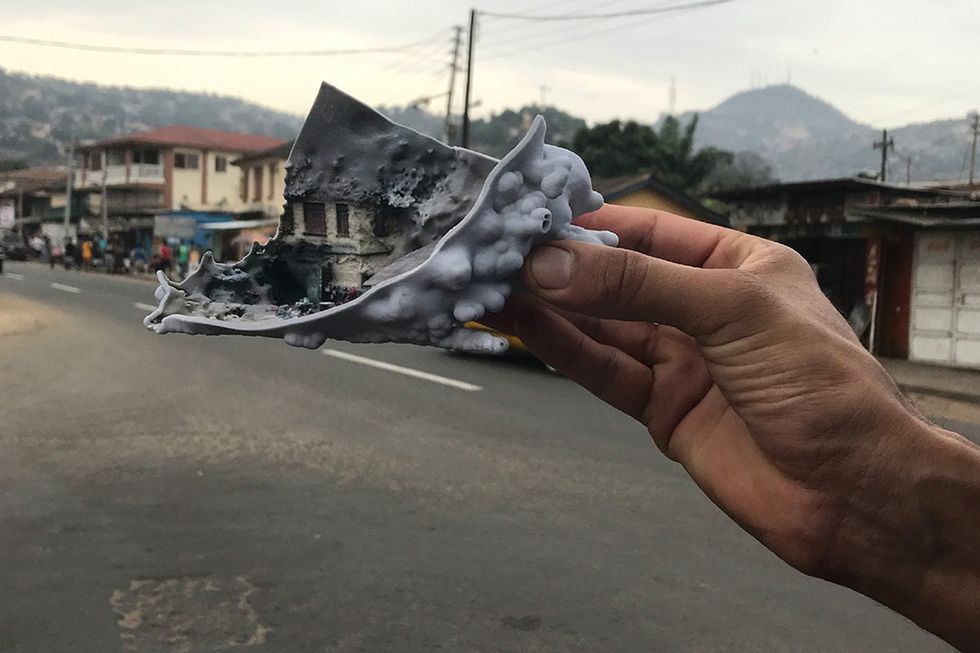 Together with 21 other emerging practitioners of color, British Nigerian multidisciplinary artist Ibiye Camp's work will be shown throughout the Biennale's Arsenale complex. Courtesy of Ibiye Camp.
How does being the curator of this year's Architecture Biennale further the aims you have for the African Futures Institute (AFI) in Ghana and your greater efforts to bring Africa more into the conversation around architecture?

At one level, the Biennale is a platform, and it's a platform that gives you an incredible amount of visibility that otherwise you simply wouldn't have. So, at a very practical level, it shines a spotlight on not just the African Futures Institute, but actually on the continent as a whole. So getting people interested in, involved, and curious about what's going on works in our favor in almost every single way possible. I think at a very practical level, the Institute was only four months old when I got the appointment of curator, so it was really tough to try and do both things at once. But we pivoted from public events towards research so I was able to bring my team on board to assist in other ways. It's been a journey – an unexpected journey, but actually an amazing one.
Over half of the contributors for this year's event are from Africa, was this a conscious decision, and how did it come about?
It was completely conscious, in a sense, the strapline or the finished part of the sentence, "the laboratory of the future" was always "Africa is the laboratory of the future." I was also very adamant that this would not be a biennale only about Africa. It's actually about Africa's relationship to the rest of the world. So it was really also about making sure that every continent was represented in some way, and that every continent that was represented that their subject matter or their material has to do with these two big twin themes [decolonization and decarbonization] that don't just affect Africa, they affect the entire world. So it was an opportunity to both shine a spotlight, but also to set up a number of networks, which I think will continue long after the Biennale is over.
Was there anything you noticed about previous participation – something that hampered African countries from being involved?
The big issue was always resources. The model of a Biennale, an Architecture Biennale is really predicated on an art exhibition, in which you don't pay for the production of work. But I think in an art exhibition, generally, even if you make commissioned work, you're generally looking at work that already exists in the world. I think architects have to make representations of work that exists, and so there's a whole other side of the production and the time and the labor and the expense of it that's just never covered. So on the continent itself, with so few opportunities for access to resources, we had to find other ways, and I'm deeply grateful that supporters of the AFI came to the party in a big way, for so many of these African participants. Without that support, they would not have been able to attend.
Are there any countries or countries in particular that really excite you on the lineup this year?
I would say all of them. It's been one of the absolute joys of having this length of time – about 18 months between start and finish. And in that amount of time, you've actually got time to engage with the participants, to see the work develop, and to have conversations. I've been supported by an incredible team, who have just nurtured so many of the younger participants because this time, unlike many Biennales, the average age is quite young. And many of our participants are not from large firms. They're one or two months practice, or two women practices and so the time that's spent focusing on this Biennale is time that's taken away from their offices. So there's, there's also a hidden cost in it. So it's been amazing to see the work, grow and mature, and deepen and expand.
Some of the most significant African names in architecture, such as Adjaye Associates, will be at the heart of the exhibition.Photo courtesy of Adjaye Associates.
That youth element that you speak of, it really does suggest that it is sort of a conversation, a dialogue, that's happening, versus seeing the usual players speaking about what they know?
Oh, absolutely. First and foremost, I'm a teacher of architecture. I'm not a practicing architect by any stretch of the imagination. And one of the most amazing things about teaching is that it is a constant dialogue. It's a dialogue between you and other tutors, between you and the students, between the students and the students, between the institution and the students. So this sense of being part of a shared conversation is really important. Because the Biennale is six months long, it extends an opportunity to viewers to engage with the work in a conversational way. It takes quite a long time to walk through the Arsenale [complex where the Biennale takes place] so the entire exhibition takes time. And that time is the time that you invest in the work, and in the conversations, and the questions, and the answers that the work provokes. So it is very discursive in a way that a building often can't be.
There's a mix of emerging and established architects – what would you like to see as a result of that at the end of those six months?
I really do believe this, I don't think that the story of architecture is wrong, I think the story of architecture is just incomplete. It is my hope that this exhibition will add one or two more pieces to that story. I think it's also self-evident that the story is ongoing, the story is a process, the story is never complete. But I feel very strongly that these emerging practitioners, and practitioners from places that are often not on the kind of cultural map, will be the building blocks of new paradigms, new approaches, new visions, new imaginaries, and architecture which simply augment the story; they don't replace it. I think that's really important to say.
There's a big sustainability element to the Biennale, too…
It stems from the very simple fact that the Black body was Europe's first unit of energy. So there has been a thousand years of a relationship between resources and race that we often don't speak about. And in Africa, we are at the coalface of climate change, so we will experience it in ways that other parts of the world may not be so immediately hit. But I think that attitudes towards resources, behaviors towards resources, the culture of how one uses resources, I think these are deeply cultural. They're rooted in ritual; they're rooted in language; they're rooted in history. And so trying to tackle climate change as if it was only a scientific problem that could be solved only through science, or only through technology, I think, is a fallacy.
So it's my hope that by bringing other perspectives on the use of materials, other attitudes towards beauty, other attitudes towards use, can again expand the kind of tools that we have in our arsenal to deal with the real threat of climate change.
And it's interesting that over the past three or four years my students have been increasingly aware of time, let me put it that way. Increasingly aware that we have to act. For Black and African students, the racial justice and social justice protests are the same as climate change protests. For the majority of the European students and American students, climate change protests have nothing to do with racial justice. In this exhibition, there's an opportunity to seek to show how these things are all about resources – whether they're human resources or material or environmental resources – and it's our attitude towards resources that has to change.