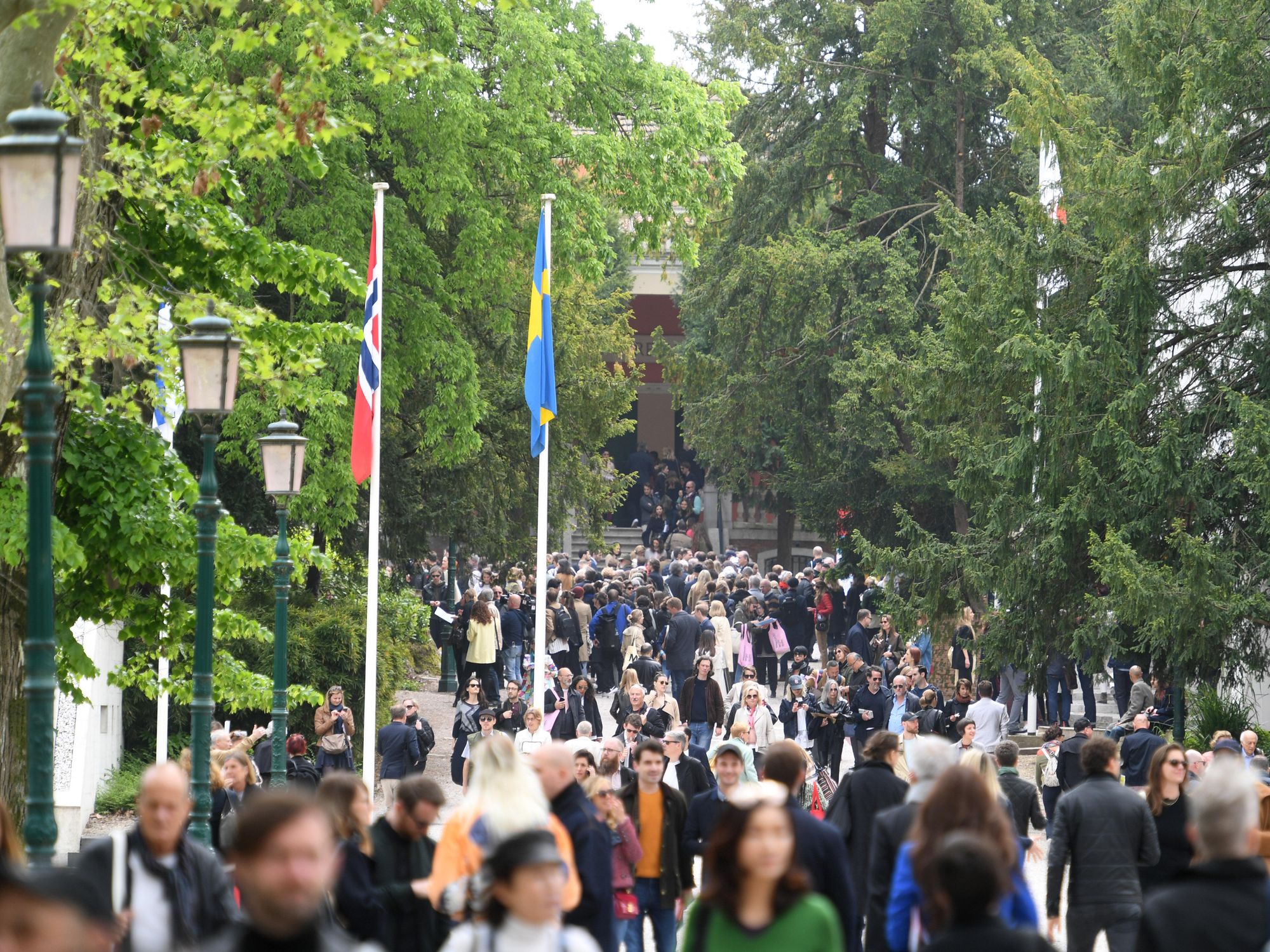 Photo: Felix Hörhager/dpa via Getty Images
The country is hoping to make a splash at this year's edition of the renowned international art fair, which runs from April to November, but there are some puzzling questions about its participation.
It might have taken a long time for Cameroon to add its name to the roster of countries showing at the Venice Biennale, but it has been attracting attention for how it's preparing to do so. Cameroon's maiden pavilion at the art fair will also be the site of the Biennale's first-ever NFT art exhibition – yet no Cameroon artists will be taking part in it.
---
Dubbed 'The Time of the Chimeras,' Cameroon's pavilion will incorporate two shows, hosted in two different locations. The first, taking place in Palazzo Ca' Bernardo, will host the crypto-art exhibition featuring more than 20 artists from such countries as China, Germany, and the United States. The question as to why Cameroon is not taking part in the NFT exhibition at its pavilion remains answered. It's being organized by Global Crypto Art DAO -- and not the Cameroonian government -- which is also funding the country's pavilion, where it will showcase "digital, crypto and NFT art, and Metaverse creativities that is open for the whole crypto art world as well as artistic professionals and art fans of the physical world," according to a press release.
Cameroon's second exhibition, meanwhile, will take place at Liceo Artistico Statale Michelangelo Guggenheim, and will feature art by four Cameroonian artists, Francis Nathan Abiamba, Angele Etoundi Essamba, Justine Gaga, Salifou Lindou, and four international artists (Shay Frisch, Umberto Mariani, Mateo Mezzadri, Jorge R. Pombo). Over the Biennale's history, artists have sometimes played with national boundaries in their work, but they are usually still from the country whose pavilion they are showing at.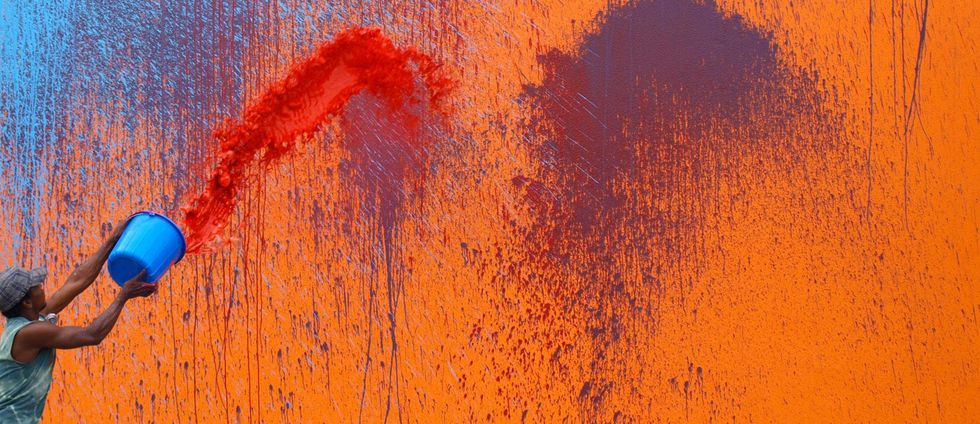 Francis Nathan Abiamba, also known simply as Afran, from Bidjap, will be part of the four Cameroonian artists showing at the Venice Biennale.
Photo: Afran site
In Cameroon's case, organizers say the idea is to juxtapose work by international and local artists with a view to fostering dialogue in the light of the central African country's complex history. "We want to build an arts market through this international visibility for a better valuation of artists and the various gains that will emanate from this," Abanda Maye, Commissioner of the country's pavilion told OkayAfrica.
"Artists from Cameroon, this small triangle, nestled in the Gulf of Guinea, rich in its ethnic and human diversity and in its multiculturalism, will interact with many other artists from diverse backgrounds," says Maye, who is currently serving as the director of arts promotion and development in Cameroon's ministry of arts and culture. "We are delighted with this first participation. We believe that Cameroon will gain visibility for its art and the structuring of its artistic and cultural movement." When asked about the pavilion not being funded by the government, he says, "No need [insisting on the fact that it's not financed by the Cameroon government]. This is a program spearheaded by the state of Cameroon and partners."
The theme of the country's pavilion, 'The Time of the Chimeras,' takes its cue from Greek mythology. Chimera being a fire-breathing female monster resembling a lion in the forepart, a goat in the middle, and a dragon behind, that was defeated by Bellerophon, a hero in Greek legend. The Chimera has, for centuries, become a symbol of "illusions, strange ambitions, bold fantasies and unattainable dreams," according to the country's co-curators, Cameroonian creative and artistic director, Paul Emmanuel Loga Mahop, and his Italian-born colleague, Sandro Orlandi Stagl.
"The dreamlike inspiration offered by the curator of the Biennale, Cecilia Alemani, makes the relationship between people and technology one of its themes," said Orlandi Stagl in a statement. "The title, 'The Time of the Chimeras,' expresses a suggestive interpretation of the general theme, 'The Milk of Dreams,' chosen for the Venice Biennale 2022." According to Stagl, the title invites Cameroonian artists to reveal, "with the greatest creative and expressive freedom, their fantasies or illusions, their drives or ambitions, their own interpretations of sufferings, and to recount, as human beings, their journey to the surreal world of dreams and utopias."
But while the artwork promises to play in the realm of the fantastic, the rest of the pavilion will be focussed on new technology. Stagl says this "represents a possible way out and development for the young Cameroon generations, exploring the emerging world of NFTs in an international key." Perhaps younger Cameroonian artists will be inspired by what is staged, but Stagl has courted controversy before. He was the curator of Kenya's Venice Biennale pavilion in 2015, which drew great protest from Kenyans for being helmed by Italian curators, with only one Kenyan artist participating in a lineup dominated by Chinese and Italian artists.
As co-curator, Loga Mahop is drawing attention to the choice that exists in Cameroon's pavilion title. "Chasing a chimera represents the will to change something in one's life as well as reality itself," he says. "Fighting a chimera indicates letting go of one's lowest instincts and careful control of his human nature toward a higher condition."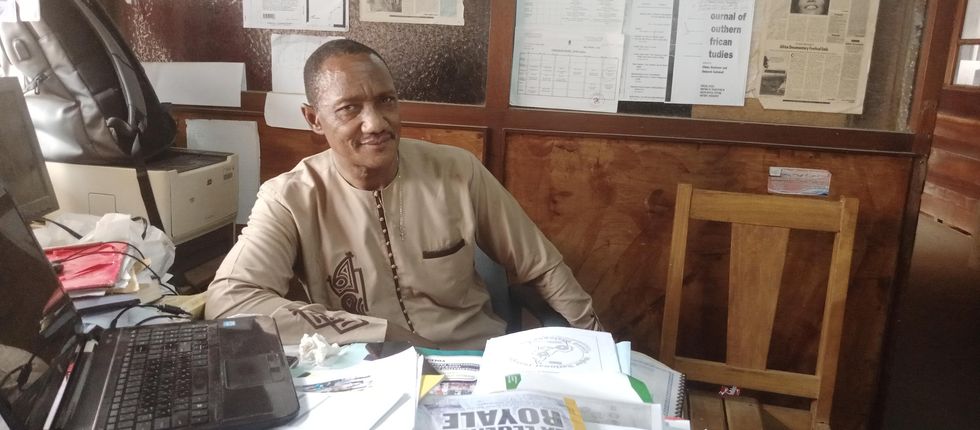 Donatus Fai Tangem, Associate Professor of Drama and Theatre in Cameroon's Yaounde I University, sees the forthcoming Venice Biennale as an opportunity to project the country's cultural wealth.
Photo: Donatus Fai Tangem
Despite the questions the country's involvement in the Biennale is raising, there are those who see its potential to attract new audiences for Cameroonian art, in all its forms. The country's participation in Venice comes just months after global streaming platform, Netflix, aired four Cameroonian films for the first time: The Fisherman's Diary, Therapy, Broken, and A Man for The Weekend. Observers see the breakthrough – and the Biennale – as proof of a thriving arts industry.
"Cameroon is experiencing an exponential growth at the level of productions and propagation of cultural productivity," says Donatus Fai Tangem, Associate Professor of Drama and Theatre in Cameroon's Yaounde I University. Tangem, who is also a film producer, director and actor, says the Netflix exposure has brought new interest in Cameroon.
"There are currently about three or four productions going on in Cameroon now – all of them targeting Netflix," he told OkayAfrica. "The Venice Biennale is a platform par excellence on which Cameroonians, practitioners, and cultural entrepreneurs, need to take advantage to showcase, propagate and promote the forte of Cameroonian culture; the power of our creative industry. This is the time; we can't miss this." Time – and not the Chimera kind – certainly will tell.