The story of our day with American Rapper Vic Mensa is one of serendipity. We got the message: "Vic's heading to his father's hometown you're welcome to tag along. Are you in?" By 7am local time we're pummeling through traffic in a sprinter with the Chicago rapper. It's about a two hour drive from Accra (where we meet) to Koforidua. A bit longer when you factor in Vic stopping for some of his favorite snacks: fbofrots, coconuts, and other assorted fruit.
Arriving in Koforidua
Vic's visit back home is a treasure trove of backstory – the American star who returns to the far away Ghanaian slums his father grew up in. During a period of exile, Nigerian Afrobeat pioneer Fela Kuti sheltered in Ghana. It was a pivotal time in his career and in terms of the progressive and experimental music scenes in Ghana and Nigeria. The man who was by Kuti's side on his frequent trips and liaised much of his cultural exchange with Ghana is Vic Mensa's uncle, the legendary Highlife trailblazer Chief Kofi Sammy. "[My uncle] was a very good friend of Fela back in the day, when Fela was on the run from the Nigerian government," says Vic. "He came to Ghana, and he was staying right there in my grandmother's house, which is where my dad sat in on his band. They were smoking hella weed."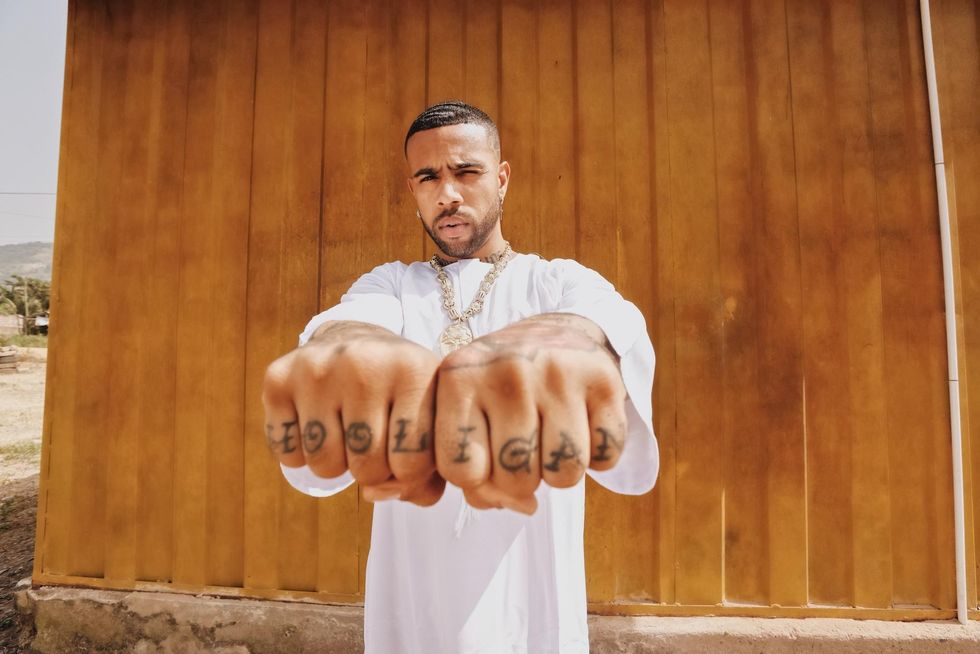 Photo By Adedamola Odetara for OkayAfrica
When we arrive in the urban settlement Asokore Zongo in Koforidua, Vic is enveloped in hugs the moment he descends from the car. As we walk towards the family homes—clustered around a concrete square—aunts, uncles, and cousins emerge to welcome him. The only time everyone quiets is when Vic sits down to talk to the Chief. They speak softly but intently. Vic has been reuploading Kofi Sammy's discography to streaming platforms. During their conversation they talk about the importance of ownership, royalties, and legacy. "If you want to do anything now, you need to do it better than it was done before," says Sammy.

Those moments speaking with his uncle seem to reinforce and clarify Vic Mensa's career. "I think my goals right now are much more intentional and focused, versus my goals when I first started, which were generally to make it, to be heard," says Vic. "And now that I've been heard by millions of people, I feel that I'm much more purposeful about what it is I'm trying to do with my time here."
Bringing a festival to Ghana
Vic's trip to Koforidua is just five days before the inaugural Black Star Line festival. The pan-African event, which he founded with longtime friend Chance the Rapper, is the first of its kind: a free concert in Accra's historic Black Star Square. (The festival featured a lineup spanning Erykah Badu and T-Pain to Sarkodie and the Asaakaa boys; there would be over 50,000 people in attendance.)
For Vic, Black Star Line isn't just a music festival. It's a conduit for a new age of kinship between Africans and Black people of the world.

"We perform in Europe 10 times over before we ever perform in Africa. France, Germany, Dublin, Oslo, and Glasgow – I performed all of them before I performed in Accra," says Vic. "And I just started thinking, 'There's got to be a way that we can change this issue.' The issue being that Black artists of America and elsewhere are beloved in Africa, but don't perform here."
Chance and Vic are prescient in their mission to offer solidarity for Black people and innovate local infrastructure at the same time. One hundred years after Marcus Garvey's revolutionary Black Star shipping line, the festival aims to conquer the same goal of traversing the divide between African people of the world.
It's a personal mission for Vic, who's been on a journey to reconcile those parts of himself most of his life. "I feel like I began to really respect the privilege that I have, to be in communication with my culture, my ancestry, to experience them in a way that most Americans never have," says Vic. "And I feel like my privilege comes with the responsibility of recognizing myself as that bridge between Black America and Africa." It's an ethos that has shaped how he approaches philanthropic work, too. In July, 10 kids from Chicago's South and West sides were brought to Ghana through his SaveMoneySaveLife non-profit.
While in Koforidua, one of Vic Mensa's predominant concerns is making sure his uncle joins him on stage for the festival. Even as a performer, he wants to dig deeper into not only his work, but the stylistic and cultural origins of who he is. Chief Kofi Sammy blesses his plans with a ceremonial pouring of libations. He will be there at Black Star Line festival hand-in-hand with his nephew. Later, on the ride back to Accra, I ask Vic if he feels that he's a part of his uncle's legacy. He nods firmly and says almost to himself, "He needs to be there."
Photo By Adedamola Odetara for OkayAfrica
Merging music and community
Vic has been working on new music. And as he tells me of some Ebo Taylor samples he's been playing around with, it occurs to him that he should get his uncle's opinion on the tracks. Vic's upcoming album is an experiment in refining his sound. "The essence is very hip-hop. It's also deeply Chicago, but at the same time, it's influenced and inspired by the time I've been spending out here," says Vic. "I made a lot of the songs, wrote and produced things out here."
Vic graduated from the Chicago hip-hop scene alongside artists like Chance The Rapper and Joey Purp. However, he's continued to push the envelop stylistically. A reputable hip-hop catalog coexists comfortably alongside experimental SoundCloud gems, sublime detours into house music, and a raging punk band 93PUNX. Still, it's his rapping that got him here. And at all times he's used his art to speak on behalf of his community.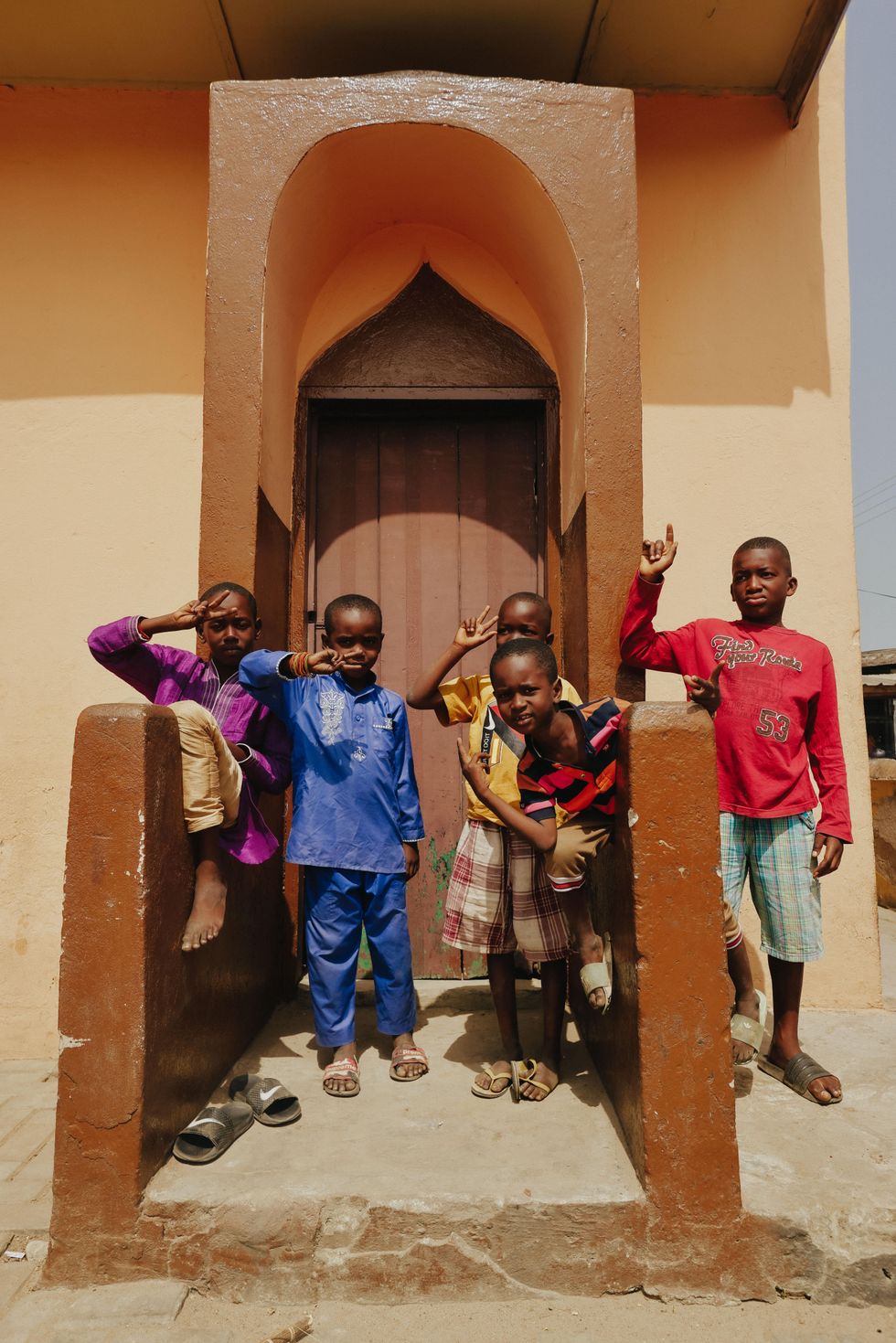 Photo By Adedamola Odetara for OkayAfrica
"When you exist in the world as a Black person or as part of an oppressed culture, I feel like there is an innate instinct to try to improve it," says Vic. "I don't think that anyone necessarily has an obligation to be some community activist. But if you're highly educated about your truth, your existence as an oppressed person, how would you not want to change that?
"I'm named Victor in honor of my most prominent Ghanaian ancestor, from centuries ago, he fought the British for our freedom. And so I'm named Victor for his victories in battle. And then in the past couple years, I started freeing people from prison, just through God, through a stroke of fate."
In 2020, Vic Mensa was able to get the accomplished activist and hip-hop artist King Moosa's clemency put in front of the governor of Illinois. "He was sentenced to 25 years in prison when he was 14. And then just like that, three days after we sent the appeal, he got released 12 years early. It was just unheard of," he says. "And one day it dawned on me like, 'Damn, I'm named after a liberator.'"
There's an innate alchemy in how Vic Mensa navigates music and community. Finding that harmony is part of his artistic superpower. As we leave, and the van slips through the Ghanaian countryside, he contemplates fate once more: "I'm learning that the specifics of the trials and tribulations that have taken place don't matter, and just to have faith in what I'm doing and where I'm going, because I'm clearly on the path that the ancestors set for me."