Last year, American rappers Chance the Rapper and Vic Mensa announced their vision for a music and arts festival that would take place in Africa. This festival would act as a converging point for Black people across the world to connect and share new experiences. Last Friday (January 6th 2023) this vision came to life.
Taking place in Accra, the capital city of Ghana, the inaugural Black Star Line Festival was a night that delivered an unforgettable experience to patrons, featuring show-stopping performances from some of America and Ghana's most talented.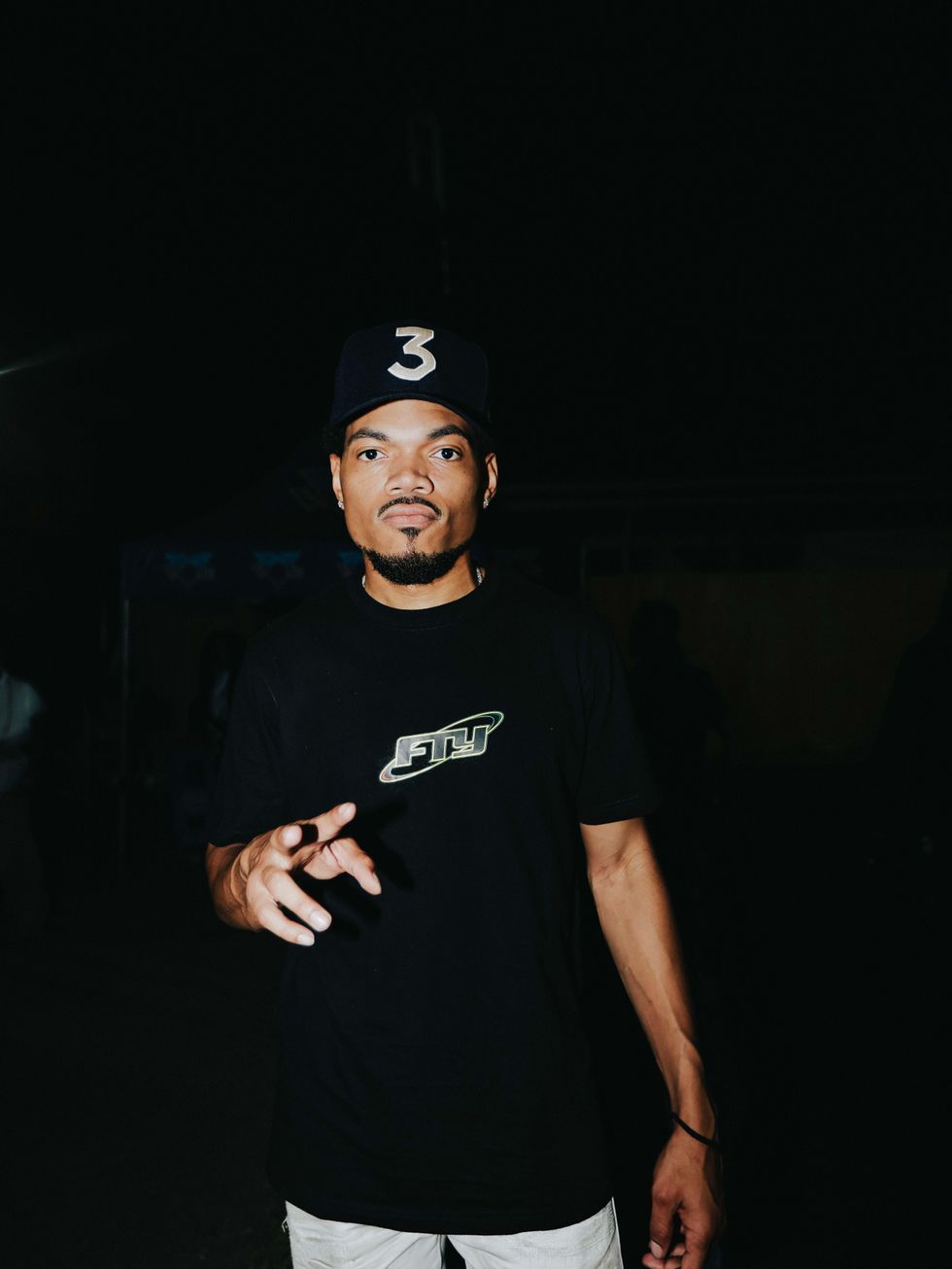 Chance the Rapper closed the Black Star Line Festival.Photo By Adedamola Odetara for OkayAfrica
While the festival, which drew an estimated 50,000 fans, featured a creative art exhibition with riveting pieces by talents across the world, the concert was the primary attraction. The show took off in earnest with Ghanaian rapper M.anifest delivering a brilliant set. The elite lyricist took festival goers through a set of his classics like "Someway Bi", "No Shortcut to Heaven", and "Suffer" as well as a few of his newer tunes, assisted on stage by rap veteran Obrafour.
Next up came the Asakaa Boys, the famed group of charismatic drill rappers from Kumasi, Ghana. Fully adorned in traditional outfits and chalked faces, they ran through a number of drill bangers from the Life Living Records collective. During the show artist performances were separated by intermittent DJ sets, with the latest afrobeats and amapiano tunes from Africa's best talents keeping the crowd occupied as they waited for the next headliners.
Up next was Tobe Nwigwe and his performance was, without a doubt, one of the highlights of the Black Star Festival. The Nigerian-American rapper from Houston delivered an absolutely explosive performance. He opened his set with an electrifying rendition of "EAT", complete with dancers and his full name Tobechukwu Dubem Nwigwe boldly written in all caps behind him and his company of performers, shining bright on the LED screen. For close to an hour he delivered, performing fan favorite "Try Jesus", before giving fans the chance to choose his very last song for the night.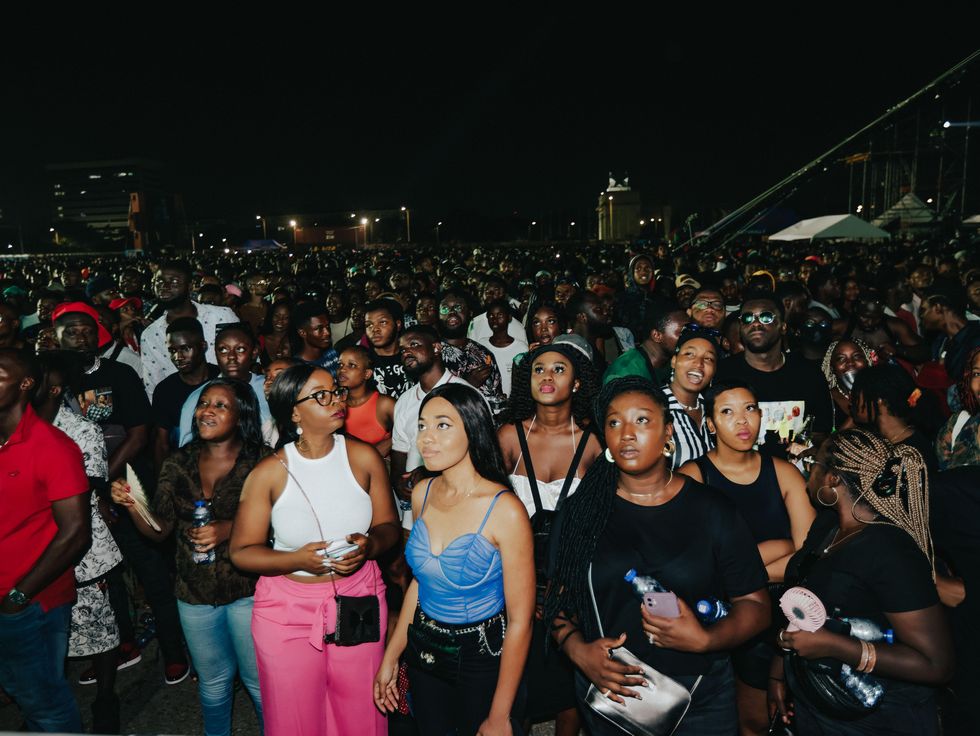 The Black Star Line Festival drew over 50,000 fans. Photo By Adedamola Odetara for OkayAfrica
Several surprise guests also came into play, with the first being NSG. The British afroswing collective took the crowd through a number of popular NSG tunes in a brief but energetic set. American R&B singer Jeremih delivered a steamy performance complete with exotic dancers while delivering renditions of "Oui", "Birthday Sex", "Down", "Planes", and "Don't Tell Em". He closed by revealing that it was his first time in Ghana, a recurring statement among the American performers.
Co-host Vic Mensa's performance was both passionate and personal. After delivering a fiery opening verse, he issued the official welcome address "Welcome to the Black Star Line Festival!" flanked by a procession of flag bearers waving the symbol of Ghana's pride in the cool night air. He proceeded to take the crowd through his set of songs like "U Mad" and "We Could Be Free", stopping between songs to deliver personal stories. He revealed that just a year ago he was incarcerated in America, spending his days dreaming of being on the beach in Ghana. His set also delivered unexpected twists, as he brought out rapper Kwesi Arthur and singer Stonebwoy as surprise acts. Vic also brought out his uncle, legendary highlife musician Chief Kofi Sammy of the Okukuseku International Band, who graced the event with a speech and a brief acapella performance.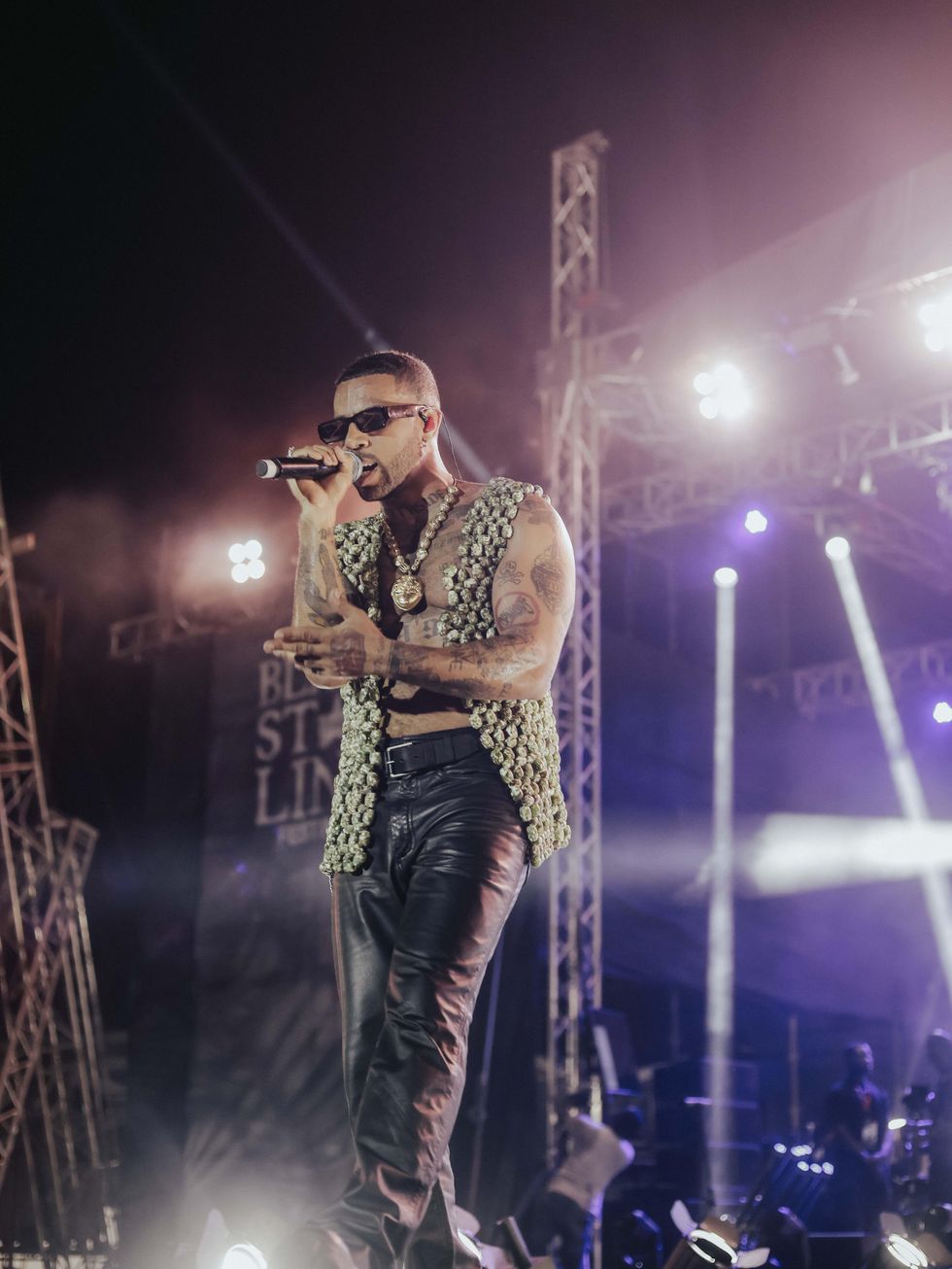 "My vision for the Black Star Line Festival was to bring the Black artists of the globe to perform for the continent of Africa, with Ghana being the gateway to the continent in many ways," Vic Mensa told OkayAfrica. Photo By Adedamola Odetara for OkayAfrica
OkayAfrica caught up with Mensa after his performance. Even though the night wasn't over yet you could detect the sense of accomplishment in his demeanor. The events of the night and the days of preparation leading up to the festival may have taken a toll on his energy levels, but he iterated the mission statement for the festival. "My vision for the Black Star Line Festival was to bring the Black artists of the globe to perform for the continent of Africa, with Ghana being the gateway to the continent in many ways," he said. "I just had a dream that we could bring people into one space to collaborate, and enjoy and live in joy."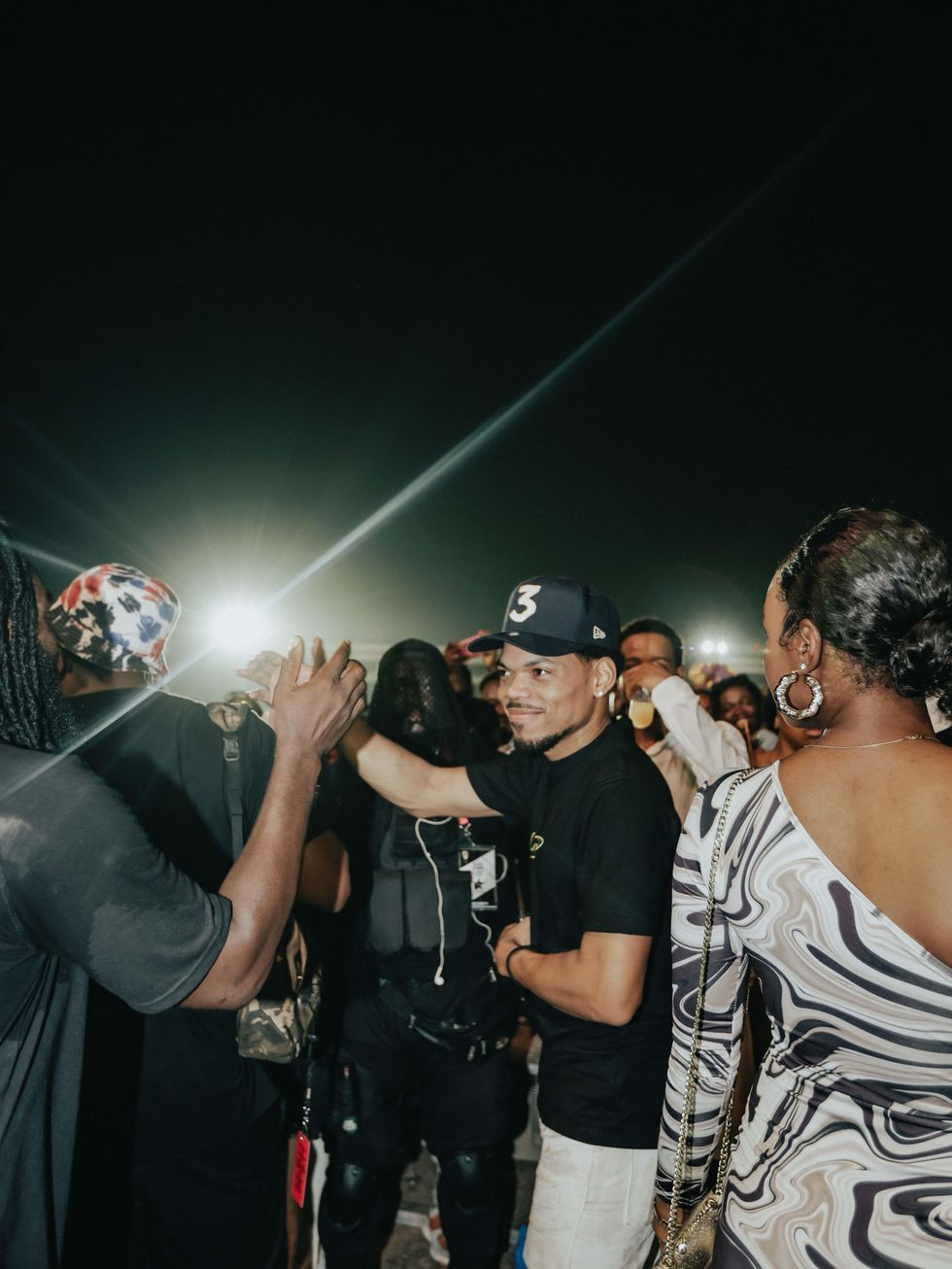 It's really just a festival for our people, and what I want people to feel like is like they're being welcomed when they come in," Chance the Rapper told OkayAfrica. Photo By Adedamola Odetara for OkayAfrica
From his words, you could tell that the events of entire night had been an emotional moment for the rapper. "So many Black artists have never performed in Africa," he said. "We perform everywhere in Europe, 10 times over. We don't just go to London, we go to Leeds and Liverpool. We don't just go to Berlin we go to Dusseldorf, before we ever go to Africa. I tell my guys thats locked up when I'm in Africa and it gives them life, it gives them hope."
Ghanaian rapper Sarkodie, Ghanaian afrobeats star King Promise, eclectic Ghanaian act Darkovibes, American singer T-Pain, and American soul songstress Erykah Badu continued the show after Vic's set, all helping make good on the hosts' promise of a night filled with excitement and connection.
Festival co-host and visionary Chance theRapper was the last act to crown the event, and he delivered an energetic 75-minute set of select tunes from his discography to end the night's festivities. As the event finally came to an end, Vic's closing words to anyone who shares in a vision like the one that birthed the Black Star Line Festival rang true. "There is no dream too big for God to accomplish," he said. "This is not just us that did this. This is God in the flesh. That's my message. There's no vision, no dream that is too large for God."
Taking place in Accra, the capital city of Ghana, the inaugural Black Star Line Festival was a night that delivered an unforgettable experience to patrons,Photo By Adedamola Odetara for OkayAfrica