Victor Ekpuk is one of the most fascinating Nigerian artists today. Over the last three decades, the artist has been renowned for his unique reimagination of Nsibidi, an ancient secret Nigerian graphic communication system thought to date back to the 5th century that was used by the mysterious Ekpe society, who were indigenous to South-Eastern Nigeria.
Through a combination of abstract graphic symbols, the artist delves into historical narratives, the contemporary African diaspora, and humanity's sacred connections.
His multifaceted artistry, spanning various mediums, graces prestigious collections worldwide, including the Smithsonian National Museum of African American History and Culture, Boston Museum of Fine Art, and many others.
In recent years, the artist has ventured into creating large-scale murals and installations, securing commissions from institutions like The Phillips Collection, the Washington D.C. city government and the Arab Bank Corporation in the Kingdom of Bahrain.
His exhibition INTERwoven TEXTures, which opened on September 28, marks Ekpuk's first solo show in the Middle East. The show seeks to explore the diverse cultural intersections across the region and pay tribute to the power of dialogue and the collective human experience.
The exhibition, curated by Professor Awam Amkpa, will showcase the artist's return to wood and feature new works from a range of mediums, including painting, free-standing sculptures as well as 3D wall sculptures developed during the artist's residency at the New York University, Abu Dhabi.
The nine-week-long exhibition will be hosted in collaboration with Efie Gallery. Founded by the Ghanaian family Valentina, Kwame and Kobi Mintah, the gallery aims to create a vibrant ecosystem for contemporary African art in the UAE.
Since its inception in 2021, it has been establishing itself as a global platform for some of Africa's most significant artists in the likes of El Anatsui, Aïda Muluneh, Maggie Otieno, Isshaq Ismail and Yaw Owusu.
Ekpuk's modern interpretation of the Nsibidi script examines how forms and concepts might be reduced to universally recognizable abstract symbols, which transcend Western language. He uses his style of abstraction to interrogate socio-political issues in Nigeria, his home country, the legacy of slavery as well as injustices confronting the African diaspora in America.
He delves into the past in order to gain insight into its present and future. This style in return, prompts viewers to reflect on the diverse uses of writing, spiritual art, and calligraphy in sacred spaces.
Of his work, Ekpuk says: "I want people to feel the works, instead of trying to read my marks literally. Whether I mine writing systems or just explore the juxtapositions between the old and the new, these are all excavations that serve my work, through which I am marrying classical African forms with the contemporary. Through this exchange of interwoven textures and cultural references, my artworks become a cultural narrative composed of visual symbols, histories and stories that transcend time and place. If I can, I want my works to be starting points for dialogue, new discoveries into the differences and commonalities among cultures."
This exhibition, which also forms part of the inaugural Dubai Calligraphy Biennale (1st - 31st October, 2023), coincides with the unveiling of a specially commissioned installation in the Dubai Design District (d3). Thus, making Ekpuk one of the first African artists to display a public sculpture in Dubai.
Ekpuk speaks with OkayAfrica about the role of culture as a medium for his art creation, his experiences sharing his art with international audiences and his interest in Nsibidi and other cultural writing systems.
This interview has been edited and condensed for length and clarity.
How do you feel about your first solo show in the Middle East?
I feel it's a nice way to come fully into the Middle East art scene. My work has been coming here for a while now through art fairs and all. So, this is my first time having a full solo show and I'm excited about it.
How did you go about selecting and creating the works you have for this exhibition?
I started with the previous works in my studio from 2015 when I was interrogating the intersection of my 2D art (paintings and drawings) and my 3Ds (sculptures) to find how I could combine both sculpture and painting or painting that could show up on a wall relief sculpture. Though I had the chance to experiment with the idea during my residency in Nigeria, the process didn't feel completed. So, when I had the opportunity for my latest residency, I wanted to explore that idea again. This exhibition will be looking to showcase my works in different mediums – paintings on canvas, paintings on cut-out wood shapes (relief sculpture), and free-standing metal sculptures.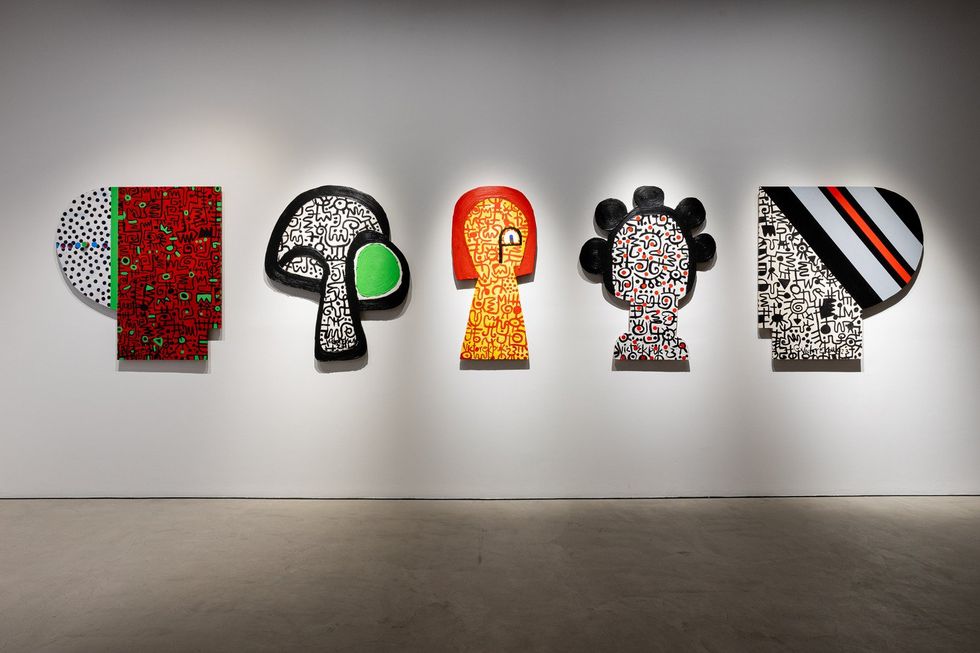 A display of Victor Ekpuk's Nsibidi artwork for his first solo exhibition in Dubai (INTERwoven TEXTures).Photo credit: Efie Gallery.
How have the diverse cultural intersections during your residency at NYU Abu Dhabi inspired INTERwoven TEXTures?

Even before I started my residency at NYU Abu Dhabi, my works have always found resonance with the Middle Eastern aesthetic. To the extent that my first public art commission in the Middle East was in the Kingdom of Bahrain in 2019. And when I asked the CEO of the Arab Bank Corporation, why he'd asked me to submit a proposal for the commission along with other Iranian artists, he said my work was "different yet familiar." So that gave me the notion that my work indeed does resonate with the people here. And even before this time, the galleries who represented my works in NYC and in London have been bringing my works to show at Dubai and Abu Dhabi art fairs. Coming to this residency now brings all of these experiences into full circle as I'm interacting in the community and living the culture firsthand.
As the first African artist to display a public sculpture in Dubai, how do you envision it impacting the cultural dialogue in the city?
Being the first makes me grateful to pave the way for others. I'm grateful to be able to create art that transcends geographic location. [Because of this,] I look forward to paying tribute to the power of dialogue — dialogues that illuminate our similarities, rather than our differences. My work, even when it's different, because it's inspired by an African knowledge system, provides stimuli in different ways to other cultures with text-based knowledge systems. If I can, I want my work to be a starting point for that dialogue. A discovery into the differences and commonalities among our various cultures. I also hope my work will invite people to engage in our shared collective human experiences.
Your array of works constantly features the Nsibidi graphic system of writing. Where did this interest and curiosity come from?
Nsibidi is something I grew up around. As you would guess by my name, I'm Ibibio by ethnicity. I happen to come from a family that is very traditionally conscious. My maternal grandfather was a high-ranking chief in a lot of traditional fraternities. So, I've always observed Nsibidi being practised around me and I've been aware of it since I was a child. But it wasn't until I was in college that I got curious to look back into this culture as the aspect of Nsibidi as a knowledge system and system of writing was revealed to me. At college (Obafemi Awolowo University) in Ife, we were encouraged to use African aesthetics to express ourselves as artists and that's when I gravitated towards it.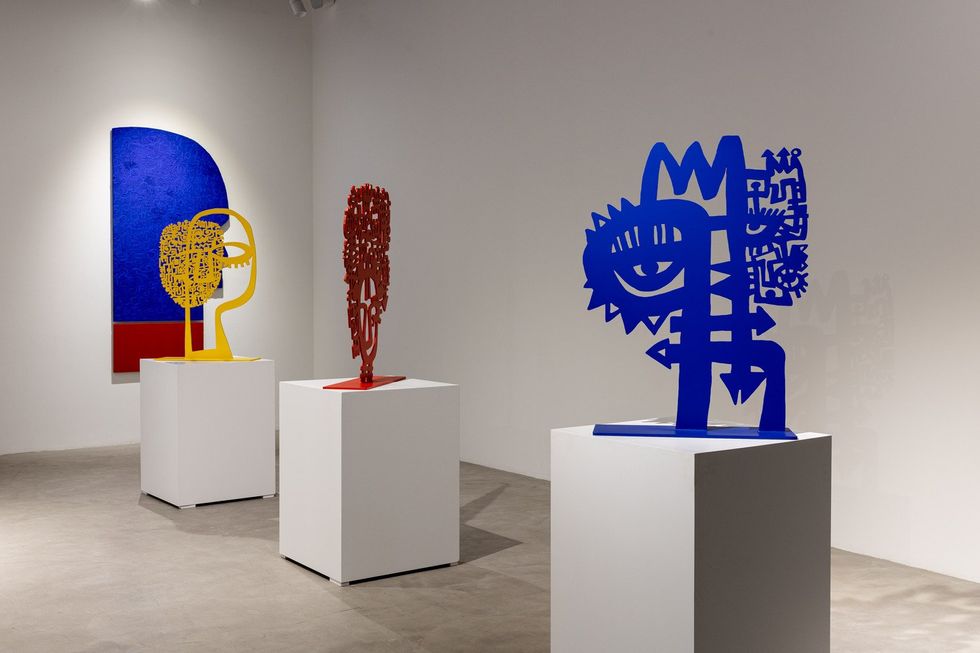 A display of Victor Ekpuk's Nsibidi artwork for his solo exhibition in Dubai, (INTERwoven TEXTures).Photo Credit: Efie Gallery.
Culture has a large influence on your art, what's the process of using that as a medium for your creation?

I think that the most important thing that gives humans their self-consciousness is memory. Memory informs our identity which then becomes our culture. Keeping African culture constantly present in my contemporary work is so that I do not forget. In fact, the depth of information and inspiration within my culture that feeds my intellect as an artist is immeasurable. In a world where history is always being written and rewritten by the conqueror, it's very easy to lose oneself in the imagination of others. So, it's important for me to look within my own culture to express myself, perhaps through this I would have contributed to retention of our memories and inspire others to consider their culture and be proud of it.
How do you balance creating art that appeals to the present modern society while drawing inspiration from the past?
Modernity does not exist in a vacuum; modernity came out of something. So whatever we modernize today actually existed. I believe modernity has to be grounded on a foundation – and that foundation is culture. Modernity has to be able to speak our language, eat our food, remember our past for it to be useful to us in Africa. By looking into the past, I'm able to tell where I'm going otherwise I'm just floating. Culture is not something that lives in the past. It's here now and it'll be in the future. We just have to carry it forward.
Nsibidi as a system may seem complicated to a lot. How are you able to condense the idea and meaning of the language to abstract and aesthetic symbols?
All forms of communication and knowledge systems are complicated until you learn and know it. Nsibidi is a coded system for specific people who hold that knowledge. Until you're a member of the Ekpe society, certain things are not taught to you. For me, the tenet of understanding it is through the aesthetic philosophy of Nsibidi which reduces ideas to abstract symbols that represent concepts. And I use such aesthetic philosophy to approach my work. I reduce forms and ideas into symbols that when I bring them together, they become this abstraction. This expands the field of abstraction in art beyond European claims to this genre of art — as I was taught in art school with history books from Eurocentric syllabuses. It reveals that abstraction has long existed within African art practices.
Your work plays a role within the genre of Afrofuturism. What has been your driving force in articulating the Black experience and imagining a future through interrogating African ancestry?
My driving has been to not forget my identity. My work sets a tone for what can be done with African knowledge systems that could be relevant now as it was then. I see African knowledge systems as ancient, present and the future. It exists within all time and space. If we don't grab our culture down and set it, then our future will be something that's not us.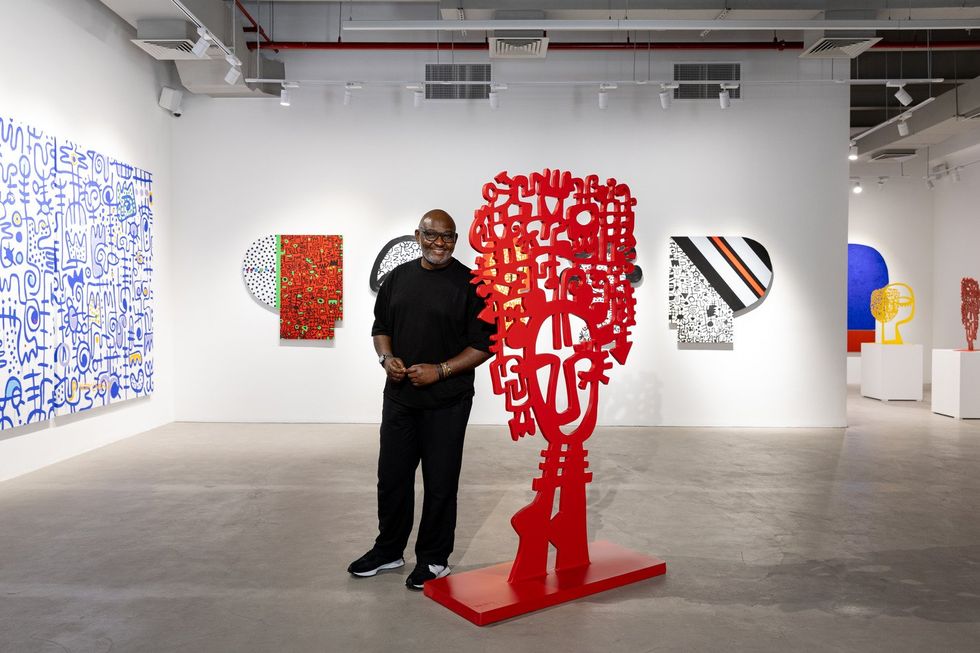 Victor Ekpuk standing beside an Nsibidi artwork for his first solo exhibition in Dubai (INTERwoven TEXTures).Photo credit: Credit: Efie Gallery.
What has been your experience sharing your art with international audiences while living abroad?

I find that through the very notion of my work being inspired by Nsibidi, a dialogue often opens up about Ibibio history and culture. Beyond the aesthetic enjoyment people get from my work, it usually calls for more interrogation of an abstract aesthetic that is not written in the canons of the Western art history and topics like identity, history and culture are explored within these conversations. It adds to the expansion of art history and history as a whole.
Do you draw inspiration from other cultures for your art?
Writing systems in general interest me. I'm always drawn to them, I believe in some subliminal way, their essence reflects in my work. Text is the foundation of my work which interweaves with Arabic calligraphy among other graphic traditions.
This, I believe, is why I'm invited to the Calligraphy Biennale, which at its inception was mainly for Middle Eastern Arabic writing artists but has now expanded to include other artists who create text-based art.
Through the years, you've utilized a variety of mediums for your art. What then does the continuous evolution of your work look like in the years to come?
I wish I could speak about the future. Though I'm interested in using more digital technology as a tool to expand how I express myself, the important thing for me is that I keep doing the work. The more I do the work, the more its future unfolds to me.
-
INTERwoven TEXTures runs from 28th September to 21st November, 2023 on Tuesdays through Sundays from 11a.m. - 7 p.m. at Efie Gallery, Unit 2 Al Khayat Art Avenue, 19th Street – Al Quoz 1 Dubai, United Arab Emirates.