Music is meant to embody our lived experiences, channel feelings and, most importantly, reflect one's life. What one hears on record is no different in conversation with Mandisa Nduna.
Nduna, an award winning actress who makes music under the moniker ZuluMecca, has graced both local and international screens. She appears on Emoyeni, a four-part television series centred around spirituality and she stars on Stillborn, an isiXhosa sci-fi film which is currently streaming on Netflix. With both theatre and film awards under their belt, they are ready to take on music with the same winning energy.
Nduna walks up six flights of staircases in Maboneng in the Joburg city centre where we are due for a sit-down. This ascension is the same one the listener experiences when listening to ZuluMecca's lyrics.
"I'm not a target. I am not involved in politics. I'm just parting the waters, no followers, just the cause I guess," raps ZuluMecca on "Food and Liquor", a recently released single in which she collaborated with South African rap legend Stogie T.
---
The quoted line encapsulates Nduna's mission in music, which is purely to tell the truth whether you are with it or not. In the song, ZuluMecca stands her ground with smart wordplay centered on, well, food and liquor.
Of Angels and Ancestors is an EP ZuluMecca dropped independently in June under their label Cult Music. In the project, she raps on boombap beats, delivering messages on spiritual guidance and knowing oneself. Of Angels and Ancestors will get one reflecting on their own spiritual journey while dealing with their demons.
ZuluMecca ft Stogie T – Food And Liquorwww.youtube.com
In South Africa, the attitude towards ubungoma (the calling) and African spirituality has predominantly been frowned upon, but ZuluMecca manages to speak on these topics without sounding judgemental and delivers them with a lot of confidence.
In the interview below, which is slightly edited for clarity and length, ZuluMecca explains some of the lines on the song and explains how truth has helped on her musical journey among other topics.
In "Food & Liquor", you rap, "Been in the dark/ Been building the ark." Are you referring to gearing up for your music career in that line?
Absolutely. So, I was stuck in a bad record deal where the people didn't know what they were doing. So, for a good two (almost maybe three years), I couldn't release anything because I was trying to get out of that deal. That is the time I took when I stepped back and I was like let me work on what I need to work on. Which leads to the next line, "dealing the art/ I seal it and they pick it apart," because those people told me that whatever I release they own. I had to change my stage name because they said they own it, so whatever I tried to do was tied to them. That 's what that means in terms of the time I took away.

On "Of Healing", you rap, "Who heals the healer?" Did you ever get the answer?

No answer to that question because it is quite tricky. There's a belief healers cannot heal themselves, and I am talking about healers in every sense. If I am to talk about traditional healers, if a traditional healer has a tummy ache they can't concoct their own medicine. It just won't work. Yes, they can put all the right things together, but it just won't work. So that is what I am saying, traditional healer looks towards another traditional healer, prophet looks to another prophet. You know, "Who prays for Jesus?" So, no, I haven't gotten that answer. I suppose looking at myself as some sort of healer right now, hoping to heal through music, other music heals me.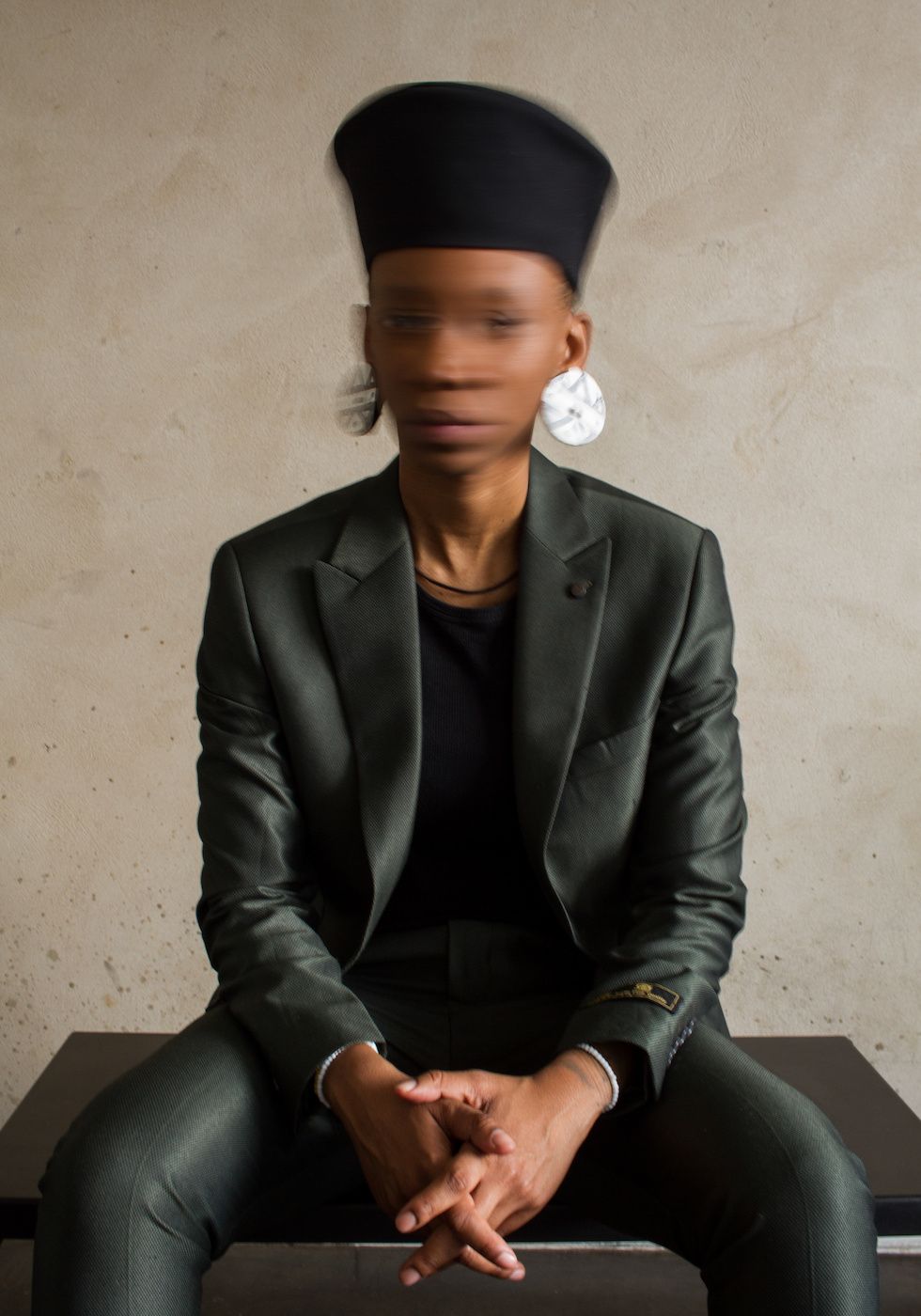 What are you listening to at the moment?

The new Black Thought. Kings Disease by Nas, I checked that out. There are some nice ones there. Nas seems more comfortable now in his grootmanness. I listen to Joey Bada$. Locally, I listen to Stogie T, a lot of Shane Eagle... yeah, pretty much.
You used to be part of the group Klutch Kollective. Tell us a bit about that, and was that before the acting?
Well, firstly that is the name I couldn't keep. It was also just triggering for me because it was attached to so much stuff that did not work out. I had to leave that behind. Not only for legal reasons but for emotional and mental reasons. But, with each incarnation, and I have had many of them, each of them has something different to say. But some of those incarnations were liars, and I can admit that. You fall into a trap especially in hip-hop where you feel like you have to rap about what everybody else is rapping about. Things you might not even be living, but you feel like you have to present an image of a lifestyle you might not necessarily be living. I lied, and I got tired of lying so what does this incarnation have to say? For the first time, with ZuluMecca, they came to me. We were guided together. I did not have to go to a Rapper Name Generator. It was just like, what is the truth? And then, as soon as I started telling the truth, voila, I got a Stogie T feature.
How did that come about ?

I released this video which I filmed at home and added lyrics to it which later turned to "Of Ancestors." It was totally experimental. I did not know how people would react. I had no plans to go further with any of that music, it was just on my spirit. It spread bigger than I had imagined it would. A week after I released that, Stogie was in my DMs talking about, "Yow, I need you on my Freestyle Fridays". And I had been keeping up with Freestyle Fridays. I was close to shooting my shot, but I am glad I waited and let the work speak for itself. I did the Freestyle Friday, he loved it and it got responses on social media, and when I posted it on my platform, he commented "I am a superfan and I need a feature."
I saw a post on your Instagram stories the other day, you were in studio with Stogie T again. What's cooking?
I cannot share anything at the moment. We are teasing it to get people wondering. But it is exciting though, it is huge not only for me and South Africa, but for Africa.
How much does your music borrow from your acting in terms of delivery and performance? Has acting prepared you for this?

I do not think so because acting requires stepping into a persona that is mostly determined by someone else. With the music, it has to come from me. I think in terms of performing, because I have done theatre, it helps because I know what I do when I feel nervous on stage and I know all of the breathing exercises. That's when it comes in handy. But creatively no.
On your new single, "Food and Liquor", featuring Stogie T, there is a line: "I can't ignore my calling. I am an artist. This is larger than the beef, if I speak I am conjuring God in this." Your raps are very spiritually charged. What fuels that?
I mentioned earlier that the minute I started speaking the truth is when things started happening to me. And that's the point I got to in my life in general not just with the music. My ancestors were like, "Yo dawg, you have to stop lying. You have to stop lying to these girls and everybody. Just stop lying. You cannot be that person and seek spiritual divinity if you will." There was an urge in me to live a certain kind of life. I was getting in my own way. So, it got to a point where that was the ultimatum. The truth that I am telling is not a universal truth. It is not everybody should believe this because this is how it really is. It's my journey and it's the guidance that I receive from my guides. I tweeted this yesterday that the messages in my music are demanding to be told, this is not me going, 'okay what can I do to convert people?' As I said, most of the words and the messages come right after prayer or during a quiet time when I am most receptive to guidance. And then, it is my job to package them in rhyme form. I feel like it is important and it is part of my purpose to show people that the presence of one's ancestors and the guidance of God can co-exist in the most beautiful way, because a lot of people think that one is fighting the other.
ZuluMecca - Holy Waters (Mama's Prayer)www.youtube.com
Would you say the visibility of ubungoma (the calling) at this point in time has helped with reception wise of rap content like yours?

Absolutely! I think that has definitely helped something that would maybe be taboo. But mainstream-wise, I do not think rapping about ancestors is really a thing. But what has helped is what they call Gogo Twitter with all the information that they share, shattering the stigma and taboos around it. But now we are seeing carriers of light sharing that light with everybody. It's like pastors; some people have ill intentions, and it's not to say that all sangomas are good sangomas. But it has been a beautiful evolution to see, a beautiful paradigm shift to see the world start asking those questions and having those conversations. So, by the time ZuluMecca comes, people are like, "oh I have been thinking about that", "Oh I was wondering..."
Let's speak about ZuluMecca's aesthetic. What is the thinking around that?
There is no thinking. I will not even lie. I do not have a team right now, I was told I will be guided to a team because I have been burnt before and I have trust issues. So I am really figuring it out along the way. Doing a lot of research and figuring out as I go. I started out with the beads, I do not do the beads anymore. I was guided to the beads, they served their purpose, they got attention. I remember I went to a Shane Eagle launch before COVID-19 and the lockdown. I wore the beads and I could tell even if people did not know my name they recognised the beads. I am constantly evolving. I'll figure it out.
Did you deliberately choose to go with a boom bap soundscape?
No. I stumbled onto that one. "Dominion", a song I just recently took down, had Zulu chants and quite high energy. But there was once again an urge for my life to quieten down because there was a need for me to listen and receive guidance. The minute I quietened down, the music automatically did the same. And beats that were coming to me were that. And they happened to be beats that spoke to me.
What's next for ZuluMecca?
There is alot going on in my life right now. If I am going to do a project, I will have to go somewhere, where it is just me and the engineer and whoever I need to make it happen. Go to Iceland or somewhere completely isolated. Because my music comes from complete isolation. And that is probably why I don't have full songs because I do not have time. I do not see myself dropping every year. I have to go live my life first to avoid sounding one-dimensional.