Lagos Fashion Week always comes with sartorial stakes, not only for regular attendees but also for designers themselves. The status of LFW as one of the continent's top destinations for creativity and design means designers have to step up their game if they get runway slots.
With Lagos Fashion Week closing out over the weekend, we reflect on the brands that made us swoon with their craftsmanship and talents. We are revisiting the brands that offered more than just runway appearances, offering complex narratives and themes.
Some, like Nigerian crotchet brand Studio Imo, showed for the first time on the Lagos Fashion Week runway, presenting pieces that looked fresh yet timeless. Elsewhere, LFJ took us on an underwater adventure, employing fabric manipulation to create a tableau of sea creatures. We will be thinking of these brands for a while.
Elie Kuame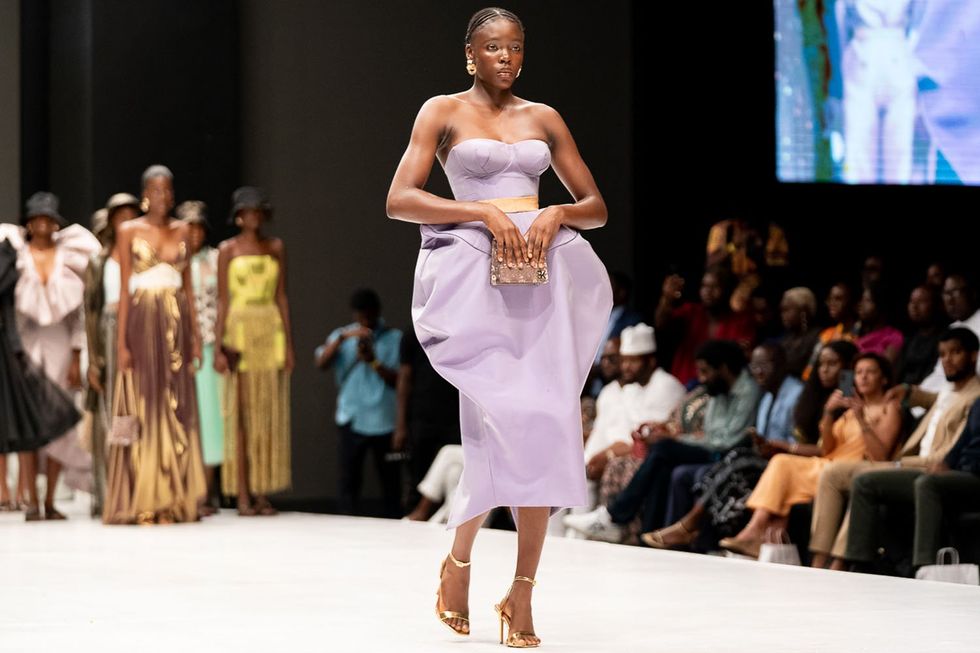 A model wearing Elie Kuame at Lagos Fashion Week 2023.
Photo by Daniel Coast.
Elie Kuame returned to Lagos Fashion Week with another spellbinding show (we fell in love with that red beaded ballerina dress from last season!). Helmed by Ivorian-Lebanese couturier Elie Kuame, the brand continued its storytelling of curating a luxurious world where women feel supreme and powerful.
A thumping soundtrack heralded models in wardrobe-chic clothes, structured tailoring, and occasionwear. One strapless lilac dress had sculptural hips, winking at the brand's couture sensibilities. When Kuame came out, walking in a pack with his models, it drew a resounding roar from the audience.
Studio Imo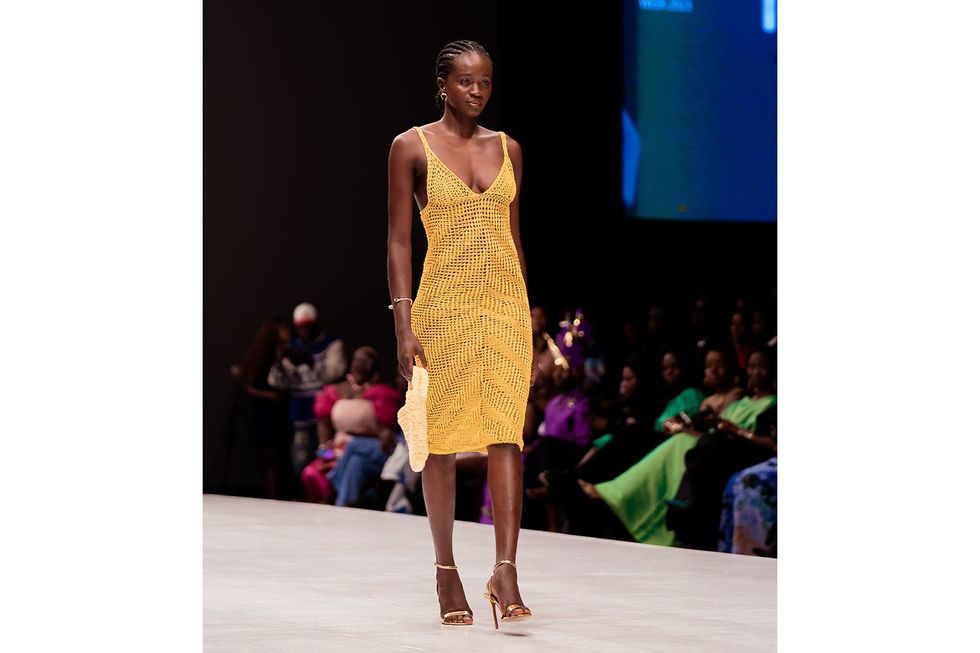 A model wearing Studio Imo at Lagos Fashion Week 2023.
Photo by Daniel Coast.
Lagos-based crochet brand has collaborated with names like Orange Culture and Iamisigo, and has been featured on fashion publications and magazines. Yet, it has never staged a show at Lagos Fashion Week in its 10 years of existence. This season, the co-founders (Edwin Okolo and Imobong Emah) felt it was time to because crochet was finally being accepted as high fashion.
Taking inspiration from the transformative themes of Ken Liu's 2012 short story Good Hunting, and featuring live music from Nigerian artist Dwin the Stoic, the debut eschewed knitwear/crochet as a timeless, age-long craft. Lovingly hand-made using fisherman yarn, there were classic silhouettes, draping techniques, cutout details, and gradient offerings.
LFJ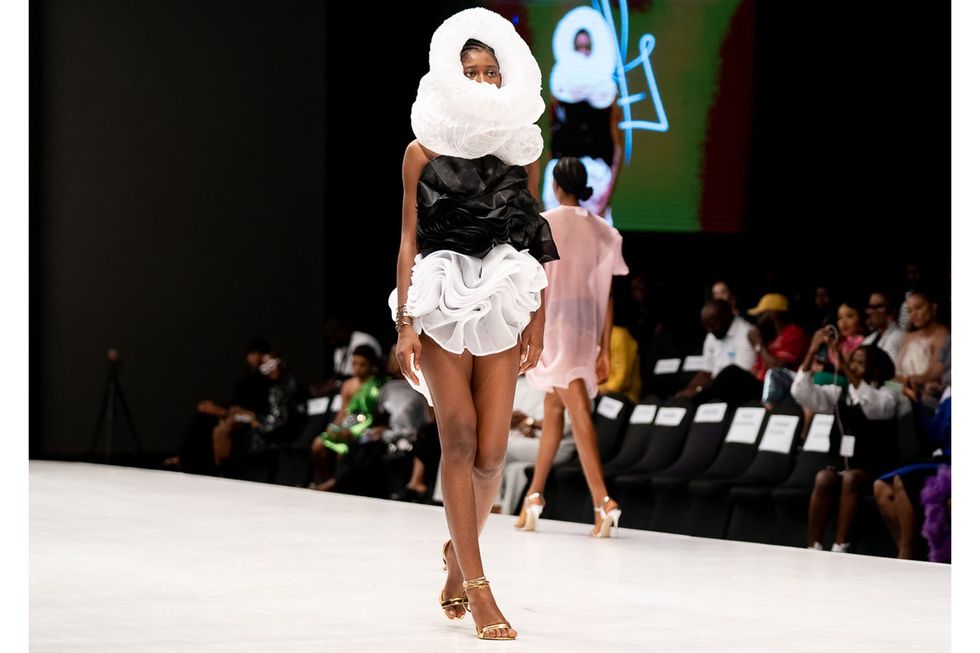 A model wearing LFJ at Lagos Fashion Week 2023.
Photo by Daniel Coast.
LFJ brought its Under Sea collection to the Lagos Fashion Week runway. It manipulated plisse organza to mimic ocean fauna (sea horse, sea anemone, jellyfish, etc), producing silhouettes that were both striking and expansive.
Mostly a sculptural collection, a wardrobe must-have was the little, slip dress in pristine ivory, the hem festooned with rosette appliques.
While the collection wasn't a larger commentary on how climate change negatively impacts the ocean, it might as well have been.
Cute Saint Lagos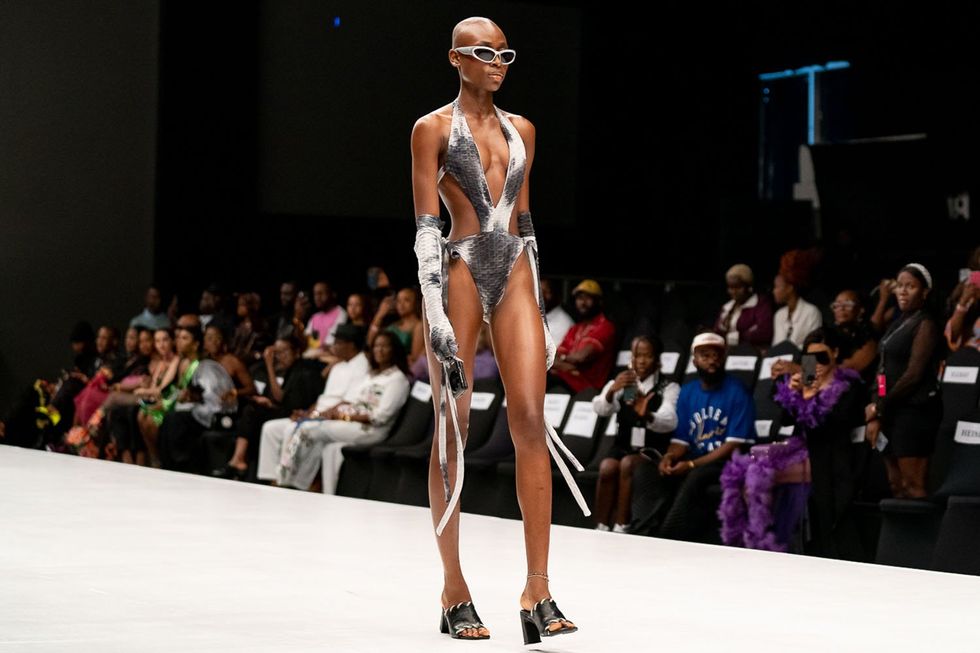 A model wearing Cute Saint Lagos at Lagos Fashion Week 2023.
Photo by Daniel Coast.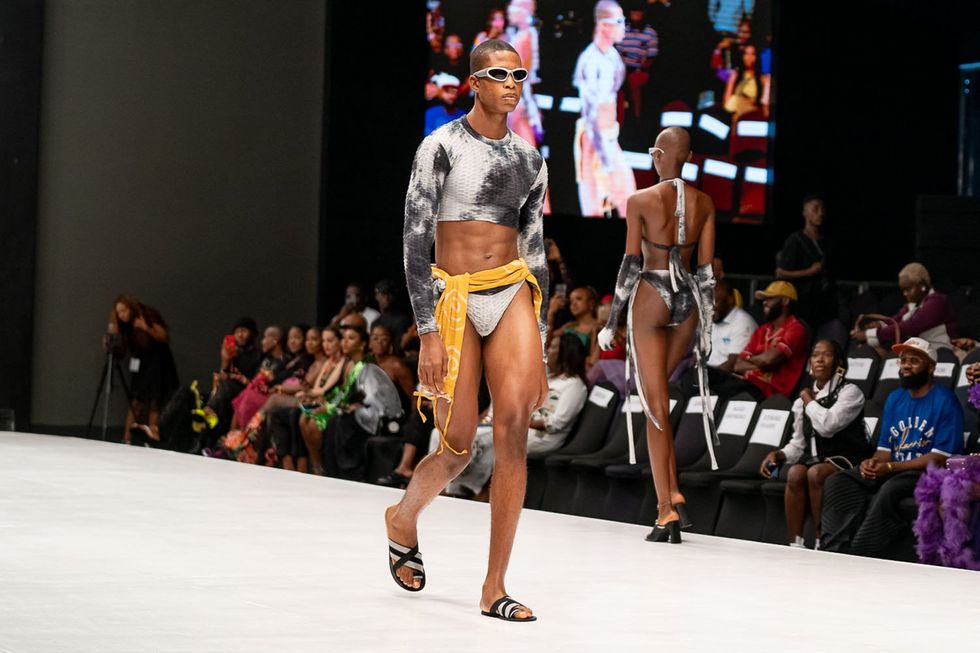 A model wearing Cute Saint Lagos at Lagos Fashion Week 2023.
Photo by Daniel Coast.
Cute Saint Lagos does love a sexy runway opening, sending a female model again in an adire-batik bathing suit with honeycomb motif, opera gloves, and Y2K sunnies. They had done the same last year, and we aren't complaining for sure.
What followed was a male model in a cropped pullover, swim trunk, and a batik wrap. This was the Igboya collection, and it stayed true to how the brand seamlessly fuses edginess with Nigerian craftsmanship.
Éki Kéré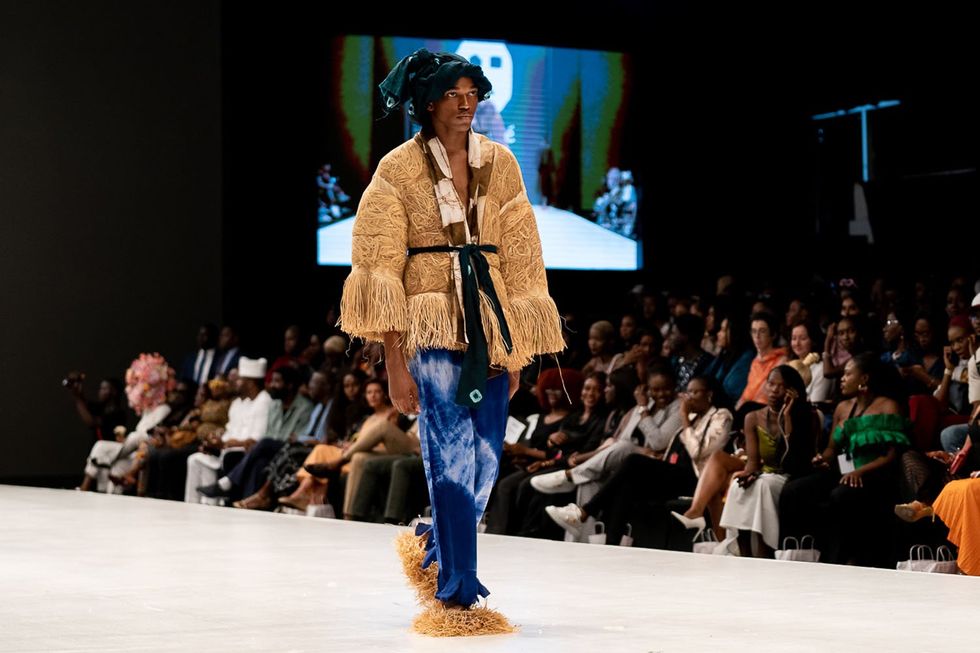 A model wearing Éki Kéré at Lagos Fashion Week 2023.
Photo by Daniel Coast.
After having an offsite presentation at Alara at Lagos Fashion Week last year, Eki Kere returned with an on-site presentation that showed the versatility of raffia. Raffia, while not only the brand's visual signature, also represents the preservation of Nigerian craft practices and artisanal continuity.
For this collection, raffia showed up on beachwear, fringing denim, tops, and other genderless garments in tandem with the brand's resist-dying. They showed up as droplets elsewhere, appeared as huge tote bags and flip flops. They were also bleached/colored black, blue and neon pink. But the masterpiece was their appearance on a quilted coat, quite ideal for cold seasons.
SVL Designs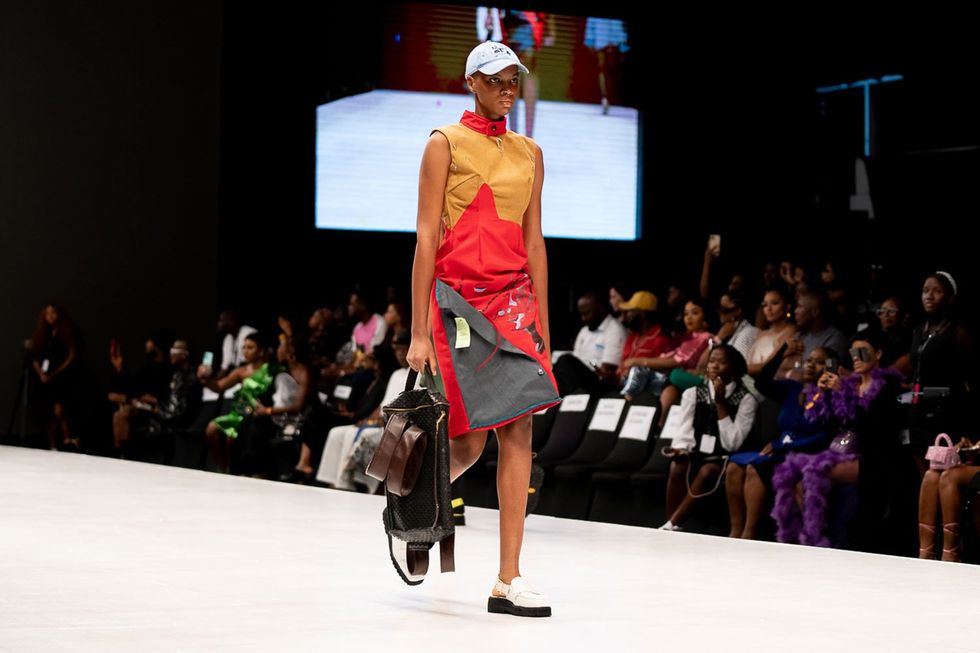 A model wearing SVL Designs at Lagos Fashion Week 2023.
Photo by Daniel Coast.
Sipho Lushaba of SVL Designs mined secondhand clothing from his family's wardrobe to create his collection at Lagos Fashion Week. The South African designer, and 2022 Green Access alum, strengthened techniques on patchwork and deconstruction, elevating wardrobe staples to cool, utilitarian status.
Pettre Taylor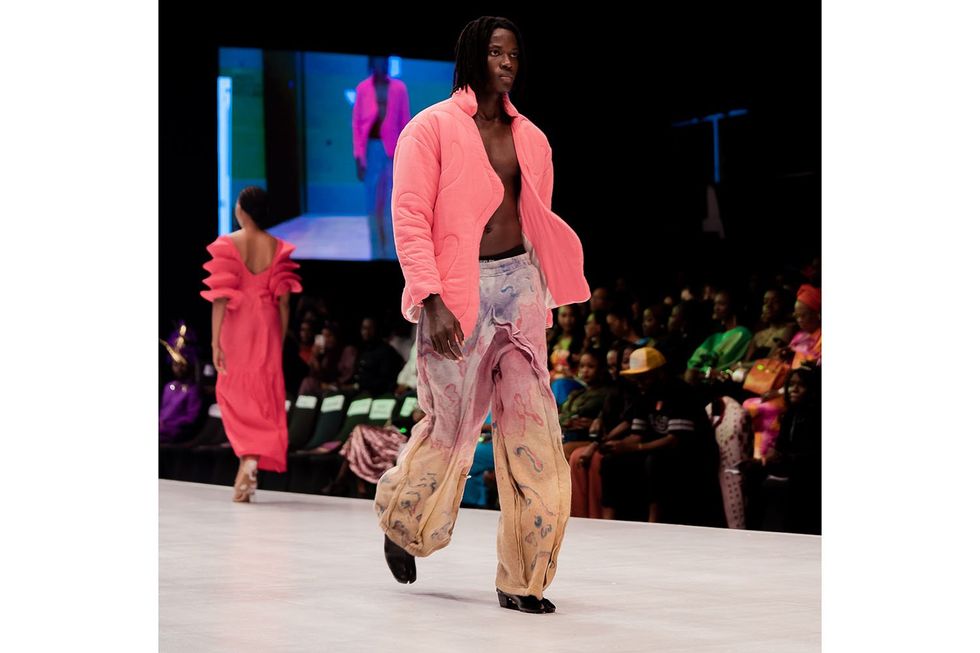 A model wearing Pettre Taylor at Lagos Fashion Week 2023.
Photo by Daniel Coast.
Before now, the only time Pettre Taylor had shown at Lagos Fashion Week was as a finalist for last season's Green Access program. The LFW initiative is a talent drive to discover new designers while giving their brands a platform. Showing a mini showcase of upcycled, sustainable pieces last season, the brand's founder, Peter Acha, returned to the LFW runway with a fuller showcase.
This collection featured contemporary wardrobe items imbued with artisanal touches like hand dyeing, crocheting, weaving, and embroidery.
Ugo Monye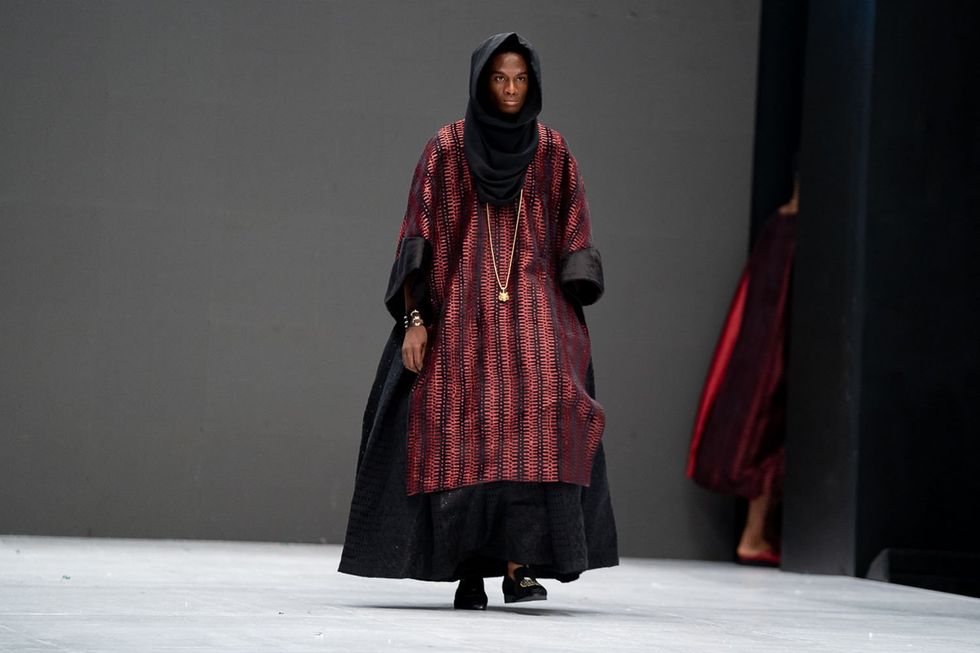 A model wearing Ugo Monye at Lagos Fashion Week 2023.
Photo by Daniel Coast.
Lagos-based menswear brand Ugo Monye had put male models in face masks made of silk chiffon on the runway, opting for a monochrome color scheme of brown and crystal teal. The ethos of the brand has been to make men appear supreme and regal, drawing influences from a multicultural mode of African dressing.
This time around, it took on more color (burgundy, red, orange, etc), putting more fabric layers on agbadas, more lush textures, fuller draping, more experimentation with trouser shapes. It was an extravagant show that closed out Lagos Fashion Week on Friday.
IAMISIGO
IAMISIGO had an offsite show on Sunday to unveil its Shadows collection on Lagos mainland. Although it was a private showcase, visual feeds from the brand's social accounts conveyed a rich, sophisticated experience.
The brand's founder, Bubu Ogisi, worked with talented collaborators to achieve a merging of worlds that blended African spirituality, history, design, craft, and creativity.
Ejiro Amos Tafiri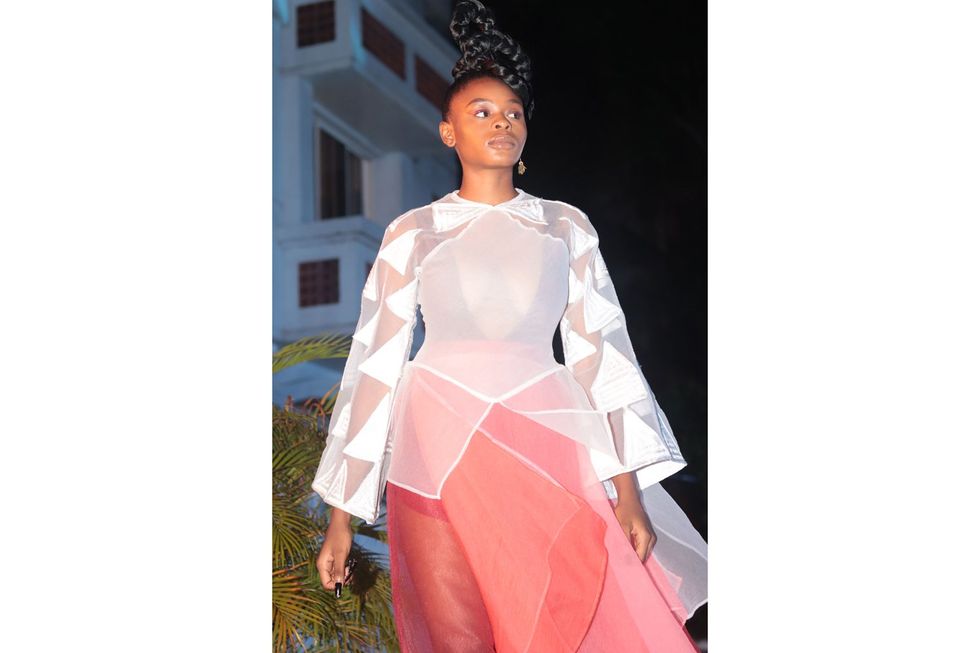 A model wearing Ejiro Amos Tafiri at Lagos Fashion Week 2023.
Photo by Daniel Coast.
A regular at Lagos Fashion Week main site runways, this was the first time Ejiro Amos Tafiri would stage a private show. The collection, titled Tapestry Tropical, was a 60-piece offering that paid homage to Africa's tropical landscape.
Essentially, we saw the brand's signature silk organza cuts flatter models' bodies, as though they were blooming from petals. Embroidery took on floral and leave shapes. It was a design exercise that meshed textures and colors, honing in on crafting clothes that would stay timeless.