Private shows aren't new at Lagos Fashion Week. In 2018, during an era where brands like Maki Oh, Eki Orleans, Tongoro, and Studio 189 were still runway mainstays, Nigerian designer Folake Coker weaned her womenswear brand off of the main runway and forayed into the uncertain waters that are offsite shows. Lagos-based Temple Muse and luxury concept store, Alara, have also experimented with trunk shows to coincide with the programming of Lagos Fashion Week.
It's been mixed results so far, as is to be expected when designers aren't relying on main-site infrastructural provisions like venue and technical logistics. Not that Lagos Fashion Week as a mothering platform hasn't been struck by both human and natural hitches. It has, on quite a few occasions – many who attended in 2016 will remember the rains that flooded backstage.
In 2023, showing offsite doesn't just mean a designer is signaling their relatively comfortable independence; it has become an outlet to indulge in their own creative impulses.
Making A Splash
Atafo kicked off private show proceedings this season, a splashy affair that drew out the brand's sprawling network of celebrity connections and A-list clientele. The venue was the iconic Eko Hotel and Suites, a go-to for concerts, but with one of the halls reshuffled to adapt for the show.
From an aesthetic point of view, it wasn't an ideal spot as the hall's rustic brown carpeting clashed with the white makeshift runway. The collection, titled Sartorial Reverie, was a co-ed presentation that saw Mai Atafo, the veteran designer, continue to refine the language for womenswear and offer new twists on formal menswear staples.
Couture Horror and Performance Art
The Weiz Dhurm Franklyn private haute couture show couldn't have come at a better time, ostensibly folding into the Halloween season to release its most hauntingly and beautifully surrealist collection yet. Held in department store RJ4, the title of the collection, Messengers, reframed conventional biblical imagery of angels to their actual depiction. A brown sheer gown had a profusion of red-tinged eyeballs that looked decorative but also quietly morbid.
For accessories, the brand magnified the size of an eyeball to uneasy proportions, creating a bag with silver chain straps. It's almost as if the brand was asking: will you dare to hold this?
Meanwhile, fresh off her creative stint with Victoria's Secret, Bubu Ogisi's IAMISIGO doubled down on design process and performance art with a collection titled Shadows, inspired by the legend of queen Nyabingi, a Shamanic priestess from East Afrca. On the mainland of Lagos, she put guests in a cavernous industrial space, all given strings as access to wear around their wrists.
Heavy-duty equipment stood mammoth, and a littering of wood shavings took the place of the runway. The materiality that shaped the collection was both visible and invisible, grandly informed by Ogisi's many travels around African countries, picking up knowledge on ancient craft practices in these places, working with brass, glass, and other objects.
A model on the IAMISIGO SS24 runway during Lagos Fashion Week 2023 (offsite).Photo by E.C. Okoigun.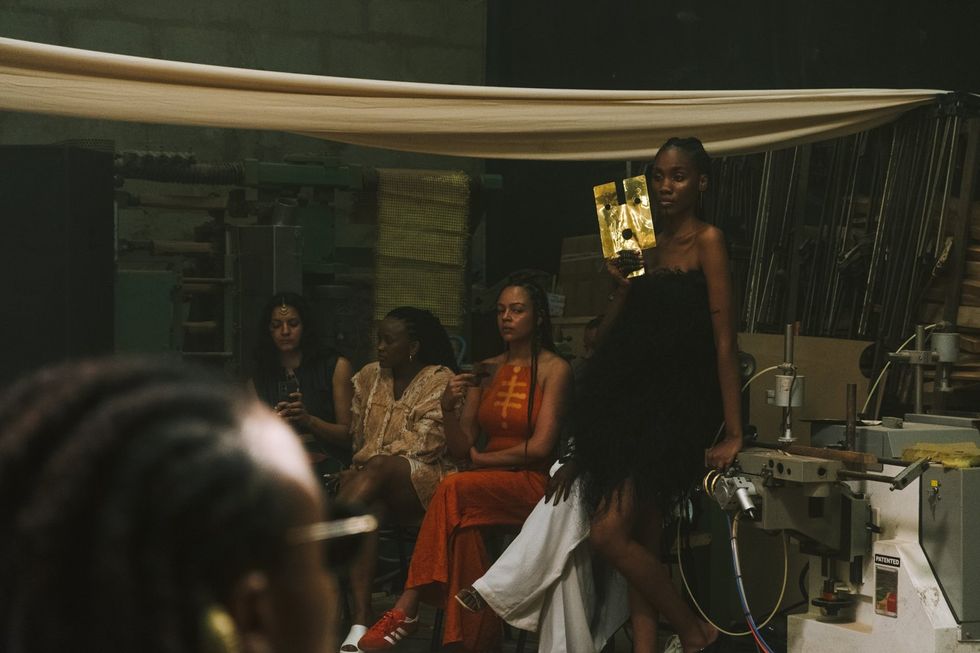 A model holds up a brass mask at the IAMISIGO SS24 runway show during Lagos Fashion Week 2023 (offsite).Photo by E.C. Okoigun.
Bringing in talented collaborators, the collection featured clothes made from handwoven wool, cotton, polyamide mesh, and bark cloth, to name a few. There was a black crotchet dress festooned with brass droplets, and some models held up brass masks, and bronze accessories sourced from Benin city in Nigeria.

The Newcomers
Others made their private show debuts this season, namely tentpole brand Ejiro Amos Tafiri and Fruché. Ejiro Amos Tafiri unveiled a 60-piece collection, which was quite difficult to sit through if you were still going to show up for Sisiano, Orange Culture and Imad Eduso.
Amos named her collection Tapestry Tropicale, inspired by the rich tapestry of African tropical forests and vegetation. It was a flamboyant show of color, even right from the venue (Piers Habour), the steps decorated with flowers.
As for the clothes, embroidery patterns took on the appearance of leaves and flora. The brand's flouncy creations in fine organza returned, in recognizable pastel hues that, with the theme in mind, took on a blooming quality.
Chantilly lace, another beloved fabric used by the brand, added lush textures to blouses and tops. The collection was size-inclusive, which wasn't surprising. All in all, it was quite a sartorial feast in tailoring and design, but the brand didn't need up to sixty outfits to achieve this.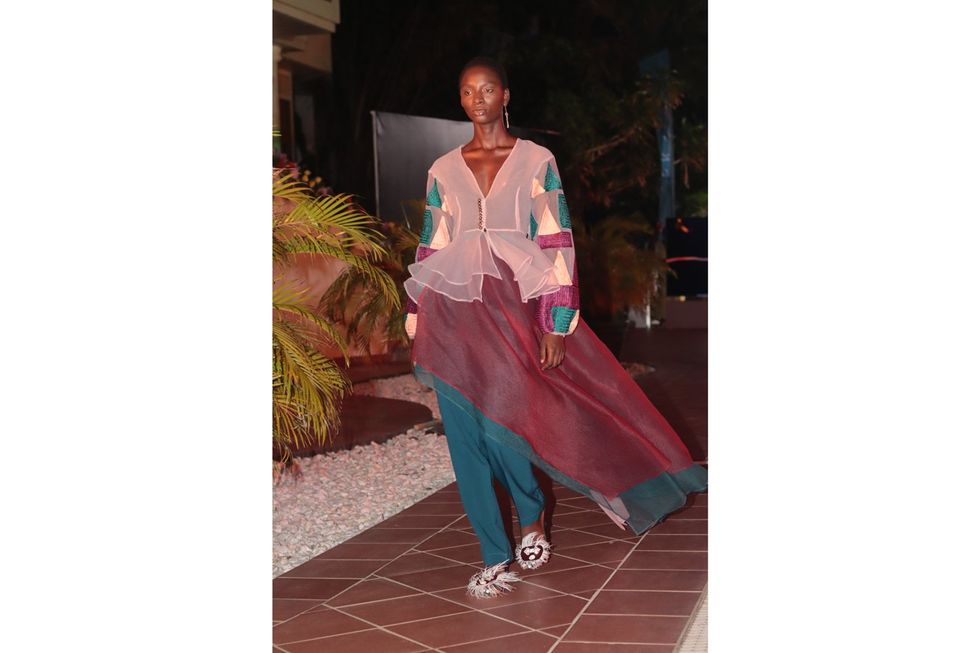 A model during the ss24 private runway show of Ejiro Amos Tafiri during Lagos Fashion Week 2023. Photo by John Ezekwem.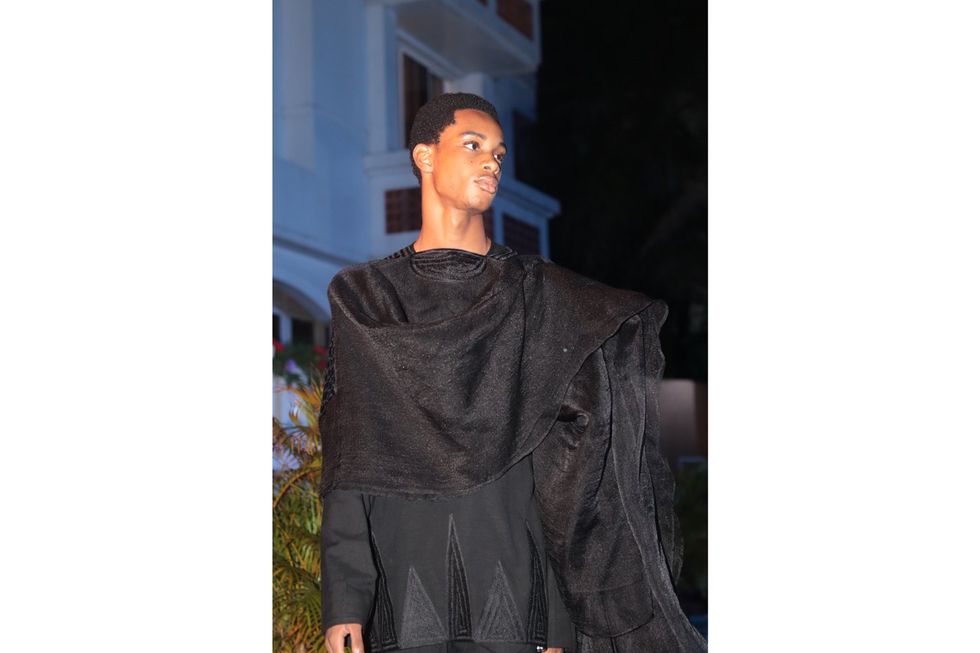 A model during the ss24 private runway show of Ejiro Amos Tafiri during Lagos Fashion Week 2023.Photo by John Ezekwem.
On the other hand, Fruché's Do You Know Who I Am collection kept to a delightfully slim number; a color range of black, red, white, and pink, showing off its signature draping and ruching techniques in eveningwear that should be seen on the red carpet. It even updated its "Prototype B" upcycled jeans, which is quietly becoming an item coveted by celebrities.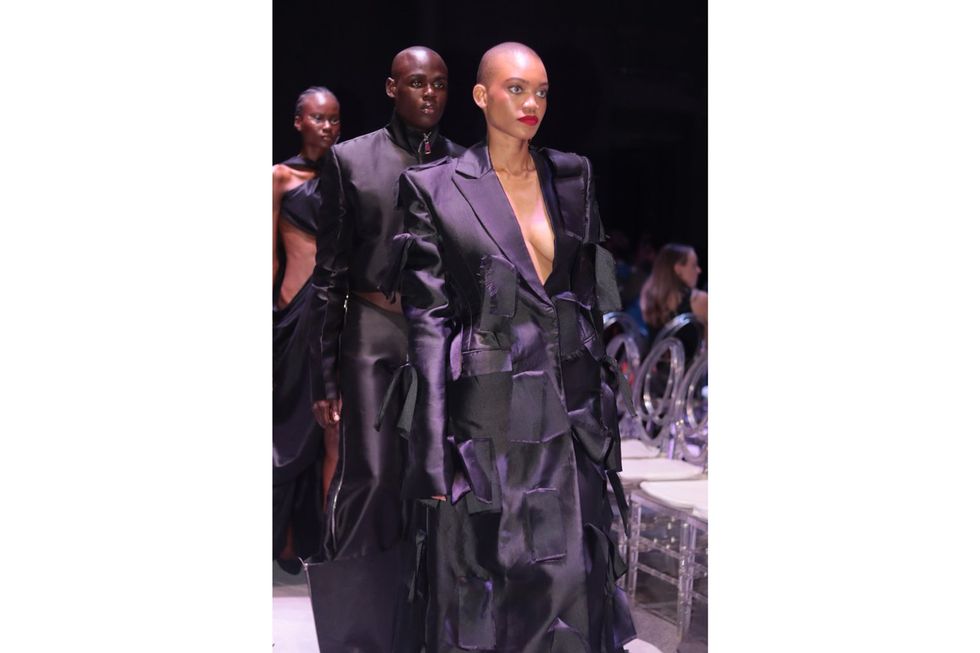 Models wearing Fruché at the Fruché SS24 private show during Lagos Fashion Week 2023.Photo by John Ezekwem.
All of the Lights

At Ultima Studios in Lekki, Orange Culture staged an upscale show that clogged traffic going into the venue. The gender-fluid brand was missing from last season's runway lineup. The brand's founder, Adebayo Oke-Lawal, instead took Orange Culture to Portugal Fashion Week for its spring-summer '23 showcase. To see Orange Culture return this season at Lagos Fashion Week, even though showing privately, was going to be interesting.
The collection was titled It Comes In Waves, but the overhead lights emitted so much reddish-orange illumination that the clothes on the models weren't distinguishable in both color and form. If the clothes were stunning, we would hardly know.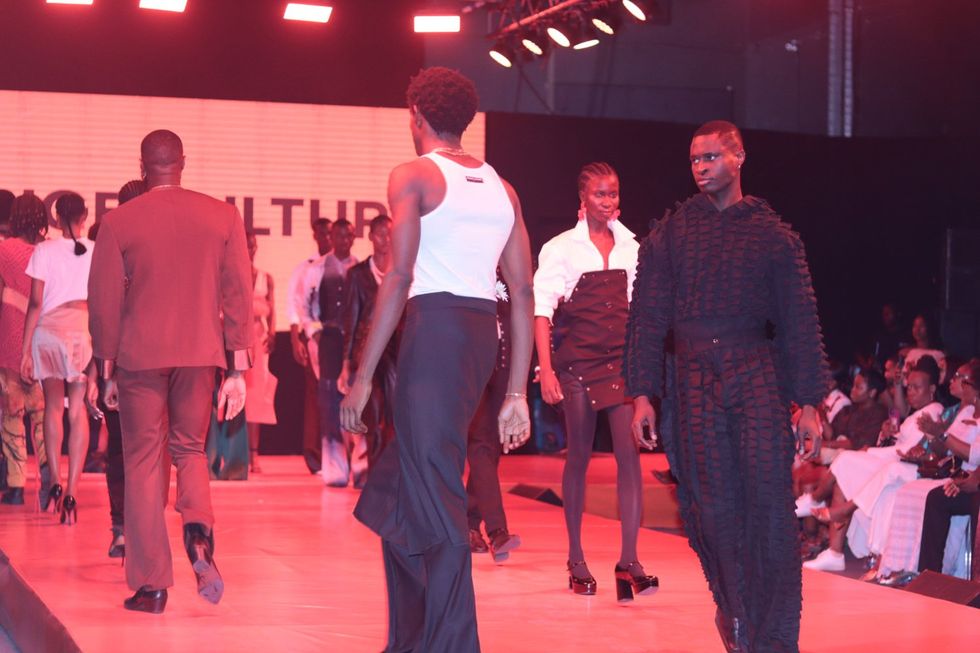 Models doing a final walk at the Orange Culture SS24 private show during Lagos Fashion Week 2023.Photo by John Ezekwem.
Only the black and white ensembles were moderately strong enough to repel the overpowering glow. While the lights felt like a nod to the brand's orange colorway, it wasn't the best stylistic or visual choice.

A Friendly Dinner
Imad Eduso's dining setting at NOK by Alara rounded off this year's offsite shows. It stripped back noise and performance, choosing instead to identify more with the brand's most loyal clientele. Dami Olukoya, the founder, invited friends to a dining experience while he chatted intimately about the collection.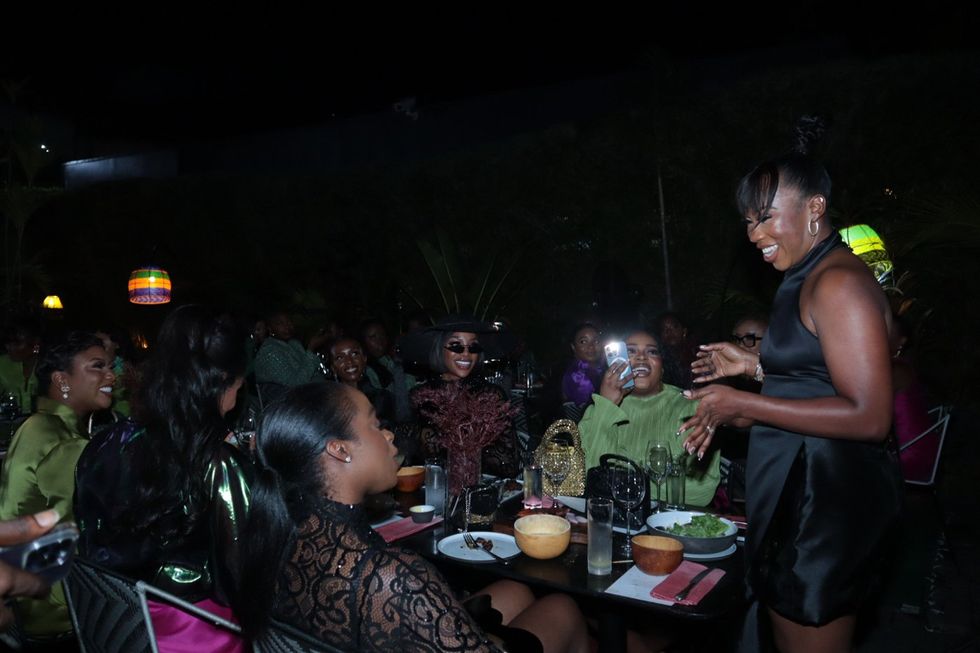 Friends of Imad Eduso founder, Dami Olukoya listening to Olukoya talk about the collection during the Imad Eduso private dinner setting showcase at Lagos Fashion Week 2023.Photo by John Ezekwem.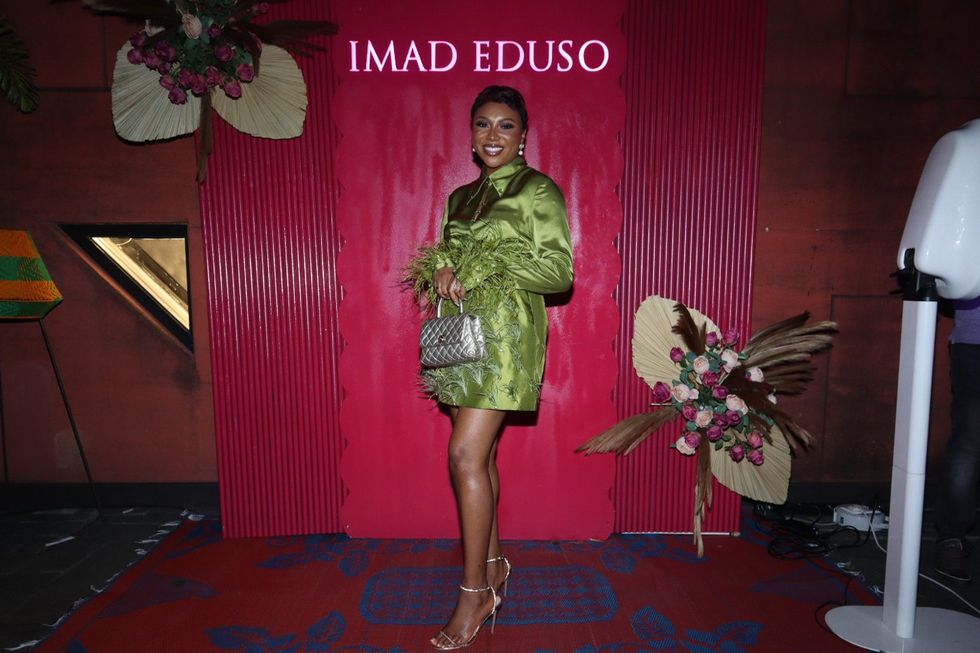 Stephanie Coker posing in an Imad Eduso piece from the new collection showcased during an intimate, private dinner at Lagos Fashion WeekPhoto by John Ezekwem.
Real Housewives of Lagos star, Chioma Goodhair, wore a black lace-and-mesh top tucked into black culottes with large paillette sequins. Olivia Arukwe, Zina Anumudu, Stephanie Coker, and Eki Ogunbor were some close friends that also showed up in Imad Eduso.

Most of these offsite private shows started late – so late they disrupted well-made plans to see other scheduled private showings. This can't be the future of independent presentations at Lagos Fashion Week, where guests end up having to sacrifice attending one private show to see another.