Sponsored content from Lagos Fashion Week.

After navigating Covid-19 with a pivot to digital in 2021, Lagos Fashion Week returned in the full might of runway shows at the familiar Balmoral tent at the Federal Palace Hotel. Now in a state of Covid-19 limbo – that uncertainty that makes one question if the pandemic is really over – there was something gestational about the collections that hit the runway. It was as though the designers had been waiting for this moment. Considering their creativity and vision, they could almost be heard saying through each piece: "You should want this."

And they would be right. From newcomers like Heru Shezi (South Africa) and Oshobor (Nigeria) to the beloved return of Nigerian womenswear brand Fruché—for the first time since 2019—we pick the best looks from this catwalk season.
Photo By Daniel Amao for OkayAfrica
With models catwalking to a whispery voiceover chant of "Odio Mimonet, who is she?'' the Nigerian designer injected the runway with curiosity. Her MiMi collection in 2019 still remains one of her best works just because of how she treated lamé and lace. In 2022, she steps down a little from that opulent production, churning clean, simple, wardrobe-friendly garments while still maintaining her flair for intricate cuts and textile combos.
And this is why we select this look: a blush pink long sleeve blouse and powder blue wrap skirt, with the brand's delicate calligraphic logo scribbled from top to bottom. This is what separates are made of—and your wardrobe is calling.
Photo By Daniel Amao for OkayAfrica
The opening look for Ghana's Duaba Serwa said it all: go big, or go home. A white cotton silk cropped top with voluminous sleeves over a high-waist skirt that billowed as the model walked, the brand's signature origami pattern on the chest.
Photo By Daniel Amao for OkayAfrica
A bra top made from motifs of two zebra heads. A skirt fringed with raffia like waves from the sides. Together, this looked fun and whimsical from Nigerian brand Pepper Row. There were adire separates, and maxi dresses that ushered in a note of breeziness. Elsewhere, slouchy women's suiting in neutral tones added a semi-formal edge to the collection.
Photo By Daniel Amao for OkayAfrica
One of the designers who paraded "masked fashion," Nigerian label Ugo Monye had a slew of masked models on the runway. In dark turquoise blue and light gray, it was a shuffling haze of masks worn over beautifully made matching sets—like this one, with puffy and ruched sleeves.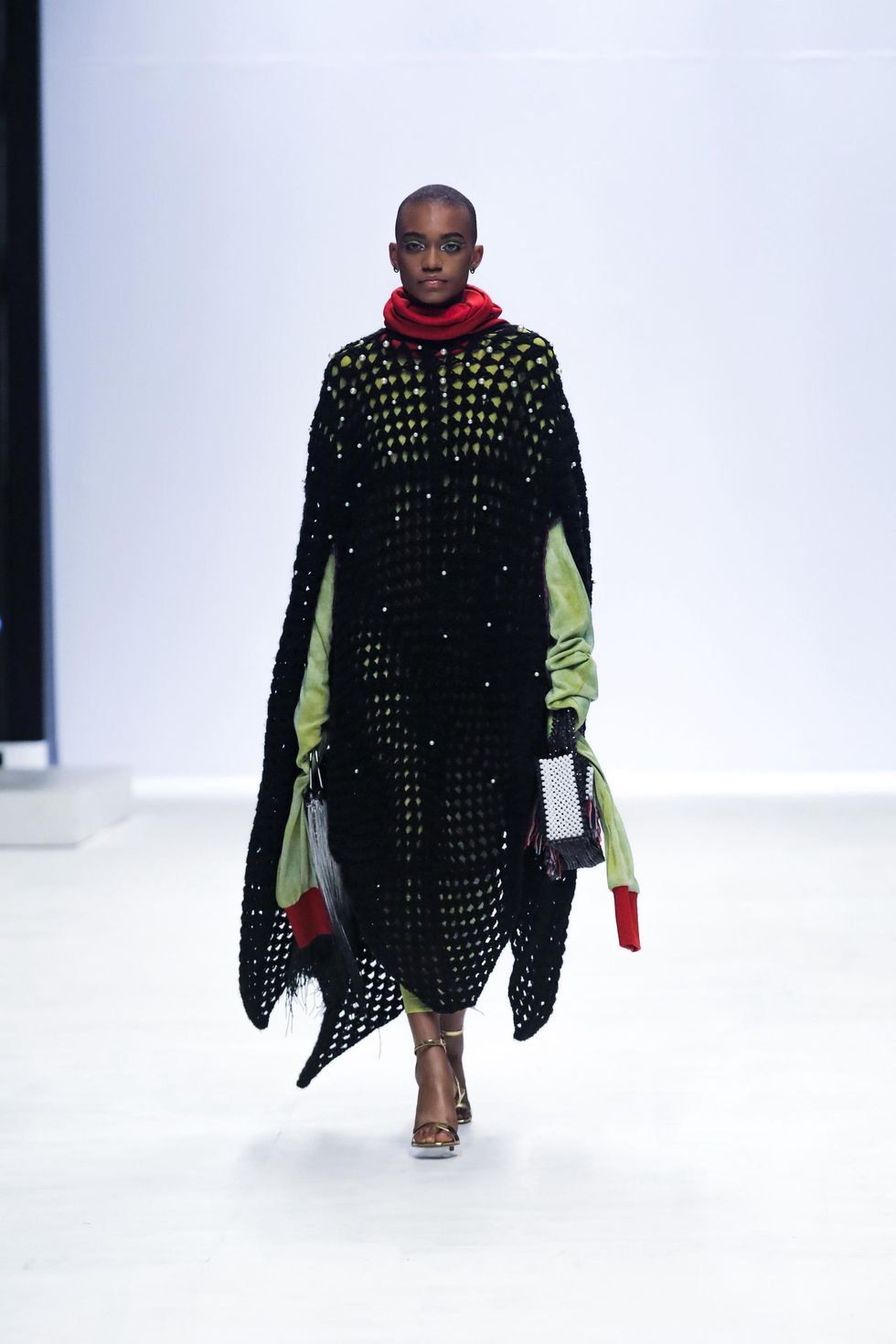 Photo By Daniel Amao for OkayAfrica
Upcycling is the foundation of South African label Heru Shezi. As a Green Access finalist this year, creative director Themba Paulos Shezi showed three looks made from upcycled materials and dead stock. And although they are all worthy of mention, we are picking this black crochet blanket look. The blanket—reworked into an over garment—is embellished with gemstones. Underneath is a chartreuse yellow tie dyed dress with red ribbing at the sleeves and neck. Beautifully contrasting against the black blanket, the heels and bag gives the look an elevated chic moment.
Photo By Daniel Amao for OkayAfrica
Maybe it's this writer's obsession with Schiaparelli, but the 5-inch bronze ear-shaped adornment on this pistachio-green swiss lace gown from Austrian Lace makes the look a bonafide runway competitor. Look closely to see the details: stone placements around the outer ear to mimic piercings, ending with a white lily at the lobe. Straddling prom modernity with 1960s cocktail nostalgia, the look can easily fit into your wardrobe to be worn on those special occasions.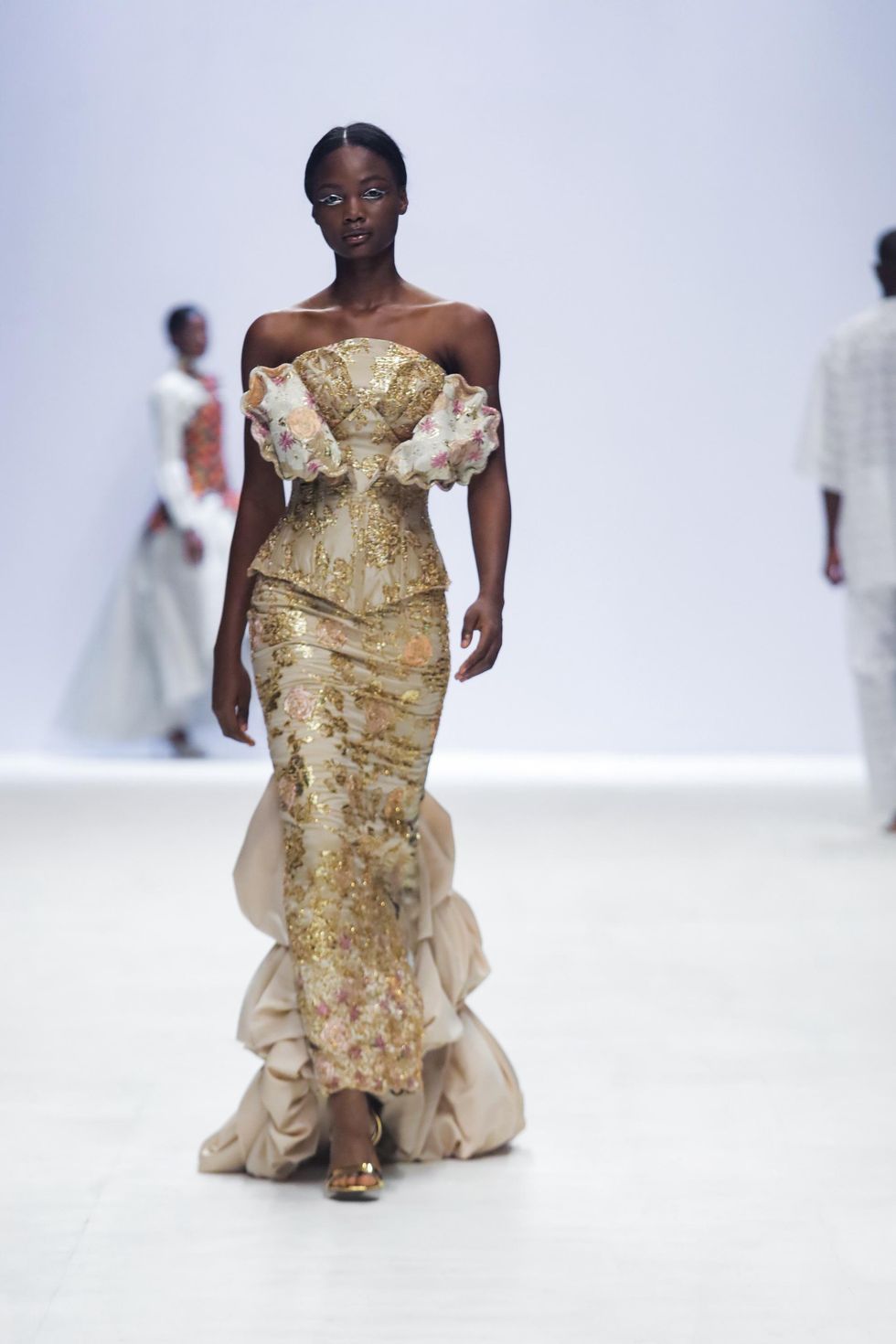 Photo By Daniel Amao for OkayAfrica
Next, we shift to the strapless, floral-embroidered, champagne gold evening dress with a puffy train at the back. The fitted blouse is an exercise in tailoring, made sculptural by the clamshell-shaped appendage on the bust. In-demand Nigerian stylist Tosin Ogundadegbe curated these looks—and a whole slew of wearable pieces on the runway—for the lace company and it was another achievement in his career.
Photo By Daniel Amao for OkayAfrica
Sending models down the runway to a melancholic mashup of Beyoncé's "Alien Superstar" (acoustic violin and original), creative director Frank Aghuno is still interested in dressing the modern woman. The brand's calling cards are still there: flattering cutouts, shirt dresses with asymmetrical hemlines, bunched knots popping from the clothes, and the wrap tailoring technique Aghuno has perfected over time.
The collection's color palette was expansive, inviting blacks, reds, blues, whites, yellow, and beige. There were a few matching sets. The Fruché woman is as chic and feminine as ever. But it's the knotted, baby-pink organza dress that feels as though the model is moving through clouds. It's a collection dedicated to Frank's late father who passed away a year ago.
Photo By Daniel Amao for OkayAfrica
Sustainability is at the forefront of Oshobor's design approach, with their trademark use of waste yarn in creating vibrant silhouettes and functional pieces. For this year's three-piece presentation as a Green Access finalist, creative director Peter Odion Oshobor fused storytelling to interrogate the culture of patriarchy and the prioritization of men in his home country Nigeria.
On the runway, he sent a model covered in a full red mask, loose yarn sprouting at the corners. The anonymity, Oshobor explained, is to recognise the role of anyone regardless of gender who play father figures to the children and families. More loose yarn dot all over the red top and pants. It's as striking as it is covetable.
Photo By Daniel Amao for OkayAfrica
With a brand language of reinventing classic looks and staples, Nigerian menswear label TJWHO has catapulted itself into fashion's limelight. On the LFW runway, creative director Taju Ibrahim leaned into a marriage of street style codes and formal attire. Nicely structured fleece-y vests were layered on tailored shirts in tones of navy blue and black. On suiting, deconstructed double sleeves were an interesting detail, which was carried over to the women's suiting. Coming from an architecture background, it's no surprise to see Ibrahim's impressive tailoring and craftsmanship on display.
No stranger to Lagos Fashion Week, Elie Kuame's collection oscillated between ready-to-wear and couture. There were ruffles, tulle, fringes, and prints. In addition, the Ivorian-Lebanese's investment in clothing the female body came about with a play on shapes and structure, as seen on a model wearing an A-line pinafore dress pinched upward from the middle and stitched to one side. Another had emerged wearing a blouse with a dramatic pouf.

The lights dimmed, and the audience erupted in applause after the finale look paraded: a stunning red sequined dress stretched precariously over inflated hips.
See More of Our Favorite Lagos Fashion Week Looks Below