2manysiblings––Velma Rossa and Papa Petit––in Bed-Stuy, Brooklyn. Photo: Isaac Campbell
---
It's Velma Rossa and Papa Petit's first time in New York City—their first time in America, period. The Kenyan sister and brother are in design heaven as we wander through the many floors of Manhattan's fashion superstore, Dover Street Market. If this were a movie scene, it would be the part of the film shortly before it's revealed that they're now running the joint.
Velma and Papa are the artists, cultural stars and style phenoms behind 2manysiblings. Their colorful social media game is world renowned. Their Thrift Social series is the must-attend event for Nairobi's cool kids. The last time Yasiin Bey was in Kenya, he enlisted the siblings to show him around. Essentially, Velma and Papa are up for curating anything that can be curated: from food to art to fashion to music.
In just three years it seems they've kickstarted Kenya's youth culture movement. And they're not alone. As we speak, Kenyan music collective Cosmic_Homies, are doing their part to bring the sights and sounds of NuNairobi to NYC. 19-year-old producer Ukweli, one of the producers behind the East African Wave collective, recently got Willow Smith to hop on one of his tracks. Ghanaian singer/songwriter Jojo Abot also made a splash and brought artists in the 254 together this year with her AFRI-NA-LADI residency.
"Now everyone is doing their own stuff and free to express themselves and wear what they want to wear and say what they want to say," says Papa. That wasn't always the case. Before 2manysiblings came along, blogs documenting street style in Nairobi were few and far between.
Velma was living in Johannesburg for about seven years for school and then work. Papa was working as a stylist, particularly to Kenyan musicians like Sauti Sol and Just A Band. He also played some soccer in Belgium. In July 2013, they were both living in Nairobi when they found themselves on their first shoot together. That was the day they officially launched the movement known as 2manysiblings.
2manysiblings––Velma Rossa and Papa Petit––in New York City. Photo: Isaac Campbell
At the time, they simply wanted to tour their hometown and show off their culture and city, but with an artistic lens. "We decided, let's share it with the world through a platform that's share friendly," Velma says.
They began by posting camera phone pictures to Tumblr. It wasn't until later that they started working with photographers. Photography, and collaborations with African photographers in particular, have been their main creative outlet.
Social media is of course at the heart of what the siblings do. Instagram has surpassed Tumblr as their most important channel, though they're also active on Twitter and Facebook. For Velma and Papa, digital platforms are fostering more collaboration, most notably with their fellow artists on the continent. Today's communication technologies have made it possible for the duo to visit Johannesburg and link up with creatives and collectives like the Mahoyo Project. Or for Velma to travel to Ghana and fit seamlessly into Accra's cultural scene.
Of course, their influence extends far beyond the continent. "People are looking to Africa to see what's next," says Papa. Velma adds that with the advent of visual platforms, African artists are finally being acknowledged for setting trends in Western countries. "It's a great time for contemporary African artists," says Velma.
The siblings' global influence led them to New Haven, Connecticut, last week, where they were invited to present their work at Yale's second annual AFRICA SALON festival. After showcasing their experimental projected fragments project with Kenyan photographer Joseph Chege, they're spending some time in New York City.
2manysiblings––Velma Rossa and Papa Petit––in New York City. Photo: Isaac Campbell
Later as the duo gaze at the majestic ceiling of Grand Central Station, a hotspot for tourists, their thoughts return to Dover Street Market. Even the bombast of Times Square feels underwhelming for the two of them. The buildings aren't as big as they seemed in movies.
For Velma and Papa, the city is their ultimate canvas. New York brings out a certain type of excellence in people, they tell me. It's where they believe they'll reach their full creative potential.
As we sit down for french fries in Bed-Stuy, the pair tell me what's made their trip so enlightening.
Earlier at Dover Street Market Velma had tried on a pair of fuzzy designer slippers. It's the notion that with those fuzzy slippers, and the dapper hats of Art Comes First and all five stories of fly sunglasses and sneakers found nowhere else in the world, lay the validation that such creative ingenuity is indeed possible. It wasn't just something Velma saw in Sex And The City or The Devil Wears Prada. It wasn't something the siblings were dreaming up all those years.
"It's a place that we're drawing so much inspiration from," Velma says. "We feel like we could stay here and be incorporated well."
On what's next, 2manysiblings plan to become a fully-formed, fully-functioning creative agency. They'll also continue to showcase their slice of Nairobi around the world.
Photo: Isaac Campbell
Photo: Isaac Campbell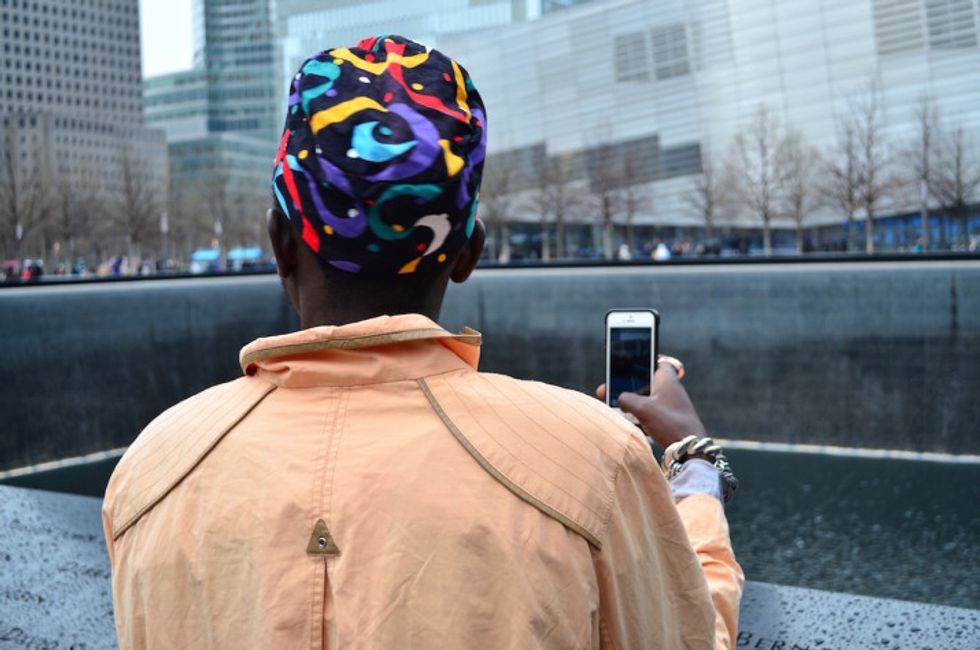 Photo: Isaac Campbell
Velma Rossa and Papa Petit check out sunglasses at Dover Street Market. Photo: Isaac Campbell
Photo: Isaac Campbell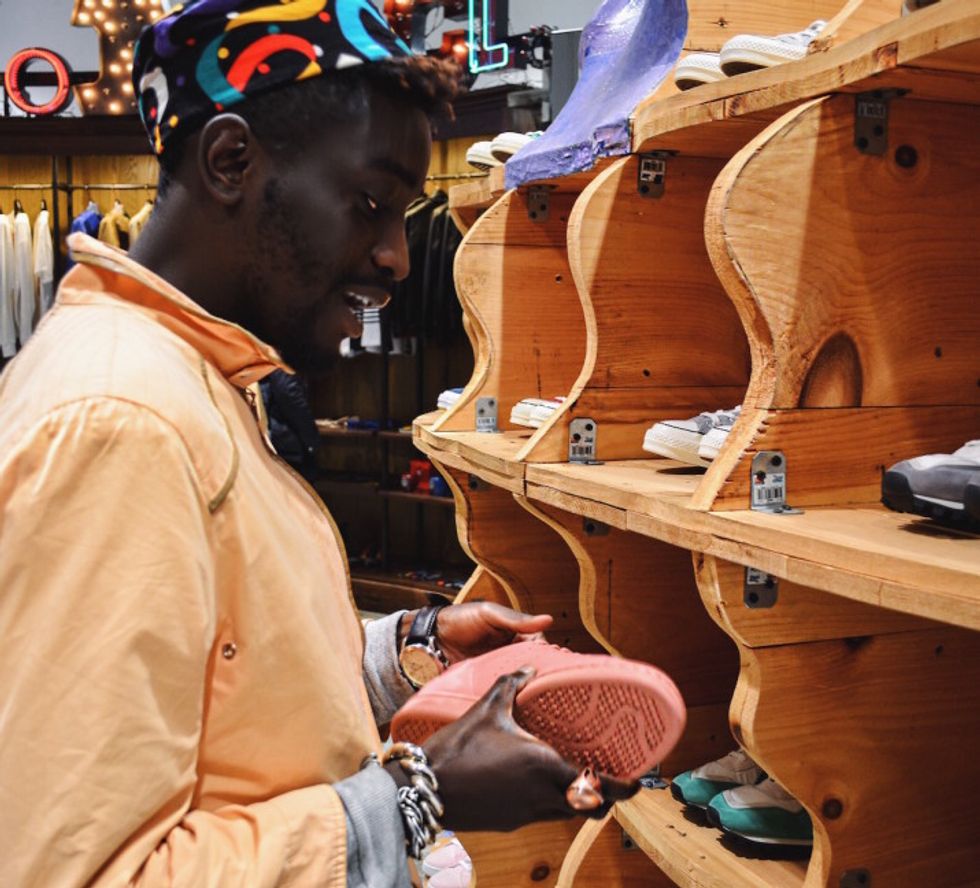 Papa Petit checks out sneakers at Dover Street Market. Photo: Isaac Campbell
Velma Rossa dons fuzzy designer shoes at Dover Street Market. Photo: Isaac Campbell
Velma Rossa tries on sunglasses at Dover Street Market. Photo: Isaac Campbell