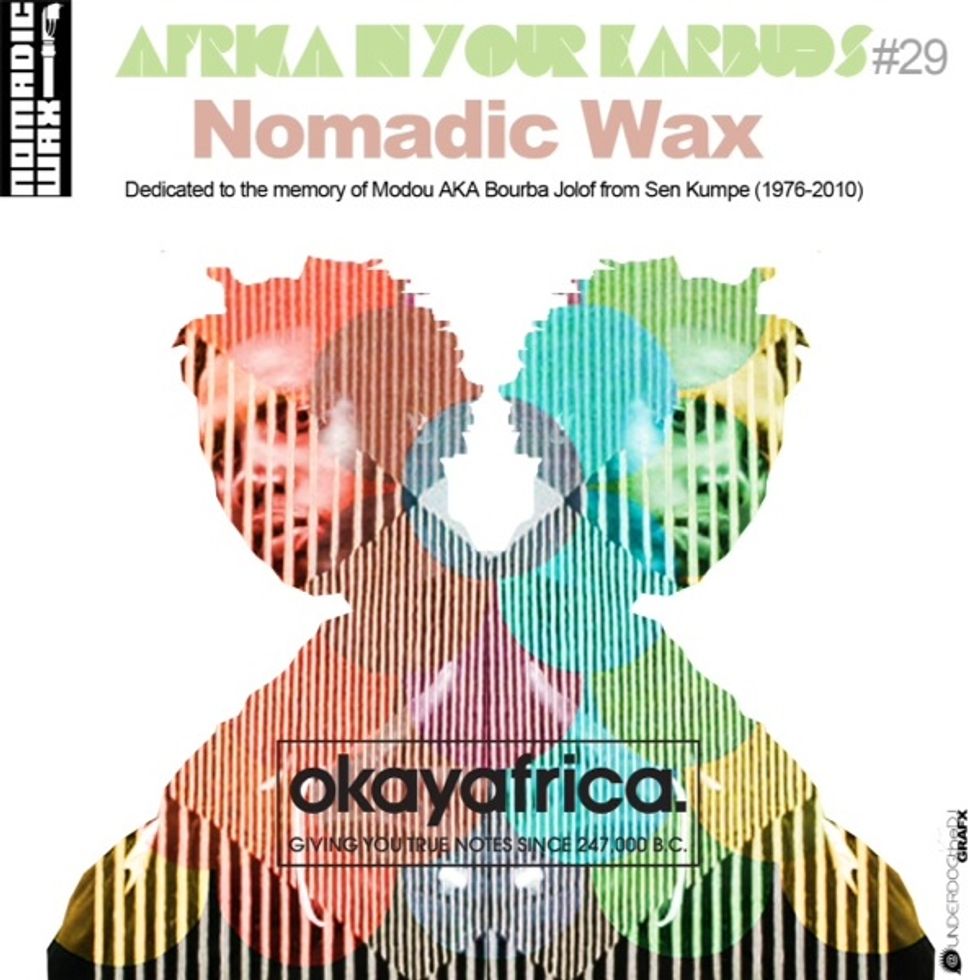 ---
For Africa In Your Earbuds #29 we reached out to pioneering hip-hop exchange hub Nomadic Wax. The group's Magee McIlvaine handled mixing duties and wrote on the process and meaning behind a highly personal mix dedicated to the passing of Senegalese rapper Bourba Jollof of Sen Kumpe:
On New Years Day 2012, Nomadic Wax celebrated its 10th anniversary, a number increasingly rare in the rapidly changing music industry. As one of the first organizations to provide a space for the African and African Diaspora hip-hop voice here in the US, the past 10 years have literally flown by... In addition to the major strides that the international hip hop community has made here in the US, there have also have been rough times. We at Nomadic Wax have seen some of our closest friends and colleagues pass on from this world. It's with this in mind that I put together this rough little mix.

Each track on this mix was chosen specifically for the emotional attachment I have to it and the memories that listening to that track bring to me. Above all, I want to dedicate this to Modou (1976-2010) aka Bourba Jollof of Sen Kumpe. Bourba was at the heart of Nomadic Wax's creation 10 years ago in Dakar. Founding member of the legendary underground Senegalese hip hop group Sen Kumpe, Bourba lived and ultimately died for hip-hop (check the tribute track Senegalese rappers did for him. That's Bourba's brother Books at minute 1:36). He welcomed me, and so many others, into the world of Hip-Hop Galsen and his passing has been one of the more difficult moments in my life. So as we head further into 2012, I hope the vibes on this mix and the stories that go with them bring a smile to your face, and those smiles in turn reach Bourba Jollof up above where he is watching over us.
Stream and downlod AIYE #29: Nomadic Wax, which is accompanied by a detailed track-by-track breakdown and a French translation of the synopsis after the jump. Big thanks to Underdog for the mixtape artwork.
TRACKLIST
1. Ian Kamau- The Village [Canada]
2. MOA- Sweet Moda [Ghana and DRC]
3. Tumi & S'fiso Sudan - Once Upon A Time in Africa [South Africa]
4. WaGeble- Djeggellu [Senegal]
5. Smarty, David Le Combattant, Dhudn'J, Golgo 13, El Primo - Ouga All Starz [Burkina Faso]
6. Dakar All Stars- DK Ma Ville [Senegal]
7. OFX- Leve [Nigeria/France]
8. Outspoken- Thought Construct [Zimbabwe]
9. Daara J- Number One [Senegal]
10. Shokanti- Katanganan [Cape Verde]
11. Babaluku- Ebibuzo [Uganda]
12. Yao Bobby- Wawoe [Togo]
13. Native Sun- Mother & Son [Mozambique/UK]
14. Dry Eye- Ease Di Tension [Sierra Leone]
15. 2Face- Nfana Ibaga (No Problem) [Nigeria]
16. Sen Kumpe- Aythieu Gnou Dem [Senegal]
17.The Bells- Loving You Down. [Nigeria/USA]
18. Outspoken - Sounds Like What I heard Before [Zimbabwe]
Previously on Africa In Your Earbuds: THE BROTHER MOVES ON, LV, BEN ASSITER [JAMES BLAKE'S DRUMMER], JAKOBSNAKE, CHRISTIAN TIGER SCHOOL, SAUL WILLIAMS, TUNE-YARDS, MATHIEU SCHREYER, BLK JKS, ALEC LOMAMI, DJ MOMA, AWESOME TAPES FROM AFRICA, PETITE NOIR, OLUGBENGA, RICH MEDINA, VOICES OF BLACK, LAMIN FOFANA, CHICO MANN, DJ UNDERDOG, DJ OBAH, SABINE, BROTHA ONACI, DJ AQBT, JUST A BAND, STIMULUS, QOOL DJ MARV, SINKANE, CHIEF BOIMA
—————————————————————————————————————————————————————————————————————————————————————————————————————————————————————————————————
Full track descriptions:
1. Ian Kamau- The Village [Canada]
Canadian Artist Ian Kamau might be an odd choice for a mix like this, but the unique quality of his voice and the beauty of this track are undeniable and the concept perfectly captures the sentiment of the whole mix.  "My heart is a kingdom, it ain't no slum where i'm from." Check out the music video for this track: https://vimeo.com/17439589. Ian Kamau's music has been the soundtrack of my life for the past two years or so since I met him at Word, Beats & Life's Teach-In. The 'One Day Soon' album and his other mixtapes are on constant repeat here.
2. MOA- Sweet Moda [Ghana and DRC]
MOA is one of my favorite diaspora artists. Originally from Ghana and now based in Philly, MOA not only boasts, in my humble opinion, one of the best names in hip hop (Minista of Agrikulcha) but also has the unique ability to capture the immigrant/diaspora experience in songs. His smooth flow and ability to expertly flip between multiple languages reflect what I consider to be the hip hop of the future. DC-based Cornel West Theory hooked up the remix of this particular track that you are hearing, which appropriately has a very futuristic sound to it. The song is a love letter to the continent that raised MOA. Canadian born, Africa-raised, and now based in the US, this track speaks directly to me as well. Download the track for free here. Also make sure to cop his group JMNI's album here.
3. Tumi & S'fiso Sudan - Once Upon A Time in Africa [South Africa]
What can I say about this track other than it is a classic. I pretty much built my entire undergraduate thesis off this track. It goes without saying that South African emcee Tumi is one of the nicest on the planet, but this track in particular could be the theme song of the entire movement. It is a shame so few people have heard this track. This song brings me back to my early days digging for rare tracks like this. In those days, it was close to impossible to find tracks like this here in the US. Best line: "before tv was perversion, a brother watched good times, the zulu verso." Check the track online here and support these guys.
4. WaGeble- Djeggellu [Senegal]
The track speaks for itself. From Eye-Witness' vocal inflection and presence on the mic to the beautiful sample, this is the definition of hip hop, and the perfect example of how cultures around the world have taken the sounds of the South Bronx and adapted it to their own contexts. WaGeble were one of the pioneers of the hardcore sound in Dakar. This track was from their classic album Rap New Generation (for the serious collectors, the cassette for this album is a must-have) and remains one of my favorite tracks of theirs. Check out their brand new album 'Message of Hope.'
5. Smarty, David Le Combattant, Dhudn'J, Golgo 13, El Primo - Ouga All Starz [Burkina Faso]
This is an epic track. It features an all star lineup from the very strong Burkina Faso scene. Our friends at Stay Calm Productions put together a dope documentary film called Fangafrika on the amazing Waga Hip Hop Festival which is held each year in Ouagadougou, the capitol of Burkina Faso in West Africa. As part of the film, they put together a compilation that included this track. Check a video on the making of this track here. I attended the Waga Hip Hop Festival in 2009 and was so impressed with the depth and diversity of the faso-rap scene. I put together this documentary short on the scene there. Highlight from the track for me is David le Combattant (of Faso Kombat) murdering the track with his unique style and voice. Big shouts to the entire community in Waga, and to the homey Mathurin aka Cool Math J for his tireless work on behalf of the Faso. And cop the compilation album that this track is off of here.
6. Dakar All Stars- DK Ma Ville [Senegal]
'DK Ma Ville,' or 'DK My City,' is off the Dakar All Stars album which is a concept album that is exactly how it sounds: an all star grouping of some of Dakar's finest emcees. Featuring Gaston, Keyti, Nix, and Ass Malick- this album, released in 2005, is full of bangers. This one in particular is one of my favorite, capturing the music of the hustle and bustle of downtown Dakar. Second verse is from my man Keyti who I consider to be one of the most interesting young artistic political voices on the continent. Amazing artist. As far as I know, there wasn't a video for this track, but check out the music video for 'Sou Mey Rap,' one of my other favorite tracks off this album:
7. OFX- Leve [Nigeria/France]
Wow….. I played the %$#@ out of this album. OFX is made up of Fefe and Vicelow, nigerian diaspora artists in France who are part of the super group Saian Supa Crew. Saian Supa Crew was one of the first non english hip hop crews I listened to regularly. The OFX album blew me away. It dates back to 2004, but the production style,  flows and verse stylings are untouchable to this day. I had the hardest time picking one track off this album because I love them all.  This track is also a lesson for all you emcees out there who been sleeping on the art of the ad-lib. Check them rockin' this track live.
8. Outspoken- Thought Construct [Zimbabwe]
Out is one of my favorite artists today. Reppin' from the amazingly unique and innovative Zimbabwean hip hop scene, Out is one of those unique artists who can both entertain, amuse, educate, and affect change. Intensely lyrical and an amazing spoken word poet as well, this track is one of my personal favorites. This is the punchline section of the mix. My favorite line: "Emcees come with a  bunch of bananas // and the deal is // they open them at once // to show what mass appeal is."  100% hip hop- enjoy! Get the track here and then check out this short doc on the entire scene in Zim.
9. Daara J- Number One [Senegal]
If you don't know this album, you need to cop it immediately. Though a commercial release, this is absolutely a classic album. Daara J have been a dominant force in the Senegalese scene for many years now, and they are one of the few groups to tour regularly abroad. Though the group has since broken up (now called Daara J Fam), I played the hell out of this album and once again had a hard time picking a single track from it (I only know a few words of wolof but I know this whole album by heart). I remember seeing Daara J perform live at the French Cultural Center in downtown Dakar back in 2005. To this day, it is one of the best concerts I've ever been to. I went crazy at the show and, at the time, I had long locks, that I was head banging all over the place. The local tv news filmed me and showed me dancing on national television. Everywhere I went after that, folks would come up to me as they recognized me from the show. Good times.
10. Shokanti- Katanganan [Cape Verde]
Shokanti's 2010 album has been seriously slept on. The Cape Verdean emcee based out of Massachusetts blends musical styles so easily and combines them with harsh, in-your-face political lyrics. The album is a must-have. This track is just one example of the different styles explored on it. The album also boasts live instrumentation from some of the best Cape Verdean musicians in the business. And if you get the chance, don't miss a Shokanti live show. He also gets props for reppin' hard in creole on the mic, even though he is completely fluent in English. Check out the video for this track here.
11. Babaluku- Ebibuzo [Uganda]
Silas, aka Babaluku, is considered by many to have actually single handedly pioneered the luga flow movement in Ugandan, inspiring the rest of these scene to rhyme in Lugandan as opposed to 2nd hand english. Who knows the truth behind this but without a doubt, he's an OG in the scene and considered by most to be one of the best in the language. Just check the vocal dexterity and the flow patterns on this track. Certified track murderer.  Big shouts to his community center in Kampala and the movement he pushes: The Bavubuka Foundation.
12. Yao Bobby- Wawoe [Togo]
Yao Bobby is a founding member of the super dope Togolese group Djanta Kan. This track is from his solo album which he released earlier this year. It is an amazing album that deals with a lot of series social and political issues while pushing musical boundaries. If Yao Bobby was from Cali, he would fit right in with the Project Blowed movement. This album, and this track, are full of amazing complex flows, double time raps, and slower spoken word pieces. Get the album here.
13. Native Sun- Mother & Son [Mozambique/UK]
Another new release from this year, this UK Based group is fronted by singer Sarina and Mozambiquan emcee Mohammed Yahya. They dropped their album a few months ago together with a US tour. The album is super dope. Mohammed is an old friend. We go back to mini-van touring across the US. I am so psyched to see the success of this project.
14. Dry Eye- Ease Di Tension [Sierra Leone]
Reppin' Sierra Leone, Dry Eye have become one of the more successful african groups here in the Diaspora. They stylish flows and dancehall influence helps their sound stand out. This track is one of their earlier tracks and was created when they first came to the US several years ago. It was co-produced by us at Nomadic Wax along with Okay Player and Modiba. It remains one my favorite track from the crew to this day. Pure flows and good music. Nuff said. Get the track for free here.
15. 2Face- Nfana Ibaga (No Problem) [Nigeria]
Oh man…. this has always been one of my secret tracks. Coming out of Nigeria, 2face is arguably one of Africa's biggest contemporary stars. His track 'Africa Queen' is one of the most well known tracks across the continent and beyond. This track was a b-side release of his from a while back and sounds quite different from a lot of his music the world is more familiar with. I love his playful flow and the catchy chorus together with the military march drums. Nuff respect for stylishly reppin' pidgin english. Check the old school music video for the track here.
16. Sen Kumpe- Aythieu Gnou Dem [Senegal]
For me, this is the most important track on this album. This entire mix is dedicated to Bourba Jollof of the Senegalese group Sen Kumpe, who passed away in 2010. This track was the lead single off their long awaited album 'Freedom' (Available here). Books, Bourba's rhyme partner and actual brother, has become one of the most dominant emcees in the vibrant Senegalese scene today. Bourba, who has the second verse on the track, will always be regarded as both a hip hop legend and one of the nicest individuals you could ever meet. The beat on this track is ill. The subtle 'talking-drum' on the down tempo beat is murderous, and the two emcees' creative flow patterns work with the beat perfectly. Banger, certified. Bourba, rest in peace. We did this little dedication for him on the BBC just after he passed away.
17.The Bells- Loving You Down. [Nigeria/USA]
The Bells are a new group out of Oakland, CA,  fronted by Nigerian-American songstress Njimole, who is also directly related to Nigerian music legend Rex Lawson. This group is a serious group to watch for the future. Their music is a soulful mix of Njimole's unique vocals, percussive layers influenced by Highlife and Samba, and more. Njimole is a close friend and I can't wait for the full album to drop! Download the track for free here. And then like them on Facebook to stay tuned in to their movements.
18. Outspoken - Sounds Like What I heard Before [Zimbabwe]
One of the few artist repeats in this mix, as I mentioned before, Outspoken is one of my favorite artists these days. I find this track so moving and so revealing into the unique experience of life in Zimbabwe over the past 20 years. He plays with the different definitions of 'freedom.' Out shows his range with this track, which is so different from the other track I included in this mix ("Thought Construct"). Shouts to his band 'The Essence,' repine' H-Town. What better way to close out the mix than with one of the more poignant and personal tracks to come out in recent years. Check out his band live in full effect here.
French Translation:
Le jour de l'an 2012, Nomadic Wax a célébré son 10ème anniversaire, un fait de plus en plus rare dans l'industrie de musique qui change si rapidement. En tant qu'une des premières organisations à fournir un espace d'expression pour le hip hop Africain et de la Diaspora africaine aux U.S.A., ces 10 ans sont passés extraordinairement vite. À notre grand plaisir, nous avons vu des artistes comme K'Naan devenir des stars d'un courant musical majeur aux U.S.A., quelque chose dur à imaginer il y a 10 ans. Aux progrès majeurs que la communauté hip hop internationale a connu aux U.S.A, se sont ajoutés des moments difficiles aussi. A Nomadic Wax nous avons vu certains de nos amis les plus proches et collègues quitter ce monde. C'est avec ceci en mémoire que j'ai fait ce petit mix brut. D'une certaine manière ce 'mini-mix' est une lettre d'amour au mouvement auquel moi-même et le reste de l'équipe de Nomadic Wax (ainsi que beaucoup de personnes du monde entier) avons consacré nos vies et aux artistes qui nous ont inspirés. Nous sommes honorés à Nomadic Wax d'avoir Okay Africa  parrainant ce mix en tant qu'épisode de leur série 'Africa In Your Earbuds'.
Chaque piste de ce mix a été choisie spécifiquement pour l'attachement émotionnel et les souvenirs s'y attachant. Par-dessus tout, je veux le dédier à Modou (1976-2010) c'est-à-dire Bourba Jollof du groupe Sen Kumpe. Bourba fût au coeur de la création de Nomadic Wax il y a 10 ans à Dakar. Membre fondateur du groupe de hip hop sénégalais underground légendaire Sen Kumpe, Bourba a vécu et en fin de compte est mort pour le hip hop (Ecoutez  le titre-hommage des rappeurs sénégalais fait dans ce mix. C'est le  frère de Bourba, Books à 1:36). Il m'a accueilli et ainsi que plusieurs autres, dans le Hip Hop Galsene et sa mort a été un des moments les plus difficiles dans ma vie. Alors que nous avançons en 2012, j'espère que l'ambiance de ce mix et les histoires qui l'accompagne mettront un sourire sur vos lèvres et que ces sourires atteignent à son tour Bourba Jollof qui nous regarde de là-haut. [Translated by Renaud aka DJ El Prez]