After being canceled last year due to the COVID-19 pandemic, Art Basel Miami returned in person to celebrate the arts, bringing many viewers from around the world to the city for a 3-day event at the Miami Convention Center. Hundreds of art purveyors filled the building for a time of conversation, art, and inspiration – all while adhering to this year's mask-wearing requirements. The city of Miami bubbled as hotels, restaurants, and bars were the epicenter of entertainment, boasting lavish parties with celebrities from across the country taking part in the action.
An artist who caught our attention was Serge Attukwei Clottey from Ghana, who presented his work at the Ritz-Carlton South Beach hotel titled, The Bodies Left Behind. Clottey, who's best known for repurposing plastic Kufuor gallons in his artwork as a means of exploring issues like global warming, water scarcity, and other environmental issues, staged a month-long exhibition, in partnership with the hotel. It allowed the artist and his team to further dive into the issue of global warming and water scarcity, throughout the hotel. The exhibition left guests of the hotel curious about his work.
Clottey made a huge statement by presenting the western traveler's effects on Africa and its coastline in a luxurious space. He spoke to OkayAfrica about why he chose this subject matter.

---
Why did you choose this theme in this particular space?
With this exhibition I really wanted to bring a piece of home into the space, quite literally. I wanted to explore the theme of migration. How industrial brands affect Africa on a larger scale, observed from an African perspective. When westerners visit Africa, they are the ones that loot and pollute the ocean, leaving things like Nike shoes, rubber, trash in the ocean, which doesn't help our environment. It's meaningful to me because I realized I can use this moment and exhibition to show people in this luxurious space how they affect our country, using it as a conversation starter so they become aware that we are aware. With awareness, we can start to create change.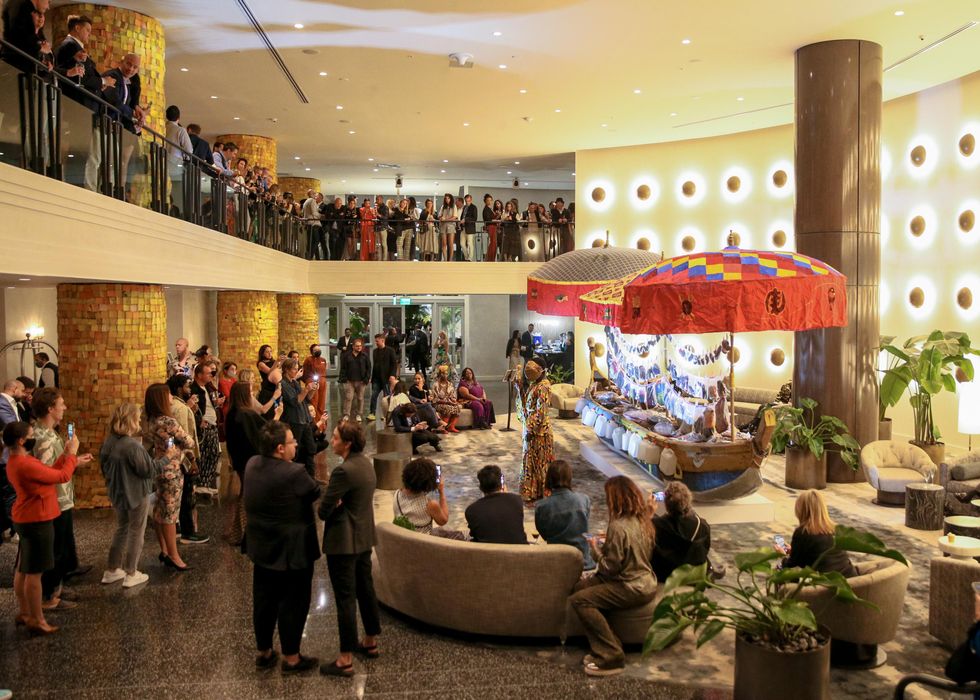 Serge Attukwei Clottey installed a traditional Ghanaian fishing boat into a Miami hotel to stimulate conversations about environmental issues.Photo: Matteo Prandoni and BFA
Where did you find the boat and how long did it take for you to put the pieces together?
The main integral part of the exhibition is the boat that you see in front lobby, which we had to find from Basil. That also took some time to find and put together but it conveys the global voyage of people from all over the world who travel to different parts of the continent, and their effects on the coastline and water. The rubber shoes and rubbish that's on the boat is representative of the rubbish that's collected in migration, from place to place, by foreigners.
What was the most challenging part of bringing all of the pieces of the exhibition to the hotel?
I brought my team from Ghana to support in the installation throughout the hotel. It was about 3 weeks of preparation and installation, and the work will remain here till the end of the month. It was challenging shipping the pieces in but it was even more challenging putting the pieces together by hand because we are working with raw materials like rubber, metal, and wood. But I think we delivered a strong message and gave travelers something to think about, which I'm grateful for.
What does it mean to present your work at Miami Art Basel?
It means a great deal because I want to inspire the kids in Ghana to take their work outside the country, to have conversations about us to a larger community. I also want kids to have a dialogue on how people are affected by the pressure of western society. It's a small step in the right direction.
What's next?
I've shown in many places like 1-54 Gallery, Dessert X at Coachella to name a few. I would like to visit Asia and present there. I think there's opportunity in Japan to collaborate and continue the conversation.