Helming an ambitious new venture is no mean feat. Just ask Tambay Obenson who's started a number of pivotal projects that support and uplift Black filmmakers. In 2009, he founded Shadow & Act, a site that became known for its coverage of Black-led film and TV productions. After he sold that to Blavity in 2017, he moved over to IndieWire, where he continued to report on the subject from a global perspective.
Obenson also co-funded a joint venture company, in 2010, with the aim of financing and producing bold ideas from Black filmmakers, and he helped shape the New Voices in Black Cinema Film Festival at BAMCinematek, which ran for 9 years. His resume speaks to his commitment to expand the space Black-made films occupy.

But earlier this year, Obenson decided to take on his biggest project to date: creating a website that would champion African cinema by featuring detailed criticism and essays, along with a directory of all productions being made on the continent at a given point in time. Add to that, it would help guide movie-goers into the myriad of films made by Africans over the years, highlighting classics and underrated titles.
Called Akoroko, the site has been a kind of "homecoming" of sorts for Obenson. "My mother's Nigerian, my father Cameroonian," he tells OkayAfrica. "It's something that was always there, something I always wanted to do. Especially when I was at IndieWire. I wanted to write more about African cinema because I was starting to see some changes, some fundamental things happening."
With all the interest focused on Africa at the moment -- and the streaming services continuing to stake their claim in what's coming out of the continent, Obenson believes it's important to track exactly what's happening, and also to create a dialogue around African film that hasn't really existed before. But, as he admits, it's a massive undertaking -- one that's required him to start a GoFundMe to help raise the necessary capital to get the project off the ground. For now, Akoroko is being run by Obenson full-time, along with the part-time help of a colleague. He has high hopes, and from the backing received so far, staunch support to make it happen.
Obenson spoke to OkayAfrica about the ins-and-outs of bringing Akoroko to life.
Interview has been edited for length and clarity.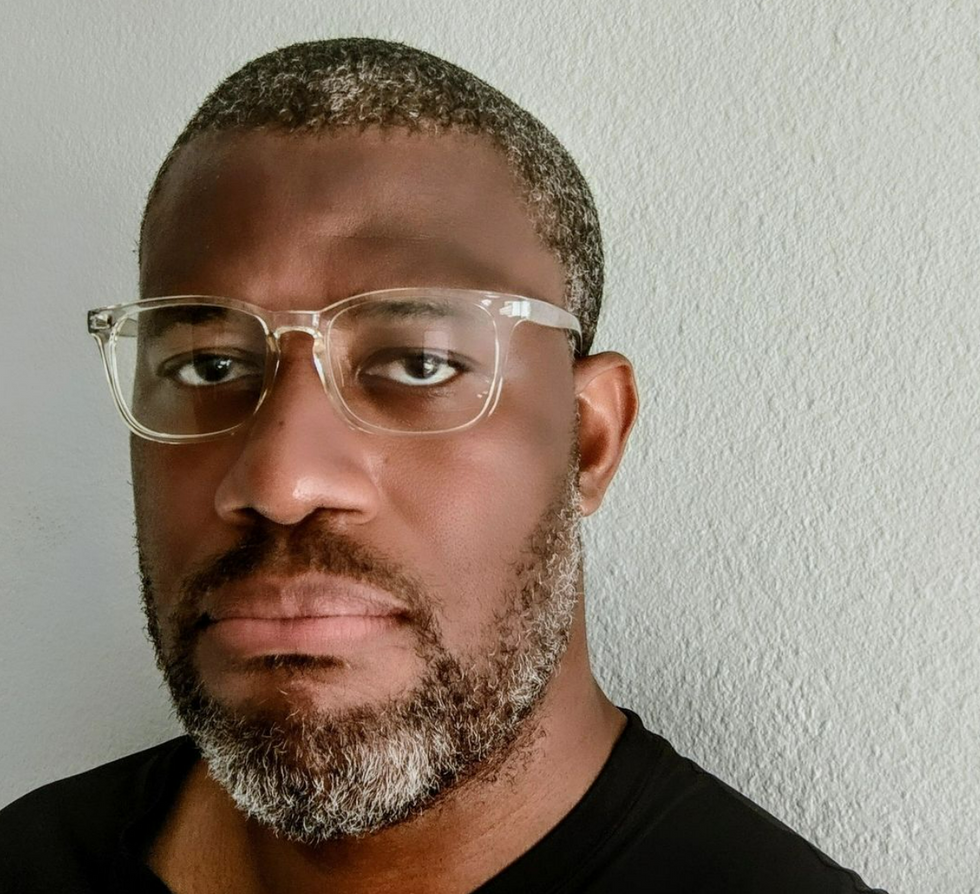 Tambay Obenson wants to use the expertise he's gained from spending over 15 years in the film industry to create a platform that treats African film and TV productions with the attention they deserve.
Photo: Tambay Obenson
How much of an undertaking has it been to get Akoroko off the ground?
I already knew about African cinema but I did not know certain things. There were some specifics that I had to pick up and learn firsthand. So it was just a lot of meetings, a lot of talking to lots of people on the continent and elsewhere, who serve the space - producers, programmers like [Toronto International Film Festival's International Programmer] Nataleah Hunter-Young, [South African producer of films like Rafiki and Tug of War] Steven Markovitz of Big World Cinema, just getting their opinion: What do you guys see? What is missing? What do you think is needed?
And so I took that on a challenge, a welcome challenge, because I like to go into spaces where I know I can actually make a difference. It's been four months or so, and I've been financing it myself, so then I thought, if we really want to do the things that we want to do, which is coverage, cataloging and curating streams, we need the money to do those things. Otherwise, it's kind of a wasted effort. So that's why that's why we launched the GoFundMe.
Do you see it as essentially a conduit between the US and Africa, from Africa to the world?
Yeah. The thing is, I wasn't looking at it that way, but that's how others approached me about it, like, we need a bridge to the continent. I have one foot in the States, and I have one foot in Africa, and then I have the experience and connections needed as well, and so people were looking to me to become that person -- especially here in the States, especially as things are blossoming with Netflix and Amazon and others coming into the space and investing money. There just doesn't seem to be the kind of analysis and kind of coverage that I think it all deserves, and I think there's a space for something like this to exist and to be successful.
Akoroko aims to have a production database, listing what's being worked on and what's coming – what are the challenges with putting something like that together?
It's just a lot of work. It's time consuming; it's reaching out to a whole bunch of different filmmakers, producers, and [taking] this as kind of a starting point: what's in the works? We want to be tracking things that are at different stages, from development, financing, pre-production production, up until post production and then completion. Once the film is out in the world, let's say at festivals, it's pushed off the list. So, it's just accessing people who have the information but also tracking things like labs, workshops, residencies, and film markets, like the one at the Durban Film Festival, which we attended virtually.
At the Durban Film Mart, there were something like 50/60 projects. Not all of them are going to make it to the end, and I'm not saying that they're all good, but we've come up with as many as 150 total feature films [for the list so far], that are in some stages of development. And that's unprecedented on the African continent; we just we haven't seen that kind of activity at all. And that's because you have a lot of programs, like the Realness Institute, popping up and servicing the continent, and they're giving up-and-coming filmmakers the opportunity to hone their skills.
It's not difficult work, it's just time consuming to compile the list, and we're not even done yet. We just had to put it on pause because we're focusing on the [GoFundMe] campaign. I'm not trying to get rich here. I could have taken a different path and maybe gone the Hollywood route, but no, there's passion here, there's urgency, and we see the opportunity to make a difference. We're coming in humbly, certainly; I'm not coming to change everything. We're coming in and learning as much as we can. And we're really focused on Sub-Saharan Africa. Because, yeah, because that's where the lack really is. We still have [coverage of] Algeria, Tunisia, [those countries with] French connections too.
What do you aim to do in terms of curating films?
Mubi has been the model for me from the very beginning. It has a curated streaming component and there's a journalism component, as well. So you have essays and conversations with filmmakers that help contextualize the films that they stream. Mubi doesn't have 10,000/15,000 films like Netflix, they're not trying to be Netflix, they have a very specific audience, and they found a way to have about 300,000 subscribers around the world, who pay about 10 bucks a month, for their curated streaming. And they have been very supportive [of Akoroko].
So we will essentially hand-select every film that we feature...because right now, what is that one place you go to for African film criticism, coverage, analysis, context? I don't know when that will take off, but we want to create the same kind of fanboy/fangirl appreciation for African films and filmmakers that you see in the States. I can't say when the streaming will come. We'll see how much money we raise because it's acquiring rights to the films for a period of time and that'll be expensive. But we're learning a lot, in terms of how it all works. A lot of African filmmakers have just been handing over their films for pittance to be on a global platform but you're not getting exposure. If it's on Netflix, great, but Netflix isn't necessarily marketing it, so it's up to you to make sure that people know it's there.