In the opening scenes of Amansa Tiafi, a politician named Honorable-honorable is trying to get votes by promising solar toilets to the crowds that have gathered around him. It is an apt beginning for a film whose title translates in English to Public Toilet Africa, and presents a commentary on societal ills that usually operate in private. Amansa Tiafi or Public Toilet Africa seeks to put eyes on issues many in power would rather not be seen or spoken about.
---
Amansa Tiafi is the debut feature film from Ghanaian filmmaker Kofi Ofosu-Yeboah, and after making its world premiere at Switzerland's Locarno Film Festival last year, it bowed at the SXSW Film Festival this month. The film interweaves strands of different storylines, tethered by the revenge mission of Ama, played by Briggitte Appiah, the film's protagonist. Given as "a gift" to a white family when she was young, she grew up to be their domestic worker. Years later she returns to her hometown of Accra, to seek compensation for an unpaid job, aided by her former lover, Sadiq (played by David Klu), setting into motion the film's central plot.
Ofosu-Yeboah wrote, directed, produced, and edited the film – making Amansa Tiafi a labor of love and protest for the Ghanaian filmmaker. Ofosu-Yeboah studied television production from the National Film and Television Institute in Accra, before earning his MFA from Columbia College Chicago, where he became committed to pursuing social change through film.

Over the course of his education and working on short films, Ofosu-Yeboah has felt a strong affinity to the aesthetics and principles of Third Cinema, a film movement that started in Latin America, spreading to Asia and Africa, which decries neocolonialism and the Hollywood model of cinema.
OkayAfrica
spoke to him about using cinema to change the game.
Interview has been edited for length and clarity.
You're the editor, director, producer, as well as the writer - how much did the script change from when you first started?
Not much. The spirit of it is there. I feel like, I think it was Andre Bazin, talking about [Roberto] Rossellini, who said something about how a lot of people put reality, like a bird, in a cage and then try to teach the bird to talk. But with Rossellini, he talks with the bird. And I was in that position to look at it as, this is what we have here. It's a spirit. For me, cinema is poetry more than it is a novel. So if my feeling is right, this jazz that I'm making here, I have the pieces, and a little bit of an ensemble can make it even more beautiful.
You write things and you believe things and you want things to happen. And you get there and then you find out that you're dreaming this thing you've concocted. And you may have to re-dream to make it happen again. But the spirit of it never leaves and the spirit of it is making this work that I'm feeling. And so if I'm feeling it, I can make it happen. It may sound as amorphous as anything. But I remember when I first threw the script away and many people were afraid to talk about it because it seems like, 'Oh, it's so random, he didn't go with the script.' Well, the script is only a guide. It's not some Hitchcockian thing here. It's not one plus one. It is poetry. And this poetry is the poetry of life. I like the chaos.
A Word document is always good and I'd internalized mine, and I'm working with a cinematographer who really understands me and is in tune with me. We had worked together before and we were used to this type of scenario. When you're dealing with long form, there's only so much you can really wing, but we still made it happen.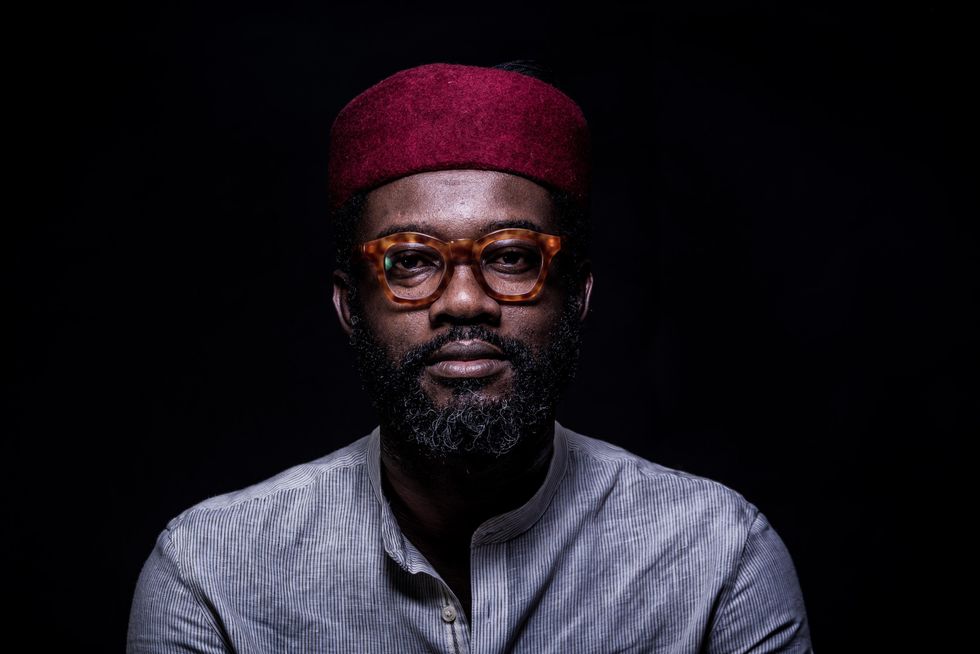 Kofi Ofosu-Yeboah sees himself as the offspring of legendary African directors like Djibril Diop Mambéty and Ousmane Sembène.
Photo: Marquee Media
It makes sense that this is a film that you say you relied on feeling to make, since it seems to cover a lot of what you feel about different issues in Ghana, and Africa at large, like colonialism, corrupt politicians, the gaze of who is looking…
You know, there are these boxes that you go to film school to tick and come back and make these cookie-cutter NGO films that we keep churning out for the continent and the Global South. I cannot go on without mentioning Djibril Diop Mambéty, without dropping names and without making you understand how one can trust their instinct, their intuition and still be on track. In our storytelling traditions, oral storytelling, the griots were not reading from a script. Each time we tell the story it's different. Each time the story is told there's some nuance to it, some variation to it. The same story, the same spirit, but with different variations, is passed on from my great great grandmother all the way to me.
And I feel that when you're making work on the continent you should not let your schooling interfere with your education. I know what I want from this film. I didn't set out to make a film about decolonizing the gaze. I didn't set out to be about these poetics of refusals and all these other things. It always starts with me feeling what is sincere, what is genuine. I had lived in a country where everything around me, I could not recognize on the screen because it's not represented on the screen, not by others, not by the Other, but ourselves.
We seem to be afraid of ourselves. We seem to not want to put what is in front of us on the screen. So we go paint these walls, import all these things, and make it look like a cookie-cutter. We are too quick to say, 'Black lives matter,' too quick to say, 'Take a knee,' we're too quick to say, 'Fight the power.' But all these things are happening in our kitchens, happening in our bedrooms, happening in our living rooms. An African girl given to a white art collective? What is that?
It doesn't even go that far; it comes home. At home, you will find relatives living with us who are serving us, they don't go to the same schools our kids go to. They don't eat from the same plate our kids eat from. They don't share that glass. So, this neocolonialism or whatever we want to call it, this hypocrisy, you look when you look around you. It's like, 'Wow, we're talking about the white power, white order, white supremacy. The African is interesting. The Black person is interesting. Something's going on.'
And for me, Public Toilet Africa lays it on the table. We could have shot at all the beautiful places in Ghana to show, 'Oh, this is how it's done. This is Nollywood. This is how we are measuring up. We can finally be streamed on Netflix. We can finally be streamed on Amazon because it has the formula.' But then I said, I don't remember us. I have a feeling we would disappear. Let me put this document together so at least they will know that we were here if we disappear.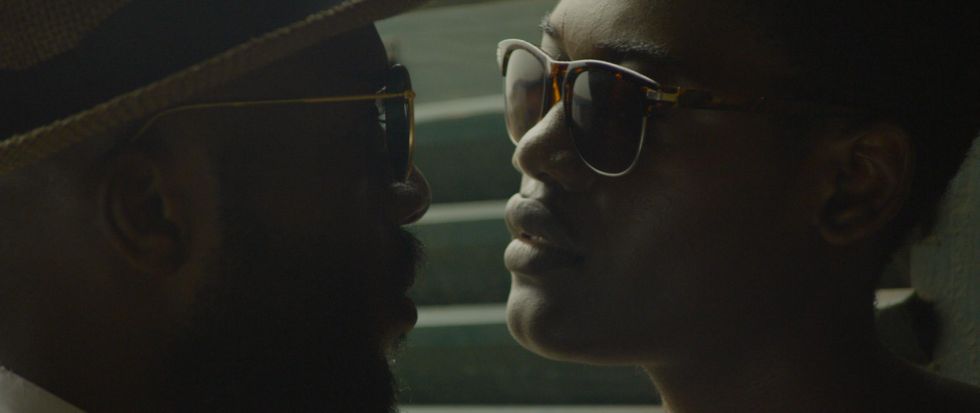 Briggitte Appiah is Ama and David Klu is Sadiq in Public Toilet Africa.
Photo: Marquee Media
We can see shades of Mambéty and Ousmane Sembène in this film. Do you see yourself as an extension of filmmakers like them?
You can't deny, I'm their offspring. They are my ancestors. Having grown up watching a lot of -- let's talk about hegemonic forms of representation; let's talk about Hollywood. Let's talk about Third Cinema, that formed an agenda to break away and to give the gaze back. We could talk about [Argentinean film-makers and Third Cinema founders Fernando] Solanas and [Octavio] Getino. We could talk about all these founding fathers of the Tri-Continental Project: Latin America, Asia and Africa. Look at Satyajit Ray making The Apu Trilogy in India. Look at Ousmane Sembène making Black Girl, with her beret, look at Souleymane Cissé...It's so beautiful what they do with the language. Cinema's language is just beautiful because they're coming from different angles and different forms. There's a certain poetry, a beauty in there.
You go to film school in Africa or anywhere in the world, and we've imbibed the technical knowledge with their culture, so much so that it's an alienation, it's a rejection of self. So when you see this inversion, this shooting backwards, camera turning back on us, speaking our own language, telling our own truths, creating our own myths, you cannot help when you see these men on the forefront trying to preserve something for people like me, but say thank you.
I cried when I when I came across these works because they were never introduced to me early enough. Too busy watching one plus one equals two, the cookie-cutter films that are meant to sell popcorn and coke soda. But these films were speaking to us, leaving us a document and so their influence is there in spirit. We vary in aesthetics but you can see that I have been influenced by their courage.
When will the film screen in Ghana?
We know what COVID has done, but this year, if it doesn't happen in the summer, a December opening in Ghana is very likely.