---
It's only March, but African women are already killing it just as hard as last year. In theater, an entirely female cast and creative team brought the story of five courageous Liberian women to Broadway. In art, two Black women from Germany curated one of the art world's most prestigious events. Over in Uganda, one woman set out to challenge Yoweri Museveni with a serious bid in the country's presidential election.
Today, on International Women's Day, we look back at 12 times African women have already made history in 2016. What follows is pure #BlackGirlMagic.
Eclipsed Makes History as the First Entirely Woman Broadway Show
The cast of Eclipsed, left to right: Saycon Sengbloh, Akosua Busia, Lupita Nyong'o, Zainab Jah and Pascale Armand (Photo: Alyssa Klein)
When Eclipsed debuted just two nights ago, it made history as the first play on Broadway to be written, directed and performed by all women. Penned by Zimbabwean-American actress and playwright Danai Gurira (who has another show running in New York at the moment), directed by the South African-born Liesl Tommy and starring five incredible black women–Lupita Nyong'o, Saycon Sengbloh, Zainab Jah, Pascale Armand and Akosua Busia–Eclipsed tells the story of a group of courageous Liberian women during the country's civil war. And what's more, through the 10,000 Girls Campaign, the Eclipsed team has a goal of bringing 10,000 girls from the tri-state area to see the show who otherwise might not have the opportunity to experience a Broadway production.
Angélique Kidjo Wins Her Third Grammy
Image via Angélique Kidjo's Instagram.
Last month, for the second year in a row, Angélique Kidjo won the Grammy Award for Best World Music Album for her Orchestre Philharmonique du Luxembourg collaboration, Sings. This year's award was the third career Grammy for the Beninese singer, activist and all-around icon–the only female Best World Music Album winner since the category was instituted in 1992. Not surprisingly, Kidjo's acceptance speech was nothing short of memorable. And if we recall correctly, Kidjo was the only Grammy winner to sing her acceptance speech this year.
Loza Maléombho Gets the Ultimate Beyoncé Co-Sign in "Formation"
Loza Maléombho's SS16 Zaouli collection (left) featured by Beyoncé. Credit: Robin Harper; Source: beyonce.com
Everybody was talking about Beyoncé's surprise "Formation" video release. If you looked close enough, you may have noticed one of Queen B's dancers donning a look by none other than Ivorian fashion artist, designer and label founder Loza Maléombho. The piece is from the Abidjan-based label's brilliant Spring/Summer 2016 Zaouli collection inspired by traditional masks from the northern region of Côte d'Ivoire. In an interview with Okayafrica, Maléombho shared the story behind how her work was featured in one of the year's most important music videos.
Contemporary And Founders Yvette Mutumba & Julia Grosse Curate Armory Focus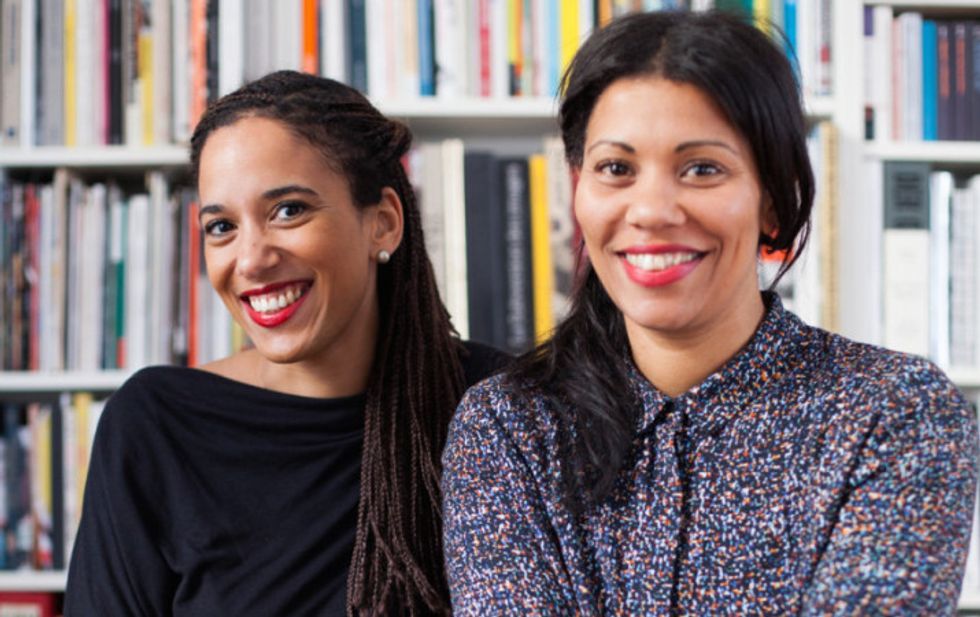 Contemporary And co-founders Yvette Mutumba and Julia Grosse (Photo: Benjamin Renter. Courtesy of the Armory Show)
Last week, Julia Grosse and Yvette Mutumba became the first women to curate the Armory Show's Focus section, where African artists took center stage at New York's premier international art fair. The two Germany-based founders of Contemporary And were behind this year's phenomenal focus, African Perspectives – Spotlighting Artistic Practices of Global Contemporaries.
Everybody's Talking About An African City
Season two of the internet sensation An African City premiered in January. Since then, it's been the absolute talk of the town. From the mind of Ghanaian-born entrepreneur, writer, executive producer and director Nicole Amarteifio, the show centers on five fabulous Ghanaian and Nigerian women who have recently returned to Accra after years of living abroad. It's fast becoming one of the most acclaimed web series of all time.
The Creative Brains Behind Accra's Fresh New Art Space, Nana Oforiatta-Ayim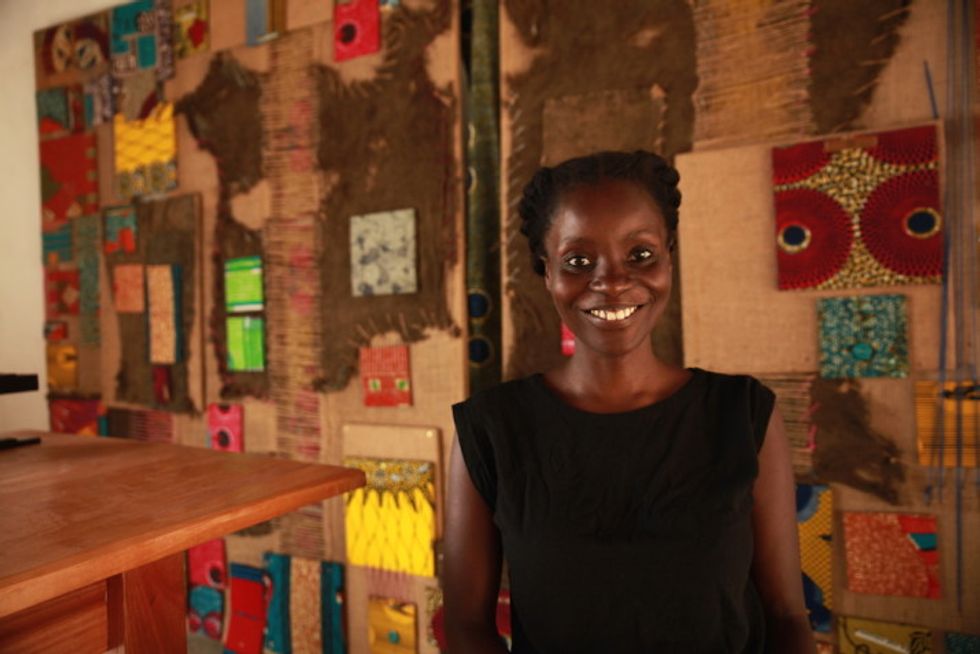 Nana Oforiatta-Ayim, Creative Director of Gallery 1957. Photo: Alice McCool
On Sunday, Ghana celebrated its 59th Independence Day. The day also marked the opening of Accra's innovative new art space, Gallery 1957. The creative brains behind the gallery is Ghanaian cultural historian and filmmaker Nana Oforiatta-Ayim. Okayafrica spoke with the Creative Director about her vision for the space ahead of Gallery 1957's opening.
Fifty Brings the Scandalous Lives of Powerful Nigerian Women to Netflix
While it's too soon to say whether their launch across the continent will mean a push towards African content on Netflix, one recent title suggested a promising development for the streaming service. In the Nigerian drama Fifty we're introduced to a circle of powerful middle-aged Nigerian women. The movie, which debuted on Netflix in January, takes us through a series of twists and turns in the lead-up to a high-profile 50th birthday celebration in Lagos. Its executive producer is an extremely powerful Nigerian woman in her own right, EbonyLife TV CEO Mo Abudu.
Tony Gum Represents Cape Town as the Only African Artist at Pulse NY
Spilt milk
from the Milked In Africa series courtesy of Tony Gum.

South Africa's Tony Gum made her U.S. debut as the only artist to represent the continent at PULSE Contemporary Art Fair in New York last week. The 20-year-old film student's popular Instagram and her willingness to share her journey of discovering the African narrative landed her a spot as a keynote speaker at Design Indaba and an exhibition at Cape Town Art Fair. In her newest series of self-portraits, "Milked In Africa," Gum portrays Africa's strength still has despite the hardships the continent faces.
Maureen Kyalya Waluube Runs for President of Uganda
Running for president of Uganda is like picking a fight with the moon: its power might appear to wane every now and then but, come election time, Museveni always wins. He's been in power so long that the vast majority of Ugandans—an estimated 80 percent—were not yet born when he took power in 1986. While Museveni's camp claims it's simply a matter of popular support, everyone else chalks it up to the perennial intimidation of the opposition and the manipulation of the Electoral Commission.
This make Maureen Kyalya Waluube's serious campaign for the presidency all the more impressive. In a field of six men, and under the constant threat of arrest, she ran a passionate campaign arguing for reform, holding her own in the first televised debates and becoming well-known for her assertion that "There is lots of tear gas in every police station but there is no medicine in the hospitals."
A Photobomb by Olajumoke Orisaguna Made Her Nigeria's New It-Girl
Olajumoke Orisaguna photographed by TY Bello. Source: TY Bello's Instagram
The 27-year-old mother of two trekked her usual route selling bread on the streets of Lagos when she walked into Tinie Tempah's photoshoot directed by TY Bello. The beautiful shot Bello captured prompted her to search for Orisaguna on social media, and she then helped the former hair stylist establish a budding modeling career. Orisaguna's Cinderella story took over the internet, with some calling to question why we tend to put poverty on display.
Uzo Aduba Wins SAG Award for the Second Year in a Row
For the second year in a row, Uzo Aduba took home the SAG Award for Outstanding Female Actor in a Comedy Series for her role as Suzanne "Crazy Eyes" Warren in Orange Is The New Black. "I would like to take an opportunity to acknowledge the actors who are at home, not here in this room with us but hoping to one day be in this room with us — keep trying, keep plugging, keep working, no matter if anybody tells you to get out of that line that you're waiting in," the Nigerian-American actress said during her acceptance speech. "Stay in that line, you have the chance, it is yours. Thank you so much, God bless you all."
Herieth Paul Becomes the New Face of Maybelline
Source: Herieth Paul's Instagram
In February, Tanzanian-born, Canada-based model Herieth Paul, 20, was named the new global brand ambassador of Maybelline. "When I first started modeling in 2011, there were very few darker-skinned girls. Now I see girls from all over the world. You see Asian girls, Indian girls—you see every kind of girl. I feel like it's getting better—we're not there yet—but I see a change. There's still some work to be done!" she said in an interview with Glamour.