When American rapper and Dreamville signee, Bas, decided to head out to Nigeria in April as part of J. Cole'screw for a concert in Lagos, he had no idea what was to expect.
He wasn't billed as a performer, neither did he prepare for a set. But, during J. Cole's thrilling performance, he was asked to hit the stage. His mind blown. "I was called to perform two songs which wasn't planned at all," he recalls. "The songs didn't have J. Cole featured on them but while performing, thousands of Lagos people were rapping with me, word for word, and I was like 'ohhh, what the hell is going on here.'"

That experience opened Bas up to the possibilities that exist in the African market, and a whole new world of fandom. While in Nigeria, he was surprised to meet up with fans who were inspired by his music, and a nascent Dreamville supporters club who dot on his releases, and amplify them locally. That gave him an insight into the new market, where he has adapted his processes to include acknowledging and interacting with his African fan base. He's been on a journey, exploring the culture, the people, and taking lessons from the resilience and happiness that he's found in a lot of African stories. He's also tweeting about 'Shaku shaku' and the Nigerian football team, Super Eagles.
---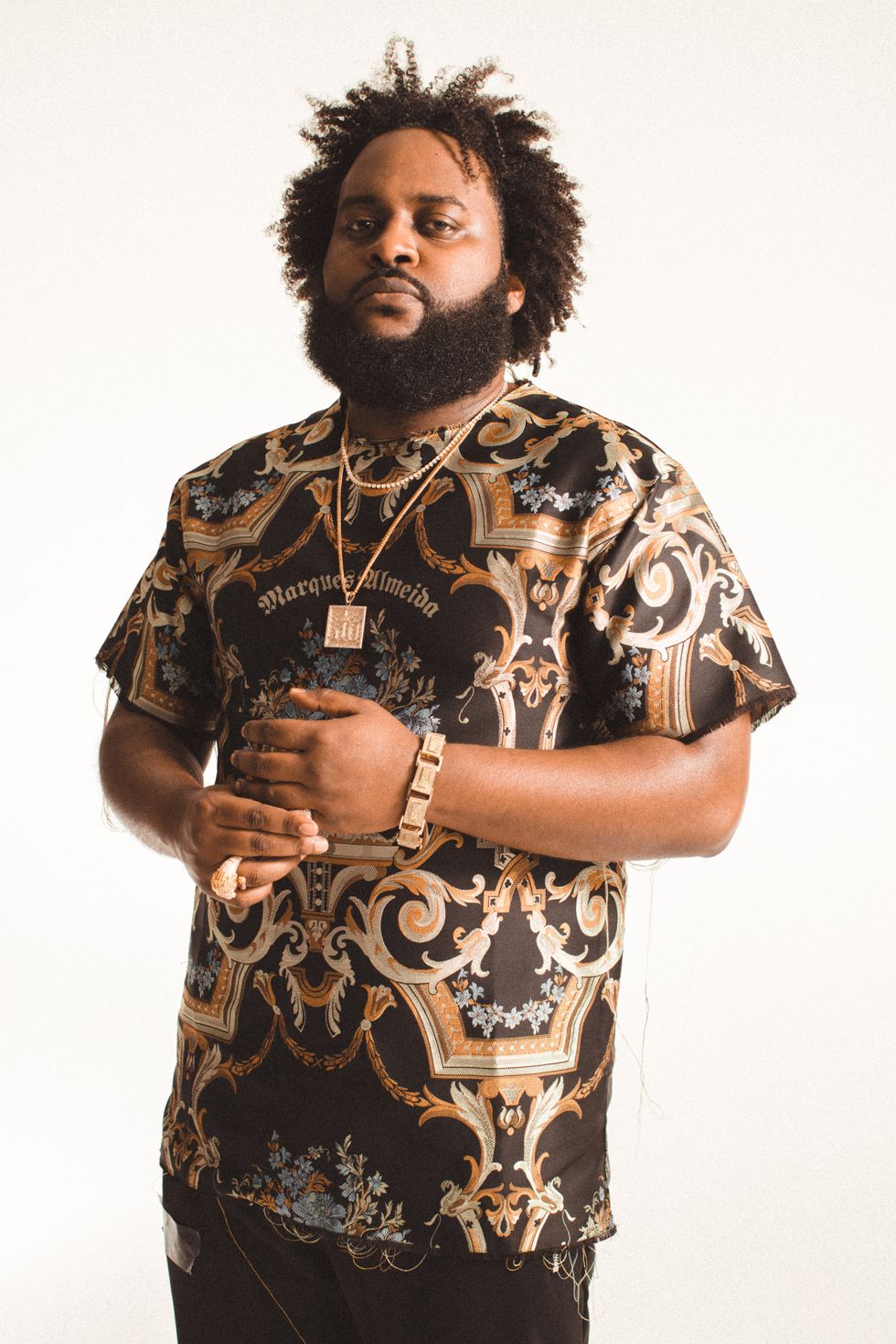 Photo : Rafael Rios for The Fiends + Milk Studios.
Born Abbas Hamad to Sudanese parents in Paris, Bas moved to New York when he was 8. He has since built a great life in hip-hop, pushing his art to global spaces. Signed to J. Cole's Dreamville Records and Interscope Records, his first studio album Last Winter, was released in 2014, followed by his second studio album, Too High to Riot, which dropped in 2016. His third album, Milky Way, came in August of this year.

For many African-Americans, the African continent remains a distant land for exploitation. Whether they are referenced to score cool points and cultural currency, or as an exotic land for some PR-designed charity work, African spaces are mostly seen as extraction for personal profit. But Bas, who is connected to Sudan, his country of origin, has a different view on the interaction between the US and Africa.
OkayAfrica sat down with the rapper, to talk about his art, his African experience, working with afrobeats artists and more.
What was the biggest shock for you when you came to Lagos?
It was the fact that I just came with my folks to Lagos to support them not to perform and I was called to perform two songs, which wasn't planned at all. The songs didn't have J. Cole featured on them but while performing, thousands of Lagos people were rapping with me word for word and I was like, what the hell is going on here. You know, I was unaware, I didn't know my music was known that much. I was very surprised with all the love and support I was getting from people. It was very inspiring to show that there is so much room to make music because there is so much culture and energy there. I realized that I can't neglect that fact, that's why I'm trying to put together shows to tour Africa. Because of social media, no one is behind so it would be a shame if people support you and you don't go back to support that energy as well and connect with the supporters and fans like we do in other places.
So, are we getting a visit soon?
Yeah, I'm working on it. I've been working on ways to make it to Africa by December, to go to places like Nairobi, South Africa and also contacting people in Lagos too and hopefully everything goes well. Yeah, I would love too. I definitely have a larger fan base out there than I anticipated
How about Sudan, your home country?
Yeah, since I started my music journey I haven't been there and I saw the children's energy around what I was doing, how proud everyone was of me. You know, I didn't realize how important it was to people that I was out here representing us on a larger scale and platform. Yeah, like I did a meet-and-greet and a lot of people showed up and since then I started planning with my team on how I can give my people a proper show, so, we've been talking to people on offers to perform out there.
Bas - Tribe with J.Coleyoutu.be
Why is Africa such a strong theme on your Milky Way album?

Yeah, that's one of my proudest things with this album. I was born in France and raised in New York but I'm still African. I've always been part of the diaspora in America, there are lots of diversity and this was the first album where I was able to find a marriage of all the sounds and places that inspired me. It's not just New York sounds, it has African and European electronic sounds, French electronic samples as well. I was so happy about getting to tell the full story. You know so many times I just get written up like a New York rapper but there is so much more to it and I want to do more of representing that story. I found that in the music to tell my story through sounds and rhythms we used. And as a whole I'm really inspired by the music coming from the continent. All the afrobeats is so dope and refreshing, I'm also into some of that stuff, not just hip-hop. I find more inspiration from what is coming out from the continent than what comes from the states.
What are your thoughts on the dominant negative image of Africa, perpetuated by Americans and the West?
I think it's generational. I really think it's just a misinformation and propaganda. But if you are in Africa and hear some of what is been said about African Americans, you might have a wrong idea about the people. Everything the American mass media portrays about Africans is not good, it's always about drugs, poverty, instability, danger, and more . So, I don't think it's the people, it's the information there are getting but if we gain access to the world through traveling, you will see that we all are the same people. We are ignorant because we are not in touch with each other. The lack of traveling and discovering is creating ignorance, mistrust and all the negatives. This is why are culture is really important. People, especially the youths, have to be taught to let people outside know more about us through different arts like music. When cultures comes together is creates a better understanding.
Do you have plans to collaborate with any African artists?
Yeah, for sure. I talked to a couple of guys on Instagram, but I don't want to say a lot too early. I'm a big fan of African artists and they've been giving me some good energy and we talked about linking up and getting some work done. I think what you hear from this album is the beginning of me exploring and being inspired by the African sound.
Which African artists are you listening to right now?
I love Wizkid, I'm not gonna lie. I know to you guys, he is like a pop sensation. But to us, he is like, a real dope person. I like Davido's vibe, Tekno, Runtown, Black Coffee, I think he is real dope, I also love Burna Boy, yeah, I really like him.
Interestingly, Burna Boy's grandfather, Benson Idonije, managed Fela Kuti.
Wow! I saw Femi when I went to Lagos, yeah, I went to The Shrine. He was performing and I was really happy being there. I got good vibes from there.
Photo : Rafael Rios for The Fiends + Milk Studios.
Major labels like Sony, Universal Music have expanded in Africa. Is this good for the culture?

Yeah, it's good because it will help push African artists that know how to represent their culture right. This would be hard if the company were just in America, but being in the market helps push the African music and make them get it right. I think the labels can empower African artists to promote their music out here. Because of such platforms, African music can be known worldwide, so others can see what's going on. The resources can be great to help the culture and let the music grow globally. It's like a great power that shouldn't be misused. It is also important that they empower those in the culture, who have been building the movement to push African music to higher levels. We have to protect our legacy, you know, it's something special so we have to protect it in the right way, so it's a good thing.
Hip-hop is changing in Africa, just like in the US, with more rappers integrating singing as a stronger element of the art.
Anything that makes creating music better is dope. Although, it depends on the musician. Like me, I can decide to drop like 40 bars in a song, and in another, I might just be more melodic and move with the rhythm. As an artist, the most important thing is creative freedom and artistic freedom, expressing yourself through music without being criticized about it by people. And also, many things work in cycles; I mean there is definitely a point where, some artists started rapping more or whatever the case may be. But in general, the less rules, the more freedom for people to express.
What's a typical day like at Dreamville?
It's crazy right now because so many artists are finding their own level of success. You know, we are probably together less than we were though .We sometimes talk and pop up on each other when we are in the same city. But like right now in Vegas, my homies are at different spots doing their own thing, like tours. Some are getting ready to release their own project. It's going really well with Ari Lennox, she is getting ready to release her album. A lot is going on and a lot of creative ideas are being passed around. Any given day we are just in different corners of the country. It's basically about us being able to independently grow in the music business and reach our fans worldwide, so it's crazy and busy with everything that is going on.
What's your hope and vision for Africa?
That's a loaded question, I would say out of everywhere I go, Africa is one of the places with a lot of untapped potential. There is just endless potential, and a lot of that has to do with our history and colonization and all the ways we've been held back. I just really want to see Africa more empowered and less corrupt. I just want to see it improve. The Africa in the next 100 years, should be better than the Africa of today. I want to to see all these potential being discovered and respected. I travelled to Japan and I've never seen people that have equal respect for their land, you know, no garbage on the street. There is a certain level of unity there, it's a very beautiful thing and I have a lot of respect for the Japanese people, but I would love to see that same pride happen in Africa. We are entering a new age, so it's either we make the best of it and stop all these corrupt politicians from crumbling the continent. For the people to take more charge of the destiny, because at the end of the day, it's all in our hands I just want to see that happen.
Will there come a day, where Bas isn't making music due to more success?
I don't know if I will take a break, per se but I think for me when I can do that is when I make a real defining mark in the music industry to tell my story. Different cultures will keep inspiring me and to see people listen and support me so much when I didn't know how many people were inspired by me, but thank God we are all doing good and taking care of family, friends and fans. To me, that's not the end goal. There is a bigger end goal, personally, I haven't figured that route totally yet. I just wanna learn, tour and do more, and explore Africa more, and that's the fact that people don't know. There were kids from Sudan on my Instagram page educating the American kids on activities in Sudan. Yeah, we are talking about Africa, you know, which is much more impactful than a lot of other stuffs and I just realized that. So I'm exploring all that, which is more gratifying, and I'm standing for that. Then I can say to myself that I have used myself culturally to tell my story and leave a good legacy.
'MIlky Way' is available now.