Laolu Senbanjo has been keeping the secret of all secrets since December 2015. Beyoncé is about to shock the world with her biggest project in years, and the Nigerian visual artist and musician had left his unmistakable, Yoruba-influenced markings all over it. All this less than five years since Senbanjo, 34, left his life as a human rights attorney in Lagos to become a full-time struggling artist. The decision led him to Brooklyn, where Senbanjo's taken his Afromysterics artwork from the canvas to virtually everywhere: from shoes to jackets and even the human body.
---
Beyoncé's mysterious new project, as we found out last night, is Lemonade, an hourlong conceptual video that debuted on HBO and features music from the artist's surprise-released sixth studio album, also called Lemonade.
Senbanjo's contributions to the visual album stand out with their deeply stirring spiritual undertones. Conceptually and narratively, the grand appearance of his Sacred Art of the Ori marks a shift in Beyoncé's emotions from "Anger" to "Apathy" (chapter 4 of the video) as dancers, adorned in Senbanjo's signature Yoruba body paint, sway about in formation alongside Queen B herself. The screen turns black-and-white while Beyoncé recites the haunting words of Somali-British poet Warsan Shire and transitions into the fourth track on Lemonade, "Sorry."
For Senbanjo, the past four months have been shrouded in secrecy. Now, finally, he's able to break his silence on his career-changing collaboration with Beyoncé. He marked the occasion with a friends-and-family viewing party at Brooklyn's beloved South African food spot, Madiba. Last night was also the first time Senbanjo was able to see the finished project. Until then, he had no idea what to expect from Lemonade.
We caught up with Senbanjo over the phone, exactly one month since his Nike collaboration, to hear the incredible story of how his Sacred Art of the Ori made its way to the biggest music video in the world.

Screengrab from Lemonade: Dancers adorned in Laolu Senbanjo's Sacred Art of the Ori
Alyssa Klein for Okayafrica: How did it all happen?
Laolu Senbanjo: I got a call from management about a video shoot. They gave me an idea it was going to be Beyoncé's video shoot, but it was top secret, that kind of thing. So I couldn't tell anybody. They told me like two weeks before. I was gonna go there in like two weeks. And all of a sudden they called back and said "Uh, two weeks is too long. We need you right now." And I had to travel to New Orleans, where it was happening.
It was crazy because I couldn't say no. If Queen B wants you… It was so unreal. I just left everything I was doing. I had projects I was working on. And I just left them halfway and told everyone that something came up and I had to leave. So everybody said "What's a matter with you?" And I said "You're going to understand later, but I can't say anything right now."
So I got on a plane and went to New Orleans. Didn't know what to expect. I got the schedules, call sheets, the timings, who I'm working with, who I'm supposed to see. Everything was very detailed, the names, everything.
What was it like when you got to New Orleans?
The hotel was beautiful. Everything was nice. A lot of people were coming to the hotel. Hollywood celebrities and everything. It just dawned on me that yeah, this shoot is real.
I met the director, they took me to all these rooms with all the props and clothing. Gave me different texture of what they wanted, the color of the video. So I met with them. Told them what I could do. It was a bunch of geniuses running the thing. Everybody was just perfect at what they were doing. I didn't have to say too much to anybody. It was more like they already knew what they were doing.
Everybody was top top gear in their art. The dancers just blew me away. They gave me a lot of ideas of what I wanted to do with the concept and the dance moves and how I would love the art to show.
On the set of Lemonade. Courtesy of Senbanjo.
What was it like meeting Beyoncé?
There was a time where I was on set, I wasn't painting that day, and I was just walking around with some of the new people I'd just met. Beyoncé was right over the corner, and I was walking out and she called out to me. In my mind I was like "No, she doesn't know my face." Then she called again. And I looked back and I was like "Oh shit, she's calling me." I tried so hard not to be starstruck. She came to me and she said hi, and she said she wanted to thank me for coming, she knows it was short notice, and she's really grateful I could make it. In my mind I was like "Really? You're thanking me? I should be thanking you for this incredible opportunity to work with you." She told me a lot about my art, which is kind of crazy that she checked out everything I've been doing. She watched a lot of my videos, including one of the ones posted by Okayafrica that was picked up by BBC. Remember that time-lapse? She mentioned the jackets I posted on Instagram. My shoes. It was incredible. We just sat there, telling me she loves my work. She thinks my talent is just unbelievable. That just, I don't know... Coming from her, telling me that, it was just unreal.
Senbanjo designed custom shoes for Beyoncé. Courtesy of Senbanjo.
He also designed custom shoes for Blue Ivy. Courtesy of Senbanjo.
What was B like on set?
To even watch Beyoncé up close, and see her work ethic, how much energy she puts in her work is just incredible. She's always the first to get up, to say "Okay let's go, let's do this now." And she's the last to leave the place. She's always repeating it. You can feel her energy. You can't just do less around her. Her energy is so contagious. Everybody is on their A-game. Because she's on her A-game, like all the time. It's just incredible how she manages to do it. She's a workaholic times two. She's there. Ready to go.
Can you walk us through your work on Lemonade?
It was interpreting the moves, painting, a lot of painting. Body art. Performing my Sacred Art of the Ori. I got to meet one-on-one with the dancers, and people in the commune. And also Beyoncé to talk about the concept.
It was a lot of people [to paint] though. In fact at some point I lost track, and because of the set time, I had to do it [the painting] in a short period. It was just crazy. It was like all the skills I've acquired in my life, when you're put to the test, and you're like "Okay, do what you know how to do." I just had to find that zone. And just be myself basically. When I was on set, working on the video, my life was flashing before me––the moments I wanted to give up, and how I quit my job. At some point I felt like crying. It was just unreal. Here you are. You're working on Beyoncé's video. It was just like... I couldn't have thought about that like a year before. So it was just an unreal experience. You just feel like, "Okay, this is a really nice dream. So it's time to wake up." And you never woke up. It happened. It really happened.
And you met Ibeyi too?
We just hit it off. We felt like we had known each other for a decade. They're beautiful people. Their soul is beautiful. Their interest and their knowledge about [Yoruba] culture is just fascinating. It's very refreshing. Someone is doing it. It's not just me with my art.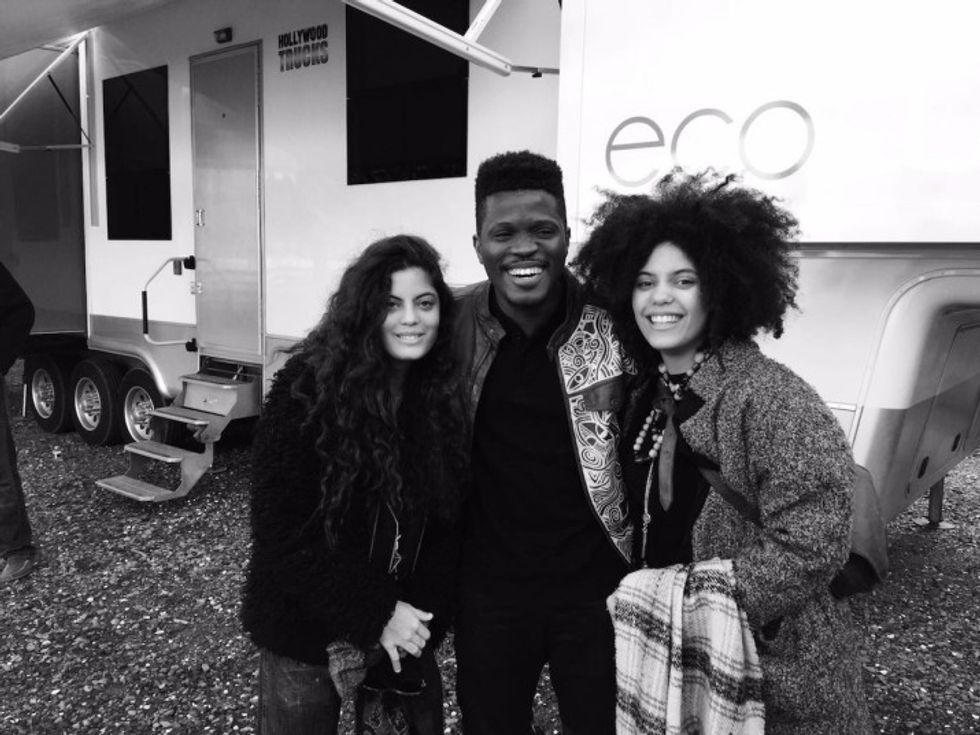 Laolu Senbanjo and Ibeyi on the set of Lemonade. Courtesy of Senbanjo.
What did you think of the video?
It was so emotional. It was powerful, mind-blowing. Being someone of her power, status, speaking up for women, speaking up for Black Lives Matter, empowerment. To be part of that… she has an amazing vision. Which is what I do with my painting. It's a form of liberation. People say funny things about me painting on women. It's about empowerment. It's not about nudity, it's not about objectifying. It's about equality. It's about speaking up for people who are not being talked about in the workplace. It's also about relationships.
Everything is just so powerful right now. This is something that's going to speak to people for the next five years, ten years. It's a masterpiece. I'm just so honored to be part of it. It's huge. It's huge.
What do you want people to take away from seeing your art in Lemonade?
Art can be used to translate ideas. The Sacred Art of the Ori is basically about connection between the artist and the music. What I basically did was to connect with the different people that were painted in the video, and connect with them on the art. And also on a spiritual level. The connection is what I want people to take away.
And also that as artists there's often that part of you that's not sure what you're doing. The thing is, with my journey so far, I've been able to learn that you just have to trust yourself. And also be very very confident in your art, and what makes your art special. Just live your own truth. Just be yourself. And then the doors will open eventually. It's just a matter of time.
This interview has been edited for length and clarity.