Black Sherif was undoubtedly Ghana's biggest breakout star last year. The 21-year old rapper, singer, songwriter, and performer from Konongo, Ghana first made his debut in 2020 and went on to have two years of meteoric stature. From dropping singles that birthed viral TikTok challenges to securing a Burna Boy feature, Black Sherif's career has already seen moments that rival the likes of artists many years more established.

Black Sherif came onto the radar with his debut single "Cry For Me" in 2020. The single aired the honest sentiments of a young hustler trying his best to make it in the face of highly unfavorable odds. This was Blacko's—as he's also called by fans—narrative, and he owned it more and more with each new release. The Ghanaian artist then proceeded to drop a string of further singles, and each one did increasingly better than the last. Black Sherif gained impressive traction on streaming services, such as the local favorite Boomplay Music.
Then came "First Sermon." With its release, people began to really pay attention to the newcomer. At this point videos began to make the rounds on social media of the young rapper performing in his animated, impassioned delivery, which became his identifying signature. With the release of "Second Sermon" in July 2021, his first breakthrough arrived. The sequel outdid its first iteration by miles, became a smash hit single, and caught the eye and ear of Nigerian afrobeats star Burna Boy who ended up jumping on the official remix of the song just a few months later.
---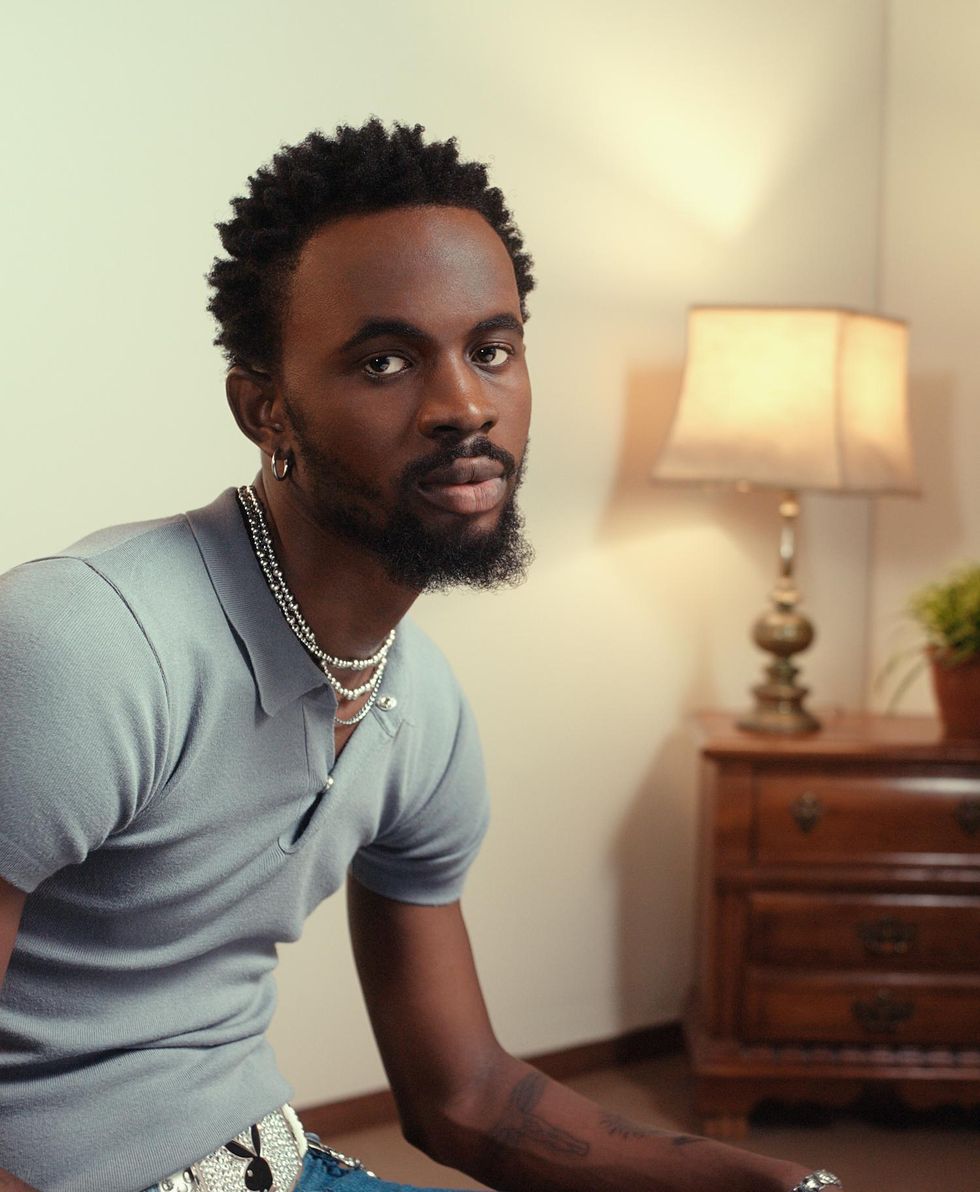 Black Sherif.Image courtesy of the artist.
Throughout 2022 and as the year began to draw to a close, Black Sherif's rank only increased. On October 6th, 2022 the newly minted superstar dropped his highly anticipated debut album The Villian I Never Was. The critically acclaimed 14-track album held 11 songs of brand new material from the young rapper, with hit singles "Second Sermon (Remix)" and "Kwaku The Traveller" as well as previously released material and one single that dropped just days prior to the album's release, "Soja." The album's release discharged a ripple effect that set the tone for the rest of Black Sherif's 2022. The Villian I Never Was made swift entries into several charts across the world, including debuting at number 12 on the Billboard World Albums chart, just behind Wizkid's Made In Lagos. A month later he went on to headline his very first concert in London, UK. The event was a huge success as he furnished fans with a thrilling night at KOKO in London, which included a surprise appearance and subsequent electrifying performance from Burna Boy.
All the above and more points to just one thing: 2023 is going to be Black Sherif's year. Looking at the stellar 2022 the just-turned 21 year-old had in conjunction with a number of key factors, there's a solid case to establish why the talented youngster is going to dominate the new calendar year.
Here's why we believe 2023 is the Year of Black Sherif:
1. His chart performance
Since Black Sherif's debut album The Villian I Never Was dropped in October 2022, the performance of his music on various charts in Ghana and across the world has been very impressive. Debuting on a chart is one thing, but holding your position there is another. Several songs from TVINW not only charted but have held steady positions on several of the various charts it debuted on across the world. Songs from the album made entries on a number of charts on Spotify, Apple Music, and Audiomack in Nigeria, such as Weekly Top Albums, Top Weekly Artists, Top Daily Songs and the coveted Top 100 Songs. At the time of writing, TVINW is still sitting pretty on Spotify's Top Albums Nigeria chart at number 8 with a green arrow right beside, indicating an increase from its position the week before.
Black Sherif - Konongo Zongo (Official Video)www.youtube.com
2. His successful December '22
December is known as the month where artists around the world get the most play. Hit songs released in the last quarter of the year become anthems for the holiday festivities. Artists get back to back bookings for shows, concerts, and festivals, sometimes having multiple bookings on the same day. And overall, the most money is made in the shortest amount of time compared to the rest of the year. This wasn't any different for Blacko. Black Sherif performed at several packed-out concerts between December 2022 and early January 2023, including Afro Nation, Beer With Us Festival in Lagos, Nigeria and his own headline concert in Accra, Ghana called Mozama Disco, among others.
3. His 2023 bookings
It's just the second week of the new year, but the concert and festival bookings have already begun to roll in for Blacko, and not just for any run-of-the-mill events. Live Nation's major concert franchise Wireless Festival has announced Blacko as a headliner for their latest edition Wireless Middle East taking place at Abu Dhabi on the 11th of March 2023, and he's the only African act that has been announced for the international festival so far. He's also been billed to perform at Afro Nation's latest iteration, the upcoming Afro Nation Miami 2023 taking place on the 27th and 28th of May 2023, in Miami, Florida.
4. His creative abilities
One of the hallmark's of Blacko's talent as a recording artist is his ability to create deeply relatable music. For those who can relate, Blacko's music connects with the innermost parts of one's emotions. "My own self dey kill me. My own anxiety, my inferiority what-what-what-what. Ah! Dem all dey kill me, dem all dey kill me," Blacko rapped on "Soja", attempting to put in words the haunting feelings assailing his emotions. His ability to translate less-than-ideal emotions into music has led to a core following that values the emotional connection his music brings. Blacko isn't afraid to peel back the dark sides of himself, and as a result his fans feel seen. Just as Ghanaian rapper M.anifest said about Blacko, "He's not afraid of depth."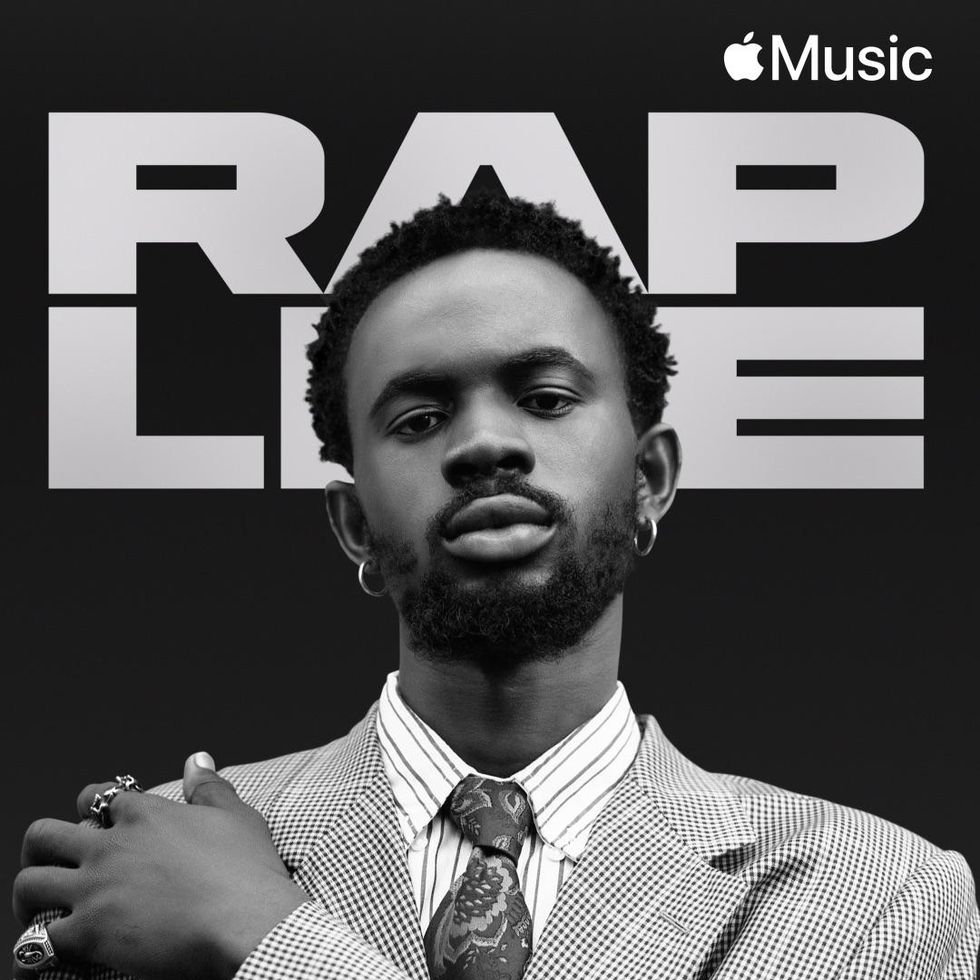 5. Because we're not the only ones who think so
We're not the only ones who think Blacko is going to dominate in 2023. Apple Music opened the year with Black Sherif as their first featured artist for Rap Life Africa. Apple Music's Rap Life Radio is presented by Ebro Darden, radio personality and Apple Music's Global Editorial Head of Hip-Hop and R&B. Rap Life Africa features music from one spotlighted artist, breaking hip hop news, and the hottest new tracks from around Africa on each episode. Blacko is the very first featured artist this year, which points to the global streaming giant's belief in the young rapper's potential. Also, across the pond BBC has highlighted Black Sherif as one of several artists tipped to excel this year in the Hot For 2023 campaign by BBC Radio 1Xtra. All things considered, one thing is a given: the smart money bets on Blacko.