Horror filmmaking is still a fringe project in Nollywood. From its peak in the '90s exploring themes on blood sacrifices (Living In Bondage, Blood Money), witchy femme fatale blockbusters (Karishika, Nneka the Pretty Serpent), and christianity (The Ultimate Power, End of the Wicked) to the genre dwindling out from mainstream consumption around the 2000s, horror itself has reckoned with its own demise. It's hushed away from the circles of elite filmmakers and tastemakers, with nothing but the infantilizing tone that dictates what local viewers should want.

Despite the great churn of comedies and romantic dramas since the cinema revolution, horror and the speculative have been burning as a small, inextinguishable flame throughout C.J. Obasi's work. The Nigerian director has been keenly consistent with the genre, from his 2014 feature debut, Ojuju, a zombie thriller set in Nigeria, to the Africanfuturistic appeal of Hello, Rain,released in 2018. Obasi always tries to use horror to exam social plights or conditions. (For Ojuju and Hello Rain, those conditions are safe drinking water for public use and demystifying juju, respectively.)
---
Nollywood is an industry ruled by the box office machinery, setting a parameter that encourages filmmakers to vastly make movies with commercial potential. Obasi is a genre auteur then became a creative outcast (the director still hasn't had a theatrical release in Nigeria.) Thus, it doesn't stretch the imagination why he would team up with other independent minds, namely Abba Makama and Michael Omonua. Together, they created the Surreal16, a filmmaking collective embracing an offbeat, stylized, idiosyncratic approach to their art. The group's three-part anthology film, Juju Stories,is fresh from the pipeline, premiering at the 74th Locarno Film Festival this year where it picked up the Boccalino d'oro Award for Best Film presented by the Independent Critics.
Still on its international film festival run, Juju Stories exhumes Nigerian urban legend and folklore as a storytelling pivot. It's also about the mysticism of juju, sitting in the tension between fear and fascination. In Suffer the Witch, Obasi's film in the anthology, queerness and witchcraft deliciously intersect. In university, a young woman harbors suspicions about her roommate being a witch. The events that follow is a cascade of discoveries that shakes the human imagination.
Taking Nollywood's horror past into account, the witch trope was a hallmark of the genre. Lost to the cannibalism of intractable changes in the industry, Obasi has revived a great mythology with indie flair. Now released via CanalOlympia theaters in 12 African countries — namely Nigeria, Cameroon, Gabon, Rwanda and more — OkayAfrica caught up with Obasi to find out more about his film on Juju Stories and the state of Nollywood horror.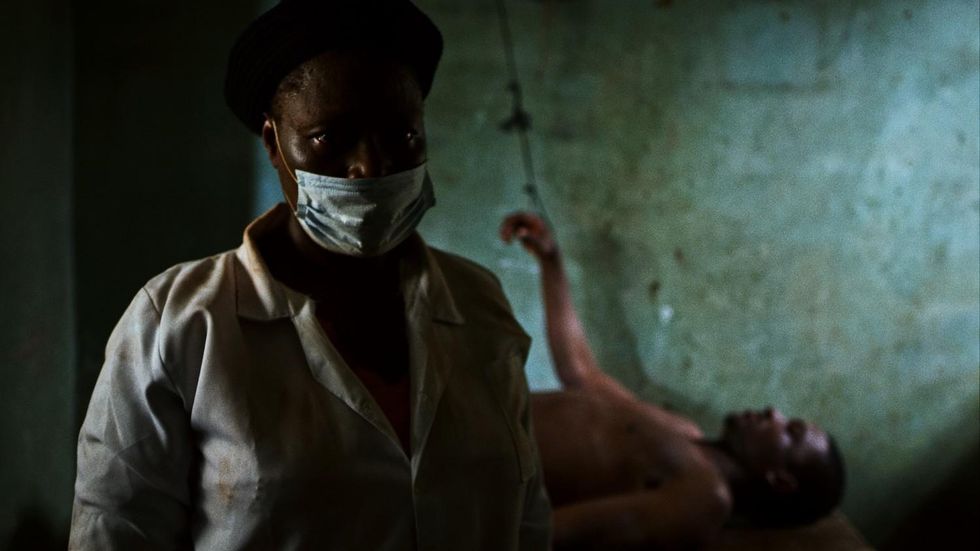 A scene from the three-part anthology film, Juju Stories.Image courtesy of Surreal16 Collective
Juju Stories has continued to receive recognition in the international film festival arena. Why do you think it is resonating with international critics and audiences?

I think good stories tend to do that. When you make a film, you try to tell a personal story that will hopefully resonate universally. Juju is specific to Nigeria/Africa, but the philosophy and ideas around it are universal.
Central to the narrative plot of Juju Stories is the exploration of Nigerian folklore, myths and urban legend. These stories have been buried as the Nigerian film industry mainstreamed itself along with global updates (cinema, streaming, etc). But we live in a new generation where many may not be aware of such age-old beliefs. How did you balance the integrity of these folk stories with expectations of modern storytelling?
It's the balance, isn't it? That's the key word. You don't have to crash one idea to uplift another. Cinema may have come from the West, but storytelling comes from Africa. With this, it no longer is a question of meeting expectations of modern storytelling, but of conveying thoughts and ideas that are relevant to humanity, past, present and future.
Your film in the anthology, Suffer the Witch, stands out in its own way for exploring themes on witchcraft, queerness, and sisterhood. Why were you keen on telling this particular story given the reservations that the local audience have towards homosexuality, or adjacent portrayals of it?
The idea of womanhood in general, is a complexity that is most of the time either ignored or bashed in the Nigerian society. So for me, Suffer the Witch was an opportunity to highlight a problem that stems from fear, ultimately. In our society, it almost feels like the fear of the unknown exists parallel to the fear of the woman. This is a fact of our society, but also something I have further observed and studied personally. In order to humanize witches or witchcraft, and I use both terms very loosely, what better way than to explore a relationship between two women. And it is not so much about overt sexuality, as it is about obsession. That for me is more interesting, as obsession can manifest in any shape or form. Homosexual, heterosexual and otherwise.
As a co-founder of the Surreal16 collective that made this project, do you think making expansive, stepping-out-of-the-formula cinema further drives the divide between mainstream filmmaking and indie perspectives in Nigeria or are you comfortable with your current creative position?
I'll say that I'm comfortable at the pace that I'm moving. Everything that's happening in my space and in the space around me, is just as it should be. And mind you, if you're where you are supposed to be, when you're supposed to be there, you don't step out of anything or need to prove anything by trying to be different. You just are.
Juju Stories has been released on CanalOlympia in certain African countries. Is CanalOlympia a welcome distribution medium for independent filmmakers like yourself or do you hope to infiltrate more mainstream cinemas in the future?
I don't hope to infiltrate more mainstream cinemas. I will infiltrate more mainstream cinemas. It's the inevitability of our stories. It has less to do with me and more about the collective like us, willing to do the work.
Still on distribution, the arrival of international streaming platforms in Nigeria holds the potential for indie content creators to showcase their works. Does that still ring true or are there red tape difficulties to surmount?
Just let the creators do what they do best - create. Anything less than this just gets in the way of that.
The release of Juju Stories coincides with Halloween and horror-loving Nigerians are often derided for observing the season. From your perspective, is this a collective lack of appreciation for horror?
I don't think so. A well told horror story is always a hit in any climate. People have a strange relationship with their fears. They don't want to be afraid, but their curiosity won't let them look away. You just have to make the 'look' worth the risk. That's the real challenge.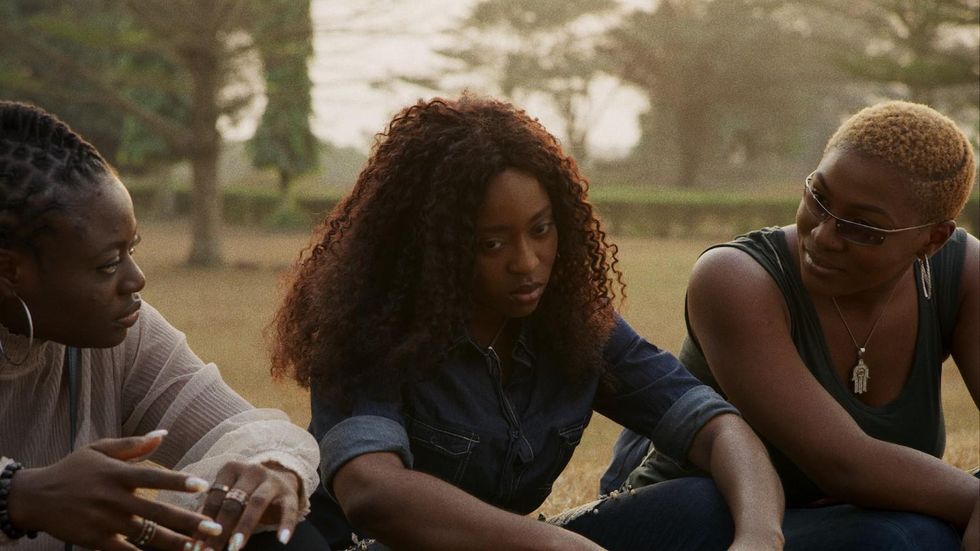 A scene from CJ Obasi's Suffer the Witch.Image courtesy of Surreal16 Collective
Do you think Nollywood horror will ever go mainstream as it did in the 90's?
This is inevitable, as well.
Your upcoming third feature, Mami Wata, is a supernatural thriller about the Mami Wata folklore and it was recently selected for Final Cut at the 78th Venice Film Festival. How serious is the fact that we rarely have local initiatives to support filmmaking in whatever stage of production?
It's everything really. Filmmakers from the rest of the world are not better than us, or more talented than us. What makes the difference though between them and us, is the years and years of exposure they have to cinema in close proximity, and the efficient system built around them, sorely for the advancement of their craft. We don't have this. So of course, they'll always be ten steps ahead, by technicality.
Embracing various storytelling styles and genres could be crucial to nation-branding and cultural diplomacy through films with sincere intervention from the government. How far off is Nollywood from achieving this?
I can't say how far, but this clearly hasn't happened yet.