Beauty
These Stunning Naturals Give Us Their Best Hair Tips From CURLFEST 2017
This year's CURLFEST attendees share some tips on how to keep your natural hair looking fly.
BROOKLYN—Thousands of men and women gathered in Prospect Park to celebrate their curls, waves, coils, kinks and locs during the 4th annual CURLFEST this past Saturday—the first and only natural hair festival.
---
It felt like one big family picnic and it was the perfect place to grab some discounted hair products, talk to your favorite natural hair bloggers and browse over 30 black owned businesses.
But more importantly, it was the place to be to get some expert styling tips from those who attended.
Below we asked some of the flyest people we came across to share some of their hair secrets.
Afro Angel, 22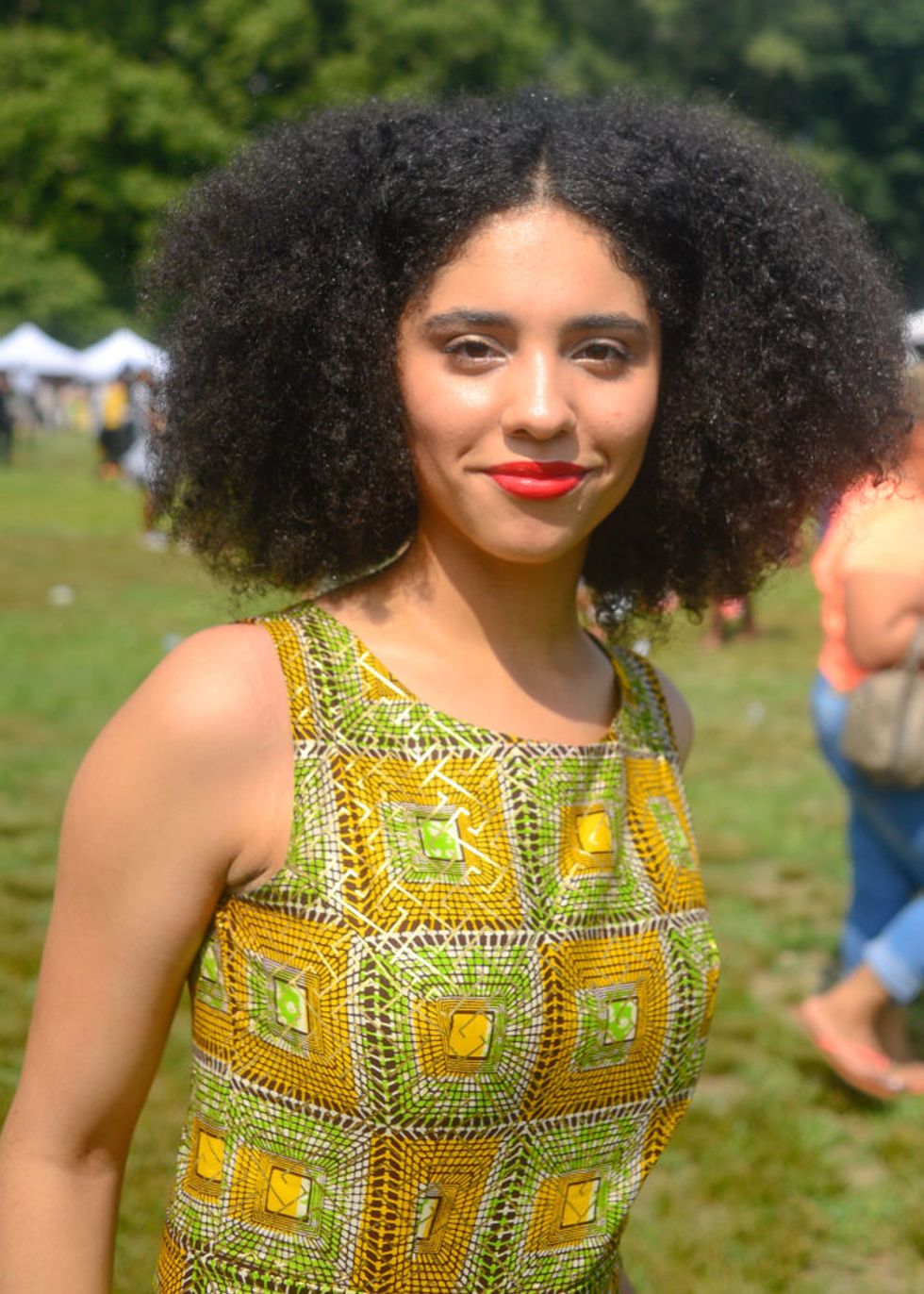 Photography by Leon Williams
"I'm Afro Dominican so I love to use my Dominican products. There's a deep conditioner called Silicon, its' really cheap and it's huge. You can get it at any beauty product supplies for 8 bucks, and it's like this big massive jar of this beautiful hair conditioner that just moisturizes my hair. I also use Jane Carter Solution styling gel. I used it when I don't really wanna wash my hair, so I just kinda do the bangs, take my pick out and I'm lit."
Ba & Ra, 24
Photography by Leon Williams
"Water, black soap, some coconut oil sometimes. Run your fingers through it, massage some oil, and let it air dry baby."
Tanya, 32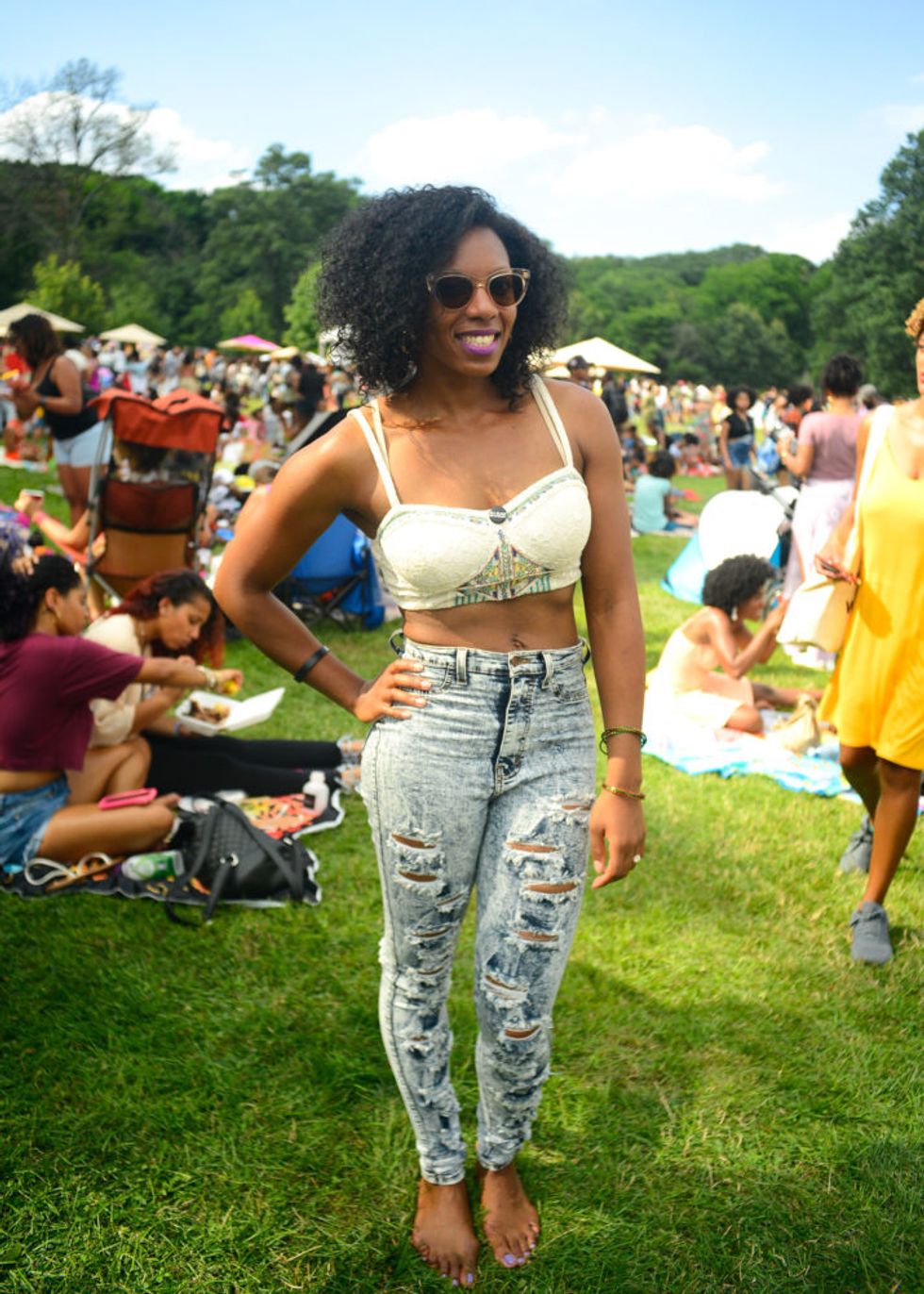 Photography by Leon Williams
I have a mixed curl pattern. The front is straighter, the middle is really curly, and the back is super straight. I use Design Essentials' shampoo, argan oil, and Cantu's curling cream. "
Jaylin & Elijah, 23 & 26
Photography by Leon Williams
"It starts with a lot of imagination and inspiration. Knowing your own hair. You have to understand what goes in it, what doesn't go in it, what helps it look healthy, what keeps it high, what makes it go low, how much heat you put in it or not." — Jaylin
Miranda, 19
Photography by Leon Williams
"Right now I'm using Garnier's leave-in conditioner, it works really well for my curls, it really moisturizes them, makes them bouncier and less frizzy. My hair must-have is my handy dandy spray bottle with conditioner."
Stefanie, 34
Photography by Leon Williams.
"I had my first big chop in 2012. I had a fro, I cut it off in 2015 and been rocking my hair this way since then. I'm super low maintenance, my go-to's are shampoo, conditioner and Jane Carter's Solution Nourish & Shine. Sometimes I do a little apple cider vinegar if I'm really built-up."
Antoinette, 25
Photography by Leon Williams.
"I use Kinky-Curly's Come Clean shampoo. I really like it because once you get all the gunk out you only have to wash it once, so your scalp and your hair is clean, but not stripped of anything. To do my twist-outs, I use Creme of Nature's curl activator, from their new line that caters to thicker hair. You can use it on wash and go's as well; and it dries really fast, so by the end of the morning I'm ready to go. I either finger detangle (especially now that I recently got a trim) or use a wide tooth comb to get the knots out."
Marie, 20
Photography by Leon Williams
"Deep conditioning is to me the most important thing. I love to deep condition, I do it once a week. I usually finger detangle and then I go ahead with my Denman brush. In the summer, I like to have my fro in a protective style, not with extensions though, just my natural hair. I'll leave my hair in twists for a good 3 to 4 days, and the other 2 days I let it out, just let it be free."
Lizzy and Venus aka "Big Hair Girls"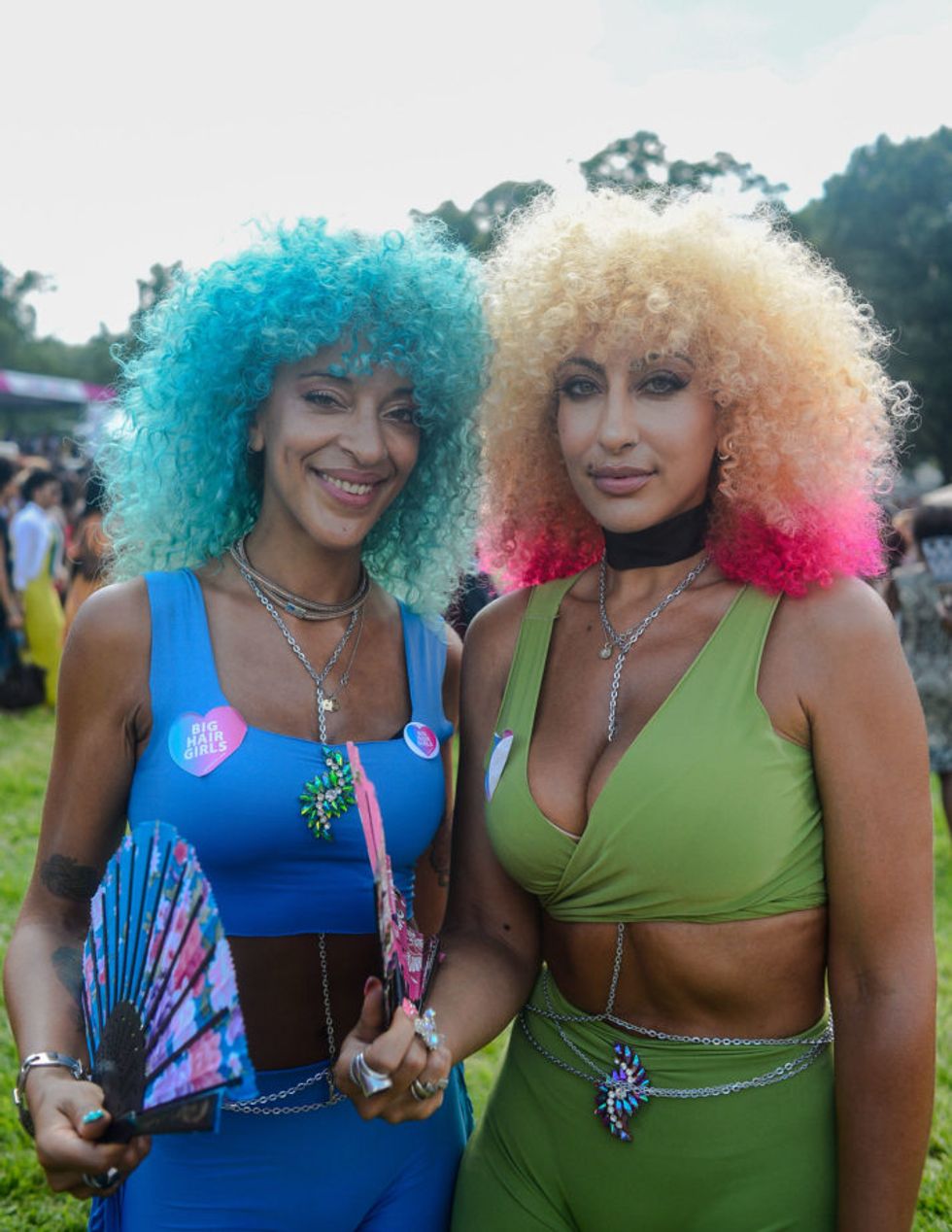 Photography by Leon Williams
"I mostly co-wash. I do intersperse that with some apple cider vinegar rinse to remove built-up, and after the co-wash, I'm a big deep condition girl. I love a deep conditioner. After I get out of the shower. I just kinda towel dry put in a good leave-in. Depending on the weather maybe some anti-humidity gel. Lately, my thing is that I will just scrunch it, towel dry it, let it air dry for (as long as I can afford to) 70 percent. And then hit with a little bit of the diffuser at the end." —Lizzy
Ilayjah, 25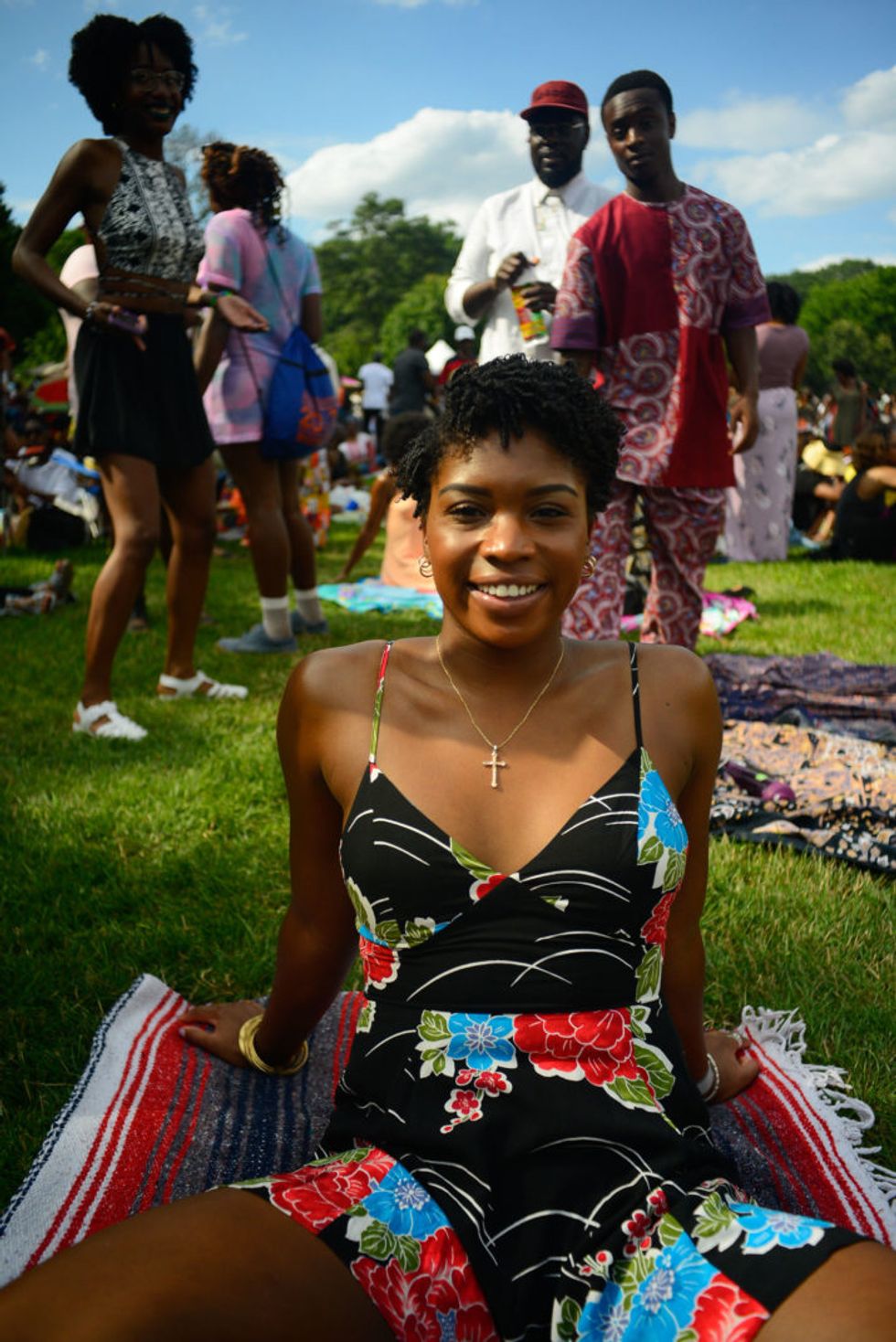 Photography by Leon Williams
"I wash my hair, deep condition, and let it sit. I use the Shea Moisture's Jamaican Black Castor Oil line."
Jamila, 22
Photography by Leon Williams
"I have Polycystic Ovary Syndrome so it's all about nurturing your hair. Now that I've gone blonde I make sure that I'm constantly moisturizing it, making sure that I don't put anything that has sulfates or anything bad in it. The JBCO line from Shea Moisture saved my hair and made it grow. I just started using the No-Poo Decadence line from Deva Curl and find it to be extremely helpful when you have colored hair. I like Eden Body Works, Camille Rose, a bunch of things. I'm like a product junkie."
Michelle, 22
Photography by Leon Williams
"I cut my hair off 2 weeks ago, but the first time I did it was in 2015. I get to just wake up and go. I just brush it in the day time"
Tasha, 34
Photography by Leon Williams
"I have gone back and forth being natural for the last 15 years. There are a lot of products out there that are harmful for your health, you might as well save yourself the trouble and keep your natural hair the way God intended and live a healthy long life. I'm currently using a lot of Jamaican Castor Oil, Dr. Miracle's growth serum and shea butter. I'm gonna try the new CJ Walker line because I heard it's really good. I'm in the process of growing out locs, so I'm currently in kinky twist crochet braids. I did it myself, it takes 45 mins, and the style lasts for 3 weeks. Once you braid your hair and crochet, the kinky twists are so thick you don't need a lot of hair."
Vivian, Julia, Welmans & Ben
"My Kids have always been natural. My daughter, the one with braids, had heat damage so I started a product line for her because her 4B/4C hair was difficult to grow." —Carly, their mom