In 2012, a champeta duo from Santa Marta, a Caribbean town in Colombia, dedicated their song "Pelo Malo" to all women that have a "bad," "weird" or "disorganized" hair. The song suggested that all these women have to use "liser" – a product to straighten their hair to make it look cool. The song neatly illustrates the stigma of wearing natural hair in Afro-Colombian communities. But these offensive categories don't represent the growing movement of Afro-Colombian women who are embracing their natural hair and all of its beautiful complexity.

During the American Civil Rights and Black Power movements in the 60s and 70s, there was a revolt in favor of wearing natural hair. The second wave of the natural hair movement has reached a global audience through social media and Colombia is not an exception. It's been five years since Mallé Beleño, an educator, and other black women created a hair collective called Chontudas—the name refers to a kind of palm tree whose presence evokes the hair of black women. The group was initially founded to discuss how to wear natural black hairstyles as well as to spread ancestral traditional hair knowledge.
This collective came to life as a Facebook group with 70 black women in 2014. Since then, it has become a place to share the experiences of making the transition to natural hair, and a place to showcase a more diverse standard of beauty as well as a place to trade hair care advice.
---
Beleño, from Bojayá, a town located in the Chocó region in the Western part of Colombia, was one of the founders of the group and describes the collective's founding as "the result of the need of black women—who at the time were discovering themselves—and who wanted to see examples of regular black women, because we are always seeing other types of women who are very different from us and with whom we do not identify."
The online natural hair collective began to grow, and now has about 5,000 members. On their Facebook page Chontudas has created a collection of photos from members referencing black women with natural hair who embrace their beauty.
"What we did was that we brought together several girls to reflect on our role as Afro-Colombian women and then we began to explore and question the way we see ourselves in the mirror," Beleño says, explaining the work of the collective. "Most of them had straightened their hair. We began to read bell hooks texts like 'Straightening My Hair' and all she said in relation to why women straighten their hair."
Photo courtesy of Chontudas.
Many women began their natural hair transitions thanks to this group and the space has prompted interactions in which the struggles and joys of their natural hair are shared.
But social media is not enough to make real changes. Despite the natural hair movement surging today in popularity through social media, the black community has still a long way to go in moving past hair discrimination, especially in schools and younger communities. That is why Chontudas has made workshops in various cities like Bogotá and Cali with little girls to teach them how to style their natural hair as well as how to make headwraps and other options to look different.
That is why Beleño thinks that it is fundamental to strengthen hair knowledge among girls. "When they are 12 years old they start to think about straightening their hair," she says. "We help them to avoid making these mistakes that older people have made."
This online collective has gone further. Beleño and Lina Lucumí Mosquera developed Bámbara, a business platform that focuses on sustainable artisan beauty products that generates an economic value in rural communities. The project produces natural beauty products to fuel the needs of Afro-Colombian women.
Beleño saw an opportunity in this market. "Women invest more than 60 percent of their (personal) budget in beauty products," she notes. She also believes that the business of hair can lead to a path towards economic development.
This entrepreneurial project has been growing in different regions and it has more than 25 distributors nationwide. This is giving an economic alternative to develop sustainable economies for Afro-Colombian communities.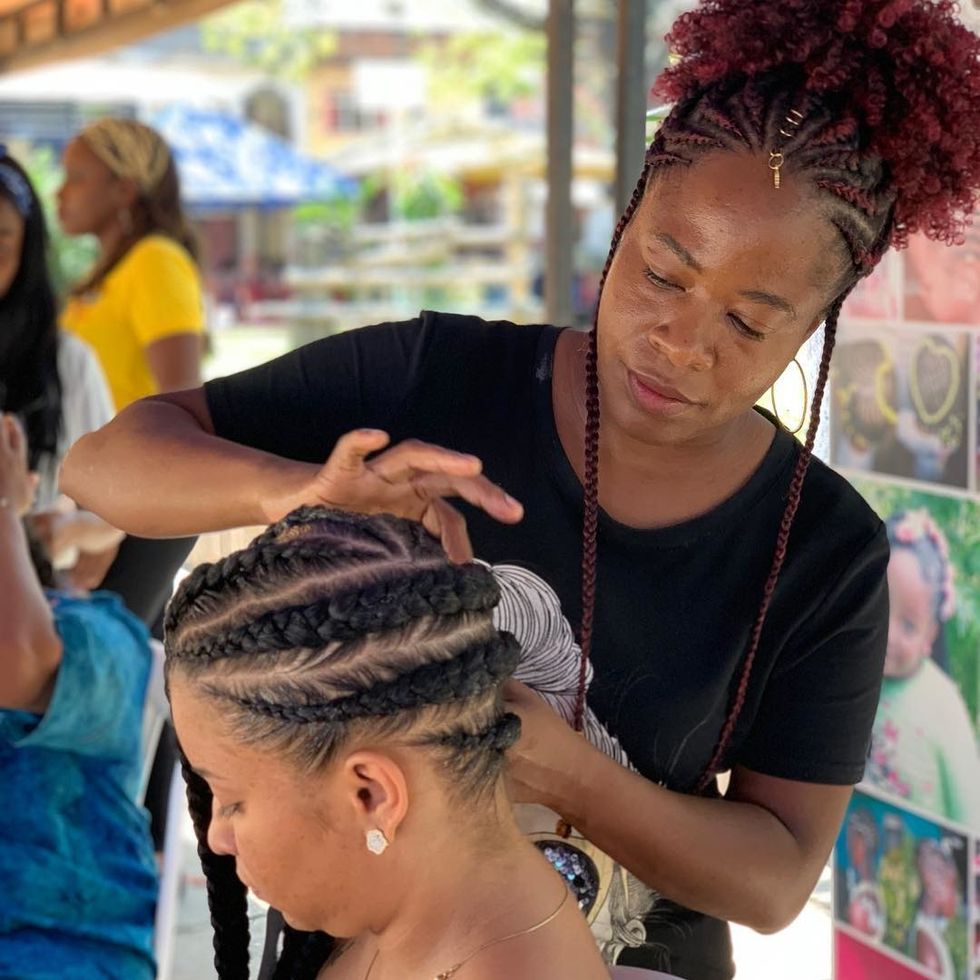 Photo courtesy of Chontudas.
Bámbara also wants to recover sacred traditions and hair care practices to develop beauty products that empower black women to go natural. Also, the project has helped to show them that to make certain hairstyles, there are certain products available. Beleño notes that "all of those products that we consume aspire to return us to our territories. And the way to reach this is to raise an awareness and educate our women."
Thanks to social media platforms, Bámbara also has conducted meetings in various regions. "We went to Buenaventura, Cali, Quibdó, Medellín and Bogotá. We began to have cells with women in the regions that wanted to lead this type of space discussion in the territories. For us this work is as a duty, as a commitment to our communities."
She continues:
"Hair for us now is an excuse for the women's economic empowerment as well as their body empowerment. The Afro-Colombian women are learning to recognize, accept themselves and celebrate their natural beauty."
There are still few public figures in Colombia that embrace their natural styles and show their natural hair. "If we analyze the history of Colombian television, how many Afro women have shown their natural hair? They are very few," according to Beleño. She adds that the only ones who did were Edna Liliana Valencia, who started with straight hair and has since gone natural—and Mabel Lara, who is now showing off her curls. Still, Beleño believes that these changes have taken a lot of time to be made.
Bámbara and Chontudas is now an alternative for Afro-Colombian women and have worked on how black community can reconnect to its roots and begin to celebrate all hair textures. And for anyone who is still struggling to embrace their natural hair, Beleño gives this advice: "We have to choose our content on social media. Start to follow those girls who look like us and we are filling our world, our visual contents of people who look more like us. That is a very powerful strategy."
Ana Luisa González is a freelance journalist covering arts, culture and its intersections with politics, based in Bogotá. She has reported from Colombia for media outlets such as Latino USA, EATER, Remezcla, Contemporary & America Latina and others. Follow her at @olivasnegras