Popular
20 Essential Hugh Masekela Songs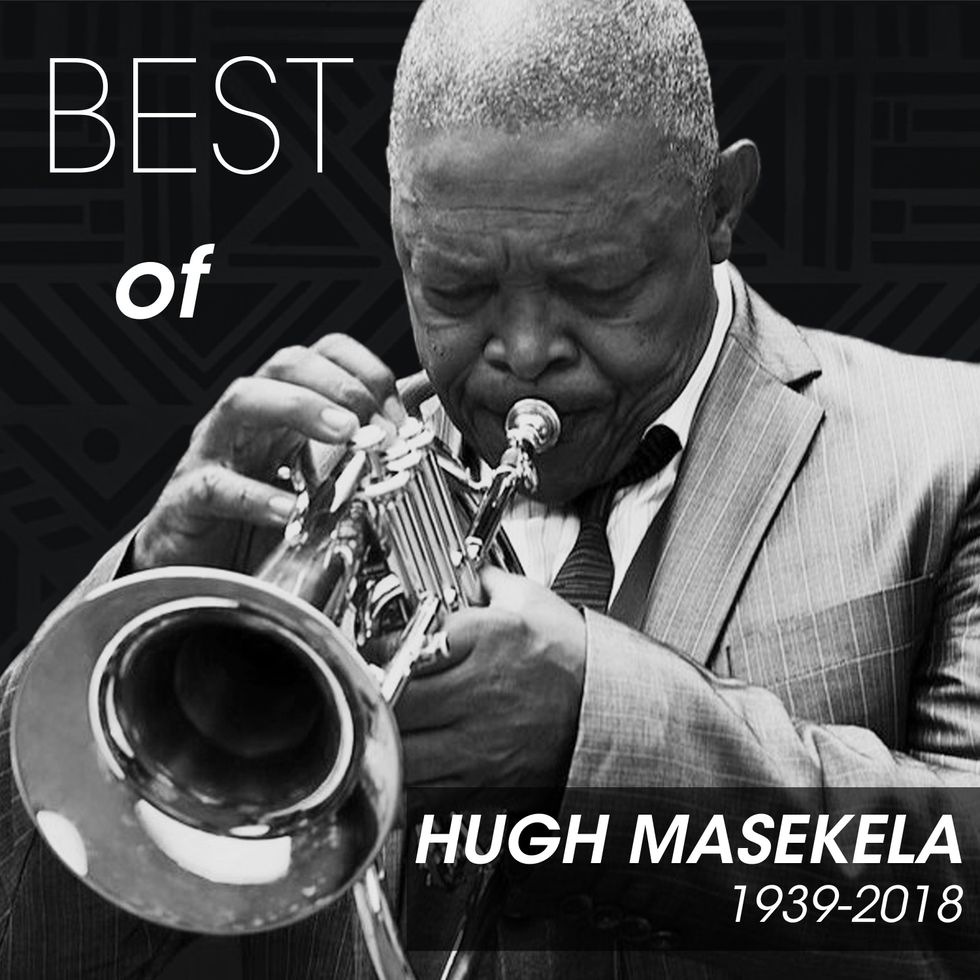 Here are 20 of the best songs from the South African jazz legend.
Fallen South African jazz maestro Hugh Masekela was a titan.
Sticking to the boundless approach of jazz, the artist had no limits as his music borrowed from a myriad of genres including hip-hop, afrobeat, disco, afropop, house and kwaito.
He was one of the most prominent voices among musicians who used their music to fight and blow the whistle against apartheid.
Unlike many musicians who were vocal during the struggle and ran out of subject matter after apartheid, Bra Hugh remained on top until he took his last breath on January 23.
---
His last album, No Borders, which was released in 2016 was a tapestry of his musical influences. It featured modern musicians such as Tresor, Kabomo, Dice Makgothi, J'Something (MiCasa) among others. Last year, before he fell ill, he was working on a collaboration with the rapper Riky Rick, which the two musicians were to debut at the Joy of Jazz concert.
As the whole globe is in mourning of the passing of the legend, we select 20 tracks from his extensive catalog, which we feel define his career and the versatile musician he was.
Listen to all of these songs in our Hugh Masekela playlist on Spotify and Apple Music.
"Grazing in the Grass"
On "Grazing in the Grass," it's his trumpet in all tones and pitches that's prominent, and it makes the song the classic it is.
"Stimela (Coal Train)"
Bra Hugh told the emotional story of mineworkers from all over southern Africa who had to leave their families to mine gold for the apartheid government. The song took on a new life when Black Coffee reworked it for a dance music audience.
"Thuma Mina"
On "Thuma Mina," long after apartheid, Bra Hugh carried on his tradition of making songs of hope that addressed ills. Here, he was musing about a future when black people have won the battles against AIDS, violence and poverty.
Mafikizolo feat. Hugh Masekela "Kwela Kwela"
"Kwela Kwela" is perfect. It captures the apartheid days in all ways imaginable; the Afrikaans lyrics, the trumpet, and of course the story being told of cops policing everything black people did.

"Chileshe"
A song about calling out shitty behavior, and also encouraging the downtrodden to stand up for their rights—and it still makes way for the Bra Hugh's musical genius to show. That trumpet solo is money.

"Soweto Blues"
A song written by Bra Hugh and originally performed by Miriam Makeba, "Soweto Blues" is always potent in all forms. It paints the picture of the Soweto Uprising of 1976.

"Goin' Back to New Orleans"
The most potent song on Masekela and his ensemble The Union of South Africa's self-tiled 1971 album, it displays both his trumpet and singing skills, which he doubted for a while.

"Ziph' Inkomo"
"Ziph' Inkomo," a song about lobola, was originally sung by Caiphus Semenya. Masekela's version has no vocals, the man instead opted to use his trumpet as voice of some sort.

"Khawuleza"
On "Khawuleza," Masekela was mourning police brutality against women who sold liquor illegally in the hood. "Fuck The Police" by NWA and "Khawuleza" could be in the same WhatsApp group.

"Thanayi" feat. Thandiswa Mazwai
A song about body positivity, though not deliberate in its approach, "Thanayi" is yet another one where the legend's trumpet co-exists with his singing.

"Mama"
Almost every artist has that one song where they are appreciating the woman who brought them to this earth. Bra Hugh is no exception, and it blends feel and lyrics to full effect–a tearjerker of note.

"Vasco Da Gama"
Vasco Da Gama, the Portuguese explorer who "discovered" Cape Town during one of his imperialistic voyages, got shown the middle finger by Bra Hugh on this song. Christopher Columbus also got the finger.

"African Secret Society"
The artist was never one to shy away from calling out any type of ill. On "African Secret Society," he described the brutal and inhumane ritual of female circumcision.
"Bring Him Back Home (Nelson Mandela)"
This was a call to the apartheid government to free ex-South African president and struggle hero Nelson Mandela and his fellow soldiers. Sonically, the song is funky, but the message was as direct as possible.
"Don't Go Lose It Baby"
While in exile in the US, Bra Hugh tried his hand at rapping, and it worked. He sounded like most rappers from the 70s with simple lines and rhyme schemes. "Don't Go Lose It Baby" is a cross between jazz, hip-hop and disco.

"Sarafina"
This was part of the soundtrack of the classic movie of the same title. "Sarafina" is dance floor-ready with a skittering rhythm and a catchy yet meaningful sing-along hook.

"Mbombela" feat. Sibongile Khumalo
"Mbombela" boasts a full horn section, and the way he went back and forth with Sibongile Khumalo on the vocals, make it one of his one of his most layered songs to date.

"Market Place"
"Market Place" displayed the man's writing skills at using storytelling as a form of social commentary. "Market Place" is one of his most polished storytelling songs, both in terms of writing, and delivery-wise.
"Tapera" feat. Oliver Mtukudzi
This collaborations had been a long time coming after years of sharing the stage. We're lucky to have heard Mtukudzi's guitar and Masekela's trumpet in one song. "Tapera" is a great modern jazz collaboration, and the fact that it's not that big says a lot about Afro-jazz fans and nostalgia.

"Uptownship"
"Uptownship" has a mbhaqanga influence–you hear the screeching organ keys and high-pitched horns, synonymous to the band The Soul Brothers. Masekela's horn gives the song a jazz flavor. With both township and uptown influences, it makes sense why it's called "Uptownship."
Listen to our Hugh Masekela playlist on Spotify and Apple Music.