PDot O, real name Siphelele Mnyande, is one of the most revered lyricists in South African hip-hop. The East London native boasts one of the most celebrated catalogues, comprising albums such as Devilz Playground (2017), Under The Sun (2018) and Lost Diamonds (2020), the fan-favourite collaboration with Blaklez, among others. His output in the last five years has placed him top-of-mind, given his cult following's continued growth, his consistent appearance in 'Best of the Year' lists as well as numerous award nominations.
His affiliation with like-minded Pretoria-based rappers — such as Blaklez, Ras, N'Veigh, Captain_FS et al — who value lyricism and soul has afforded him fertile ground for his stock and enterprise to grow. His releases have become a permanent fixture on the SA hip-hop calendar.
PDot O makes thoughtful music that signals a musician who digs deep each time he undertakes the task of music-making. Known for his thought-provoking and deeply personal records (insert: "Angels" and "Dear God"), he's an emcee who rarely shies away from wearing his heart on his sleeve.
---
It, therefore, makes sense that one of his most exciting milestones is the completion of what he calls the "Love" trilogy, consisting of albums interlinked by a love story — Cold Waters (2020), Cold Waters: Love Eternal (2020) and Cold Waters: Low Tides and Lost Tapes (2021). Speaking in an interview on digital radio station Massiv Metro last month, he revealed:
"I wanted to tell a story, like a love story, and I couldn't do it with one album because in an album, you need to balance it out. You need to capture different emotions for the album to flow properly. So, I couldn't really dive into the love story with the first body of work. That's when I decided that it really needs to be a thread. That's what ties the albums together — the love story."
The love story centres around a man and woman who fell for each other, despite both already being in other relationships. It is expertly told through a few songs on each album, which describe events that unfold in the same continuum between the two lovers.
The songs "Y.O.U." and "We Found Love", both from Cold Waters, introduce the listener to the first act of the story. On Love Eternal, the songs "Over You" and "Can't Fight" continue the tale, which is later concluded through the tracks "For You" and "Close" on the third album. PDot O's mastery in weaving this story of forbidden love, which eventually ends in tragedy, is simply exceptional!
We caught up with him to reflect on the trilogy, being underrated, the importance of legacy and other topics.
This interview has been slightly edited for clarity and length.
How has the experience of releasing two instalments of the trilogy album, last year, been for you? Do you keep a keen eye out on how your music fares?
I'll be honest with you, I hardly check how my projects are doing in real-time. Over the years, I've learned that people digest my music slower but once they do, they never turn back. Once it hits them, I have them forever. It's a different kind of connection as opposed to instant gratification. There are still people who are only consuming Devil'z Playground, my debut album, and my sophomore album Under The Sun, now. It's timeless music. It's forever. So, I look at the time it actually comes out as just a timestamp and not a determining factor of success. Like I said, it's different. This year we carry on tradition and drop three albums and at least 10 videos, scripts and many other ideas in development. We pray God leads the way.
Your music is steeped in religious and spiritual sensibilities. Can you talk about your spiritual journey and how you reconcile it with your hip-hop lifestyle?
I have always been spiritual because I come from a very spiritual family. My mother is a devout Christian and she raised us in the church. This is why I have always connected to a Higher Power from very early in my life. I believe music is spiritual too, probably the most spiritual artform there is. It's also why I don't play too much with what I say in my music because I am aware that it can heal or destroy. On the other hand, my spirituality does not mean perfection. If anything, it is the understanding and acceptance of humanity. I'm flawed, always have been, but the journey is in yearning for God's heart. I embrace and proclaim my flaws, but also try to work through them and constantly try to be a good man. So it ends up not being hard for me to exist in the industry, leading a hip-hop lifestyle because I am fully aware of my shortcomings. I just try to focus on my strengths.
On the song "Angels", off 2018's Under the Sun, you rap: "I don't care about the bars, I don't care about the fame, or the lights, or the bitches in this game, I'm just trying to search for something, evoke that something that's in you…" Can you expand on this — what compels you as a rapper?

I care about legacy. I care about the community. We are put here to either inspire or destroy — even though we, sometimes, lose sight of that and end up yearning for materialistic possessions, stature or positions. Ultimately, though, I certainly believe that we are mostly put on earth to inspire and ignite whatever glimmer that's in someone else other than us. That's what I care for the most. When I bow out, I want to be remembered for that. I want to be remembered as someone who sparked something, who inspired someone, who dared to be different.
When one listens to your music, despite the overwhelming support you get from a loyal fanbase, there's a sense that you feel underrated. More so, your core fans feel that you're underrated. Is the frustration that sometimes takes up a large chunk of your music centered on this?
The whole 'being underrated' narrative has been cancerous to my career because I have inadvertently become the poster child for 'being underrated'. I hate that. I even hate it when my supporters say that I'm underrated. I know they mean well, but what that does is perpetuate the same idea. I believe that when you support an artist and believe in them and their music, you ought to just do that — and not perpetuate any other negative perception around them. But, my frustrations have never really been about me feeling underrated. My frustrations stem from being indie and all and feeling like there's an insurmountable lack of opportunity that rappers like myself have to deal with. The indie push is vastly different from a label-backed push. We have to shoot our own videos, do our own PR, organise our own studio sessions... the whole nine yards man, which is draining. Personally, I've always believed that I am one of, or probably, the greatest rap artist Africa has ever seen. And this is by no means arrogance because I put in the work and take my craft very seriously. We're just starved of opportunity but not ability, because ability comes from God and nobody can ever take that away from us.
PdotO - Take Flightwww.youtube.com
You're originally from the Eastern Cape but seem to have found a home, and a brotherhood, in Pretoria which has added positively to your career. Talk us through that.
I wanted to pursue music but moms was hellbent on me studying something else. When I was coming up, I loved 2pac and was inspired by him, so I figured because he rapped, which I loved doing, and also acted, maybe I could also try my hand at that too. I then opted to study drama at the Tshwane University of Technology. That's how I moved to Pretoria. Naturally, I then gravitated to and became acquainted with my bros — Lez, Ras, N'Veigh, Cap' and them. I guess our craft was the common denominator. They are artists who care about the rap craft and the creation of music. I have learned a lot from all of them, in different ways, particularly Lez. We have known each other for over a decade and understand each other musically. As artists, we connect and have a synergy because of our understanding and respect for each other. This is why it was easy for us to create Lost Diamonds.
What's the thinking behind your catchphrase "God Bless The God Blessed"?
"God Bless The God Blessed" is an idea I formed back in 2013/14. I saw it as a way of strengthening one's belief system and understanding why you were put on this earth — fully applying yourself to achieving all your desires through this understanding. It later became a label — however, it has gotten bigger than a label. It's now a way of life and a movement, if you will. "God Bless The God Blessed" means God bless those who strive to give and do more, not just for themselves but for others as well. We are all loved by God, but not all of us are chosen for great things. This is simply for those who believe and understand this.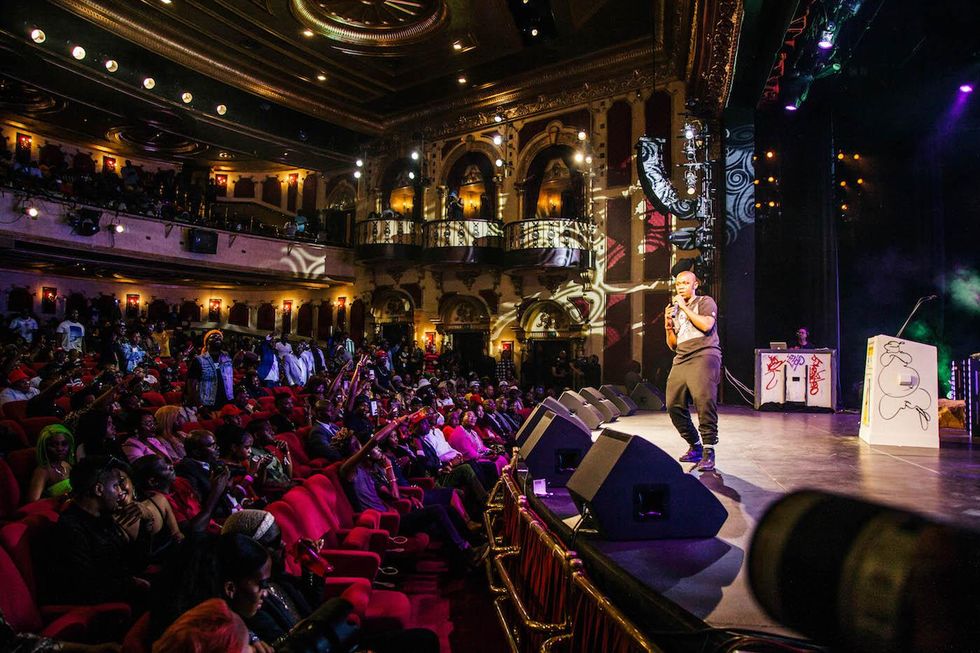 PDot O performs at the South African Hip Hop Awards in 2018. After losing in the covered Lyricist of the Year category multiple times, the rapper says he is not inspired by awards anymore. Photo by Sabelo Mkhabela.
On the song "My Last 20" which appears on Cold Waters: Low Tides and Lost Tapes, you wrote from the late HHP's perspective, imagining the last 20 minutes before he took his own life. Some felt it was quite an audacious undertaking.

I created that song, first and foremost, as a fan of the man. I made it as someone who empathised deeply with what he was going through. While I never had a personal relationship with HHP, a few months before he passed, he caught me and N'Veigh at a party and had a three-hour conversation with us. I will never forget that. It stuck with me. A lot was said and I learned so much from him. I also got to experience where he was emotionally. That song was inspired by that — my third eye going crazy, creatively imagining how he must have felt in those last moments. It's an ode to a legend, a peek into a window of understanding.
You've been nominated for 'Lyricist of the Year' for three consecutive years at the South African Hip Hop Awards — 2018, 2019 and 2020. Unfortunately, you lost out each time you were nominated. Why do you think you have never won the coveted award and which year do you think you certainly deserved it?
Honestly, at this point, my heart is not inspired by awards anymore. I will forever be grateful for the nominations, but I am not validated by them. I am fully aware of who I am. It's very dangerous to put too much of one's heart into accolades given out by individuals. Whether they voice it out or not, everyone has their favourites. And it is what it is. I feel I deserved it in all the years I was nominated but still have mad respect for the winners. At this point, if I ever do win an award it will be strictly for East London. I want a kid from there, or any small town in the Eastern Cape, to believe it's possible.
On the other hand, you do have quite a staunch legion of fans.
Man, my fanbase scares me so much. People getting tattoos of "God Bless The God Blessed". It's heavy. I feel so blessed to have them. They carry me because they are a movement and not merely just fans. Truly, if it wasn't for them, I would've stopped a long time ago.
Stream PDot O's latest album Cold Waters: Low Tides and Lost Tapes on Apple Music and Spotify.