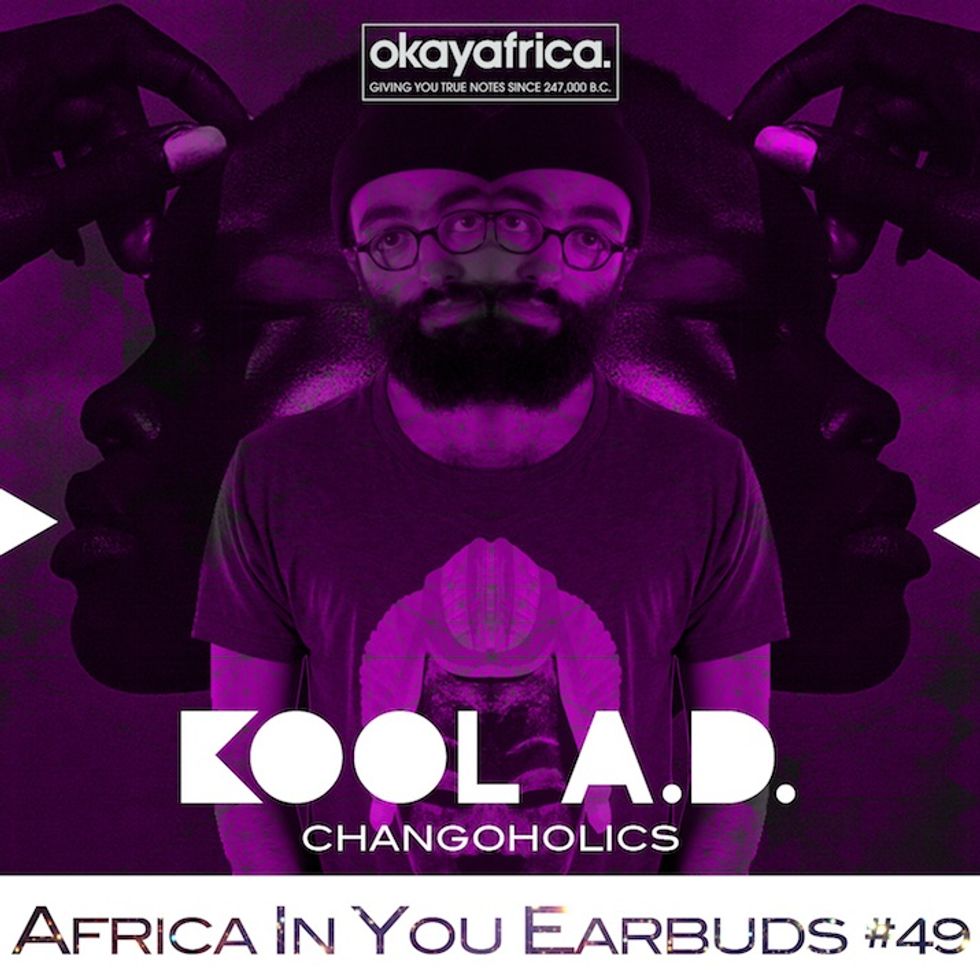 ---
Victor Vazquez a.k.a. Kool A.D. is a constant presence in the leftmost hemisphere of the contemporary prankster brain. The former Das Racist rapper has been keeping busy in 2013, releasing two mixtapes63 & 19, penning Joke Book with publisher Sorry House and even part-time modeling for our Okayplayer Store.
For our forty-ninth installment of Africa In Your Earbuds, Victor delivers CHANGOHOLICS — an experimental mixtape that cheekily blends Afro-Cuban sounds with a particular, now infamous, trap rap voice sample. Victor, who declined sending over a track list, best explains his mix:
Is it just a coincidence that Djimon Honsu played a bouncer on the pilot episode of Beverly Hills 90210? Or that the opening scene of Luther is just the last scene of Juice? Who is the better Illuminati rapper: Jay-Z or Jay Electronica? Why wasn't the sequel to Belly just Nas and T-Boz raising a kid in Africa? Would a remake of the Michael Douglas movie The Game, starring rapper The Game be a good or a bad idea? All of these questions about or relating to the African diaspora and more will be revealed in the this #NEW #EXCLUSIVE #RARE KOOL A.D. CHANGOHOLICS MIX.
Stream and download AIYE #49: Kool A.D.'s Mixtape 'CHANGOHOLICS' below. Big up to Underdog for the cover artwork.
>>>DOWNLOAD [Right Click + Save As]
Like African music? Previously on Africa In Your Earbuds: SOL POWER ALL-STARS, DJ NUNAS, NIC OFFER OF !!!, LARRY ACHIAMPONG, KYLA-ROSE SMITH OF FRESHLYGROUND, THE GTW, RADIO TANZANIA, JON THEODORE, DESMOND & THE TUTUS, MATHIEU SCHREYER II, YOUNG FATHERS, BBRAVE OF AKWAABA, OLD MONEY, DJ NEPTUNE, SAHEL SOUNDS, BEATENBERG, M1 [DEAD PREZ], BODDHI SATVA, L'AFRIQUE SOM SYSTEME, NOMADIC WAX, THE BROTHER MOVES ON, LV, BEN ASSITER [JAMES BLAKE'S DRUMMER], JAKOBSNAKE, CHRISTIAN TIGER SCHOOL, SAUL WILLIAMS, TUNE-YARDS, MATHIEU SCHREYER, BLK JKS, ALEC LOMAMI, DJ MOMA, AWESOME TAPES FROM AFRICA, PETITE NOIR, OLUGBENGA, RICH MEDINA, VOICES OF BLACK, LAMIN FOFANA, CHICO MANN, DJ UNDERDOG, DJ OBAH, SABINE, BROTHA ONACI, DJ AQBT, JUST A BAND, STIMULUS, QOOL DJ MARV, SINKANE, CHIEF BOIMA