Music
Oct. 14, 2020 04:07AM EST
Image supplied by the artist.
Langa Mavuso's 'LANGA' Captures the Beginning, Middle & End of Heartbreak
South African artist Langa Mavuso speaks to us about his debut album, LANGA, and the mixture of pain, healing and raw honesty that allowed this project to come to life.
South African urban-soul singer and songwriter Langa Mavuso recently released his debut album titled LANGA. As has been the case with his previous projects, LANGA is an exquisite and deeply moving musical offering borne from both heartbreak and eventual healing.
The project, which features the likes of Yanga Chief, Zoë Modiga, Manana, Loyiso and Aimee George, is the follow-up to the artist's seminal Liminal Sketches EP which was released back in 2018. And just as Langa Mavuso has created anthemic numbers over the past few years with "Sunday Blues," "Love Six," "Intliziyo," and "Mvula," his debut album is a compilation of 12 repeat-worthy jams that show his tremendous evolution as an artist.
Conceptualised and executed amid his travels between London, Johannesburg and Cape Town, LANGA is a raw and honest project that captures the beginning, the middle and the end of heartbreak in all its jagged edges. With tracks such as "Pretend," "Love Lost," and "Spirit," Langa Mavuso takes the listener on an emotional journey in a way that only the 26-year-old crooner can.
And so we caught up with Langa Mavuso to speak with him about his latest project, his urban soul sound and both the challenges and highlights he encountered with the creative process behind LANGA.
This interview has been edited for length and clarity.
---
Tell me a little about Langa Mavuso. Who is he as an artist and how would you describe his particular sound?
Langa Mavuso is a South African born singer-songwriter. [I'm] really soulful in my approach to music. It really is all music about love and it exposes the different phases of love. It's so hard to specify a genre when it comes to my music because I let the story inform the genre. So when it be more soulful, painful or joyous love songs, it always fits a ballad, right. And the intention of the song is usually most easy to be portrayed through a ballad. But I always say urban soul because at the end of the day, it's always soulful regardless of the BPM or the drum beat.
How does it feel to not only release your first album, but doing so during a pandemic?
I changed the launch dates so many times for the album because it just had to feel right. My team knows I am very particular about the feeling of a project even down to numbers. I'm very specific with the dates. It always has to equal seven. We released [the album] on the 25th because two plus five is seven. And even "Love Lost" was released on the 29th because two minus nine is seven. So I have that thing with numbers.
I was really nervous about releasing an album. I know it's so much pressure. If you wake up every day and someone's tweeting you, "Where's your album?" for three years, it becomes very daunting. And I'm also not going to create an album that they expect me to create. I'm not going to be singing "Sunday Blues". I'm not going to write "Sunday Blues" over and over again. That song came to me, it happened, we enjoyed it, but we move on. I'm growing as a person and my experiences are becoming broader with time.
For me, the most important part about this whole experience and this whole release was the fulfillment of completion. That's what I wanted from it a lot.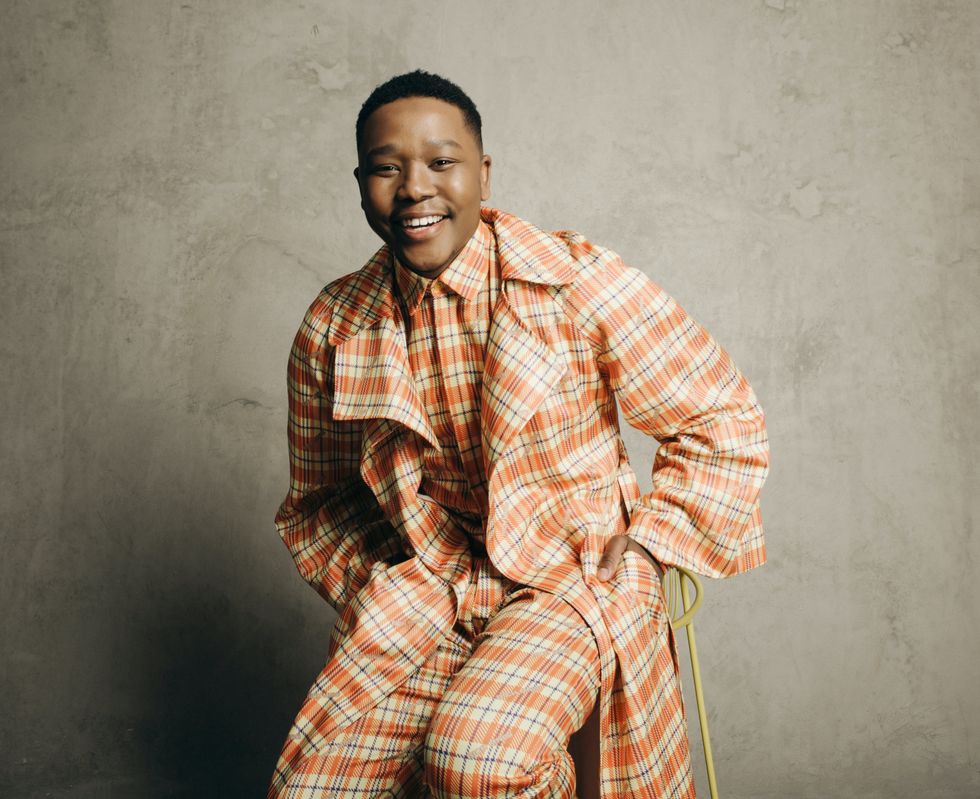 Langa Mavuso portrait shot.Image supplied by the artist.
What were some of the inspirations be they places, experiences or other artists that played a significant role in this particular album?
Three years ago, I was going through a breakup. And I had completely a different idea of what kind of album I wanted to write. I thought I'd write this love song filled, happy album. When I started conceptualizing, I was still in a relationship. But when I started recording, we'd broken up. So there I was, heartbroken––hard to write a happy love song.
More than anything, [the album is] a reflection for me. If you look at the cover, there's three faces on it. But what it actually is, is one face and two mirrors on the side. And the album reflects three parts of the journey through heartbreak.
"When I started conceptualizing, I was still in a relationship. But when I started recording, we'd broken up."
The beginning part is the pain and the anguish. You can hear it in the ballads. The middle part becomes very messy, very confused and really seeking. And then the last part is an honest conversation with a friend, Amy George. We talk about ending the pretense. I then go into a prayer and then reflect on the world on "I Wish" with Zoë and Manana. Finally, in "Love Lost" I accept that love has ended but I remember all the beautiful things that we shared and that's the moment of peace and resolution for me.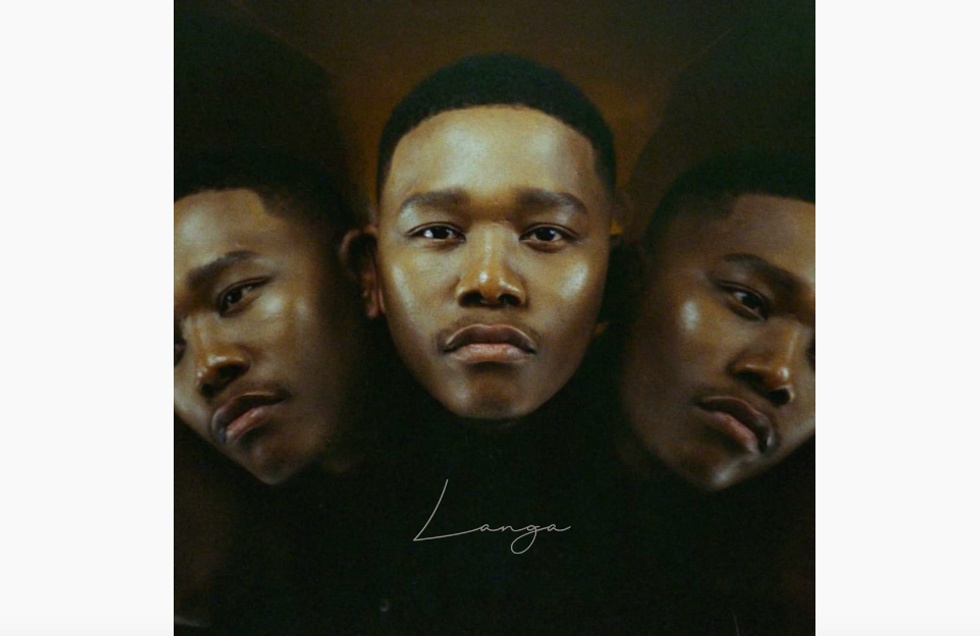 Album cover art for 'LANGA'Still taken from YouTube.
What were some of the highlights, but also equally some of the challenges (outside of heartbreak) behind the creative process of the album?

I think that the highlights for me would be the travel that I did. I did a lot of traveling and a lot of exploring sonically with different producers in London, Cape Town and Johannesburg. It was an exciting time for me. I would sit on the plane and I would think about what I am going to create and the intention. No one teaches you how to make an album. I went to UCT and at no point was I ever taught how to make an album. They teach us how to arrange songs, how to analyze music, how to write music, but never how to put a project together. So that was an exciting exploration for me and journey. It took a lot of learning and openness to the experience, to get here. The low points,
"No one teaches you how to make an album."
What would I say were the low points? I think maybe resources at a point, because my contract with Soulistic ended. In the beginning, the intention was to do the album with Soulistic and release it with them but that never came to fruition because our journeys changed. They became a talent agency and no longer a record label. I wanted to be an independent artist who owns their music. That journey of creating on a very limited budget from gig money. That was tough at times. How you're getting to the studio or what we're eating while we're at the studio, for example. Those are just day-to-day things that we don't think about. But eventually everything came right. In January, I signed with Platoon. They've been a great support in terms of the release of this album. And I've been able to retain the ownership of my music even with this.
In terms of your collaborations with the likes of Yanga Chief, Zoë and others, what do you think each artist individually brought to the project?
When I started working on the album, I had plans of getting these big artists for it just to elevate and really get attention to the project. But as I was working on the project, I realised it just felt a bit disingenuous of me to do that.
In what ways?
It was just from conversations while working in the studio. Aimee did the backing vocals in "Home". I hadn't seen her in so long because I left Cape town. I wondered what kind of conversation we would have if I bumped into her at the club or waiting room. And that's when I said, "Hey, old friend, are you breathing well?" That's how we used to talk to each other at school.
With Zoë and Manana, we were just in my living room and Manana was playing keys. And really the melody just came and we all just started talking about things that bothered us. Zoë was talking about happiness. I was talking about race and sexuality and Manana just then blatantly said, "I just wish that this song could change things, but it won't. It's wishful thinking to think that a song can make the world a better place. We have to be better and do better as a people."
With Yanga, it was in the middle of the night. "Panther" has seven different rap verses. I had a verse from so many different artists––none of them made sense for me. I had just come back from recording with Yanga Chief for his album and it was such an organic experience. We just got each other so easily and openly.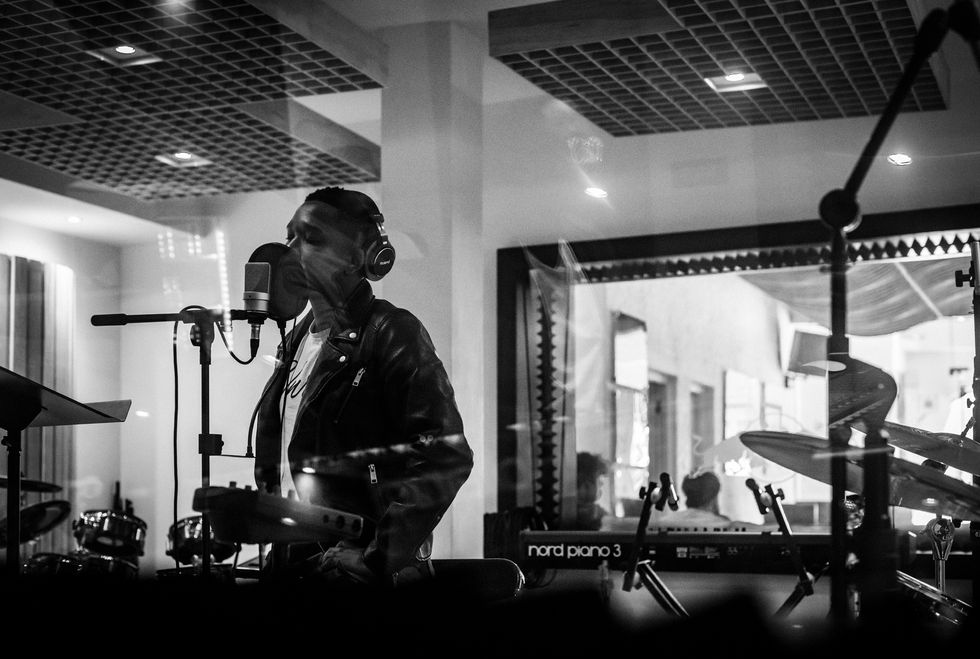 Langa Mavuso in the recording studio.Image supplied by the artist.
What is your favorite track on the album or what is the track that means the most to you?
Whew, this changes a lot for me. Just all the time for me, but I must say, "Pretend" is my favorite song on the album. It just pulls at my heartstrings for some reason. I don't know what it is, but there's something about that song. The honesty, the bareness, the simplicity of it. There's nothing pretentious about "Pretend".
"I think the best song that I've ever written though is "Love Lost.""
I think the best song that I've ever written though is "Love Lost". It's just the way that it eulogizes the love in such a beautiful way but also connects to old songs I've written. So if you listen to Liminal Sketches, there's a song called "Love Six" and it speaks about the death of love, and it's about Liso dying and him not being around anymore. On "Love Lost", I literally take you through the journey of my relationship with him. I go, "I've got scars in my eyes, I've been wrestling the stars. The sunless skies are way too vast." And this is the night that he died.
I stayed up weeping and looking into the stars. My eyes were so bloodshot the next day, it looked like they had scars. He had taken a new journey so it speaks to the transformation of love. I no longer have the physical affirmation of love. We can love each other, but it's not of this earth anymore. I start to remember in the chorus, when we first met and the first kiss, it was in September, but it was never meant to last.
Love Lostwww.youtube.com
What is your hope for this particular body of work?

The process of creating is therapeutic for me. Once I put it out, it no longer belongs to me. I always hope that the healing that it does for me, is the same healing that it brings to the listener. When I started the album, I was obviously seeking to find peace and healing from a broken love, and from a love that I had lost. As we go through the journey in the album, as you listen to it, I want people to understand that it is important to love truly, to be honest in your life, and to always seek healing from pain and from loss. That's the intention of the project, to cultivate a healing space through honesty and truth.
I need to tell you guys that I was fucked up on champagne. In "All of Me", I go, "See I've been in the crowd with the trick bits. Creeping in the dark are the best treats, and maybe love's found in the pent suite, a little rendezvous in the backseat." That is a bit vulgar. I'm basically telling you about my sexcapades in such a nice way but that's what was happening. I was really out with dudes, looking to fulfill a void with a drink or with a new person and an energy of flyness but it was like, "Oh, you can't do this forever." It's really honest.