It's a busy day at Mavin Records HQ, the tall matte black building in Victoria Island. In most of the air-conditioned rooms that have become departments in the building, meetings are ongoing. Each department in the office has been given a fixed name—the marketing department is called The Shrinks, the finance room is the Wall Street and there's a glass-door secret room named J Slick.

In the hallways, people are exiting one door to enter into another, there are few others strutting around, either on a call or have their eyes fixed on their devices. There are also youthful individuals in the hallway waiting to be interviewed for vacant roles in the company. Wednesdays seem busy at Mavin. Upstairs, Tega Oghenejobo, the label's Chief Operatin Officer is in a meeting, as I'm told by his Executive Assistant. However, it's a meeting I can join and participate in: Tega and the Mavin Future Five, a preparatory group in which curious executives can learn from more grounded professionals .
With the Future Five, Oghenejobo is open and free. He's curious, laughing at the same time as well. From asking about their weekends to talking about recent controversies in the music industry, from asking them about their opinions on new releases to morale-boosting inspirational speeches, stuff you'd see on TedX, Oghenejobo is transferring knowledge to these young folks. The five also share a likeness with the COO in that they're curious.
2019 was the year Oghenejobo stepped into the role as the COO of the company. Many within the organization associate him with his penchant for consistently speaking two words: growth and execution. "Tega's always restless," Ridwan, a digital intern at the label tells me. "In Tega's mind, there's always something to do, you can wake up at 3AM to find Tega sending links to articles or an idea he feels we can try out".
---
Three hours later, Tega and I step out of his meeting with the Future Five. Now, I'm seated face-to-face with him in his large office. There's a chess board hanging on the wall and a view of the main entrance spilling over to the streets where Tega can see the cars going on the road. There is a flowey scent in the office, I glance over and notice Tega's collection of candle jars. But he looks stressed, concerned about something but still gearing to go. My first question to him is: why is he restless? Replying after taking a long breath, he boils it down to the position he occupies.
"I've experienced the consequences of complacency. The company's ambition which largely aligns with mine reinforces me to understand that the next stage of growth requires ten times the work," he says. "I know what got us here will not keep us here. So we need to do ten times the work we've put in and if you want people to put in ten times the work, you want people to grow, to build, you as the leader, you are the first sign. How you commit to the cause impacts how other people will commit to the cause as well."
This year in particular, the industry has moved towards a deep worship of streaming charts. We're slowly sliding into an era where success on the charts is when the song stamps down a number one spot. Previously, it was the fan accounts celebrating local chart success but this year has seen more and more artists point to chart position as a sign of success on the first day of release. This can put some indescribable pressure on both the artist and their handlers when the song doesn't do as expected, even when supplemented with aggressive marketing.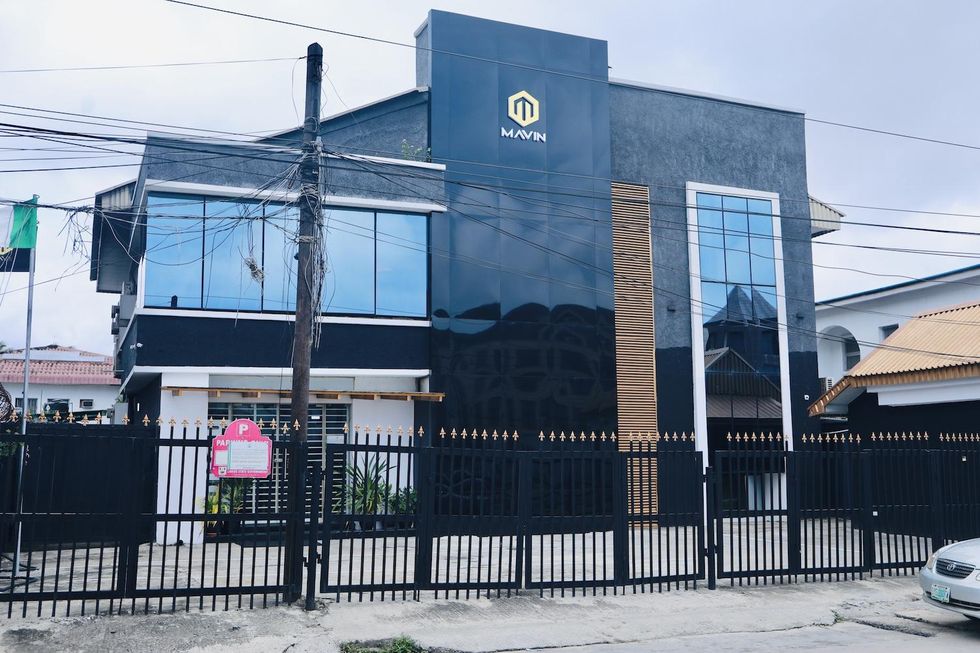 Mavin Records office in Victoria Island, Lagos, Nigeria.
Photo courtesy of Mavin Records.
"I think the chart is an information tool. It tells you what people on a particular platform are listening to," Tega explains. "Do you require information to build anything? Yes. It's a reflection of what people have chosen to listen to over a particular period. So I see it a lot on Twitter streets that the chart is changing real quick. I don't think it's changing the way we create, I think it's informing us of what people want to either hear or are already listening to."
He continues: "In the pandemic we had people listen to a particular type of thing due to where we found ourselves. And the moment people started shouting, 'we are outside, we are outside,' we want a new kind of music. So as an artist, you can really choose what audience you want to appeal to. It's left to your marketing campaigns, your timing and strategies to now find that audience, and then the chart will tell you if that audience is consuming the content or not."
Tega's major exposure into the music business began when he was studying in university. Being a cousin of Don Jazzy, who at the time co-ran Mo'Hits, Tega lent efforts to the label by being part of the streets team, ensuring songs from the label were dominating locales, restaurants and other popular places in his hometown state of Delta. When Mavin Records was formed later, Tega, fully absorbed into the label's operations now that he had left Warri for Lagos, slotted into the role of road manager to D'Prince. He helped supplement the efforts of then-manager, Mr. Sunday Are and later on, Tee Bilz.
"I'll give credit to Dr. Sid who just kept advising me on structure, his vision on what he thinks the label could become at the time," Tega points out, trying to recollect scenes from that foundational period. With experience already in promotion and artist management, Tega would go on to touch other aspects of the business, as Don Jazzy got more comfortable in entrusting some high-level tasks to him.
Slowly, Tega began to become his own man devoted to the label. One major thing he did was pinpointing weak areas and, for each one, he came up with a solution. The first one he tackled was branding. "I was always harping on how we wanted to position ourselves," Tega tells me, tilting his head upwards to remember precise details. "I asked myself, what's our unique selling point? The fact that everyone wanted to work for Mavin or be a Mavin artist is as a result of the groundwork we laid ten years back. It's not a thing of two months or one year, people in the music space sometimes forget it's a long game."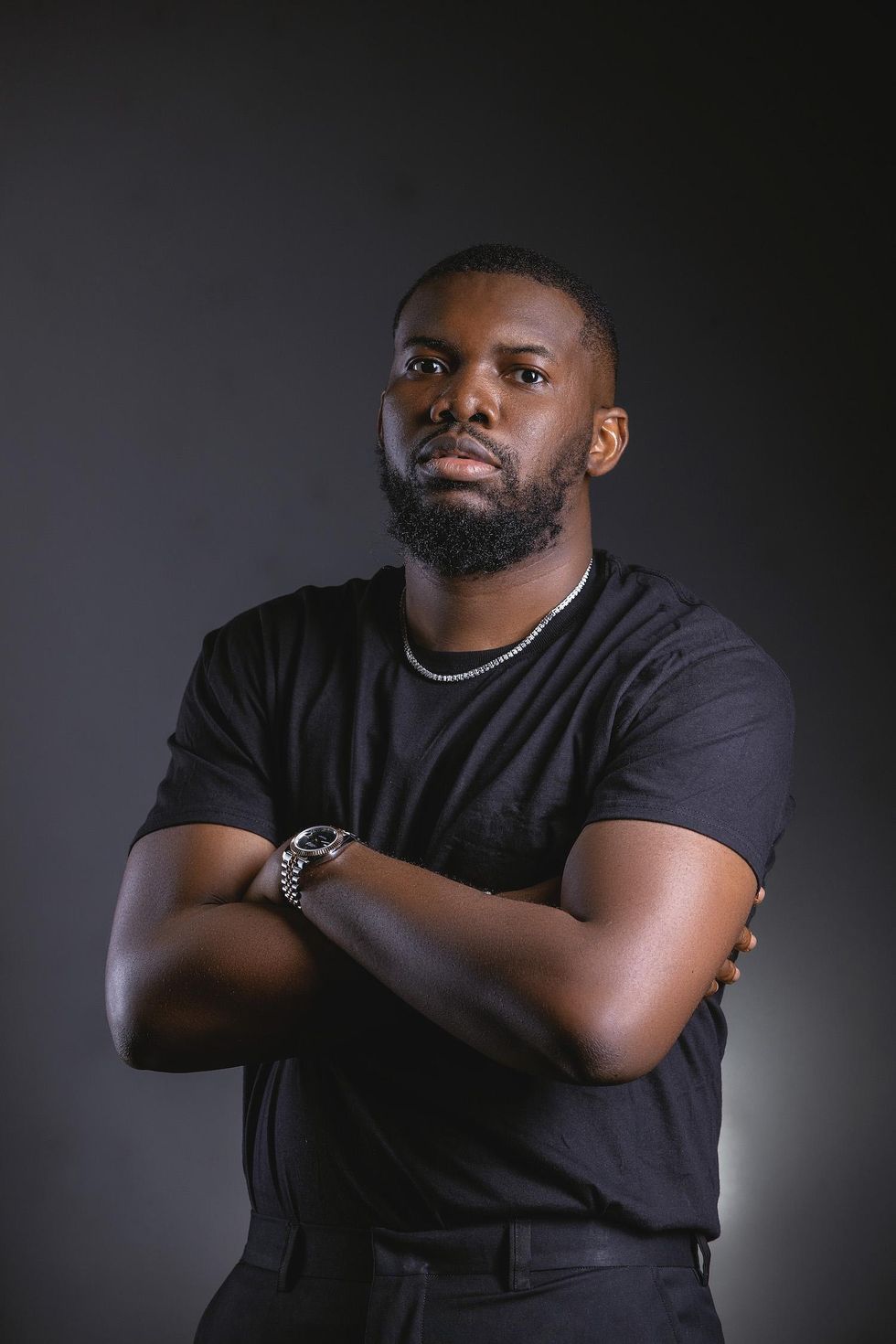 Tega Oghenejobo.
Photo courtesy of Mavin Records.
Armed with a deep understanding of branding, Tega eased onto marketing. His aim rested on marketing the brand, Mavin, refixing the image of the company and primarily positioning the company. This metamorphosis gave rise to the partnership department formed in 2015, which unsurprisingly, Tega led. "Being head of label partnership allowed me to broadly see Mavin as a partner to almost every kind of business." I could see why within a year or two after the emergence of some of its artists, Mavin has afforded to negotiate and secure partnership deals for artists like Ladipoe, Rema, Ayra Starr. Tega was hell bent on forming relationships. Explaining his process, "I started aggressively pitching, focused on improving our B2B relationships with Telcos, FMCG brands, even government relations as well." From artist management to promotions to marketing and his endgame as head of partnerships, to his current position as Chief Operation Officer, Tega had toured all essential aspects of the music business.

We proceed to touch on touring, a now resurgent source of income as the music business makes its rebound from the losses of the pandemic. Artists have spent a bit part of their time this year on the road, far away from home. Either headlining a show or being included in a sprawling list of artists for festivals, Afropop is becoming a must-have at outdoor shows. Tega nods in agreement. Although I pose a question if artists should tour before or after they drop a project, Tega thinks artists are getting it right. "Choosing when to tour is a strategic choice, the value is the value, whether you take it before you drop a project or you take it after you drop," Tega answers. " I do think that the reason why a lot of artists would prefer to do it after they drop the album would be because it allows them to inject new songs into the market. Teach their audience the music, educate them about the music, do some kind of activities around the album."
But he also reckons that it's all strategy. "You either use touring for anticipation or you use it for consumption. Tega also thinks young artists should take some notes about touring while also honing their craft. While it's good to tour and get the bag, one could also forfeit dominance of the home front as well. "If you're a young new artist, it's probably not best for you to travel up and down. You want to build your equity in a particular market and consolidate and then you can travel so you know you can travel and come back so you'll not lose your spot on the scene."
One thing that excites Tega right now is the cadre of artists Mavin has nurtured and helped to play a role in their careers, all of which has propelled the business. In an industry where complaints of lack of structure keep getting louder year after year, Mavin has set a standard. "Coming into the industry where there are no proper roles, no proper structure. We've now become a company where we have staff with different responsibilities within the business," Tega alludes to the company's growth.

This standard seeps into every area of the business particularly the artist development phase where Mavin's academy, a cohort of raw, unrefined talents go through a wholistic talent growth stage for at least 18 months before activation. A lot of unsigned artists admire this approach and constantly pitch through various means to join the bandwagon of artists who've gone through Mavin's famed academy. Some do this by tagging Tega or dropping links to their songs in comments sections of his tweets and Instagram posts. "Do you listen to some of them?" I ask Tega. "I do, I do, I do listen," he answers quickly. "Some do put up very interesting freestyles and covers. Sometimes I listen and keep monitoring and just watching how that person is moving. And sometimes I don't, because knowing the business, we don't like to sign the same kind of artist twice."
He goes further to flesh out the archetype and traits that sparks a reaction from stakeholders of the company. "You want to develop a whole unique talent into not just a Mavin all star, not just into the industry, but to the global music space as well. If you have to sign an artist to be like every other artist you've worked with before, it defeats the excitement you need to build an artist."
In 2021, Mavin activated Ayra Starr with her impressive self-titled EP. She would go on to prove her instant success was no fluke at all, exhibiting her unrestricted persona and showcasing her talents via her debut album, 19 & Dangerous. Off the back of these two projects, music listeners warmed up to her and established a connection with the stories she embedded in songs on the projects. Unpacking the success of the projects, Tega references the combination of "having a super talented team, the unique talent of Ayra and also, the timing."
"At that period, young people felt they needed someone in their generation to identify with that person's music because it wasn't really out there for them. We all know that music is a generational business. They felt like in Ayra and her unique talent, we have our own person, someone who speaks our issues, our topics and identifies with us from a dressing perspective. Like she embodies things those young people want to see in an artist."
Between 2021 and now, several feats have trickled in for the label. "Calm Down," a stellar song on Rema's debut album has earned a viral status, bagging certifications in France, Belgium and The Netherlands. Within the same period, the label has launched three new acts, with Magixx and Boyspyce signing to the imprint alongside Ayra Starr . It seems the label is big on development as last October, Mavin Records launched the Mavin Future Five, so that young executives can learn from professionals and "fight that imposter syndrome they might have to deal with coming up."
As Mavin enters its tenth year in the business, it comes around a melange of innovations filtering into music. The future of everything powering the business—from A&R down to marketing—has become unpredictable than ever before. "What's next for us is we delivering on that promise of providing quality music, Tega says. "A lot of things are still shaped to happen and I can't wait for those things to unfold during the course of the year."