Shortly after walking into the Brooklyn Museum's Africa Fashion exhibition, visitors are greeted by a blown-up black and white photograph of the late Miriam Makeba. The image, which stands about 10 feet high, is synonymous with the iconic South African singer's effortless style and sophisticated aura. Taken by renowned German photographer Jürgen Schadeberg, it sees Makeba wearing a figure-hugging dress, her eyes closed, seemingly transfixed by the music, standing in front of a microphone. It's an image that epitomizes the enduring relationship between musicians and fashion, and makes for a fitting start to the exhibition.
Africa Fashion, currently on at the Brooklyn Museum and curated by Ernestine White-Mifetu and Annissa Malvoisin, builds on the original show that was staged at London's V&A Museum last year. Celebrating the impact that modern and contemporary fashion from the continent has had on the world, the exhibition brings together works from revered designers and artists to show how fashion, together with the visual arts and music, has played a vital role in Africa's cultural renaissance, from its liberation years up until now.
As the exhibition details, the ongoing influence that musicians have had on fashion designers and fashion itself is undeniable. "Music is interlocked with fashion and also fashion is interlocked with visual art and with literature – they are all interconnected," Malvoisin told OkayAfrica.
Africa Fashion places this relationship in context, as it speaks to the interweaving of style with music, art and politics in specific time periods. An artist like Makeba, who was the first African to win a Grammy award, came to the fore during the independence era, where the exhibition begins, and her rise, from her first hit, "Lakutshon' Ilanga" in 1953, follows along the journey charted by the exhibition. As various African countries gained autonomy, their music scenes began to thrive in new ways. This creativity spilled over into fashion, too.
The Politics of Cloth
In 1956, Makeba, leaving the Manhattan Brothers, joined an all-woman group called the Skylarks, weaving jazz and traditional music together in their songs. She traveled throughout the continent, and in the 1960s came into her own as the first artist to bring African music to a wider audience around the world. Known for songs like "Pata Pata" and "The Click Song (Qongqothwane)," Makeba also popularized a fashion style that wholeheartedly embraced African heritage, both her own and from other African cities she visited during her travels.
Makeba, affectionately remembered as Mama Africa, lived in the U.S. in exile when she was unable to return home after her passport was revoked by the apartheid South African government. While speaking out against the racist enforced separation policies, she also gained attention for her natural look, wearing her hair in a short afro and no make-up on her face. It's reported Makeba once said of her look, "I see other Black women imitate my style, which is no style at all, but just letting our hair be itself. They call it the 'Afro Look.'"
Sometimes she'd mix her Swati and Xhosa heritage together by donning colorful beds and isicholo hats or boubous. Makeba used clothing to solidify her push for a free South Africa, and respect for African culture. Her clothes enhanced the ethos she stood for, and embodied the courage she displayed whenever she spoke out against oppression.
Miriam Makeba - Pata Pata (Stereo Version)www.youtube.com
Africa Fashion expounds on the idea of clothing as a form of communication, as it relates to different countries and its citizens. For someone like Makeba, her choice of clothing reiterated her political ideals, which came into sharper focus in the mid-60s; forming a tool through which she addressed social and political issues by expressing her Black identity.

Nigerian superstar Fela Anikulapo Kuti, also featured in the exhibition, used his bold and distinctive clothing to express his identity, too. A pink jacket and pants set can be seen on display, typical of the ones he used to don as he made afrobeat into a well-loved genre through his energetic performances. As White-Mifetu told OkayAfrica, "Music was an important component to engaging with this idea of this new sense of self and identity," and it's striking to see on display in Africa Fashion.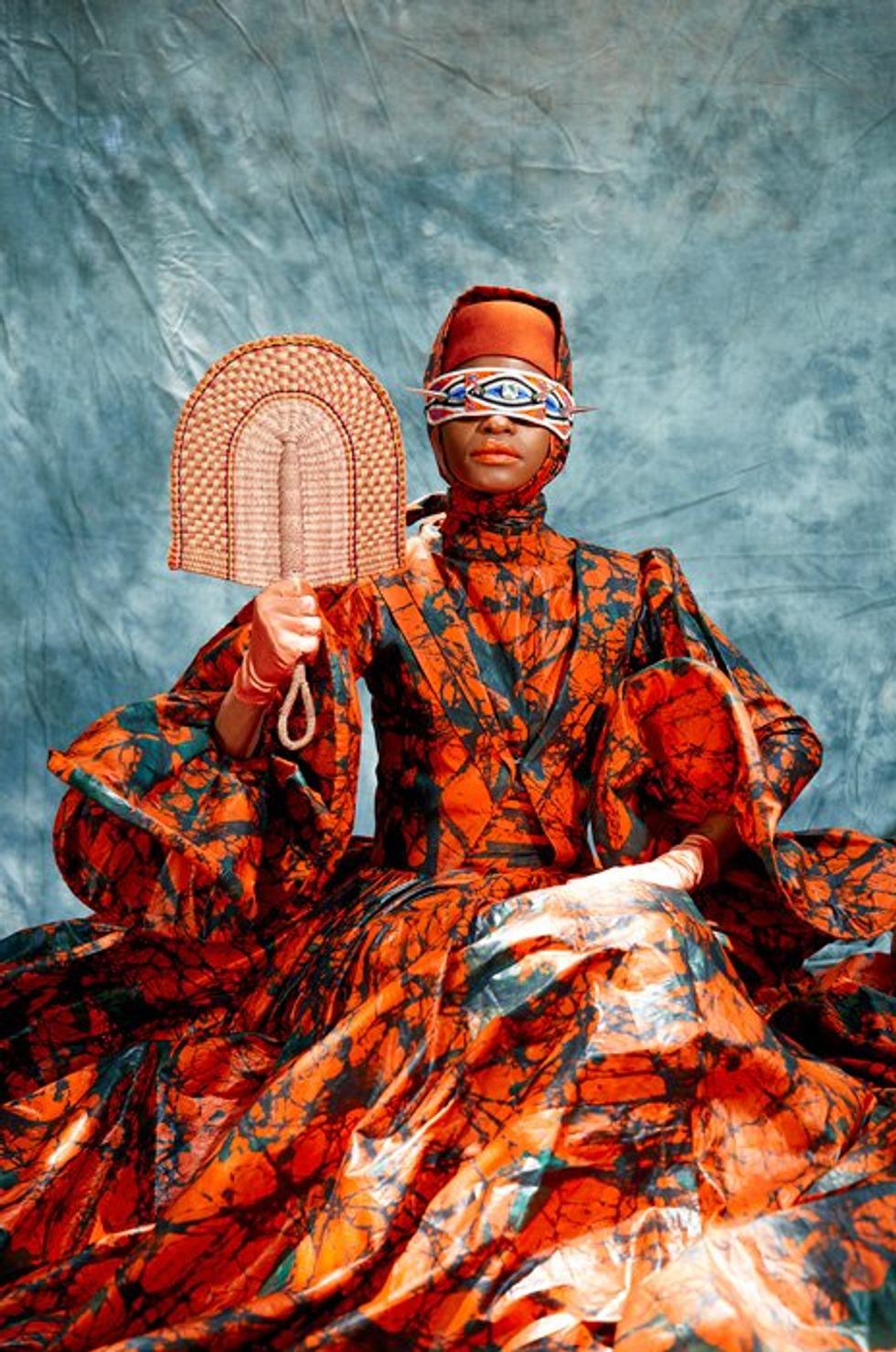 Trevor Stuurman (South African, born 1992). Mama Panther, 2017. © Trevor Stuurman.Photo courtesy of the artist.
Iconic still today

Even today, what Makeba chose to wear through the course of her career remains influential, 15 years after her death. Nigerian British designer Duro Olowu incorporated aspects of Makeba's style into his autumn/winter 2019 collection, with his choice of headgear and A-line maxi dresses. As he told Times Live, he recalled listening to her records with his parents as a child in Lagos and meeting the singer one day, noting how she was "beautifully dressed, with beads dangling from her braided hair," and calling her "a vision."
Similarly, two years later, Nigerian fashion brand Wekafore looked to Kuti when creating a capsule collection with Amsterdam-based African streetwear brand Daily Paper. Titled the "The Spirit Don't Die," the collection celebrated the vibrancy of African heritage. Designers like these evoke the history of these musicians and what they stood for, as a call-back to what is possible for the present and the future.
And still, musicians continue to inspire fashion today, whether it's with their politics or their impeccable sense of self. South African photographer and stylist Trevor Stuurman's radiant image of singer and performer Manthe Ribane that's found towards the end of
Africa Fashion
shows how this endures. And undoubtedly, will in years to come.