Eswatini's music scene is largely dominated by gospel, Afro-soul and a bit of hip-hop. Mzwaa is one artist shifting the paradigm with his soul-infused hip-hop music.
Making his introduction in the industry by winning the 2018 MTN Bushfire Firefly competition and subsequently going on to perform at the event that very year, Mzwaa has had a meteoric rise in his nascent music career and making a great impression with his debut EP Right On Time.
Born and raised in the hub of Eswatini, Manzini, Mzwaa is one of the new breeds of musical talents from the kingdom fusing R&B, hip-hop and soul to form new sounds.
In his debut release, Mzwaa extensively covers the topic of love and sings about aspiration through the lens of a young Swati man. Right On Time is a near-flawless EP in which Mzwaa showcases his talent. He hits high notes with ease and instantly switches to rapping while staying on-beat.
---
The EP is a 100% locally produced project, with the main production done by Sakhile "Brainz" Mkhonta of Antidote Music and Vuma Hlophe of MotherLand X. The song "Lutsandvo" was produced by Alexandros Hatzinikolaou and Likhwa Maseko, with additional instrumentation being provided by Sihlangu "Sibz" Sibiya. The EP also features the phenomenal Velemseni and upcoming rapper Grixxly (who is considered one of the future stars of Eswatini's hip-hop scene).
An instant hit upon its release, the EP's neo-soul-inspired production and catchy lyrics give it high replay value.
The fan-favourite Lutsandvo (featuring Velemseni) won an award for Best Collaboration at the 2019 MTN SWAMA Awards and Best Music Video at the 2020 edition of the awards. "Lutsandvo" is a love song sung entirely in siSwati over soft guitar strings.
In the interview below, Mzwaa speaks about God's timing, his place in the Eswatini music scene and more.
NB: This interview has been edited for length and clarity.
Your debut EP is entitled Right On Time, what does that phrase mean to you?
In essence, being right on time means being timely. I had been involved in music for many years before I eventually released my first project. I guess you can say that Right On Time was the answer to my procrastination, and it all happened in such a timely manner considering that there weren't many artists, if any, in Eswatini who were doing the style of music and approaching it the way I am. So, the EP was right on time for the listeners as well, a much-needed breath of fresh air. Lastly, "right on time" symbolises God's timing. He is always right on time. We had a couple of setbacks in creating and putting out the EP, and in the moment it didn't make sense, but in the background, God was at work. He made it work and it all came out perfectly.
The Eswatini music scene is dominated by hip-hop and gospel, and you decided to take a different route by fusing soul, hip-hop, and R&B. What motivated this decision and how has the reception been to your different sound?
It was never an intentional or conscious decision. It was rather more intuitive. My folks were avid listeners of soul or soul-infused music. My dad always played some jazz music and my mom was big on blues from the Motown era. So, I always had an inclination towards soul music. I think the affinity was down to the messaging in the music and the way it made me feel, how emotive it could be. So even the hip-hop or house that I listen to on a daily basis has an element of soul music in it. So when I started making music, I suppose, it felt natural writing soulful music. The reception has been great, largely because it wasn't an approach that we had heard, in a local context. And there are so many ways to infuse soul in music, whether hip-hop, house or Afrobeats. So, I'm just saying people shouldn't box me yet.
Mzwaa feat. Velemseni - Lutsandvo (Official Music Video)www.youtube.com
You released a music video for "Lutsandvo". Briefly tell us about the song.

The moment we played it back for the first time after recording, everyone in the studio knew we had something special on our hands. And after we released it, the audience confirmed it. So we knew that the video we were going to shoot had to be as special as the song and that's why the video took so long. We wanted to portray love in a manner that hasn't been before, at least locally. We wanted to show how diverse love can be and, most importantly, we wanted to showcase it all through the lens of emaSwati (the people of Eswatini). So we came up with the idea of using real-life wedding footage from Swati weddings, both traditional and western. It was important that the footage had to be real because love is real and acting it out would have taken away from the essence of love.
How did the collaboration with Velemseni come about?
It was written in the stars because we were done with the EP, but for some reason, we felt there was something missing. I had met Velemseni a couple of times before and we flirted with the idea of making music together, but when I ran into her at a New Year's Eve party, I told her that I'm going into the studio later that week and maybe she should pull through. She did. I didn't have any instrumental or any idea ready and we were just going to have a jam session, maybe listen to music and also get to know each other better, but it didn't at all turn out like that.
The sound and production on "Lutsandvo" is slightly different as it leans more on the soul and R&B side compared to the other songs in the EP, why was that?
Spontaneity gave birth to "Lutsandvo". The instrumental was made while waiting for Velemseni to join us in the studio. The recording engineer, Alex Hatzinikolaou, and my bass guitarist, Likhwa "Doctor Bass" Maseko were just jamming, playing a few chords. It was never meant to be a song, but it was something about those chords that got me humming, and before I knew it, I was singing, "Ngitsandza wena wedvwa, babe." I think about an hour later Velemseni walked it and instantly fell in love with what she heard. We wrote, recorded and, three hours later, we were all in awe of what had just happened. So, a lot of things made it different. From the approach to the fact that this was the only song that wasn't produced by either Brainz or Vuma, and I had the liberty of being part of the composition and production process. We were all present together in the same room, and I think that played a huge role in the way everything turned out.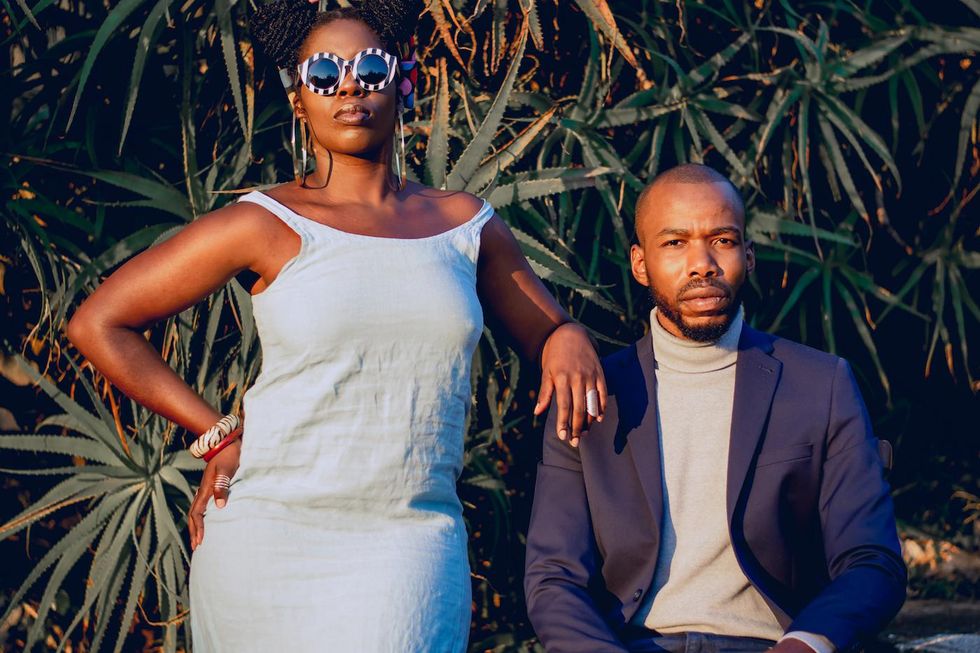 Velemseni and Mzwaa's collaboration "Lutstandvo" was a spontaneous creation. Image supplied.
You won the Best Collaboration award for "Lutsandvo" at the 2019 MTN SWAMA Awards and Best Music Video at the 2020 edition. How did you feel about that?

It was an amazing feeling. Not many artists get to have a great start to their music careers. I got two award nominations with my debut EP and winning the Best Collaboration was nothing short of amazing. It spoke to the magic that we made when we created "Lutsandvo". I was so happy for my family and fans as well because they had been showing me so much support and that award was for them and everyone involved in creating Lutsandvo, more than about myself.
In 2018, you performed at the annual MTN Bushfire Festival. How was that experience, and what did you learn from it?
Does it get bigger than the MTN Bushfire Festival? Well, it probably does, but at the time, at that stage of my career, it felt like the pinnacle, and it was certainly a milestone for me. At the time, it was the largest crowd I had performed in front of. So, although the nerves were there, I knew I had to deliver because it's not every day you get to perform at Bushfire. It taught me a lot about preparation. It taught me a lot about crowd engagement and stage presence. The crowd is made up of different types of people; people who know you and some who don't, so it isn't about just performing your songs and getting off the stage. It's about giving them a memorable experience, making a good first impression and, by the time I'm off the stage, my name, lyrics or face should be engraved in their minds.
How has the pandemic affected you as an artist?

It has stalled many plans I had but has also made me reevaluate a lot of things. We've all been affected financially, some more than others. The gigs really help, not only the artist but everyone involved in the production of the shows. Above everything, I can say that I've learnt from this period more than I've lost.
When can we expect a new project from you?
I don't have an exact date yet, but this year you can definitely expect some new music from me; a single or two and maybe an EP too. I did a handful of features too, but those are out of my control and can drop at any moment.
Stream Mzwaa's music on Apple Music and Spotify.
Follow Mzwaa on Twitter,Instagram,Facebook andSoundCloud.