Between 2007 and around 2011, the producer trio IV League (AKA, Buks and Kamza) was running South African hip-hop. They produced hits such as "Tswakstikem" by Khuli Chana, "Tla K'o Bone" by Reason, "Monate So" by Shugasmakx, "Victory Lap" by AKA (and the whole of his debut album Altar Ego) and "Bhampa" by Pro, among others.
"Bhampa" was their first major hit. The crew credit Pro for opening doors for them, and kickstarting their run. "The beat CD we gave him was originally meant for Jabba [Hip Hop Pantsula]," Kamza revealed at Pro's memorial service on Thursday in Newtown, Joburg. "He said, 'There's no way this is getting to Jabba.' He took "Bhampa," and that was really the beginning for us. He did a lot for us."
---
Pro, about a month ago, did an interview with the Sunday Times in which he shared the story of how he got in touch with IV League. "The first time was at Capello in the CBD," he said. "I believe that you can never be larger than life, because you'll never know where the next thing will come from. When that kid Kiernan spoke to me, I could feel him. I was like okay, 'fuck this party, let's go into the car.'"

All three members of the crew, which has since disbanded, recalled what a marvel Pro was to watch in studio. This is a story we've heard many times from his peers even while the MC was still alive. His verses were written in a short space of time, but, as the veteran rapper and producer Amu said, upon hearing that said verse, every rapper who was on a track with Pro would want to rewrite their verses.
"Every time we had a studio session," said Kamza, "he was the MC who showed us just how easy it can look. He did it so well, and everyone can tell you that."
"Pro gave us our start as IV in 2007," said Buks. "It was the first time I got to meet my idol in person. Pro really put us on, and did a lot for us."
AKA, who looked somber during the event, first admitted to the crowd that he didn't have a captivating speech, before sharing how Pro inspired him. "Linda (Pro's real name) helped me get to where I am," Supa Mega said. "Pro and I came from different worlds—I went to a private school, he was from a different world, he had no reason to uplift me."
"I started making beats with these young men," AKA said pointing at Kamza and Buks. "When we started working on Dankie San, I wanted to be an artist—but I was just a young, cocky, skinny, big eared coloured kid with an American twang. And I used those sessions to soak in as much as I could out of him. This guy was like something I'd never seen before."
At the time, rapping in English as a South African rapper worked against you. AKA would become one of the first rappers who used English to achieve mainstream success, alongside the likes of Jozi and L-Tido. AKA was the first rapper who rapped only in English to win the Best Male and Best Hip Hop Album awards at the SAMAs. His second album Levels was also the first album by an English rapper to go gold.

"For me, coming from where I come from," said AKA at the memorial service, "I didn't understand everything [Pro rapped about]. But there was one song that really changed everything… think about it, 'Soweto' is all in English, and [Pro] also had a twang at the time, don't forget it. [The song] broke down boundaries."
AKA went on to mention how Pro's confidence inspired him. "When I saw the 'Wozobona,' video, I was like this is what I have to do, when I saw him race Syd Money, getting out [of the car] and just…" he makes a head gesture imitating Pro getting out of that car, "I thought this was the coolest guy I'd ever seen."
Supa Mega recalled asking Pro for advice. "I asked him, 'do you think I can do this thing in English?' He laughed at me and said, 'you can do anything.' I took that advice and ran with it. Years went by, and I remember making 'I Want It All' with him and Khuli [Chana]. I felt like I wanted to live up to those standards. When I made 'I Want It All,' I realized this was my opportunity to make it big."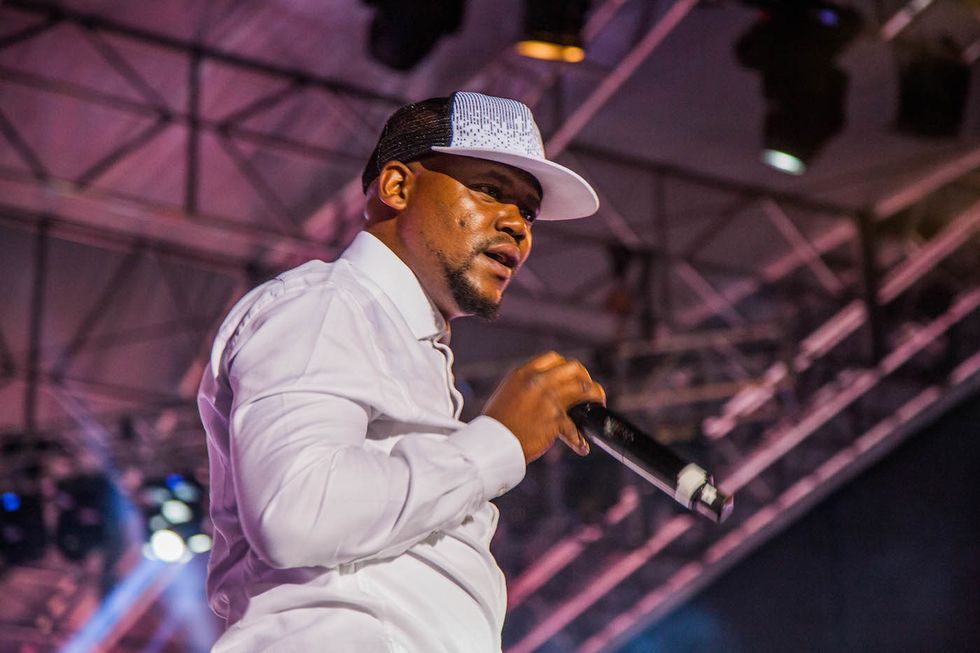 Pro. Photo by Sabelo Mkhabela.
Towards the end of his speech, AKA echoed the sentiments he shared on Twitter when the news of Pro's death broke. The rapper tweeted on the day that he had been too busy to reach out to Pro, and he regrets it. "I feel like we could have done more," he emphasized during the memorial service.

IV League was ahead of their time (there's no less cliché way to put it). In the late 2000s, South African hip-hop still favored boom bap production. Jozi and others were making crunk, which was the sound of mainstream hip-hop worldwide. IV League, however, merged those sounds and other influences such as house and kwaito. Their beats came with sinewy synthesizers and robust rhythms, using both digital and analog sounds. Altar Ego showcased how dynamic the trio was as producers.
Dankie San was drenched in that freshness. Apart from "Bhampa," IV League produced standout songs from the album such as "Ringa Mo," "What We Doing Tonight," "The General" and "Is'khathi Sewatch."
Even though IV League as a crew is a thing of the past, AKA and Buks are still prolific artists and producers. AKA has released two more solo albums (Levels, Touch My Blood) and a collaborative album with Anatii, Be Careful What You Wish For, and is sitting comfortably at the zenith of the South African music industry.
Buks released his first solo album, Pegasus, last year, and it's one of South African hip-hop's well-guarded secrets. He also released a collaborative album with the rapper Solo titled We Need A Title (slap yourself in the face right now if you've never heard it). Buks has been a prolific producer, lending production to artists such as Tumi ("Stop The Violence," "Bayete" both from Return of the King), Reason ("The Crown" from Audio High Definition), Solo (he produced a huge portion of all his albums). He recently produced "Magriza" by AKA and Kwesta from Touch My Blood and "Fire Emoji" by K.O. and AKA. Bow down when you bump into this man.

Kamza now works behind the scenes on radio and TV.