Popular
Seba Kaapstad Is the Genre-Bending South African Jazz Band Spreading a Message of Optimism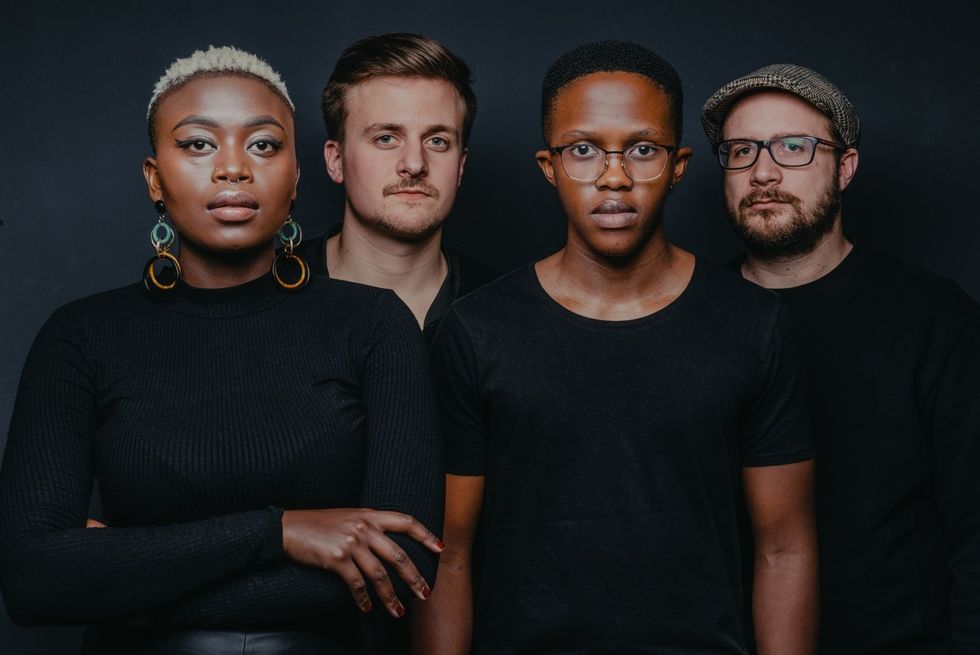 We speak to two of the quartet's members about their latest album 'Thina.'
This profile is part of OkayAfrica's ongoing series, THE WAV 2019, following the young artists shaping the future of the South Africa's music scene. You can read more profiles and interviews here.
Thina, Seba Kaapstad's sophomore album, is an anomalous body of work that smudges the lines between genres effortlessly. It's a huge departure from the South African four-member jazz group's debut album, 2016's Tagore's. "We are people that are genuinely interested in music and the impact that music has, and we are people that love to experiment and explore," says group member Zoë Modiga. "With Pheel (the group's newest member) hopping onto the band for production, it created so much more color than there was before."

---
She adds that, with Thina, the aim was to be inclusive and appeal to listeners of varying ages. "Because," she says, "sometimes the jazz genre can lend itself to an elitist thing or cutting off certain crowds of people, and we wanted to appeal to people that are our peers as well. We wanted to appeal to younger people, to older people, and just have a lot more people moved by the music."
With jazz as the main base, an assortment of genres such as hip-hop, electronica, R&B and neo-soul make Thina an album that can't be classified under one genre. It's the crew's diverse membership—Zoë is South African, Ndumiso Manana is originally from Swaziland and both Philip "Pheel" Scheibel and Sebastian "Seba" Schuster are from Germany.
Thina was released under the respected indie label Mello Music Group, home to the likes of Oddisee, Apollo Brown and Kool Keith.
"After we had finished with production for this album," recalls Manana. "We were trying to find a label that would be more suited to the urban, modern, hip-hop sound. Sebastian actually is the one who started looking for a label that would be willing to sign us on. We sent our music to a few labels, and this one, they came back to us and were like, 'Look, we really love your music, we want to sign you guys, let's talk.' Essentially that is how it happened."
Seba Kaapstad - "Don't" | Official Videowww.youtube.com
Thina is thematically rooted in acknowledging the struggles life constantly throws away. But what makes it a therapeutic listen is the underlying optimism in the lyrics. For instance, the lead single "Breathe" touches on the familiar subject of burnout culture. With lines like, "Think I need some water/ I need to take a seconds breather/ Let me take a seat, what a bad idea/ Walk, step, step, step," the song deals with the ambivalence of wanting to be productive but also realizing that you need to give your body a break. Many of us relate.

"Since the beginning of the band, we've always been conscious of the fact that we're not writing music for an unrealistic life experience," clarifies Manana. "We were always conscious of the fact that anything we write needs to be something that people can relate to and are actually going through. Simply because we go through it, so we are able to pull from our own lives, and write music about what we think a lot of people go through, and people go through a lot."
Seba Kaapstad was formed in Cape Town in 2013, hence the "Kaapstad" ("Cape Town" in Afrikaans) in the name. In the beginning, it was just a bunch of like-minded musicians who were studying at the University of Cape Town's South African College of Music jamming together. Sebastian was an exchange student, and both members refer to the group as his brainchild. "As much as we were jamming and having our good times and doing our thing," says Zoë, "he (Sebastian) came up with the idea of, 'Actually let's make this an actual project, a band' and the whole thing.'"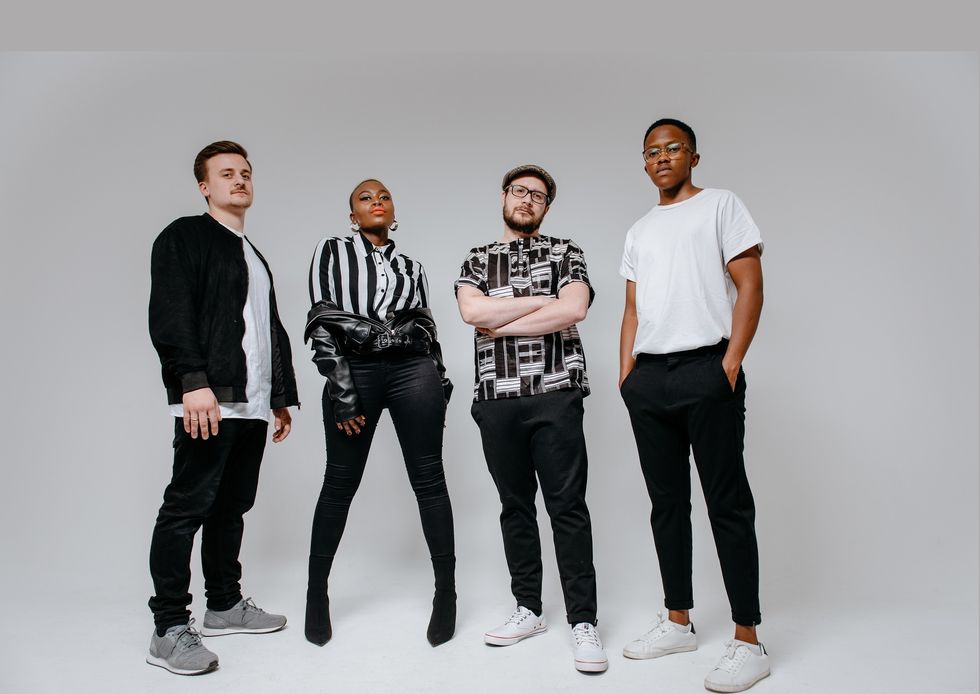 Image supplied.
Their first full body of work was the album Tagore's, whose name paid homage to the now-defunct jazz venue in Observatory, Cape Town of the same name.

Thina, which means "us" in IsiZulu and IsiXhosa, means, on the album, the crew are digging deep into their rich and diverse skillsets and tastes in music. "It's 'us' in the sense of Seba Kaapstad the band, but it's also us in the sense of the people who have been following us to this point. It's us, the people that will be listening to the music, so that album just puts all that together. That uthina is all of us, we're all involved in this particular thing," says Zoë.
In the project, improvisation, which is synonymous to jazz, is used to full effect. The artists' characters come out in the open and there's a sense of boundlessness in their approach to making music—another major jazz trait. For instance, Zoe finds herself delivering a rap verse on the single "Africa," a song in which Manana blurts out the national anthem of Swaziland right after interpolating kwaito artist Mgarimbe's obscene and omnipresent anthemic single "Sista Bethina." On the song "Love," keys and bass are stroked by 808 snares, which you otherwise wouldn't hear in a normal South African jazz album, at least one that's not by a few of the country's forward-thinking jazz musicians.
Seba Kaapstad - Africa | Official Videowww.youtube.com
"There are a lot of South African young jazz acts who are trying to break the mold and who are trying to reintroduce that genre of music in a different way," comments Zoë when asked about the prevalent traditional approach in South African jazz, which is this writer's opinion. "As a band, the way that we have met has been something to celebrate and we want to be people that are constantly being inventive about how that looks, how that feels and how that comes across."

Manana adds: "Now people who are younger, that want to get into jazz, are not maybe able to relate to this aging genre. I think that's probably the biggest challenge; that now, for example, if you are a jazz artist and you want to maybe win, I don't know, Jazz Artist of the Year. If people are going to listen to the music and try to give these awards out, or listening to see how they are going to objectively give these awards out, are not your people who are in this generation."
They will probably catch on in time. Or not. But the modern music fan will appreciate Thina to the fullest. The album speaks to the inevitable genre-less future of music in South Africa, the continent and worldwide. Just as millennials are dabbling in careers as slashies, artists are doing the same with the music. Seba Kaapstad is right there at the forefront with many other like-minded musicians.
Visit the group's website for tour dates and other updates.

Follow Seba Kaapstad on Twitter and Facebook.
This profile is part of OkayAfrica's ongoing series on South Africa's new wave of young artists shaping the future of the country's music scene. You can read more profiles and interviews here.