South African pianist and composer Bokani Dyer's latest album, Kelenosi, is anything but cut and dry. Neither straight-ahead jazz nor traditional hip-hop beats, the project is something new made by borrowing from several genres without compromising any.
Kelenosi was performed for the first time at Untitled Basement in Joburg in November 2020. He let the audience in on how the album came about. "At the beginning of 2020," Dyer said, "I was actually working on another album (Radio Sechaba). When lockdown hit, that wasn't possible, I didn't have contact with other musicians, there were no live shows. I was basically left to my own devices, so I started making beats by myself. 'Kelenosi' means 'by myself' [in Setswana]."
---
What was played that evening served as an auditory guide for what Dyer attempted with the album. Each of the musical styles Dyer is adept in take turns at prominence on each of the eight songs that make up Kelenosi.
A prominent trailblazer in contemporary South African jazz who's sought after on the international circuit, Dyer was born in Gaborone, Botswana but currently resides in Joburg. He was educated in jazz music at home by his father Steve Dyer and at the University of Cape Town's College of Music (the University of Cape Town) where he graduated in 2008.

While still a student at the institution, Dyer played in the Big Band which had a mainly jazz repertoire, composed and recorded music for his first album Mirrors (2010) and also founded the experimental electronic music duo Soul Housing Project with vocalist Sakhile Moleshe. The experimental spirit of Soul Housing Project is pervasive throughout kelenosi, but most accentuated on the song "Kwaranteen".
The "fat basslines, beautiful rhythm and warm, rich harmony" which Moleshe says are loves he and Dyer share, play hopscotch between jazz and house music on the track. The clearest sense of Dyer's R&B background is on the aptly named "Nostalgic". Dyer has confessed to feeling as though he could dedicate a song on each of his albums to renowned South African jazz pianist and composer Bheki Mseleku. "Hyacinth", the album's sixth song, borrows its name from Dyer's idol's second name. Here, Dyer's jazz piano chops are on full display on top of a consistent low-tempo bass and eerie, almost choral, loop.
Bokani Dyer "Kelenosi" launch live @ Untitled Basement 26 November, 2020youtu.be
"It's quite interesting," Moleshe says, "our relationship has always been one where we challenge each other to have a closer look. In any collaborative relationship, that always has to be at the fore to make sure that you encourage your friend to have a closer look."

Over the past decade, if anything, Dyer's pace has increased. His second album, Emancipate the Story (2011), was created as a result of his winning the Standard Bank Young Artist Award which is highly coveted by aspirant local jazz musicians. The award not only opens its recipients to a network of festivals and other performance opportunities, it also funds a musical project which is often toured after release.
The award has previously been bestowed on trailblazers in modern South African jazz such as Siya Makuzeni (2016), Thandi Ntuli (2018), Benjamin Jephta (2019) and most recently, Sisonke Xonti (2020). The recipient list also includes South African jazz greats Sibongile Khumalo, Moses Taiwa Molelekwa and Victor Masondo.
Dyer's fourth album, Neo Native(2018), won in the Best Jazz Album category of the 2019 SAMAs (South African Music Awards). Added to this, residencies at Cape Town's Grand Daddy Hotel with Soul Housing Project, European tours with his Switzerland-based quintet and SA-based trio as well as regular collaborations and performances in South Africa make his creative wellspring seem boundless.
Typically, Dyer takes over a year to conceptualise an album, write and record the music on it. Kelenosi in its entirety, however, was made in two months. The beat tape format often introduces audiences to concepts and themes that a producer might explore more deeply or expound on later. He explains Kelenosi as "a kind of beat album with piano" adding, "I'm trying to bring those worlds closer together because it's music that I'll listen to. Maybe in the morning I'll listen to a jazz record, in the evening I'll listen to a beats album."
In the interview below, Bokani Dyer speaks about bringing his musical interests into one project, growing into his intention as a musician, how music can play a social role and more.
NB: This interview has been edited for clarity and length.
Are jazz Bokani and electronic Bokani different people? What do you tap into for creating in those different worlds?
I thought it could be an interesting combination to put those two worlds together. The perception from outside is a separate thing from the way I feel about it. I think it's more about other people and their perceptions because I feel like I'm expressing myself fully. For me, I'm tapping into that openness of music.
How has your working on album concepts and the different songs that drive them changed from your first album Mirrors to Kelenosi?
I guess it's a combination of things but, in essence, I think at that point there is a lot of honesty in your expression. When I was releasing my first album, it was about the music I had created. So, I was like, 'okay, I've got 10 songs, here they are.' You're always kind of bouncing off your surroundings and responding to the stimulus that's immediately around you. I went to UCT at a certain time. There were musicians I gravitated towards who I collaborated with on my first recording who also shaped the sound of the music that was on that particular recording. And then, obviously, there's your musical DNA which I think you can't escape which is part of who you are as a person and how the music is going to come out. As you progress then, I think you become conscious about what you're trying to say as opposed to just the music that you have.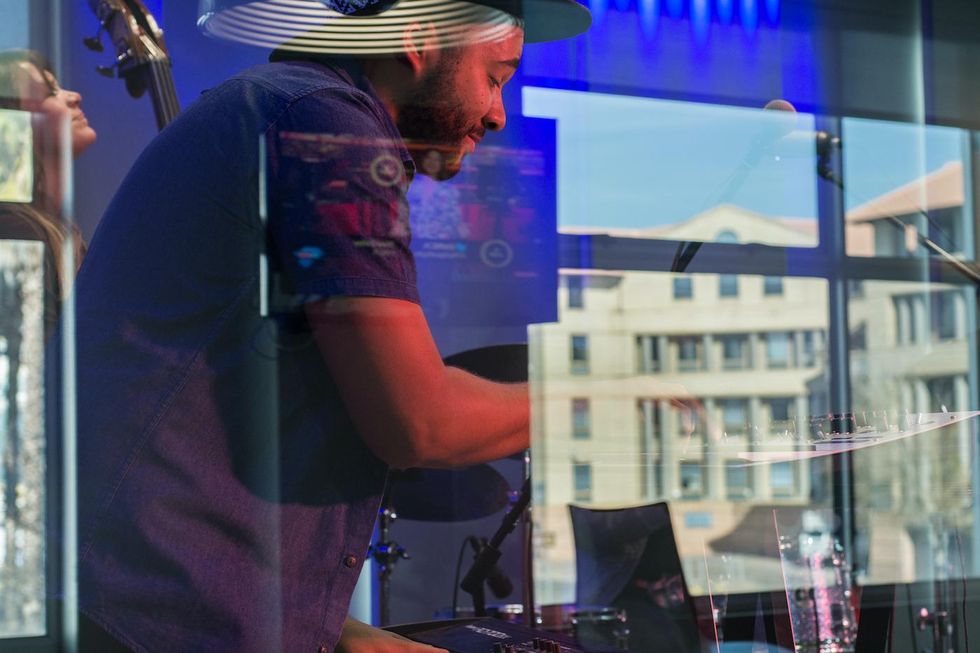 When the lockdown hit at the beginning of 2020, Bokani Dyer was left to make beats by himself. Imag supplied.
When did you start to make conscious decisions about albums as bodies of work?

From the second album, Emancipate the Story, was when I won the Standard Bank Young Artist for Jazz Award 2011. There, I was conscious from the standpoint of trying to appreciate what that award meant and what music I could attach to the significance of the award. I looked very specifically at South African jazz, and I made it a composition project for myself to say, 'what can I add to the great body of work that is South African Jazz?' I listened to a lot of Bheki Mseleku at the time, Zim Ngqawana, Andile Yenana... a lot of stuff. But I still left space for my creative spirit. It's a bit of a balancing act, but I will always do something that feels right to me. Everyone's process is different. At the end of the day, I still think that the music is a representation of me, but my thinking was in a certain way.
Was there ever a stage where you felt that you had to prove something to yourself musically?
Yes, definitely. I don't know if it's a thing of studying music but, as a practitioner of this artform, it's like you appreciate the form aspect of it. Some of those technical elements are in there so you want to use them. Your palette is wide, there's a lot in there because of what I've been exposed to and so you want to be elaborate and more comprehensive in your use of the tools you have at your disposal. That's still a thing but I don't mind also releasing music that doesn't have any of that either.
You are at a vantage point of your career right now; it shows in the deliberateness of your messages and why you're releasing music.
Of course, definitely. Five albums in, I'm thinking differently about what I'm putting out and why. Because now I can write music, it's like, "okay, why?". Music has a lot of power in it right now, the space that I'm in is that I'm trying to express specific messages through the music.
There is a pattern in the critical political themes of your recent releases. Has that developed as a chosen direction in your career or happening coming organically?
I think it's both. I've been more directional about this. I started doing my master's degree two years ago at the University of Pretoria. It's taking a lot longer than it should. My thesis is about how music can address social issues. Obviously, all the reading that I've had to do in relation to that has had me thinking about music, its place in society, the musical process and how we can communicate consciously. Radio Sechaba, I've been thinking about for the past two years. It is to speak about the greater community in our context right now and say this is what we're speaking about, this is what we're living. It's definitely a deliberate thing on my part right now.
Who are you speaking to and how are you hoping to reach and how do you hope for your listener to respond to this message?
"Mogaetso" is a case in point. The meaning of "Mogaetso" is "somebody from home". This one is critical about how, 26 years after democracy, the people who have been given the power to lead are leading us astray through enriching themselves. I say in the song, "Khumo di tlakantse tlogo" [which means] "the riches, the blessings have mixed up your mind." So, that is speaking to the times that we're living in now. It's cognisant of the political history that we've had and also that old saying that power is a corrupting force. It's some things that I've been thinking about and I'm trying to express them through song.
Stream Kelenosi on Apple Music and Spotify.