In June, Shane Eagle's debut album Yellow(2017) won him the coveted Best Hip-Hop Album trophy at the country's biggest award show, the South African Music Awards (SAMAs). The rapper is now going on a four-city tour between August and December. The Yellow Tour will have four stops—Cape Town, Durban, Port Elizabeth and Joburg. He is taking with him on the road, Riky Rick,YoungstaCPT, DJ Speedsta and Shekhinah.
---
According to Shane and his business partner and manager, Vaughn Thiel, who is also the co-founder of Eagle Entertainment, this won't be your regular hip-hop tour. "Each city," says Vaughn, "gets a pop-up store, a show and a chance to connect with Shane in a real way; playing PlayStation, listening to music, just vibing out like real people. That's pretty much what you guys can expect, just a genuine connection."
"It's not really about the people on stage, but the people that are there, too," Vaughn continues. "It's gonna be a shared experience. From a visual and audio [perspective], I promise you, we are not sleeping to give you guys what you deserve. The sacrifice that we put down is going to be worth the price of the ticket. It's not even about that; it's about creating a genuine relationship with the people who are riding with us at this point. The album is not in stores, so when you pull up with a hard copy, everyone's gonna know you were at the shows and you're part of the family."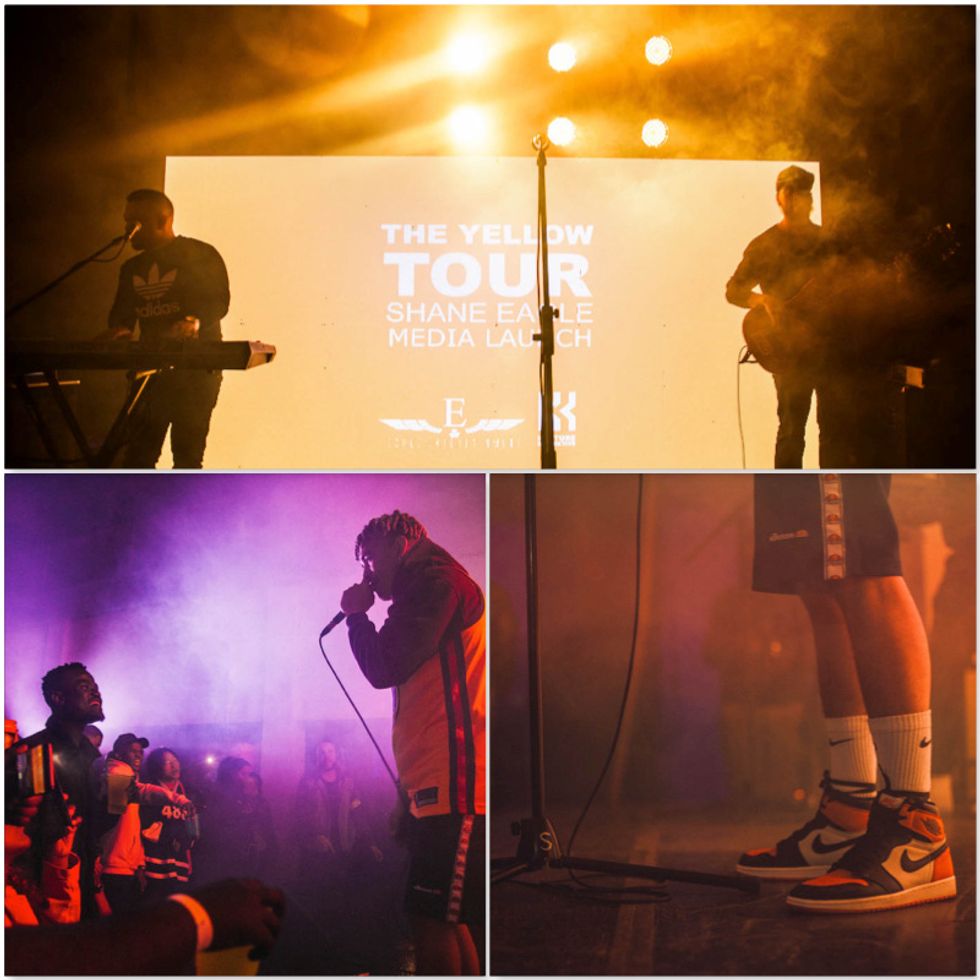 Shane Eagle during the media launch of The Yellow Tour. Photography by Sabelo Mkhabela.
The pop-up store will be open for a whole month in each city, culminating with a concert, which will take place at the end of that month.

A week before the Cape Town pop-up store opens on August 4, Shane Eagle and Vaughn gather the media at the Alexander Theatre in Braamfontein, Joburg. This is the same venue where the Joburg leg of the tour will take place in December. The rapper gives a simulation of what the concert will be like. He brings on stage with him a three-piece band (keys, bass and drums) to perform songs from Yellow.
What is striking about his performance is his attention to detail. While a lot of hip-hop tours and shows normally take place in clubs, Shane, by choosing halls and arenas, allows himself to take control of the feel of his shows, instead of taking whatever the club is offering. As he performs his songs on the night, there is a certain elegance and minimalism about the stage setup, which is an aesthetic that Shane prefers, judging from his album, his videos and even his recording studio.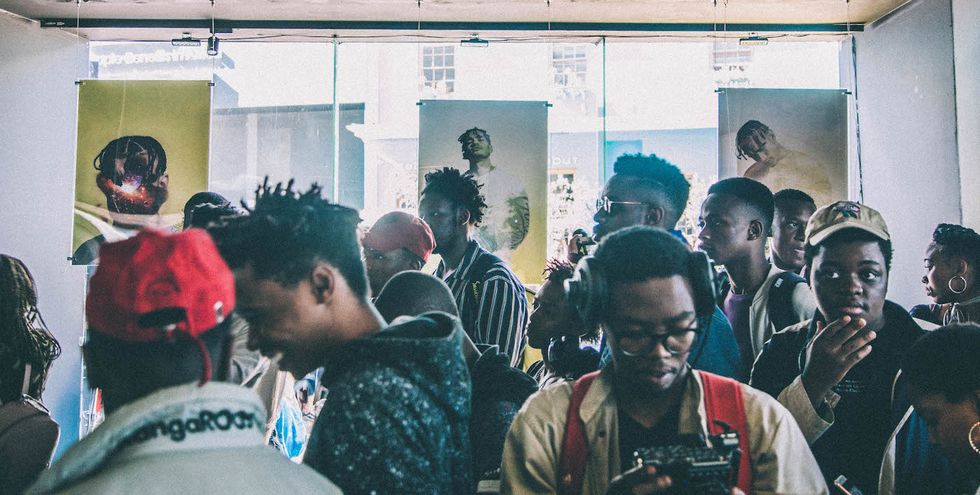 Shane Eagle's Yellow popup store at Kulture Kollective. Photo by Sabelo Mkhabela.
Right before he samples the tour to the audience, though, the artist is joined by Vaughn and the singer Shekhinah on stage for a Q&A session with the former editor of Hype, Fred Mercury.

Shane reveals that he decided to involve Shekhinah in the tour when he saw her at the SAMAs, which wasn't the first time they had met. "I'm a person who bases a lot of decision off of genuine energy, and that's something that can't be fabricated," he says. "If you shake someone's hand, you can already get their energy, the first time you meet them. You don't always get genuine energy, but since the first time I kicked it with Shekh, the energy was real, and we were just young people at the awards. She did a thing at the awards, I was there and we connected. The tour is supposed to be fun, and have people I rock with. When you go to a rap show, you expect me to bring out another rapper, I will bring out Shekhinah." The audience applauds.
"I get a lot of requests to do things," says Shekhinah, "but I'm at that stage where I want everything to be as genuine as Shane does with his work, so working with him made me feel empowered."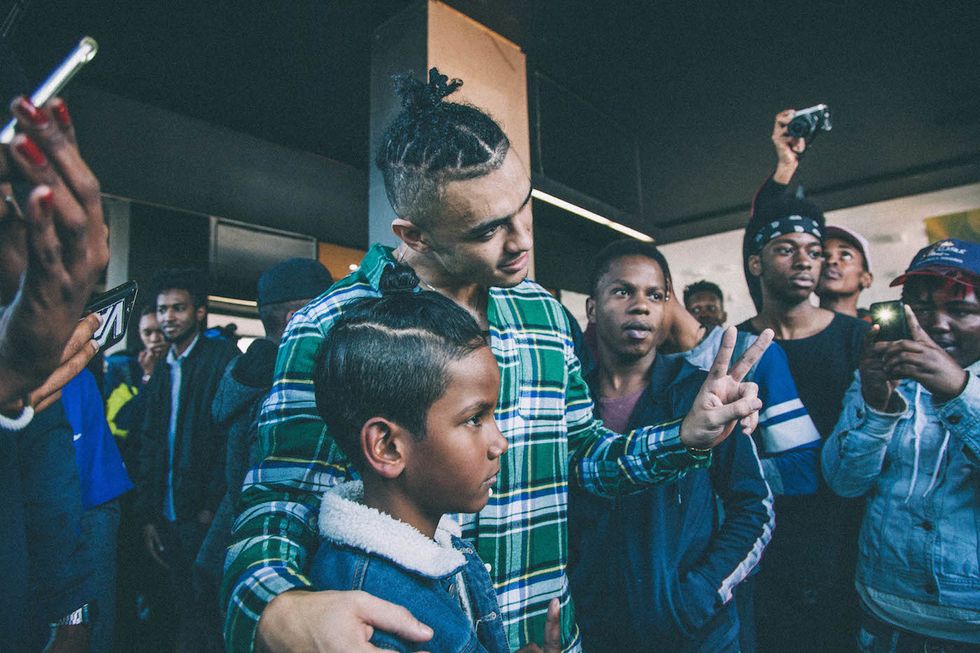 Shane Eagle takes photos with fans at his popup store. Photo by Sabelo Mkhabela.
Shane and Vaughn pride themselves in doing things differently. For instance, Shane Eagle is one of the few young hip-hop artists who are independent, and are totally fine with it. Yellow isn't a trap album, as is the case with most current hip-hop albums by his peers. Which is why his win at the SAMAs was a game changer. The Best Hip-Hop Album award has been mostly won by established artists who had the backing of the industry and labels. Most of the albums that have scooped the award boasted chart-topping hits, and were accessible beyond hip-hop circles. Yellow was the opposite of all that. It was released independently without a big single. Shane flourishes online—according to him, Yellow has been streamed more than 3 million times.

"It's easy to go set up the tour at clubs," says Vaughn. "But it's also easy to sign to a record label. It's also easy to put your CD in stores. It's also easy to make music that's commercially acceptable on a greater platform. It's easy to do those things, we can do those things in our sleep. I could call up a club, and set up 20 venues in 20 weeks, and we can make it look like we're doing something." But they choose to play the game by their own terms.
"So taking that concept and applying it to Shane doesn't make sense," Vaughn continues, "because everything I just mentioned, we did the complete opposite. We sell the CD out the boot of our cars. We sell the CD at pop-up stores, we don't put our CD at Musica, we don't do that, because we feel like if we are gonna build a fanbase and we have one opportunity to do it first, we might as well do it from the grassroots."
Vaughn goes on to say that the tour is purely self-funded, just like everything they do.
A month ago, Shane hosted a pop-up store at the shop Kulture Kollective in Braamfontein. His fans came out in numbers to buy the Yellow CD, merchandise and Yellow themed artworks.

The power of Shane Eagle is his ability to relate to his fans. His music is personal—throughout Yellow, he talks about his day-to-day struggles and triumphs.
"Everything you see," says Vaughn, "every single stream, every single follow, every single like, nothing has been manufactured. Not one thing. That shit is organic as it comes."
"The tour was gonna happen regardless if the SAMAs hadn't happened, or if I had 10 views instead of hundreds of thousands," says Shane. "It just felt like it was God's timing, everything that happened outside of the tour, and seeing how South Africa is responding. I was gonna go see my fans whether there was 10 or 10,000 of them. But fortunately for now, I have a couple of real fans rocking with me. And I'm bringing the experience to them."
The Yellow Tour kicks off on the 4th of August in Cape Town, with a pop-up store, which will run until the 31st of August when the concert takes place.
Tickets, dates and venues for all four cites are available here.