Felicia Abban "Untitled (Portraits and Self-Portraits)" (c.1960–70s). Digital images generated from original prints 50×40 cm. Courtesy the artist.
Photos: Inside Ghana's First-Ever National Pavilion at the Venice Biennale
The "Ghana Freedom" pavilion, designed by David Adjaye is the first of its kind at the international art exhibition and features the works of six prominent Ghanaian artists.
The 58th Venice Biennale, a top destination for international design, art, architecture and more is underway now in the Italian city.
This year, Ghana unveiled its first-ever national pavilion, designed by none other than star Ghanian architect David Adjaye and curated by Ghanian art historian Nana Oforiatta Ayim.
Commissioned by President Nana Addo Dankwa Akufo-Addo and the country's Ministry of Tourism, Arts and Culture with the strategic supervision of Okwui Enwezor, the pavilion—which opened to the public this past Saturday (May 11)—has been named "Ghana Freedom" after the popular independence song by E.T. Mensah.
The pavilion features the work of six Ghanaian artists who embody this spirit of freedom, including photographer Felicia Abban, painter Lynette Yiadom-Boakye, pioneering sculptor El Anatsui, as well as visual artists Ibrahim Mahama, Selasi Awusi Sosu.
---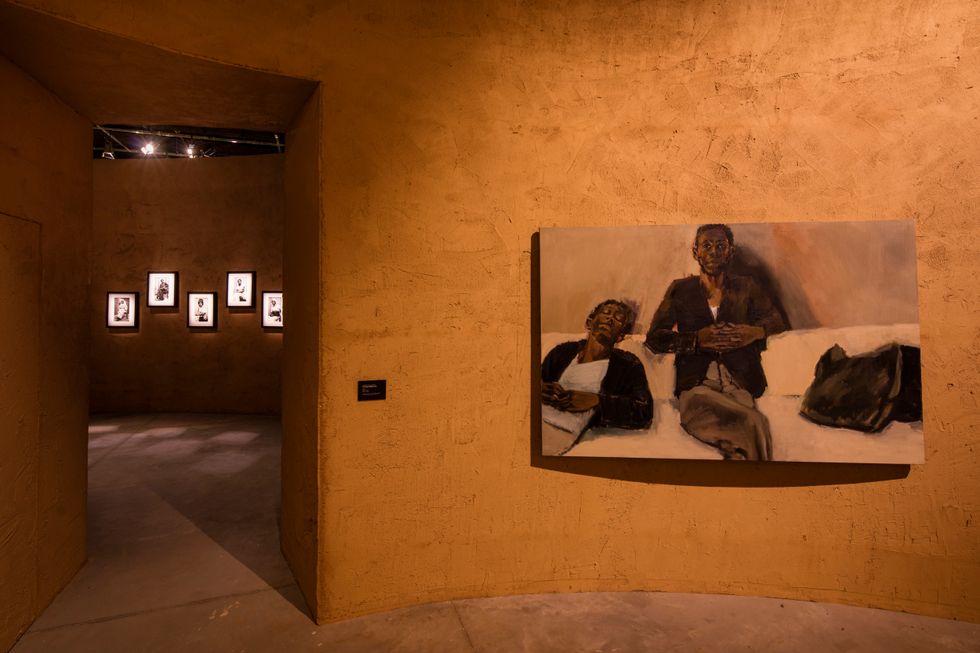 LynetteYiadom-Boakye Just Amongst Ourselves(2019) series of paintingsoil on linen and canvas. Dimensions variable.Courtesy the artist; Corvi-Mora, London; and Jack Shainman Gallery, New York. Photo by David Levene.
"Being able to show the diversity and creativity of Ghana on an international scale is an incredible achievement, and one which showcases the talent that we have to offer," says Adjaye of the history-making earth-house pavilion which he designed to reflect West African heritage and "illustrate the elliptical forms" used architecturally by people across the diaspora.

"The commitment and inspiration shown by the President in commissioning this pavilion is a testament to what our country has to offer the art community," he adds.

John Akomfrah The Elephant in the Room. Nocturnesis. Co-commissioned by the Ministry of Tourism, Arts and Culture Ghana, Sharjah Art Foundation and SmokingDogs Films with support from Lisson Gallery. Photo by David Levene.
Ofriatta Ayim, described the spirit of African unity evoked by Ghana's first president Kwame Nkrumah as an inspiration for her curatorial work. "It means a lot for us to have our first national pavilion at such a narrative-building event as the Venice Biennale, especially at this moment," says Oforiatta Ayim. Adding that she pulled from an intergenerational pool of artists to relay both the struggle and growth of Africa's first independent nation.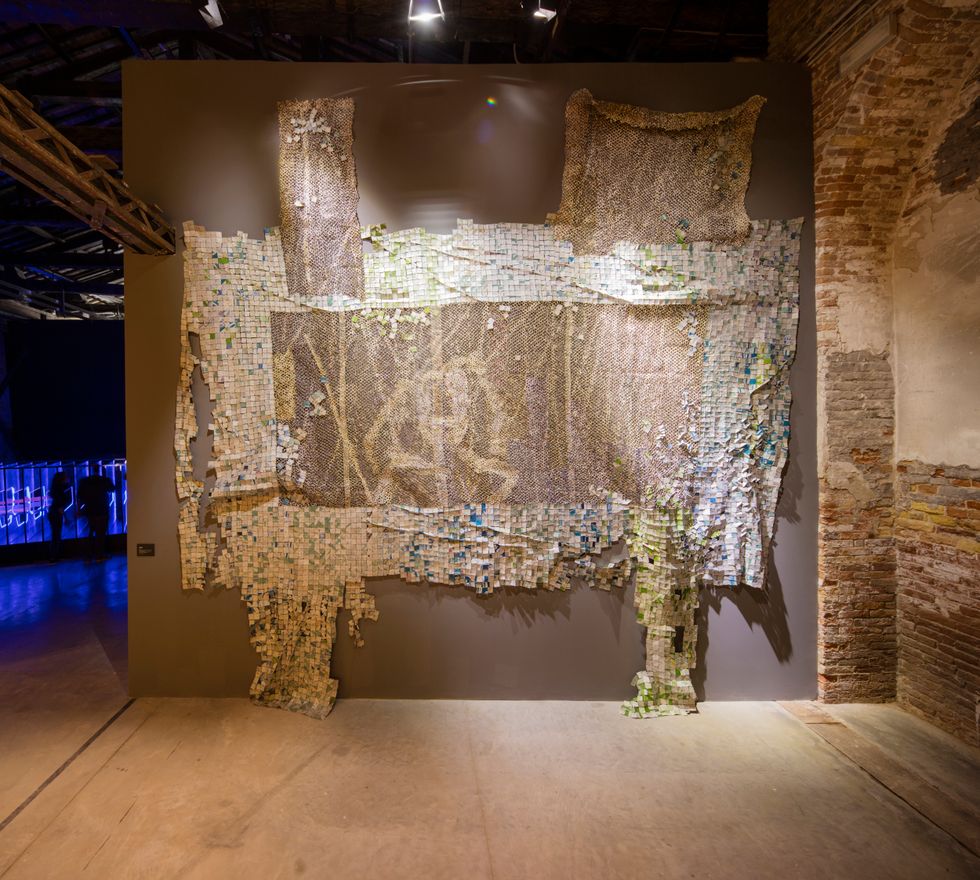 El Anatsui Yaw Berko(2019)Aluminum printing plates, bottle tops and copper wires. Dimensions variable. Courtesy of the artist. Photo by David Levene.
"The conversation about nations is broadening in the face of issues of migrations; of us redefining our connections to our diasporas throughout our 'year of return'; of discussing what it might mean to have our cultural objects returned, and how we thus might redefine ourselves in the world; and of finally moving out of the 'postcolonial' moment into one we have yet to envision."

The Venice Biennale runs through November 24. Check out more installations from the "Ghana Freedom" pavilion below.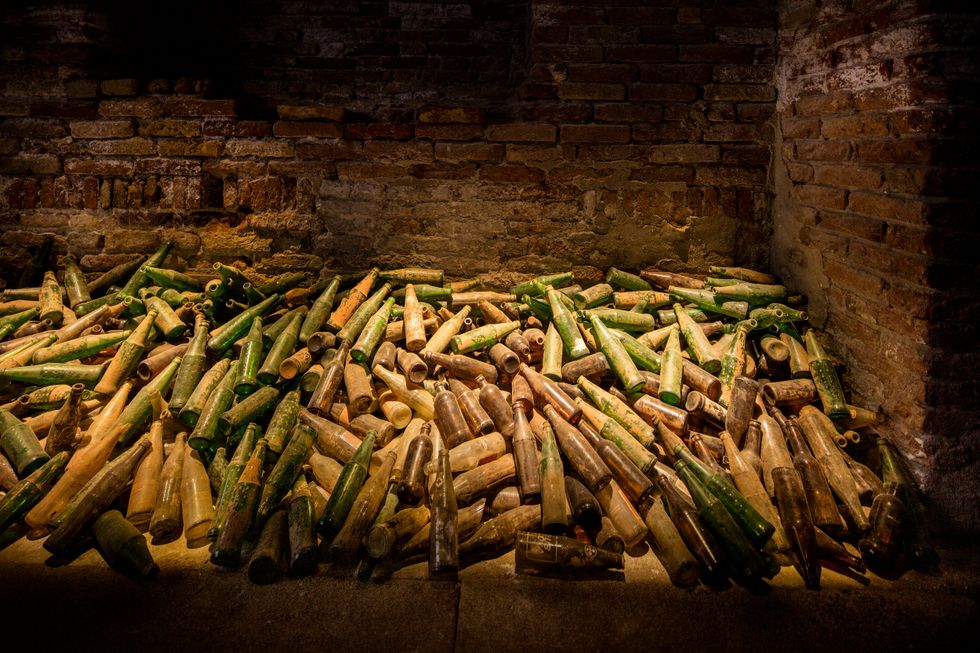 Selasi Awusi Sosu Glass Factory II (2019)Three-channel colour and black-and-white video installation with glass bottles, stereo sound. Courtesy of the artist.
Photo by Davide Levene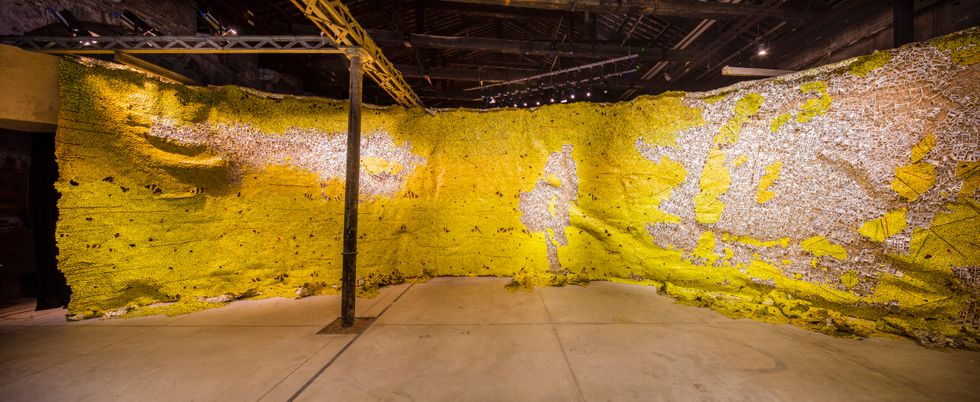 El Anatsui Earth Shedding Its Skin (2019) Bottle caps and copper wires. Courtesy of the artist.
Photo by David Levene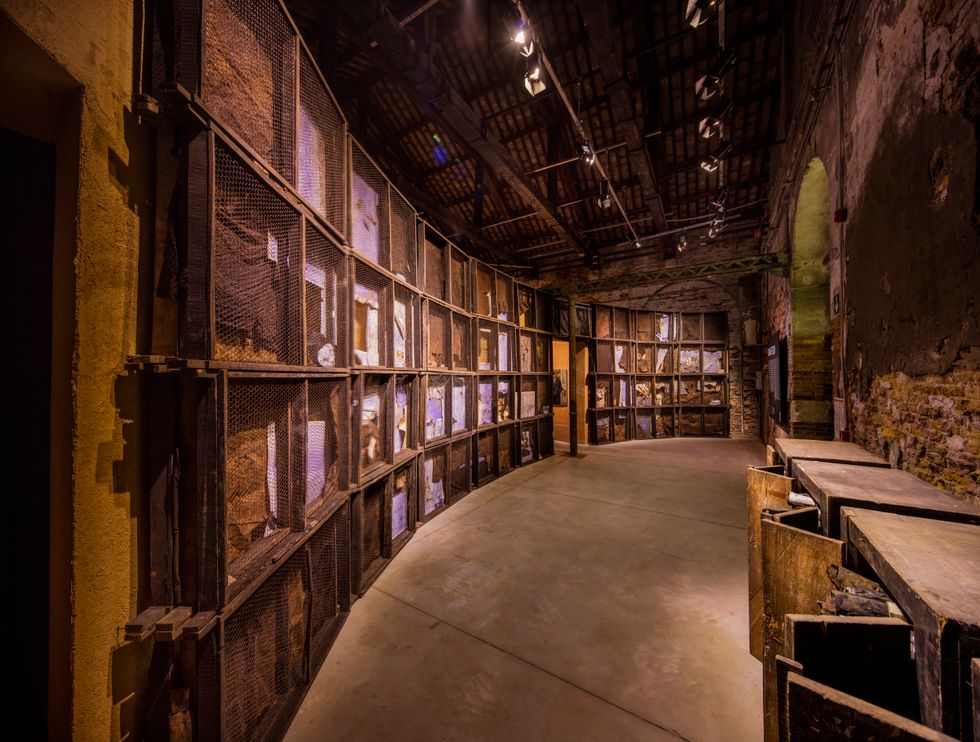 Ibrahim Mahama. A Straight Line Through the Carcass of History1649( 2016–19) Smoked fish mesh, wood, cloth, and archival materials. Courtesy of the artist and White Cube.
Photo by David Levene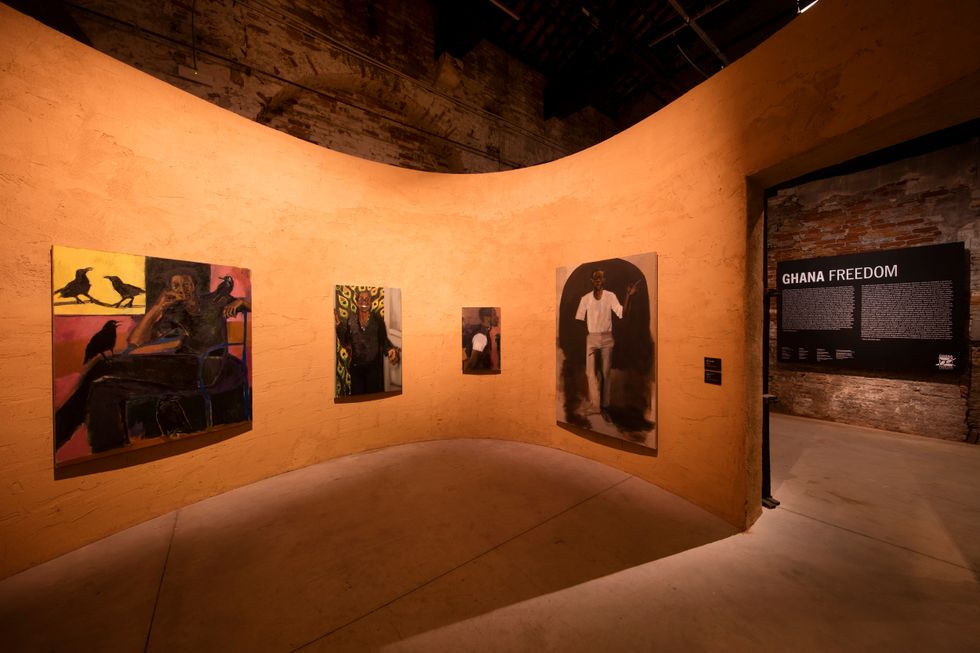 Lynette Yiadom-Boakye Just Amongst Ourselves(2019)series of painting soil on linen and canvas .Courtesy of the artist; Corvi-Mora, London; and Jack Shainman Gallery, New York.
Photo by David Levene