Yvonne Orji's groundbreaking HBO comedy special, Yvonne Orji: Momma, I Made It! opens with an aerial shot of Lagos taken back in January. It's her first time returning home since Insecure hit. There are market shots in Lagos and lesser-known Ihiala Town, one of Orji walking the streets in a fresh white Nigeria baseball jersey, as well as other glimpses of Nigerian life that she describes as "beautiful chaos" before settling down with her parents in their home.

"There's no way I could do a special about my life without showing you my life," she says in the opening sequence.
---
And the other side of that life is the United States, specifically the DMV (Washington, D.C., Maryland and Virginia) area, where she grew up which boasts one of the largest Nigerian American populations in the U.S. It's why she tapes the main event at the Howard Theatre. "It feels good to be home," she says to the audience after storming on stage like a rapper and turning up in thigh-high boots with her own special dance. "My mother was a nurse at Howard University Hospital. For 27 years. So I had to honor that."
Orji's comedic perspective as a Nigerian immigrant in the U.S. is groundbreaking now but, hopefully, will be more common as time goes on. Women, in general, rarely get their own comedy specials. Only a few names even come to mind. Last year Orji's Insecure castmate Amanda Seales got her shot with I Be Knowin' also on HBO. For African women, Orji is unintentionally blazing new trails.
I would love to do a show that talks about the first-generation immigrant experience because there are so many of us."
"I don't know of another female for certain that has [presented] the continent of Africa and America [for a comedy special]," Orji acknowledges, almost in awe, when asked via phone during a long day of press for her. "But, when I was doing it, I wasn't doing it for that. I was just like 'I just want to show people home and this is also where a lot of my humor comes from."
"More than anything," adds Orji, "I wanted my parents to have their say."
While making history didn't drive her moves, Orji, who now resides in L.A., does admit to being very conscious of wanting to stand out. "I did know that I wanted to do something different with a special. I wanted to add a different element," she continues. "I was like I have enough jokes for an hour, but I've seen an hour stand-up with the mic and just the person. I've seen that. It's like the African in me, I'm always looking for 'well what else can I do?'
So I told HBO 'I want to do a documentary music video comedy show' and they were like 'what?'"To pull this off, Orji says "I had my own songs created. The first minute and a half of the special is literally me on stage, having like a full-on Beyoncé moment as if I was in a concert and then you have comedy and I was like 'yep, that's about right.'"
By the end of the special, it will be clear to some that Orji's Momma, I Made It!, which runs the gamut of jokes poking fun at Nigerian stereotypes, be it money scams, haggling or putting curses on their enemies, universal topics like dating and being single and the overall challenges unique to the immigrant experience, could easily be a TV series. And that prospect delights Orji.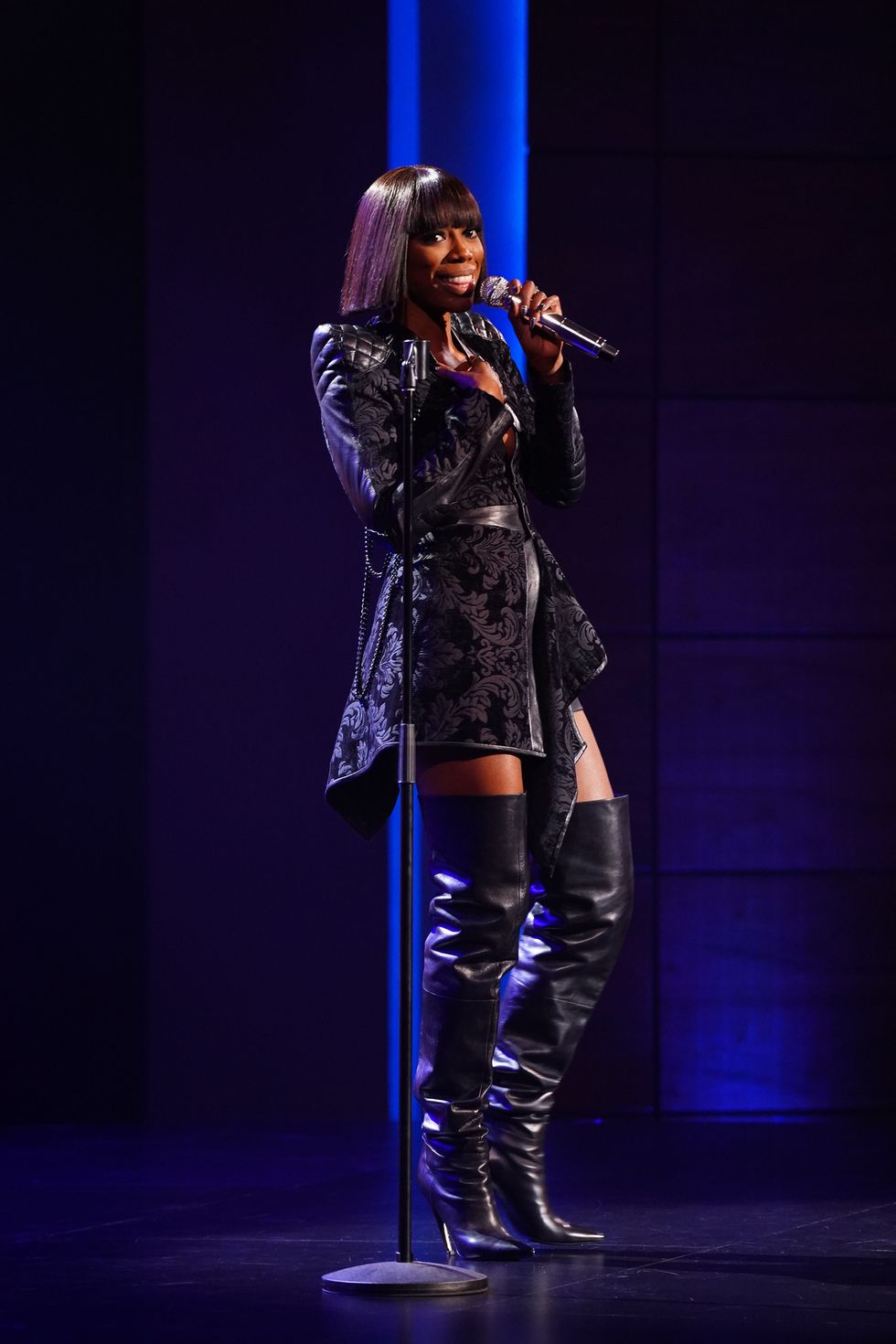 Yvonne Orji onstage a the Howard Theatre doing her comedy special.Courtesy of HBO
"I hope when people see my mom and my dad and the characters and myself that they're able to see a TV show because that's what I set out to do five years earlier," she shares. "I know that we have Bob Hearts Abishola which Gina Yashere co-created and is executive producer on so that's like another seed being sown. But, yeah, I would love to do a show that talks about the first-generation immigrant experience because there are so many of us."

Orji welcomes Insecure fans, especially those wrapped up in the season four drama of Molly and Issa's broken friendship, to check out Momma, I Made It! "I'm actually excited to be rediscovered by people in a way because it's like I'm going back to my first love," she says. "I'm going back to the thing that made it possible for them to even be introduced to me [as Molly] because how Issa [Rae] first discovered me was through my comedy and so now the rest of the fans get to see me in this way."

Although Orji, who has done stand-up professionally since 2006, never set out to be a trailblazer, she's not blind to what her success symbolizes to Nigerian-American women pursuing careers in entertainment. What she's heard is that "just being able to show my parents your name on the TV screen as a Nigerian name, it helps my case go a lot further. 'Well this Nigerian girl did it too. Can you allow me to do it too?' is their argument.
Because Orji remembers how Lupita Nyong'o's Oscar win for 12 Years a Slave softened her own mother's stance on her career, she totally gets the leeway her presence on Insecure gives other Nigerian-American women in entertainment with their immigrant parents. "Every Sunday when I'm on Insecure, it's like 'we see what you're trying to do because we see this Nigerian girl doing what you say you want to do'" is the message she sends. In that way, she knows she's bringing parents and their daughters closer together.
And now that Momma, I Made It! is available to stream on HBO in the United States and coming to Nigeria too, the possibilities truly are endless for Orji and the others she's inspiring along the way.