The month of May is another prime moment of the year with art fairs around the world, especially with Frieze New York launching this week. The Big Apple will be graced with substantial satellite fairs for African art, including this year's New York addition of 1-54 Contemporary African Art Fair.
Take a look at eight African art events you can't miss this month below.
---
1-54 Contemporary African Art Fair || Pioneer Works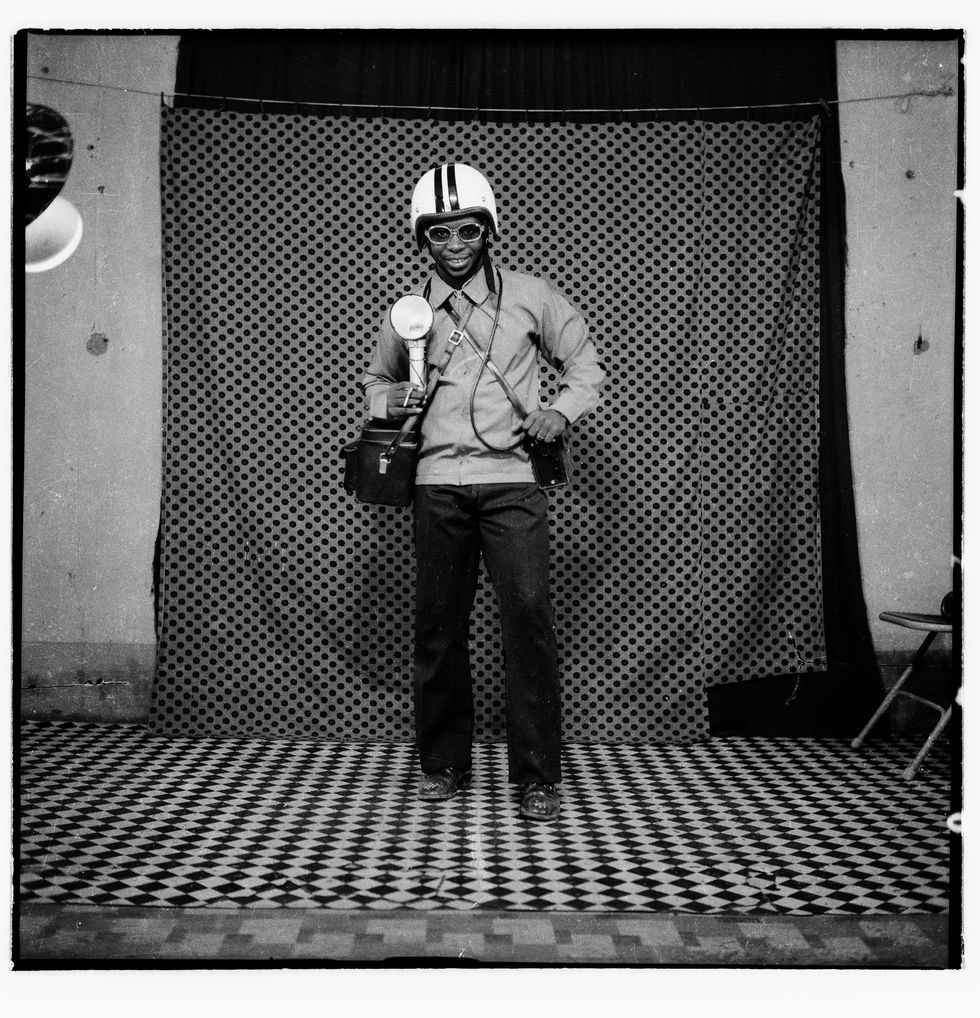 "Untitled," Sanlé Sory. Photo courtesy of Yossi Milo Gallery.
1-54 NY is the leading international art fair dedicated to promoting contemporary art from diverse African perspectives. Just coming off a successful launch on the continent in Marrakech, Morocco, its fourth edition is set to display works from 21 galleries from artists including Phoebe Boswell, Derrick Adams, Malick Sidibe, Gideon Appah, Ralph Ziman and more.
1-54 Contemporary African Art Fair runs from Friday, May 4 through Sunday, May 6 at Pioneer Works in Brooklyn.
Without Qualities || Addis Fine Art + Private View New York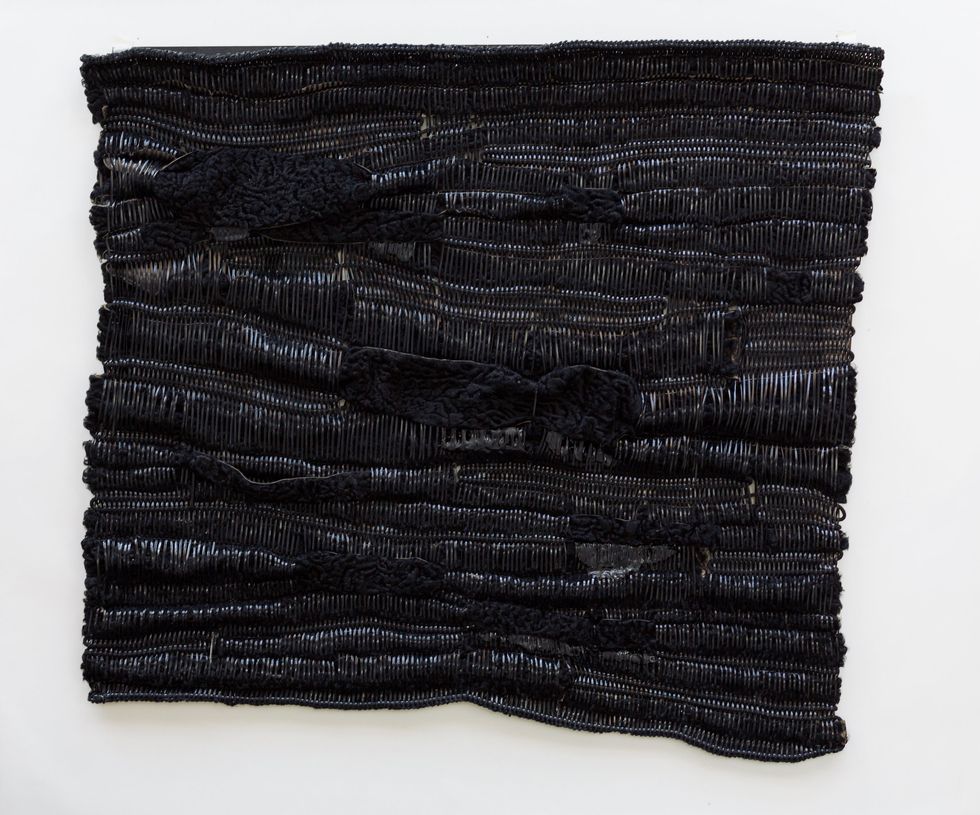 Luam Melake, "Black," 2017. Photo courtesy of Addis Fine Art.
Addis Fine Art (AFA) and Private View New York, a new private loft showroom in Soho, holds its first exhibition of Without Qualities, featuring AFA artists Tariku Shiferaw and Luam Melake. This collaboration brings together two phenomenal Ethiopian-American artists who fuse the cultural influences of their backgrounds and their lives in New York. Although their origins are similar, their artistic approaches and processes are what differ. Both artists do create abstract compositions using carefully selected multi-layered materials that represent the interconnectivity of art and industry, as well as portray abstract narratives that evoke the viewer's emotions and memory.
Without Qualities is open through Sunday, May 6, and can be viewed by appointment from Tuesday, May 8 to Thursday, May 31 at Private View in Soho.
PAPER Plains || Sotheby's Institute of Art
Sotheby's Institute of Art presents PAPER Plains, a solo exhibition of Kenyan artist Tahir Carl Karmali, curated by Klaudia Draber. Karmali's photographs, sculptures and a sound installation will be on view, exploring his longstanding interest in migrant identities and the sense of belonging in two recent bodies of work. One of which is PAPER:work, where Karmali tackles the complexities of identity of African migrants as shaped by nationality, authenticity, documentation and borders.
PAPER Plains is on view until Tuesday, May 8 at Sotheby's Institute of Art in Manhattan.
The Other Art Fair || Brooklyn Expo Center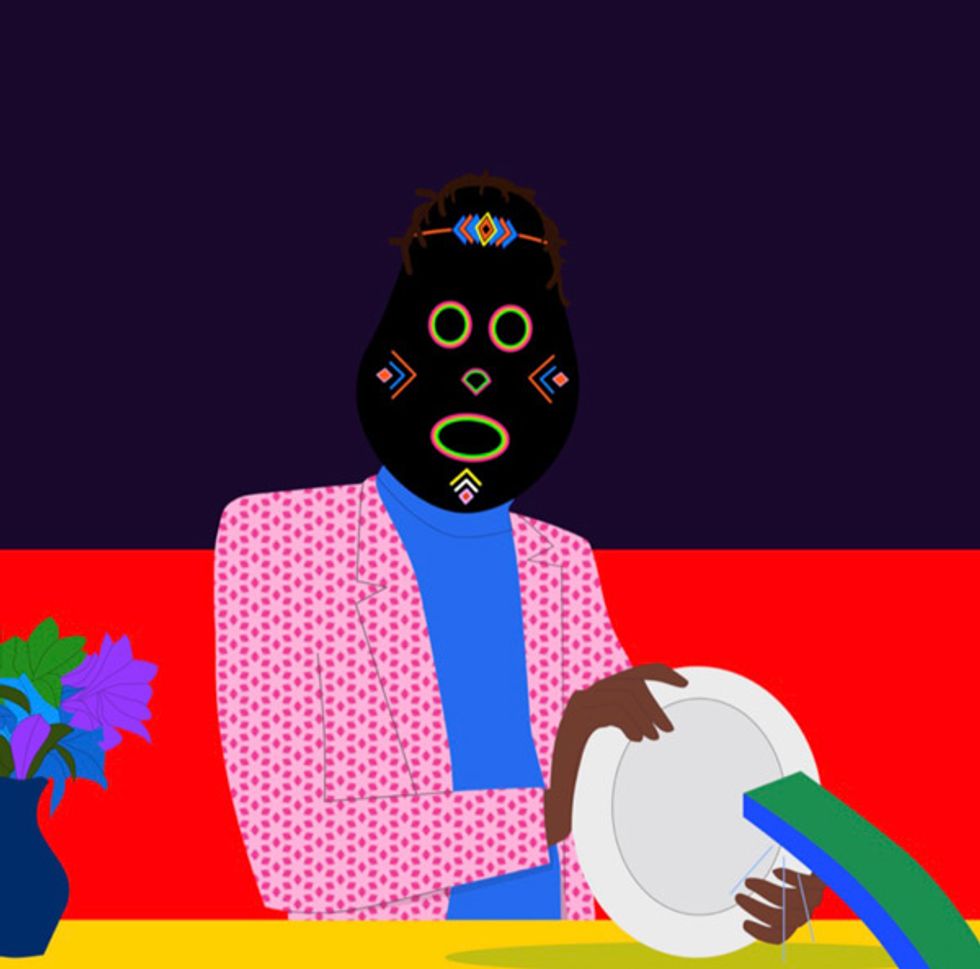 "Holiday Duties" from Dennis Osadebe's "A Stranger In My Home" series. Photo courtesy of the artist.
The Other Art Fair, presented by Saatchi Art, is a fair for a new generation of art buyers, as well as a place to discover and buy art direct from the very best of emerging talent. One of which is Nigerian artist Dennis Osadebe, the only artist representing the continent at the fair. Osadebe will be presenting a new series, entitled A Stranger In My Home, where he takes the elements of a home setting and infuses aesthetics inspired by his Nigerian heritage with neon masks as his reoccurring focus. Through the 10 works in this series, Osadebe takes on the idea of globalization and how cultures intersect today, reinforcing the idea of urban living hybrids.
The Other Art Fair runs from Thursday, May 3, through Sunday, May 6 at the Brooklyn Expo Center.
Nataal: New African Photography III || Red Hook Labs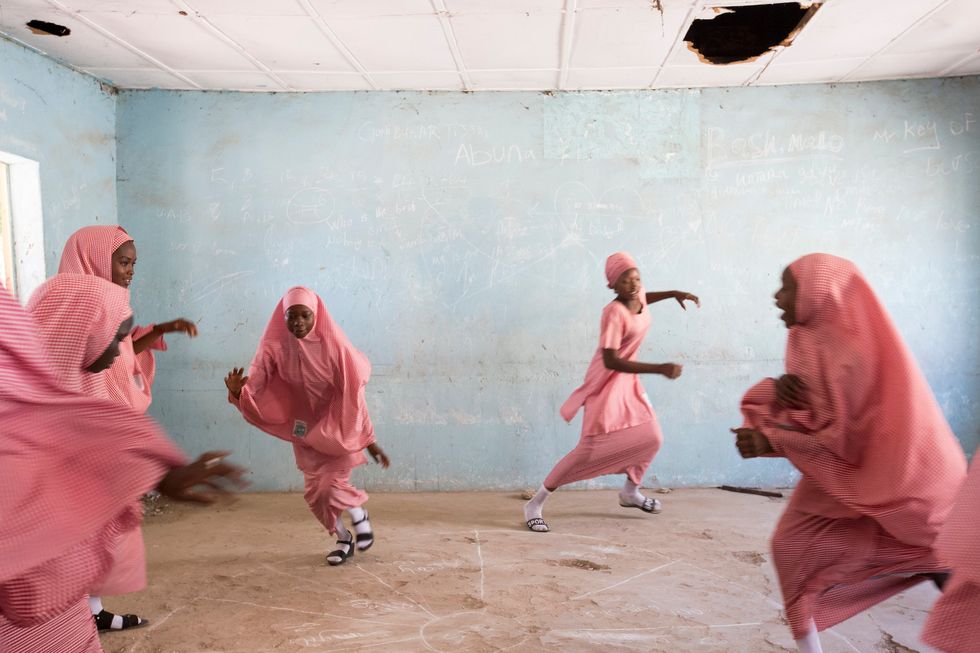 "Ruth, Amina and the three Aisha's play 'In and Out'," 2017, Tatsuniya. Photo by Rahima Gambo, courtesy of Nataal.
Nataal presents New African Photography III, the third edition of its co-curated group exhibition with an all-female, star studded lineup, at Red Hook Labs. The media brand also announced the publication of their first print magazine. Featuring work from Fatoumata Diabaté (Mali), Rahima Gambo (Nigeria), Keyezua (Angola), Alice Mann (South Africa), Ronan Mckenzie (UK) and Ruth Ossai (Nigeria), the show will display a range of fresh perspectives from contemporary photography that address a diverse set of concers relating to representation, gender and identity. New African Photography III celebrates the launch of Nataal's debut print issue, where the large format, 336-page magazine showcases and collaborated with artists who are building diverse narratives in and about the spirit of Africa.
Nataal: New African Photography III runs from Friday, May 4 through Sunday, May 13 at Red Hook Labs.
Refraction: New Photography From Africa and Its Diaspora || Steven Kasher Gallery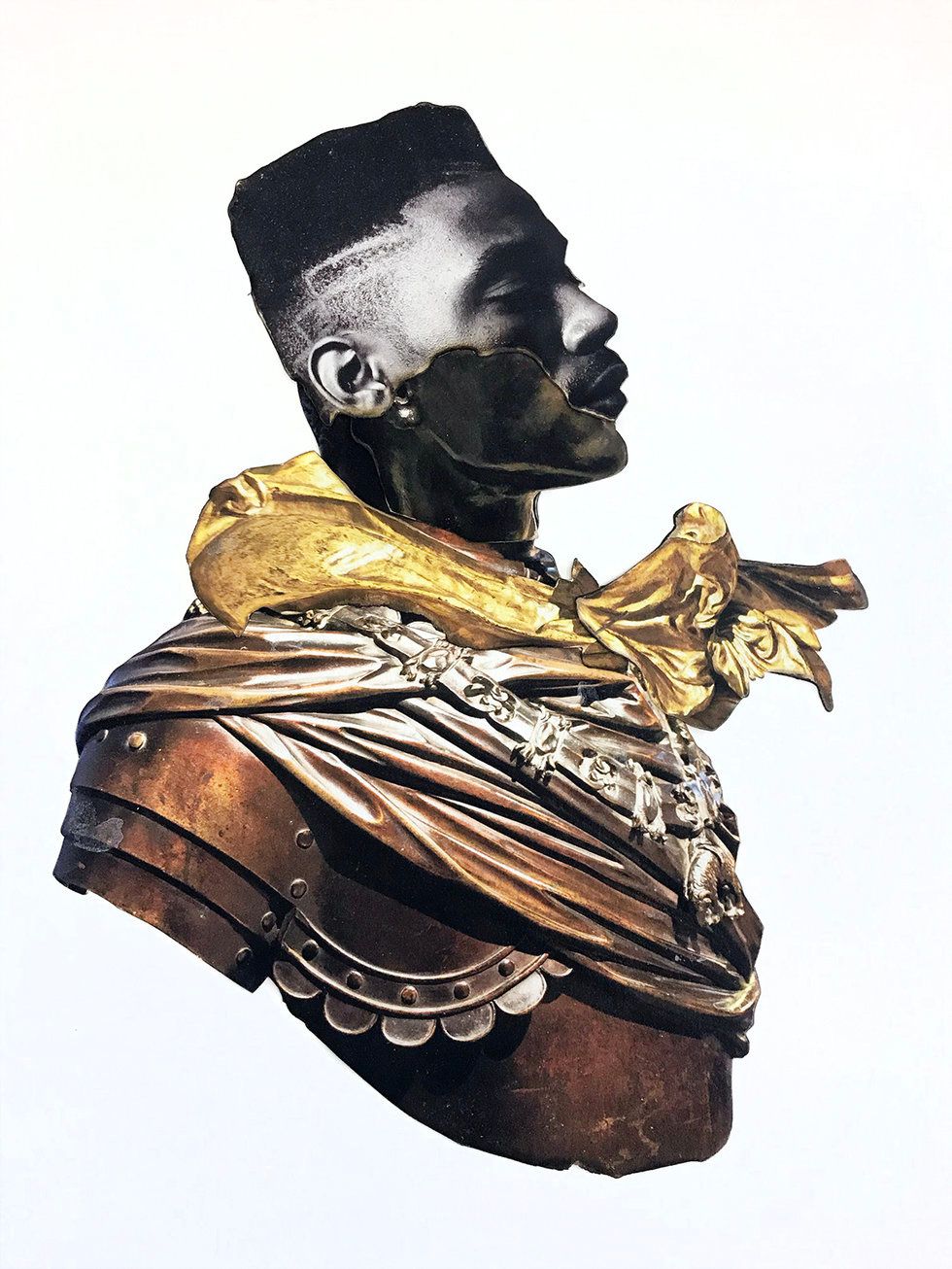 "King Kane" by Stan Squirewell. Image courtesy of Steven Kasher Gallery.
Refraction: New Photography of Africa and Its Diaspora is a photo exhibition presenting a generation of photographic artists of African descent born in the 1970s through the 1990s at Steven Kasher Gallery. These 12 artists, who reside from all over the world, portray black bodies in acts of cultural meditation, revive the traditional African rites of masking, costuming, quilting, body ornamentation and invocation of spirits, through their work. The works curated for Refraction are meant to bridge the gap between black stereotypes and black reality. The photos maneuver the complex relationship between innate identities and identities that have grown from social, political and cultural influences.
Refraction is on view until Saturday, June 2 at Steven Kasher Gallery in Chelsea.
E-Moves 2018 || Harlem Stage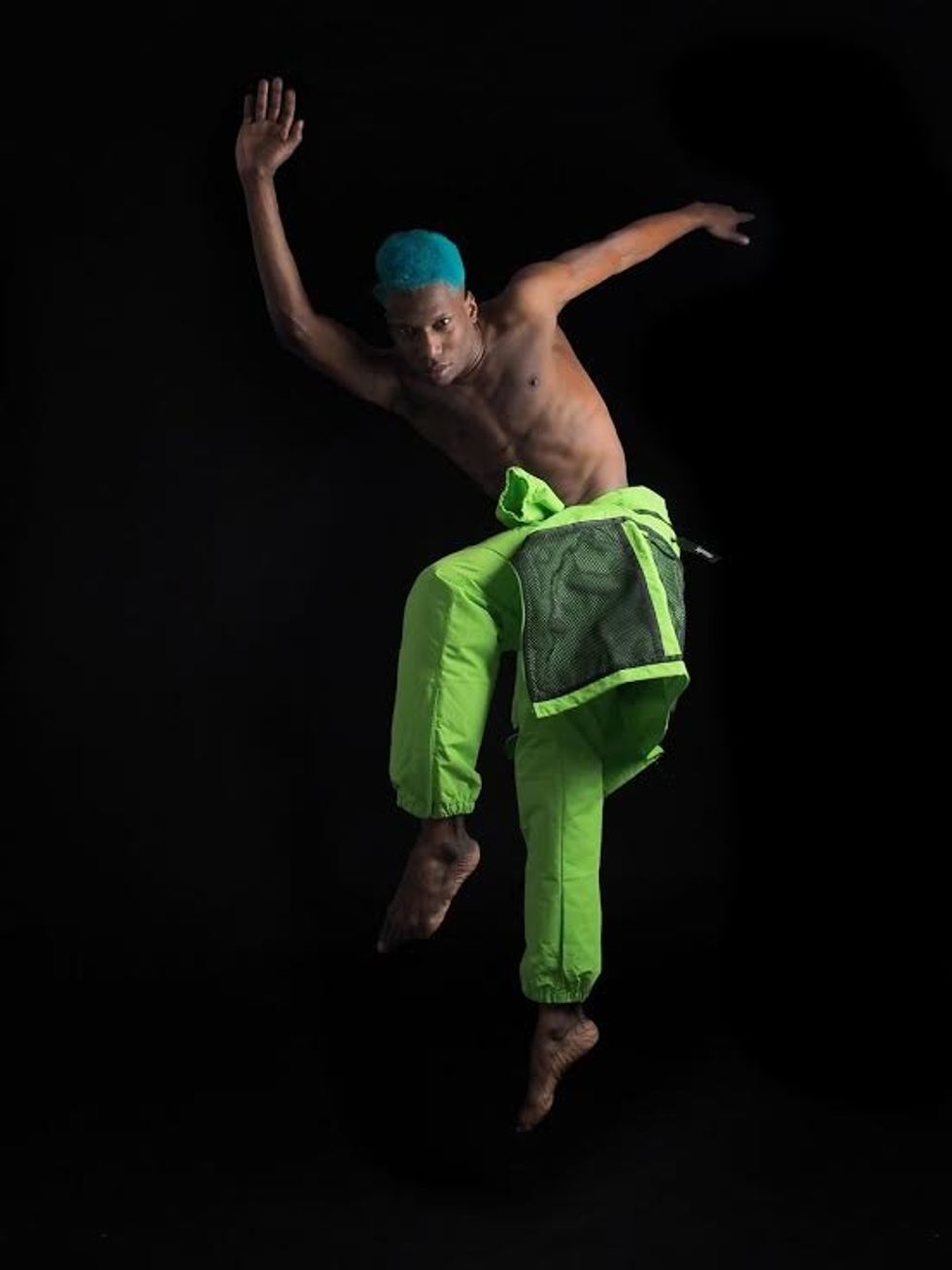 Omar Mizrahi. Photo by Robert Bader.
Harlem Stage presents its signature dance series, E-Moves, featuring works from three contemporary African choreographers in four nights this year. Each night will also feature a pop-up performance by up-and-coming young choreographers. Choreographers Lacina Coulibaly (Burkina Faso), Ousmane Wiles (Senegal) and Nora Chipaumire (Zimbabwe) were commissioned by Harlem Stage to develop new works or reimagine existing pieces from their choreographic canons; wrestling with questions that push the boundaries of what it means to be African in America now.
E-Moves 2018 runs from Wednesday, May 2 through Saturday, May 5. For tickets, check out Harlem Stage's website.
A Ugandan Spring || Triangle Arts Association

Photo courtesy of The Salooni Project.
32° East | Ugandan Arts Trust presents A Ugandan Spring, its first fundraiser at the Triangle Arts Association. In an evening of cocktails, silent auctions and games to fundraise for 32° East's programs, the event is an opportunity for aspiring and seasoned collectors of contemporary African art to view unique perspectives from an underrepresented market.
A Ugandan Spring takes place on Friday, May 4. For tickets and more information, click here.