Niyi Okeowo has carved a unique path for himself. A multidisciplinary creative, he dabbles between photography and graphic design and relative interests like 3D and animation.

As a teenager Niyi equipped himself digitally through the internet, watching tutorial videos and soon took up graphic designing. Having studied Mass Communication at Covenant University, his work has been nothing short of spectacular, given the professional exposure to communications. He knows the different languages people speak and takes the time to interpret them visually.
Niyi Okeowo consistently and impeccably combines popular elements with personal interests like bright colors, music, social and political issues—especially mental health, a largely unacknowledged reality in Nigeria.
In this interview, Niyi Okeowo speaks to OkayAfrica about his decade-long career, music, working as art director on Apollo, the sophomore album of Nigerian Afro Life artist Fireboy DML, and his ideas on creating alternative virtual experiences.
This interview has been edited for clarity and context.
---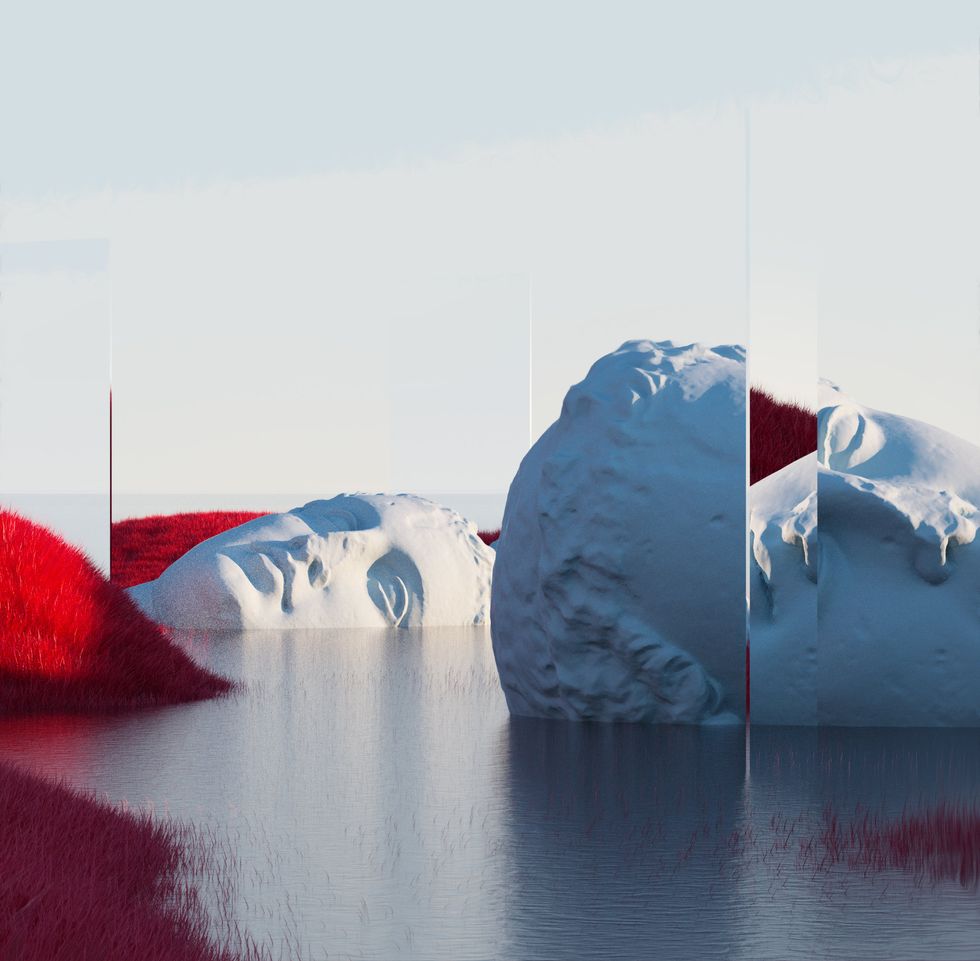 Isolation series.Courtesy of Niyi Okeowo.
Can you introduce yourself?

My name is Niyi Okeowo. I'm a multidisciplinary art director: a photographer, a graphic designer, 3D artist and a bit of a motion artist. I started this professionally in 2014.
Can you explain your interests in the order you explored them?
I started with graphic design. After that I progressed gradually into photography by interning with Obi Somto and some other photographers, just going into their studios and watching them shoot. This happened around 2016 and it wasn't about 2018 before I started 3D design. Recently, I've been into 3D animations and AR (augmented reality).
What is art direction and how relevant is it?
Some would say art direction is curating the visual experience of any project. For instance if you have a music project it would be you making sure that all the elements of that project makes sense visually.
The relevance of art direction is in the experience. Making sure that as much as you're dealing with sub visual elements within a project, it all comes together as one at the end of the day, because it's the final product people are going to see. Also, in terms of music, even as you're done with the album and other things, when they're shooting a music video the font from the album has to carry on. So when people see the video, they'll be like "OK, this one's from this particular project."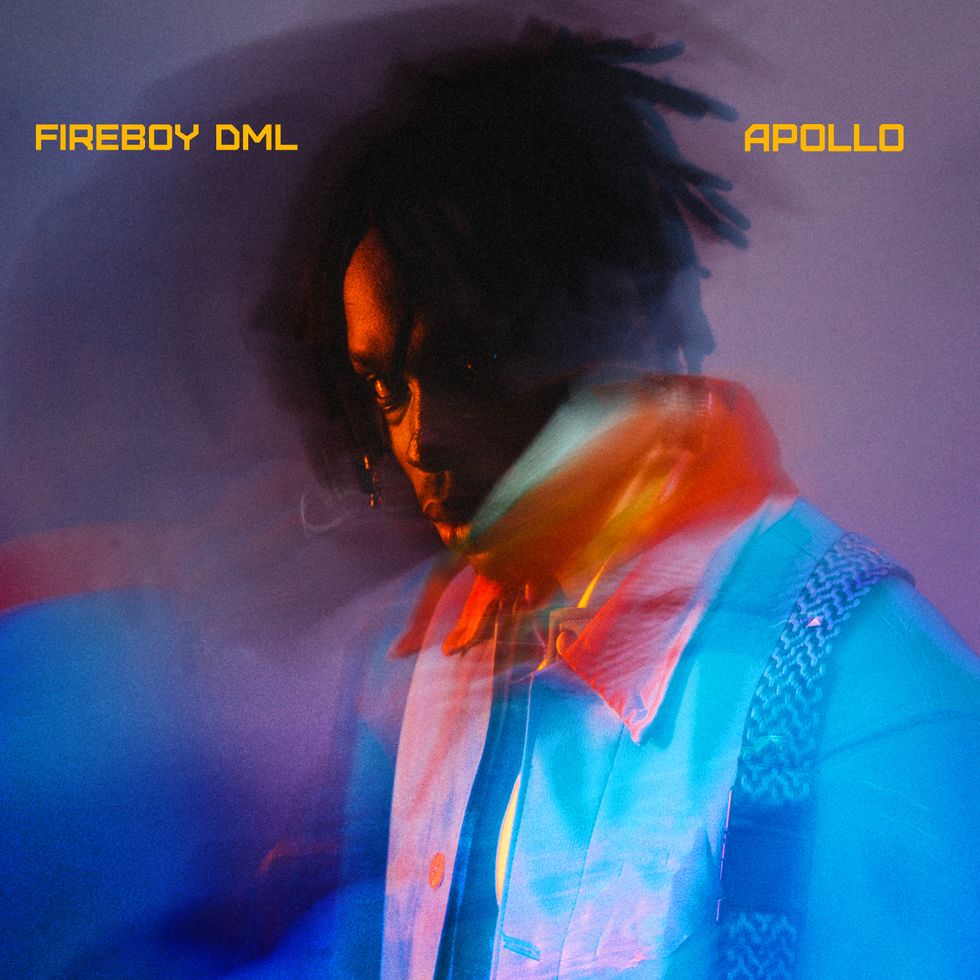 Fireboy DML Apollo cover.
Have you ever listened to a record visually? Like when you hear the song a color pops into your mind.

Yes it happens, especially with romantic songs. It won't be like, visually, but I'll say "OK, I like this song and I think this color might suit this song." I like to construct things. If it's a summer-themed song I'm thinking there's going to be a lot of oranges, blues… 'cause any environment that global warming hasn't really affected; the sun is going to be super bright and the ocean is going to be super blue. So from there I can already depict that this particular image is going to have a mixture of orange and blue.
What can you say about the entertainment industry and its attitude to art direction?
The attitude is very important because, at the end of the day, the creative industry is still booming in Nigeria. I don't believe we've gotten to that point where a lot of people understand that they need to hire art directors but I think they're warming up to it. Just from the projects put out this year, from Burna Boy, Adekunle Gold, Fireboy, Tiwa Savage—people are starting to understand that as much as music creates an experience, you also need a visual story or guide that complements the music. There's this thing that happens to me where I might have not heard a song, but when I see its music video –I might not even like the song–it could prompt me to listen to the song and approach it from a different perspective.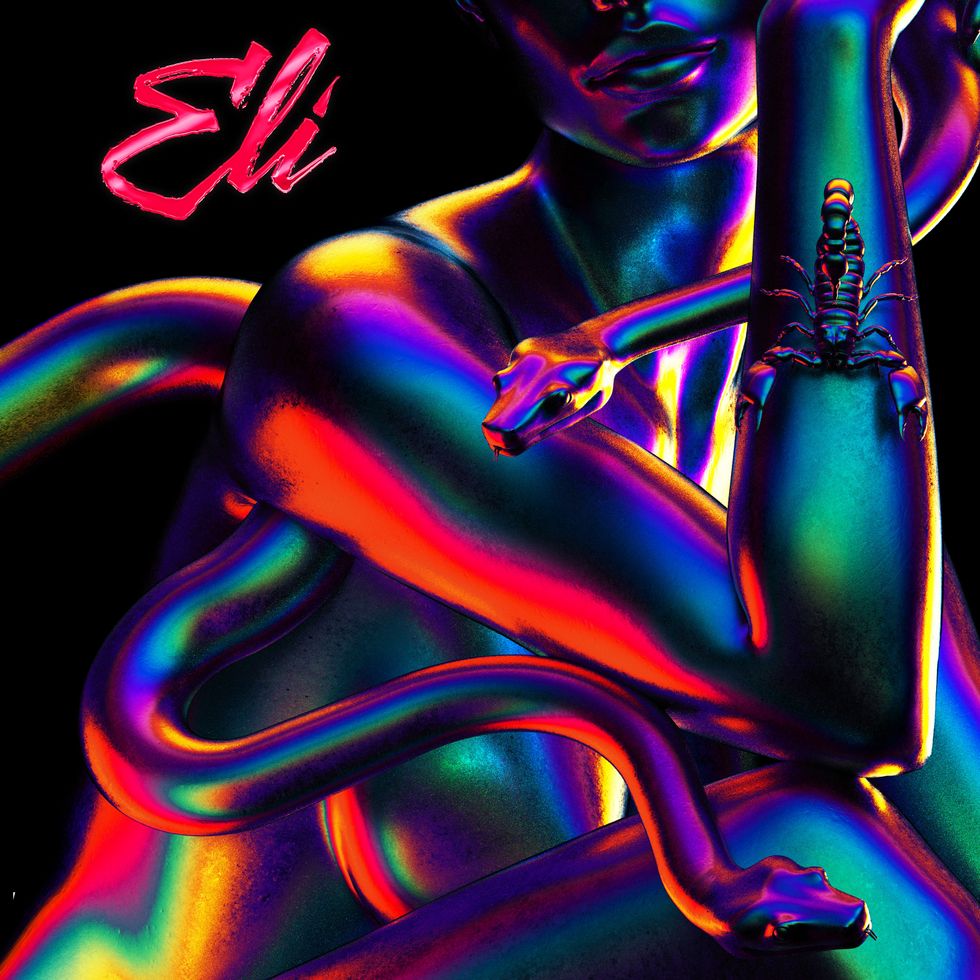 Fireboy DML "ELI" single art.
Can you speak more about your work on Fireboy DML's Apollo?

When I got the job to work with Fireboy, he was very adamant on telling the story that he's no longer the person he used to be last year. He wants to show that he's growing. The name Apollo is inspired by the Greek god who did so many things and he was trying to show his range, 'cause from the first album people kind of put him in a box.
It was important to be colorful and artistic. We put a lot of detail into the covers. We tried to make sure that each cover of the singles we released depicted the songs. So before the song dropped if you'd seen the cover you'd have gotten an idea of what the song was about. We played around a lot of ideas. Like how "ELI" is about a girl who's dangerous for him but he keeps going back to her. That's why the artwork is about a woman and you can see that she's wrapped by a snake and there's that scorpion on her arm to represent danger.
How closely does music intersect with your profession and what kind of songs do you listen to?
I know music a lot so I make sure that whoever I'm working with on their project gets a genuine listen. It might not speak to me (as certain sounds tend to do) but I take my own interpretation and apply to my work.
Also, I love slow music. Stuff like lo-fi pop, Frank Ocean… I'm a big fan of Oritse Femi; there's a way he uses his voice that I really love. I like music that makes me reflect, very calm music. I'm not into music that's all over the place so I might not listen to rock. I like music where I can also learn stuff. I think that's why I liked Burna Boy's African Giant, even the new one. Sometimes artists like Enya do it for me.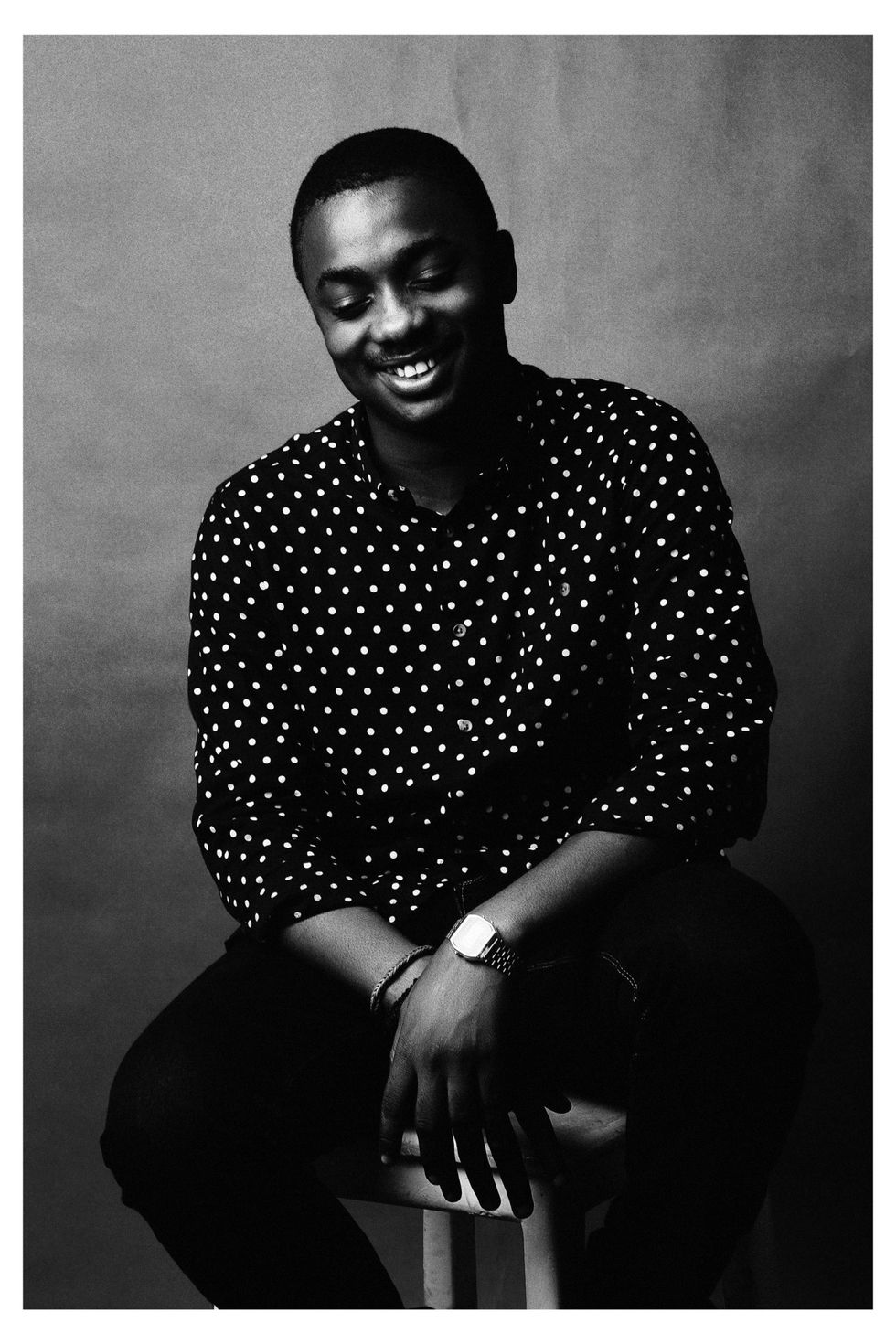 Niyi Okeowo.Photo courtesy of Okeowo.
What ideas do you explore with personal projects?

I draw a lot of inspiration from things around me and things I felt in the past. It might not be directly but I make sure that most of my personal projects have a certain motif. That's why you see some of the characters are in a very empty landscape where it seems like they're reflecting, so when you see those images you feel a certain sense of calm. I just want people to feel.
I'm also interested in social issues like mental health and politics. I try not to dabble too much into political art because I might not know too much about a certain topic. Like the Black Lives Matter movement; I've used my work to protest while recognizing that I also need to educate myself more.
I've also touched on mental health issues like suicide, depression and isolation in my work. I have a whole project titled "Isolation" and it was created because of the COVID-19 pandemic, as we've not been able to go out. I created these dreamscapes that just make you want to visit these places, even if they're not real.
You are currently building Thrill Digital. What's this about?
Thrill Digital is a company I started with my friend Ayodele Erinle. He's a very good UX and product designer. There's a trend after COVID where people started digitizing fashion and experiences and we found that there's not many of us out of Africa doing it. You see a lot of brands try to adjust the digital approach to their campaigns and trying to work around a lot of things. Now you can't really have Fashion Week but digitally, but there's a solution for this. We're basically offering services on creating virtual fashion shows, digitizing garments and stores. Changing the way people shop now that we can't go there physically. We're able to digitize a whole store and create that shopping experience from home if you have a VR headset. We're able to simulate the experience as though you're actually entering the shop and picking up items. We're applying for a lot of things—seeking grants and pitching companies– so right now things are in the background. We however have a big update coming and soon people will know more.
What do you think of social media and its power in 2020?
I think it's good; it's one outlet where people can actually voice their frustrations and excitements. A lot of people are creating communities and engaging themselves. And right now is the best time to promote yourself, 'cause most people are at home and they're paying attention.
On a personal level how have you been doing?
I've actually been very great. Being forced to stay indoors, I had to face all the things I've been running from, improving my skill set and learning a lot. I'm even trying to cop non-digital skills like sculpting and other wood work just for the hell of it.