Ikeno clothing reflects the direct rays of the equator sun. It is slow and sustainable fashion of baggy and washed-out material. Airy cotton and oversized cuts that draw directly on the energy of Lamu Island – home to brand founder Jemima Bornman. It is designed to be worn in tropical heat, as it effortlessly catches the winds that pick up off the Indian Ocean.
In the village of Shela, young Masai men drift by laughing together, donkeys amble alone and ignored, small children walk past and wave under a saturated sky. It is slow-moving to the point of psychedelic – a place you sweat tranquility.
"I like to keep things very simple," Bornman tells OkayAfrica, when asked what her menswear clothing is all about. "My last line of suits were made from the Dhow boat sails that you see sweeping by, look…" she says, pointing out to the island's famous watercraft.
Lamu is one of the main archipelagos off the coast of Kenya, only 60 miles from the Somali border. Home to a Swahili-speaking, majority Muslim population; a place with no cars or trucks. The heavy load of maintaining and building the island achieved to this day off the strong backs of donkeys.
Born in Zambia but transplanted to Lamu after her parents separated, Bornman has lived on the island since she was 3 years old. The community rallied around a single mother and her young daughters. It connects her deeply to the people who, like her, don't leave, who have been around Bornman all her life.
She leans back into the shade. Behind her, fishermen tie ropes after a long night pulling in bass and barracuda. "For Ikeno or myself living anywhere but Lamu makes no sense. It's my home," she says. "Why even leave Kenya, when it has always been such an incredible creative hub of art, fashion, and design? It's a place that contains the magic of ingenuity in every moment for me."
Recycling materials that evoke the spirit of the island is essential to Ikeno, as it taps into its echoes and rhythms. On sourcing fabrics from India for her collections, Bornman says, "There has been an export market from India of Ikat handwoven cloth to East Africa and all the way to Lamu forever." The region's culture is a fusion of art and trade and it would be impossible to not be inspired by the Swahili, Arabic, Persian, and Indian influences of its history. Bornman's eyes light up as she describes the island's carved door frames, intricate and flowering, that have influenced the block printing of geometric patterns on her new shirts.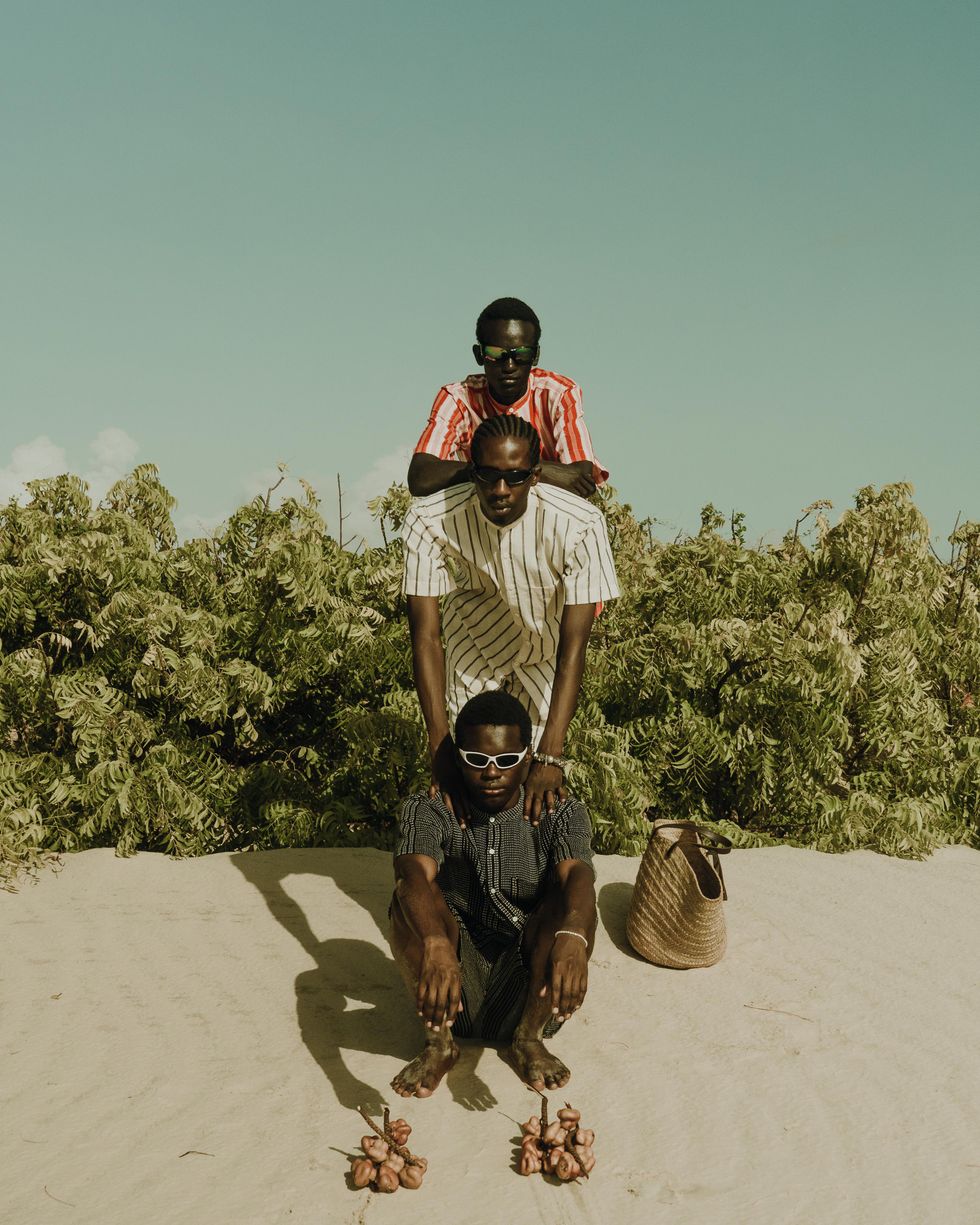 Ikeno collaborated with 199x to produce the editorial campaign for their latest collection, shot on Lamu Island.
Photo: 199x
Bornman has little desire to grow her brand beyond what it currently is. "I probably shouldn't say it but I am happy to keep things small. In fact, I think it's essential," she says. "I work with one tailor, Sanga, who goes back to his home along the coast to Malindi during the rainy season. He is discreet, knowledgeable, and meticulous when it comes to sewing. I just feel so fortunate to have him in my life, and not just for Ikeno." Sanga stitches and tailors all the garments that Ikeno produces. A business between the two of them that functions with Bornman as the least reluctant of the two to be the mouthpiece. Together they are forging something thoughtful and naturally respectful to the environment. A brand that is happy to barely be, happily in the middle of nowhere.
Bornman is also particular about who she works with when it comes to telling the story of Ikeno, collaborating with contemporary visual art collective 199x to produce the editorial for the brand's latest collection. Founded by art director Michael Mwangi Maina and photographer Fred Odede, 199x has gone from friends doing their thing to being an agency in high demand.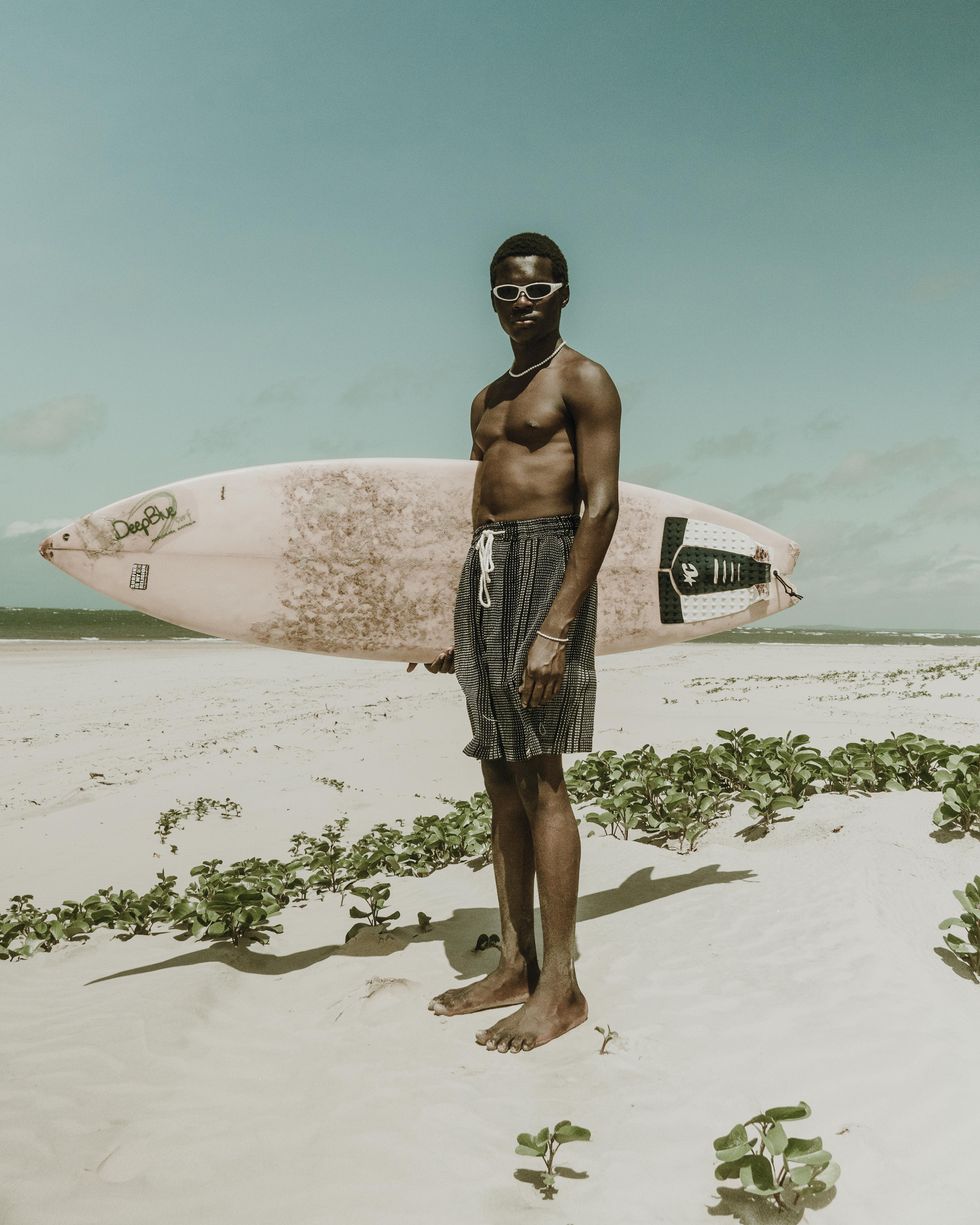 "For Ikeno or myself living anywhere but Lamu makes no sense. It's my home," says Ikeno founder Jemima Bornman.
Photo: 199x
"With any client that we work with, they understand that we need to take charge of the creative aspects," Maina says. "We know how to finesse." Ideas flowed back and forth with Bornman in preparation for their arrival on Lamu; photos of choice locations were examined, but where Odede had visited the island before, nothing could have prepared Maina for it. "I can't even put it into words," he says. "The sea was too much for me. The immediate ambiance of the place, the colors of the sky, and the mangroves. It was what we expected but almost too much."
They spent seven days shooting, along with three other members of their collective selected to model. The workdays were long but the evenings felt like a celebration; the whole experience becoming an adventure as everything fell into place. As Odede explains, "Being able to work and have fun – it felt like everything an artist needs. Slow fashion is so important to us but our intention was to also show everyone that Kenya was here. We wanted that to resonate with the locals and to the world."
When asked about their agency developing globally, Maina leans back and smiles. "Our work is culture-based as much as it's fashion-based," he says. "We know we can never run out of ideas here and we are, in fact, the pioneers of full campaign editorial work in East Africa." Odede nods thoughtfully, adding, "Africa holds the vision right now and we have taken up the mantle." From Lamu Island to the world.