In her new documentary, Made In Africa, designer and creative director Sarah Diouf, shares an intimate look into the journey of her celebrated Senegalese fashion label Tongoro.
Since its launch four years ago, Tongoro has graced runways across major cities, and been sported by international stars, the likes of Burna Boy, Iman and Beyoncé.Diouf is quick to note, however, that its success isn't merely tied to her own personal achievement—her dream is to help transform Africa's design clothing industry as a whole, and there's still much work to be done on that front.
The 30-minute documentary includes footage of Tongoro's design and production process in Dakar and provides valuable insight for aspiring designers. Diouf, who also narrates the film, champions community involvement and local craftsmanship across the continent. She makes a case for respecting tradition and acknowledging the contributions to African-made clothing to the global fashion landscape.
The documentary marks the brand's fourth anniversary, which coincides with Africa Day on May 25. Watch Made In Africa in full below, and read our conversation with the designer underneath, in which she discusses the growth of her brand, the importance of supporting locally-made clothes, and her dream for the future of African fashion.
---
What did you learn or discover about African clothing through the process of making this documentary?

Most of my learnings on African clothing and style, happened prior to doing this documentary. I am constantly researching traditional techniques, fabrics, prints and their meanings because it's where I find my inspiration to create. I recently got this beautiful book called African Textiles Today which explains how African history can be read, told and recorded through cloth. It refers to our use of batik fabric to commemorate an event, a person or a political cause, and it's something that is uniquely African. These kind of stories rapidly spark my interest, as I always want to know why and how a 'trend' started so that I can eventually find a way to integrate that in my work.
When you look back at Tongoro's growth within the last four years, how does it make you feel?
Very proud, but not satisfied, in the sense that I still have a long way to go. I want this company to be able to stand the test of time and be here 10, 20, 30 years from now. I am proud, but there is still a lot of work to put in, so I can't sleep on what is done.
What have been some of the highlights for you? Did you ever think that in such a short time, you'd have someone like Beyoncé wearing your designs?
Some of the highlights definitely include moving back to Senegal to seriously focus on this venture, my very first show in Cape Town because it was a pivotal moment, and dressing Beyoncé of course. But most importantly the day it hit me that I had other people depending on me—on this activity. It's one of those moments where you realize that what you're doing is bigger than yourself.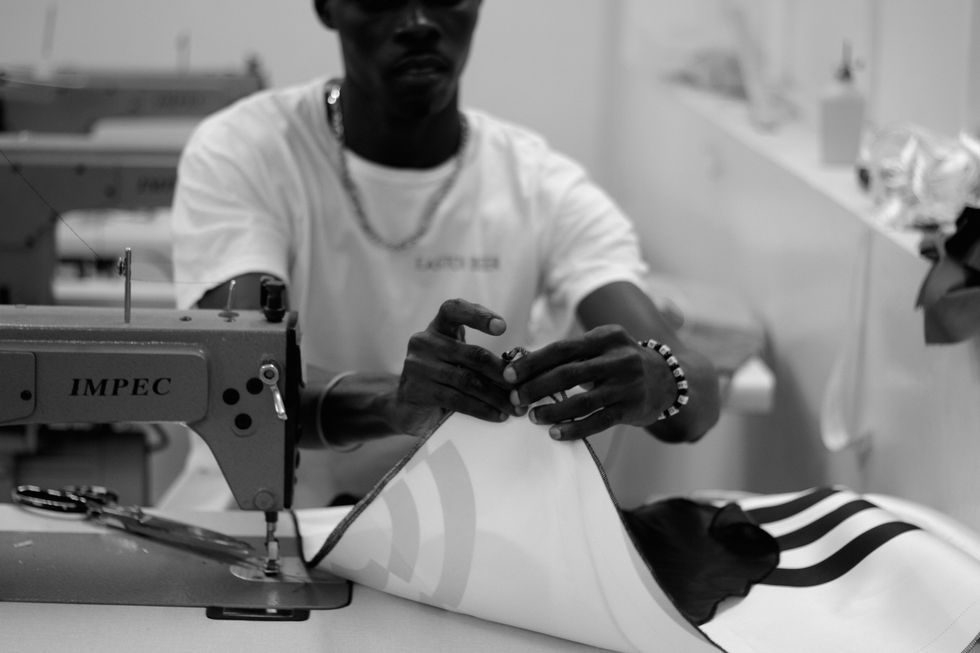 Image courtesy of Sarah Diouf.
As a designer, why is it so important for you to preserve the rich tradition of Senegalese design and craftsmanship?
I think craftsmanship is part of our culture, and preserving that is conserving and telling a part of our history. From artifacts to garments, there is a real know-how where skills are involved, and those are often passed down from fathers to sons, elders to "youngers," and the reason is for traditions to live on. This is why it's important to me. Traditions are one of the compasses of our identity.
What do you think Africans in the diaspora can do to support clothes "Made In Africa" on a larger scale?
Sharing information is one of the best acts of support, especially with all the digital platforms we're all connected on. It doesn't cost anything and we never who we'll be able to reach and touch when we share. Then buying of course, for whoever can afford to. The bigger the movement to collectively share the stories and work of our creatives, the bigger the reward for all of us.
Image courtesy of Sarah Diouf.
What do you hope upcoming African designers will learn from seeing your journey in this documentary?

I wanted to tell the story of Tongoro because I believe it is important to reclaim power over the narrative about what's really happening on the continent. African fashion is not an industry yet—but an ecosystem—where there are very few designers with a global reach, presence, and performance. I do not have the keys nor all the answers, but the message I want to convey is one of hard and smart work, structure and consistency. That nothing happens over time and without effort, that creative endeavors need a business frame to thrive, and that we're all running a marathon here, not a sprint.
What's your dream for the future of the African clothing industry?
To become an industry built on better values. We need to create a tailored frame for our own—an African solution to garment manufacturing.
Image courtesy of Sarah Diouf.