In 2019, the government of Ghana made a global splash with its Year of Return initiative – the campaign sought to encourage the African diaspora to return home to the continent, specifically to Ghana.
Linked to the 400th year commemoration of the first recorded landing of slaves in the United States, it became a launchpad for the Ghanaian government to convince Black people around the world to permanently settle in the West African country.
Aisha Asamany , a corporate management consultant for high-profile UK financial institutions turned self-taught luxury jewelry designer was one of many who heeded the call, trading in the corporate life for a spiritual and an entrepreneurial journey – one of joy, appreciation, and representation in her fatherland.
---
"England can be really isolating so I think making the decision to have kids was a big driver for moving to Ghana. We have lots of families here. We have amazing support and we really wanted that sense of community and for our kids to grow up in the culture that we know," Asamany told OkayAfrica .
Since her relocation to Ghana, Asamany's luxury jewelry brand, SAHMANI , has expanded upon its tradition of telling authentic Ghanaian stories with bespoke pieces. Originally named Lonam , the brand made its debut at the 2016 Africa Fashion Week London, whilst Asamany was working for Barclays Bank. A 2018 collaboration with Fairtrade chocolate producer Divine, to celebrate women's empowerment, kick-started the reinvention of the brand. A year later, its name was officially changed to SAHMANI (loosely derived from her family surname) – a change that coincided with Asamany and her family's relocation to Ghana.
Asamany was born to a Ghanaian businessman father and a British Caribbean lecturer mother who instilled a "dream big" spirit in her. With that kind of motivation, a young Asamany started crafting demi-fine rings and pendants with a contemporary take on Adinkra symbols that represented her cultural identity. In her former life, she worked her way up from a personal assistant to a management consultant for HSBC, Barclays, private wealth asset manager Northern Trust and other big-name financial institutions.

In an interview with
OkayAfrica
, Asamany talked about deciding to relocate to Ghana, using her fashion accessories to tell the story of Ghana, and her passion for empowering women.
Responses have been edited for length and clarity.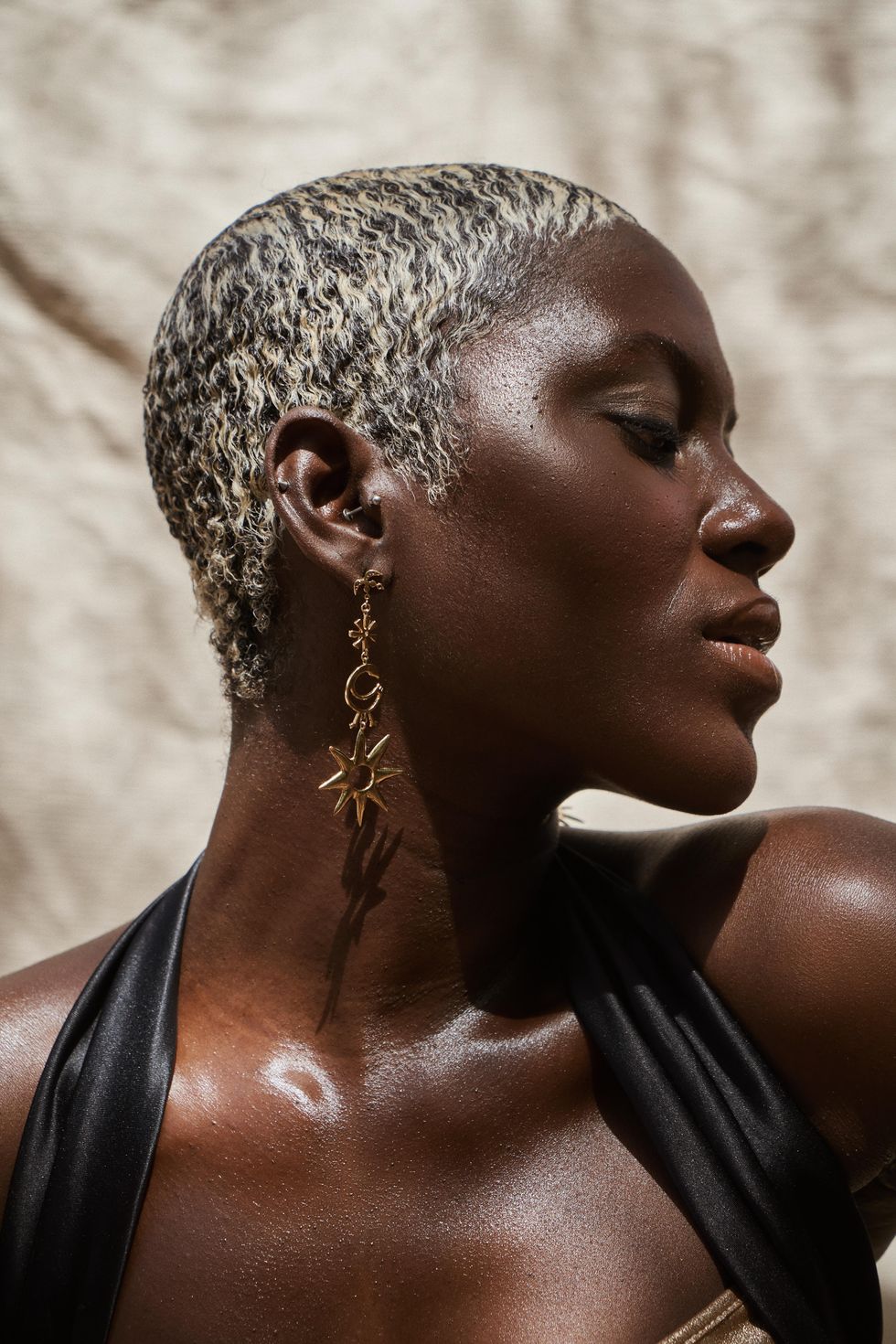 Aisha Asamany's luxury jewelry brand is steeped in the tradition of telling authentic Ghanaian stories with bespoke pieces. Photo: Aisha Asamany
It's been about two years since you relocated to Ghana from London. Can you share your experiences so far? Are you happy you made the decision?
Yeah, just about. I think it's been interesting because the Coronavirus hit so the whole 2020 was just a bit crazy, but, yeah, officially it's been about 2 years. I am really really happy. I think that Ghana is amazing, obviously. I'm half Ghanaian so it's very much coming home to me. I come to Ghana every year, twice a year, three times a year, sometimes just for a weekend. I know it sounds crazy but I really love Ghana. Visiting is so different from living here, and I'm not going to lie to you and tell you every day is like 'oh yes, I love It'. No. I have had a lot of days where I'm like 'Oh my gosh, what have I done? Who sent me? This is crazy.' " I am living my best life right now so I am happy.
Is there something you learnt about permanently living in Ghana that you didn't know about before relocating from the UK?
There are lots. I think one of my biggest challenges, I would say, moving here, was that I have my perceptions of how I wanted to live my life and how Ghana was going to fit around me. Maybe it's almost a bit of arrogance, like, 'well, Ghana is my home, and this is how I live in England so I'm just going to copy and paste my life from England over to Ghana.' And it just doesn't work that way. It's such a different system. Everything works differently, and for me sometimes it can feel like things are broken but they are not broken, they're just different.
So for me, it was about learning a whole new way of doing things and relaxing a bit because everything is not as fast-paced as I was used to, which, I was aware of a little bit coming on holidays, but you know when you have to open bank accounts and then you have to get a driver's license and all of these things. There are other parts of the system and other ways in which things work that if you're not here and you don't understand it or don't have someone to guide you through it, you'll just have no idea, so there are countless things.
Can you speak about what it means to you to be living in the country that inspires the pieces you work on for your luxury Jewellery brand, SAHMANI?
It's incredible. Just being in Ghana is so full of life and colour, everything is musical, like dance and poetry and arts. I know not everyone feels like that but for me, I take so much inspiration from my surroundings. Obviously, moving from England just the sunshine and the beautiful weather helps as well. We have beautiful nature, we have beautiful language, we have beautiful food and so much.
And then on top of that, I started the whole brand with Adinkra symbols and I still do Adinkra symbols. Just learning the history and that each symbol has a name, meaning and history. You can take a simple meaning and create a whole story and different people connect to those stories and those meanings that are inspirational in such different ways. For me, I'm so blessed to really be here. I'm reminded every day.
We used 'Gye Nyame' for example, I know it's not officially the king of Adinkra symbols but I think it's the most recognized. It's in logos. It's on packaging. It's everywhere. It's such a sense of pride that we have something that's Ghanaian from history brought from the Golden Stool, if you want to go back to the origin story. We use it every day and everybody uses it every day in their day-to-day lives. It's amazing for me. I think it's so beautiful and I think I'm so lucky to have so much inspiration around me. And to have so much rich history to take into my pieces, and to help inspire other people as well.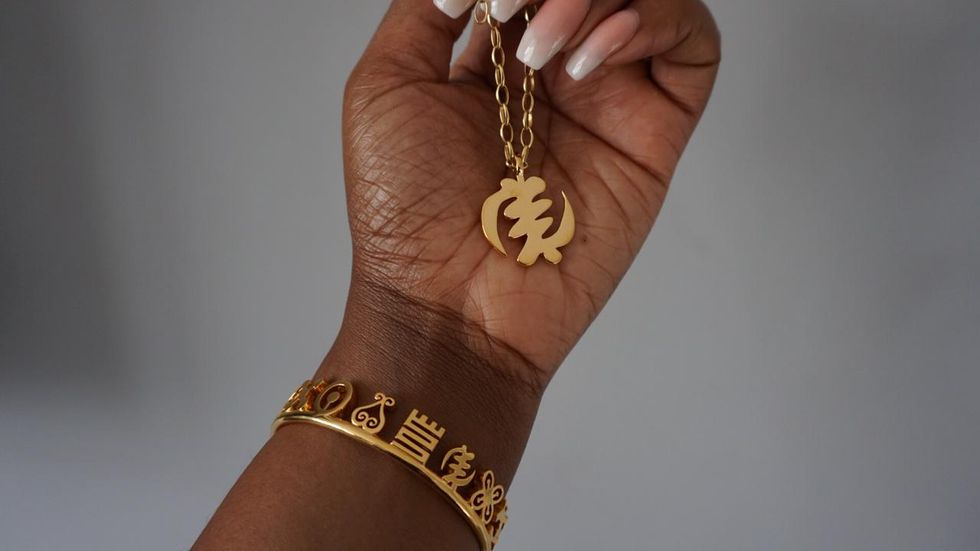 Aisha Asamany started her brand with Adinkra symbols. Photo: Aisha Asamany
Can you share how you use SAHMANI to tell the stories of Ghana?
Everything is about the beauty and the richness, the culture. From the models I choose, from the Adinkra symbols to how everything is photographed, and how I name the pieces. A lot of what I do is speak to people one-on-one. I like to try and educate people about the symbols, about the history, and by default, about Ghana. I am always so proud that these are our symbols. Even if you're not Ghanaian, if you've never heard of Adinkra symbols before, or never been to Africa or anything before, hopefully, through my pieces, you get a little bit of spice and a little bit of understanding about Ghana, our culture and how we do things.
Speaking of representation, can you talk about why women empowerment is important to you and how you are using your platform to do that?
Women empowerment is necessary because it's just the right thing to do. We are mothers. We are sisters. We nurture, we build, we work. It's important. We deserve to have a voice. It's crazy on one hand that it's even a conversation at all that needs to be had. It should be by default that we have a seat at the table. Everything starts at home. Everything starts with the mother. None of us exists without the maternal female figure. In terms of me, hopefully, I am able to tell my story. I am married, have a little boy, I am running a business and I'm doing my thing as a woman and as a business owner in my own right. And you can be that maternal figure and be a business owner at the same time. We bring a whole different perspective to all kinds of areas of the world, and so it's important and we deserve a seat at the table.
You worked for some of the biggest financial institutions in the world as a management consultant. Can you talk about the transition from the corporate world to being an entrepreneur and how those experiences help on your current journey?
Yeah, again going back to women empowerment for a second, I worked in a very male-dominated industry. So banking and financing is traditionally a very masculine role and so that had its own challenges but regardless, I chose nothing but greatness from it. I learned so much. The corporate space works very differently from the fashion and jewelry space, of course, but the principles, the learning and the skills are the same. If I need to go and make a presentation to a board of directors about this budget, it's not that different from me having to speak to customers and explain stuff to them. In schools, you learn about how to speak to people and how to adjust your style according to different people. It's the same as going to present in a bank in different forums, as speaking to different clients.
I think it was so valuable for me to go through these experiences. Things I have learned about project management, time management, finance, budgeting and being able to work under pressure. All of these skills are super important especially when you run your own business. And when you're starting out, you have to be all of these people. You have to be the head of HR, you have to be a customer service representative, you have to be the accountant, and I also have to do the creative.
So learning how to balance different priorities is exactly the same skill in the corporate world as it is in the entrepreneurial world. To me, the transition was easy and it's always amazing when you're doing something that you love and you have those set of skills. I'm not saying I can do everything perfectly. And that is part of project management as well. Knowing that these are my skills and where I need help and where I am lacking, I hire people or take advice or consult with people who know better than me. And again that's cross-over skills for both and, so to me, the transition was super easy and really rewarding.