As we draw even closer to Disney's The Lion King opening in theaters this week, Beyoncé continues to lead the way with her new music video for "Spirit"—the first single off of the film's album she produced and curated, The Lion King: The Gift.
Shot in the Havasu Falls in Arizona's Grand Canyon, Beyoncé and her legion of beautiful dancers are one with nature and its various elements as she beckons us to be brave and hear the calling of spirit. As we noted when she announced the album, the track opens with a call and response in Swahili that translates to "Long live the king": Uishi kwa mda mrefu mfalme—uishi kwa.
Keeping our eyes peeled for African influences in the music video, it's evident that is seen in the choreography. We even spotted our extended fam with the afrobeats moves—the AVO Boys: Stephen Ojo and Caleb Bonney—as two of her dancers in the video.

Beyoncé continues to also give a nod to African talent through the looks she donned in "Spirit" styled by her mainstay, Zerina Akers.
Take a look at the two African designers she wore in the video below.
---
TONGORO
Image courtesy of TONGORO.
This is not the first time Queen Bey has worn items from Senegal's own TONGORO. She was spotted last summer wearing the brand while on family vacation in South Africa and since rocked looks from the posh brand four times in the span of 6 months, according to the brand's statement.
In "Spirit," we see her wear a custom bustier suit and durag from the brand's SS19 collection, named Tribe. The look was paired with TONGORO's new jewelery pieces—the CAIRO face piece and T earrings—which can also be seen on the dancers.
Image courtesy of TONGORO.
LA FALAISE DION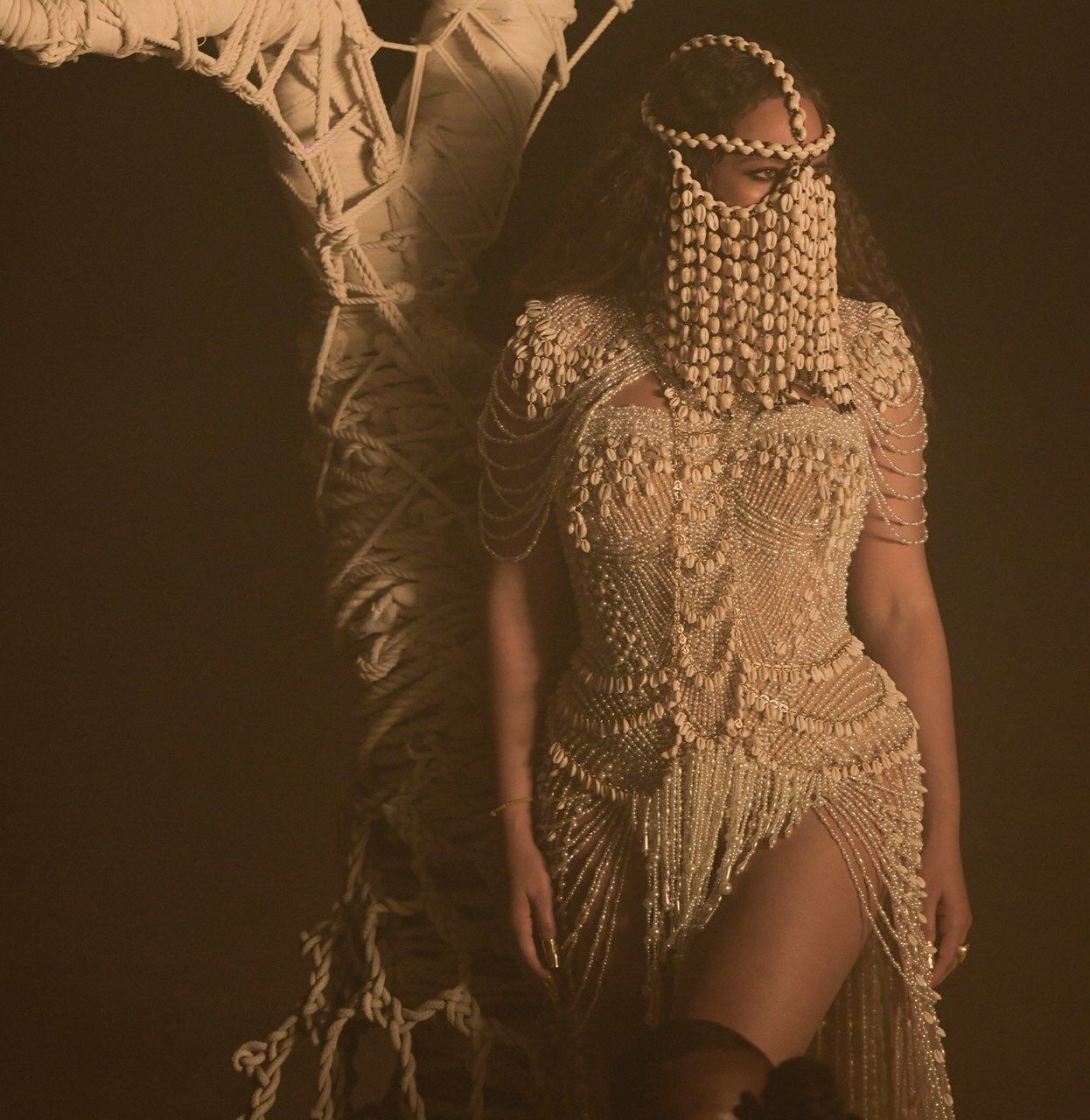 Image via La Falaise Dion's Twitter page.
"My dream come true today," designer La Falaise Dionexclaims on Twitter. She then notes that Beyoncé is wearing her LAGBADJA headpiece in the music video.

Meaning "the unknown man" in Yoruba, the face of a lagbadja is usually hidden under a mask, like the famed Nigerian musician with the same name.
We recently named La Falaise Dion one of the top ethical and sustainable African fashion brands you need to know. The Ivorian designer repurposes cowry shells for intricate headpieces and masks that give an air of power and mystery.