At the beginning of August, Blaq Diamondwalked away with one of the biggest trophies at this year's South African Music Awards (SAMAs)—the public-voted Record of the Year for their hit "Ibhanoyi". Not many saw it coming (except, of course, for the nine million-plus people who watched the song's video on YouTube).
Two weeks before the award show, Ndumiso "Ndu" Mdletshe and Sphelele "Danya" Dunywa, both 25, are at the Ambitiouz Entertainment headquarters in Midrand. They are filming a clip of themselves urging fans to vote for "Ibhanoyi" before sitting down for an interview.
After just three years of signing to Ambitiouz Entertainment, Blaq Diamond have become the flagship artists for the influential and controversial label. "We already knew we were going to be in this position because we didn't just get to the top by just relaxing," says Danya reflecting on their early days at the label. "We work each and every day. We make sure we stay on our toes."
---
It's been an eventful year for Blaq Diamond, who currently have two of the biggest songs in South Africa at the moment. On label mate Miss Pru DJ's "Price to Pay," they appear alongside another label mate Malome Vector for a showcase of flamboyant raps and personality. They also appear on the latter's breakout hit "Dumela" and Miss Pru's latest single "uHulumeni."

Blaq Diamond's hip-hop roots
What's refreshing about those two songs is that the duo, who are otherwise known for their Afro-pop tunes, showcase their rapping skills. Melodies play a huge role in their raps making both singles widely accessible and not a shocker to their core fans.
"I guess people don't know we started out as rappers," Ndu says. "That's how we met each other; through a rap battle." He explains that they opted to take the Afro-pop route because they felt the genre would fit the everyday South African stories they wanted to tell. "More than anything, we just wanted to portray things that are happening in South Africa," he says.
Miss Pru Dj - Price To Pay Ft Blaq Diamond & Malome Vector ( Official Music Video)www.youtube.com
"Hip-hop to us… when we take a break, we just play around with hip-hop," says Ndu. "We don't have a set of rules to follow when it comes to creating a hip-hop record. To us, we just go with energy and just play around. So just know whenever we're releasing hip-hop, we were just messing around."

In their albums, 2017's Inqola and 2020's Umuthi, the duo tell stories of love, triumph, disappointment, heartbreak, gratitude and all kinds of relatable content. The music, though experimental at times, doesn't overwhelm the listener with overly dramatic production and bravado in the lyrics a la trap. According to them, they aim to heal their listeners hence the title of the current album. The word "umuthi" means "medicine" in their home language IsiZulu.
"Hip-hop, in terms of the beats, it's different, but we're still original to our sound. So to us, it's an easy thing to be quite honest," continues Ndu. Even when rapping, Blaq Diamond maintain their customary isicathamiya drawl and maskandi tone which comes naturally.
"I think it's how we grew up and the music we were listening to while growing up—we listened to Ladysmith Black Mambazo," says Danya. "Of course your Brenda Fassies and your Zolas. Those different sounds influenced the sound we're doing right now, which is called mbube (lion). So, that sound was started by Solomon Popoli Linda. He was the guy that was doing that sound even before Ladysmith Black Mambazo."
Malome Vector - Dumelang Ft Blaq Diamond (Official Music Video)www.youtube.com
Starting Umuthi Records

In the spirit of passing it on, Blaq Diamond recently signed the first artist Sibahle to their newly launched label Umuthi Records. "Right now," says Danya, "we have a platform and everybody is watching us and what we're doing. So we're just trying by all means to make the platform benefit not only us, but also the people we feel deserve the spot." Sibahle recently released a video for "Emlanjeni," her first single under Umuthi Records.
Lending a hand to an up-and-coming artist makes a lot of sense for a duo that was helped by a fellow artist as up-and-comers. In 2017, when the childhood friends made the decision to leave their small hometown of Ladysmith and move to the City of Gold for better opportunities, their music found itself on the hands of Sjava.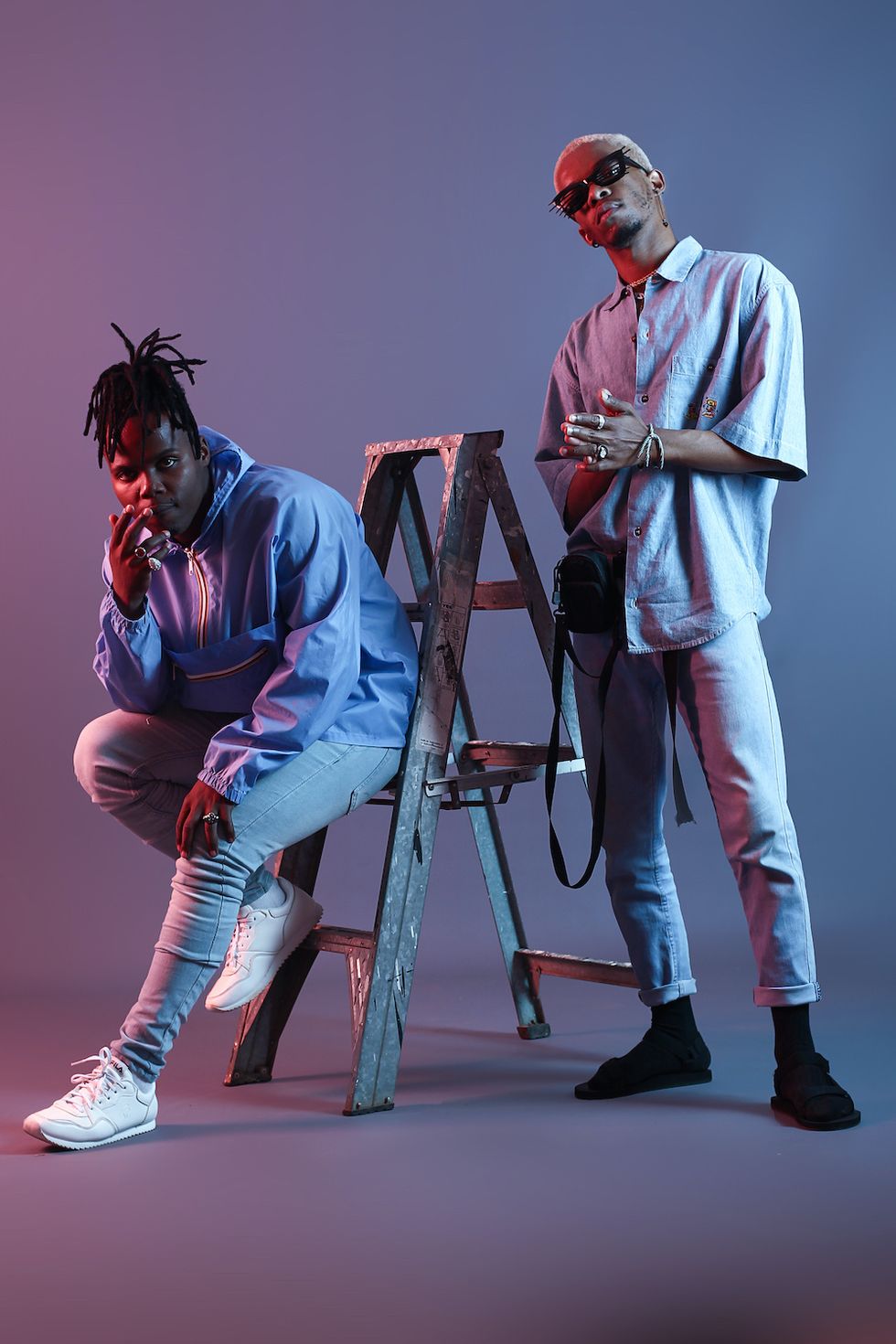 Blaq Diamond has become the flagship artists for Ambitiouz Entertainment. Image courtesy of artists.
The popular artist, who was signed to Ambitiouz Entertainment at the time until recently, shared the duo's songs with the label. The label invited them over. "We came here, sat down and they asked us, 'What do you want?' That's the dopest question," says Ndu.

At the time, Ambitiouz Entertainment had started shedding some members of its roster with allegations of ill treatment to artists. Asked if they didn't have any doubts signing amid the controversy, they reveal the decision was bigger than them as individuals. "Where we come from, people are really struggling. So, those are the people that we're thinking about the most. We feel like we need to represent our people. It's crazy because we hang with people that don't even do music. They advise us about different things."
It's written all over their smiles that they are happy with the label. "Ambitiouz has just been so good to us. We haven't seen anything [suspicious]," says Ndu.
With no shows to keep them on the road due to the lockdown, when not promoting their current hits and connecting with fans on social media, Blaq Diamond are holed up in the studio working on new music. "We have so many albums prepared already," says Ndu and, after, adding they could release another album before the year ends. A Blaq Diamond concert after the lockdown is also an idea they are currently flirting with.
Stream Blaq Diamond's latest album Umuthi on Apple Music and Spotify.