A group of Cape Town residents, many of whom lost their jobs due to the impact of the Covid-19 pandemic, have built a new informal settlement now known as Covid. Despite a government ban on evictions while the country is in lockdown, many residents of Cape Town's townships are not seeing the protections promised and are finding themselves harassed by landlords out of their homes in the midst of the crisis.
---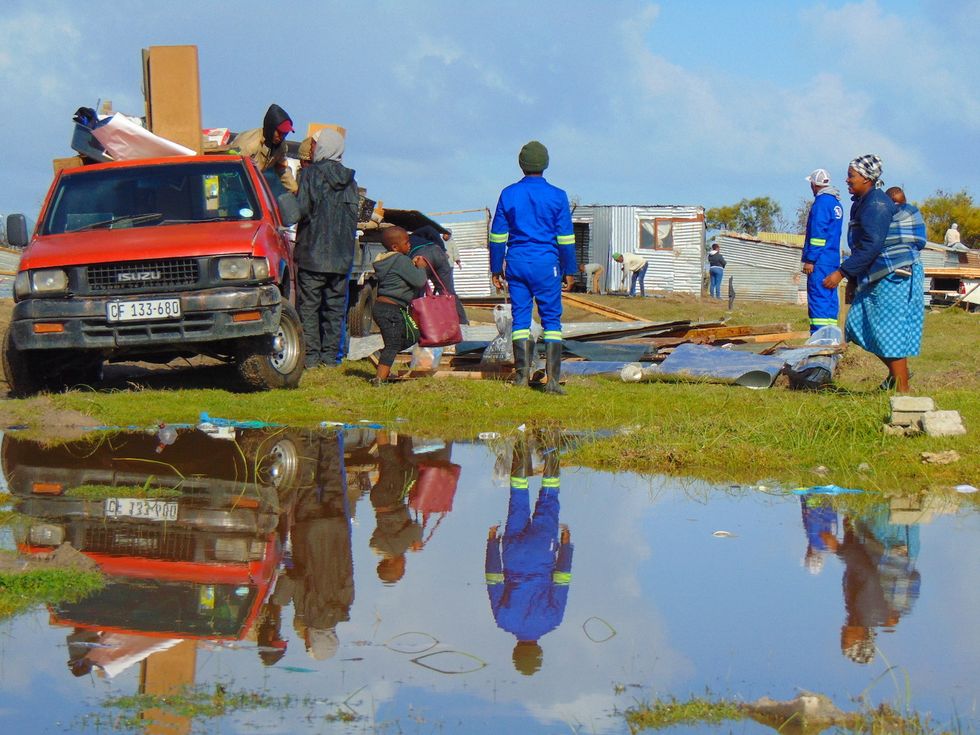 People offloading their belongings at Covid settlement. It's speculated that people come from as far as Khayelitsha to take advantage of the opportunity of getting a stand so they can get away without paying rent.Photo by Masixole Feni.
Gcobisa*, a mother of two, has been working for the retail giant Shoprite for eighteen months. "Shoprite cut my work hours short, so I now work part-time," she says in an interview with OkayAfrica. As a result, she is unable to pay her rent, so she moved to the newly formed settlement.

A week after the settlement in the location began, The City of Cape Town came and demolished some shacks that were built on land earmarked for a nature reserve near the settlement. The matter is currently in court.
A man and a woman on a freezing morning move planks and a sail sheet to rebuild their shack at the Covid settlement. A lot of people lost their jobs, and the president asked the landlords to bear with the lockdown until it has been eased, but the backyarders can't take the pinch of getting harassed Photo by Masixole Feni.
Cape Town-based photographer Masixole Feni, who, for years, has been documenting the plights faced by black people in the city's townships, documented the migration of residents from the township Mfuleni to Covid as it took place.

"I felt the need to highlight the people's need for proper housing, and it's a continuation of the work I've been doing of highlighting the struggles of black people in Cape Town," says the 2015 recipient of the esteemed Ernest Cole Photographic Award.
In an unbearably cold morning, a mother carries a paraffin heater on her head and her baby on her back. She has already built her house and is moving her belongings.Photo by Masixole Feni.
Cape Town being the city where colonialism has its roots in South Africa has been unkind to black people for centuries. To this day, almost 30 years after the abolishment of apartheid, black people across South Africa still live in townships built by the apartheid government and have to live without basic services. The ruling party, ANC, which took over in 1994 after the country's first democratic elections, has failed dismally at reforming South Africa from the inequality created by apartheid on basis of race.
A man carries corrugated iron sheets to build his shack, while a woman does her laundry. They both started living on the settlement since its inception on the 9th of July.Photo by Masixole Feni.
Black people who still struggle financially due to the legacy of apartheid and racism overall, are always moving from one place to another settling illegally on land that usually belongs to municipalities (in this case, the City of Cape Town).

So, some residents of Covid were struggling to make ends meet even before the pandemic hit. Vuyo*, who moved into Covid in the last three weeks and is originally from Johannesburg, has been jobless since he got retrenched in 2015. He moved to Cape Town in 2019 and has been job-hunting (unsuccessfully) ever since.
Two men offloading their building material at the newly erected settlement.Photo by Masixole Feni.
"There's no water and sanitation services in Covid settlement, no municipal action," says Vuyo in an interview with OkayAfrica before adding that Covid is a self-run community.

A majority of the residents we interviewed had applied for the government's Covid-19 relief grants, but most of their applications were unsuccessful.
*Not their real names.
A man clears the rubble where he wishes to build his shack. The ground is muddy and piled with dirt, but he is determined to clear it all and live on the spot which is situated at the entrance of the Covid settlement.Photo by Masixole Feni.
A woman with her baby on her back clears the land in front of her house while her husband is out at work.Photo by Masixole Feni.
Two people helping to move a mattress into their new home. Most have resorted to building their homes from the tip of the dune since they're trying to keep out of the underlying flooded area.Photo by Masixole Feni.
A couple is captured rebuilding their house. Unfortunately, by the time they arrived, all the good land had been already occupied. They had to build their house next to the pool of water.Photo by Masixole Feni.