The LGBT+ community in the West African country of Ghana is a fast growing group, but they are also highly marginalized. In recent times, the nation's LGBT+ population has faced increased backlash from members of Ghana's society who are opposed to the rights of the community. Many members of the community are forced to live secret or suppressed lives, as those who are open about their sexuality face discrimination and oppression in various forms and degrees, as a result of living in a society that lacks progressiveness and regard for basic human rights for all individuals regardless of sexual orientation.

At the moment both the backlash and the advocacy for the cause is currently at a climax, sparked by recent events concerning Ghana's LGBT+ support group and the public opposition against it by Ghana's society and the nation's government. Ghana's official LGBT+ support group, called LGBT+ Rights Ghana, established their headquarters in Accra on January 31, 2021. The office was intended to be a safe space and avenue of support for all LGBT+ Ghanaians. On February 24, 2021. the office was shut down by members of Ghana's national security force together with the police, on orders issued by Ghanaian President Nana Akufo-Addo, after the center became the subject of a furious public backlash.
---
Now, LGBT+ Ghanaians and those who support them are pushing back, fighting for the rights and equality of the marginalized group. From speaking up on social media to initiating various support initiatives, the LGBT+ community and their allies are kicking against the government, the press, and the religious sector, who have all publicly expressed or even enforced their stance against the LGBTQ+ community.

Following the closure of their office, LGBT+ Rights Ghana started a GoFundMe called the Community Support Fund, an initiative designed to support and empower members of the LGBT+ community in Ghana who are financially constrained. Over $28,000 has been raised so far from over 700 individuals who donated varying amounts, adding words of support and encouragement to their donations.
A Ghanaian feminist group called Silent Majority released a statement condemning the actions of the media, religious groups, and political figures opposing the LGBT+ community and declaring support for LGBT+ Rights Ghana and all queer and trans Ghanaians. Over 1,200 Ghanaians in Ghana and the diaspora have signed the statement on Silent Majority's website in solidarity at the time of writing.
Several celebrities and other individuals of influence in Ghanaian society have rallied together to support the cause, issuing either statements of support or commentary on the issue, or both. Ghanaian footballer Michael Essien is the latest to declare support for the group, joining the likes of contemporary highlife musicianKwabena Kwabena, pop artist Sister Deborah, actress and film producer Juliet Ibrahim, musician and film director Wanlov, jazz musician Stephanie Benson, actress Lydia Forson, and more who have openly expressed their views on the issue.

Internationally, high profile figures with Ghanaian or African heritage have signed an open letter in support of the LGBT+ community in Ghana, including actor Idris Elba, model Naomi Campbell, actor Boris Kodjoe, and editor-in-chief of VogueEdward Enninful. The letter expressed dismay at the treatment of LGBT+ Rights Ghana and called on Ghana's president Nana Akufo-Addo to protect the country's LGBT+ community. The letter has been signed by sixty-six Ghanaians and Africans in sectors such as movies, fashion and music.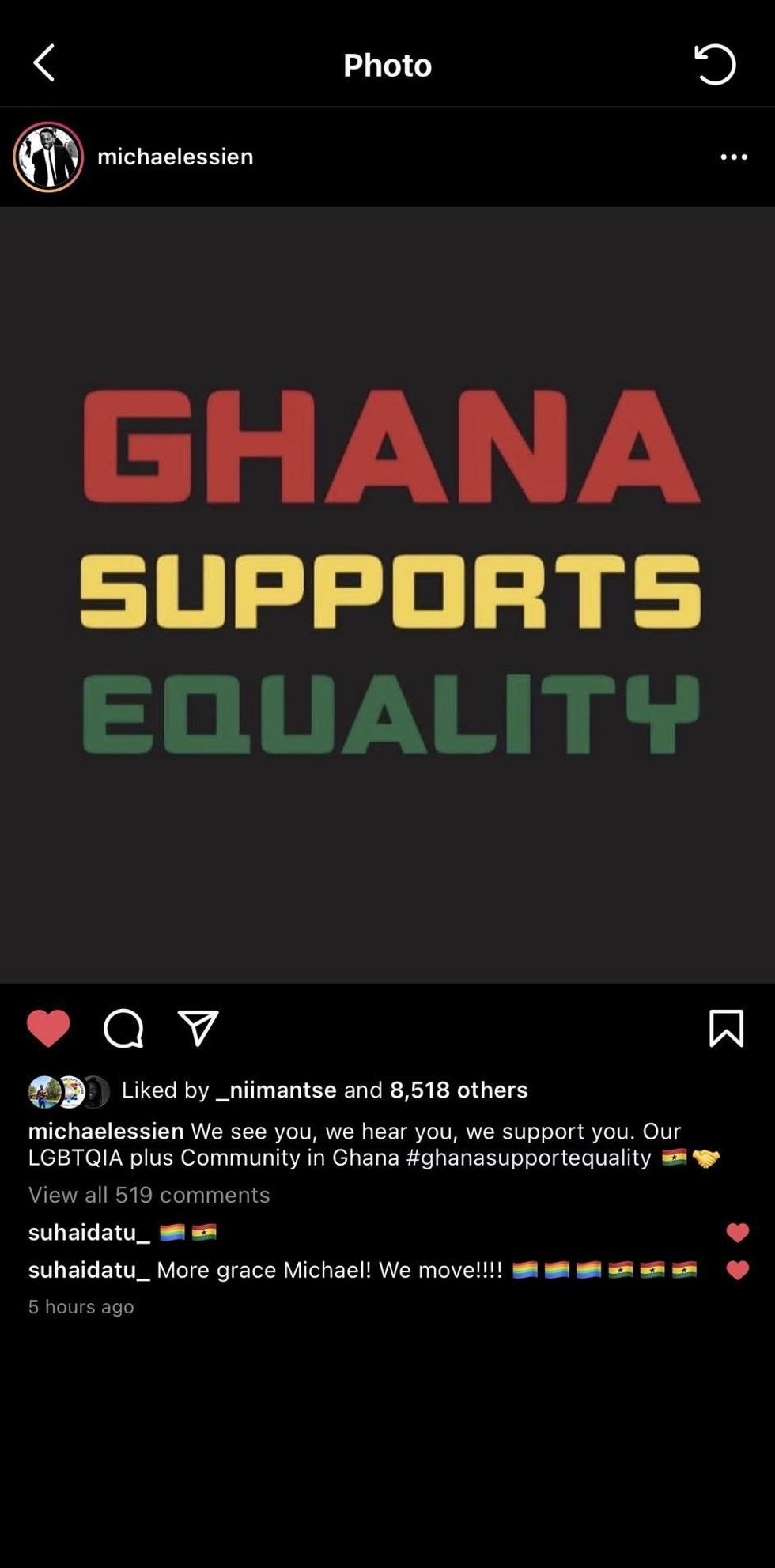 Screenshot of a since deleted Instagram post by footballer Michael Essien.(Instagram)
However, Michael Essien's support of the cause has led to public backlash. Yesterday, Essien called for more support for gays and lesbians in Ghana, insisting that they must be heard. "We see you, we hear you, we support you. Our LGBTQIA plus Community in Ghana #ghanasupportequalityGH," he wrote. Several Instagram users strongly reprimanded the ex-Chelsea star and former Ghana international in the comments of his post, which has since been deleted. This came right after President Nana Akufo-Addo boldly proclaimed that same-sex marriage will never be legalized in his tenure. Speaking at a religious event, he stated "I have said it before, and let me stress it again, that it will not be under the Presidency of Nana Addo Dankwah Akufo-Addo that same-sex marriage will be legal".

These and more show that even just supporters of the movement face backlash from those with an opposing perspective. It's a glaring example of the magnitude of the battle the Ghanaian LGBT+ community faces. However, a journey of a thousand miles begins with a step, and with the local and international support the movement has received so far, that step has been taken.