Earlier this year, Ghanaian singer-songwriter and producer Rocky Dawuni opened his keynote speech at the World Day of African & Afrodescendant Culture in Accra by saying, "Culture is our identity. There has never been a people who have been able to rise to their highest potential without having their culture as a means of stating who they are." This serves as the singular impetus behind Dawuni's recently Grammy-nominated album Voice of Bunbon, Vol. 1, which he tells OkayAfrica is a "sonic journey of empowerment."
On the heels of the announcement that the 2022 GRAMMYs Awards show had officially been rescheduled to April 3, Dawuni sat down with OkayAfrica to discuss the makings of his eighth studio album and its nomination in the category of Best Global Music Album, the cultural moment that popular African music presents to diasporic musicians and the diaspora at large, what it means to grow up in a royal traditional family of Bunbon, and what's at stake as African-rooted genres such as afrobeats become global and a part of mainstream culture.
Read our conversation below.
---
You say that Voice of Bunbon, Vol. 1 is meant to be a sonic journey of empowerment. You seem to be passionate about urging the public to think critically about current issues. And you drive an unequivocal message of love, joy and faith. Do you feel responsible to use music in this way?
I never really set out to use music to tell people what to be or how to live, but I do feel that we are all given certain gifts and certain gifts assume a level of transcendence if you are able to convert them as a means to empower the communities that we live in and also inspire our people to aspire to the higher Self. From the onset, I was seeing my music as a mission to express what is African to the rest of the world, first and foremost and, at the same time, to also serve as a bridge. So I see myself as a catalyst and conduit for cultural conversation and ultimately cultural understanding among our peoples.
Rocky Dawuni "Beautiful People" Official Videoyoutu.be
Conduit is such a relevant word here. Your music straddles Africa and the Caribbean to produce what you call afroroots. How would you personally describe the genre?
I would describe afroroots music as fundamentally highlife music. I was inspired by growing up in Ghana. Not only with highlife music, but traditional cultural music. As an artist, over the years, rising from those foundations, I embraced reggae music, I embraced various forms of global rhythms. My music evolved with this foundation of African music and acquired other aspects of global music. I see afroroots as an expression of modern African music, but driven heavily by the traditional foundations.
Would you say it is particularly important to draw ties through music between the Caribbean and West Africa today?
When we look at the legacy of slavery and the origins of Africa and people of African descent, who through slavery where transplanted in different parts of the world, music became the medium by which we tied and connected to Africa, by which our origins were kept alive over generations and over time. It's upon those foundations that artists like myself see fertile grounds to nurture this connection and magnify it because it is a living, breathing spiritual connection.
Music and the arts have long been an indispensable bridge between us.
Right. And the more we start connecting the modern versions of our sounds, the more we build stronger bridges to align our hearts and purpose. In doing so to unify our people across generations and across historical incidents like slavery and colonialism, and various system setups that wound up dividing us from each other. Music has become very relevant, especially right now, in the wake of George Floyd and all the going ons of people of African descent and Black people around the world. There is a need for us to connect and know that we stand for each other. I feel that this moment gives music such deep purpose and urgency. To connect the sound from dancehall to afrobeats to highlife and all the variants of incredible music that you can find both within the continent and around the African diaspora.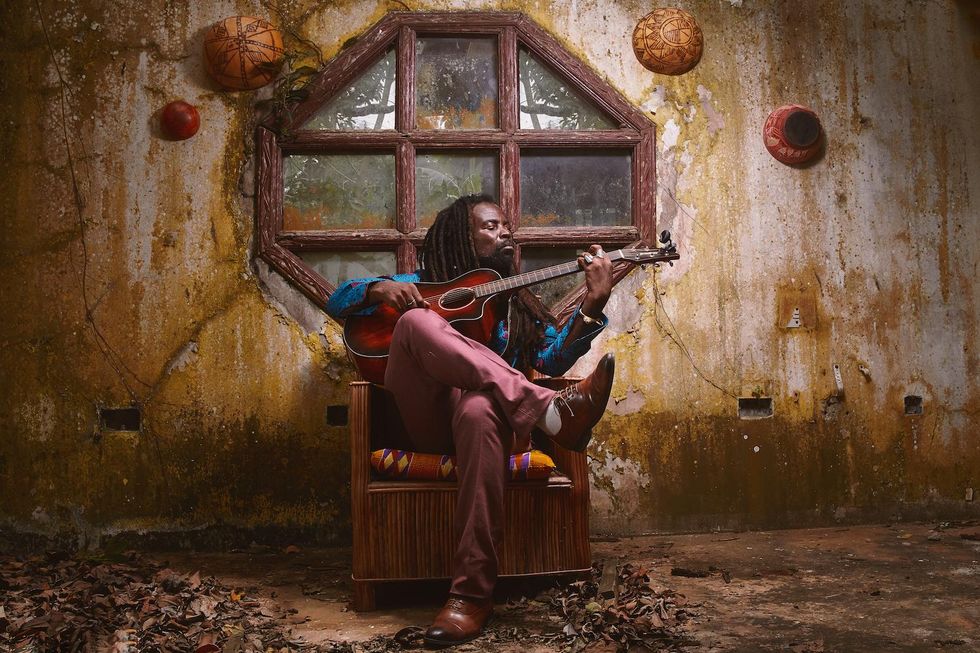 Rocky Dawuni.Photo: Treyz Kapture Studio.
In "Beautiful People" you visit your hometown of Bunbon. Could you tell me a little bit about growing up in the royal family of Bunbon and how that impacted your daily life?
Shooting the "Beautiful People" of my homeland in Bunbon was just exciting. Coming from a traditional royal family, the traditions were always imprinted upon you as the most important thing. Once you know the traditions and the people understand the traditions and the people are connected to the traditions then people never lose their way. Becoming a musician with such foundations I felt music was the tool to tell our story, much like the ancient African griots. To celebrate who we are and at the same time utilize music as a means to bring joy, positive energy and happiness to our people. Being brought up by a traditional royal family gave me the ability to also put the people and community first in what I do. To use the music and every muse that I have to tell our stories.
As African music continues to become more and more international, what would you say is the responsibility of non-Africans creating and participating in its genres?
As African music becomes more international and global, just like every style of music that got its inception from Africa, whether directly or indirectly through our brothers and sisters in the diaspora, eventually they become adopted. And sometimes the dangers are that they are rebranded, given such a name, and then the African aspect of it is usually eroded or diminished. In the end, African music growing in its power and glory across borders and gatekeepers is a good thing. We came from Africa so it should be out in the world.
Congratulations on your second Grammy nomination. Congratulations on being the first to rep for Ghana. How would you feel if later this year you took home that Grammy?
Being nominated for the Grammy is a great honor. It's a great honor to be recognized by your peers. Having the opportunity to be the first Ghanaian to be nominated and then earning a second nomination this year is a great honor for me, in all honesty. As an artist working and bringing my music and also trying to cross new audiences all the time, I think it shows that Ghanaian music has come to the fore in a big way. The whole world should take notice of how much incredible music that is coming out of Ghana and ultimately all of Africa.
What is the bigger win, here, if you don't?
On that day, if I'm announced the winner it will be a great glory for Ghana and for Africa because it also shows the diversity of sounds and artists that are present in the continent. Which we know is a huge one with various musical powers and forces. It would be an honor and testament to that diversity. For me though, regardless and in the long run, I've already won