A great piece of music can be even greater with an aesthetically pleasing artwork. While the music is the focus, a brilliant visual representation is equally as important, especially in this age where digital media plays a vital role in music campaign rollouts. An artists' album or single artwork is generally the first thing listeners experience about a release — it has the power to either build anticipation or put listeners off completely to want to scroll on to something else.

Whether the cover art is a photograph of the artist, collage, caricature, painting, or digital art, some Ghanaian artists understand the worth of creating a separate work that can stand independent of their music.
From psychedelic and afro-futuristic themed album covers of Osibisa, and simple photographs of bands in the vinyl age, to portraits of artists on CDs and cassettes in the Walkman and Discman era, to the images artists use to announce new projects have changed with the cultural and evolving lifestyle of every generation.
We spoke to some of the artists who consistently push boundaries with their cover art for Ghanaian music. Some of these artworks would feel just at home in art galleries, or on the walls of their core fans, years after the songs they represent fade off the airwaves.
---
M.anifest 'Nowhere Cool' cover by Kudzanai Chiurai 
Making cover arts has been a great introduction for some to their favorite artists. "I come from an era when people walked around with their Walkman. A time when we people used to buy CDs. If I entered a store to buy a CD I know, what draws me to something I don't know is the artwork," M.anifest tells us.
The goal for this artwork is simple. M.anifest and Zimbabwean artist Kudzanai Chiurai wanted to create a piece of art people would love to have on their walls even if they didn't know the music. "After talking to Kudzanai about the album, he asked me to fly over to Cape Town," M.anifest shares. In Cape Town, Kudzanai photographed the rapper on a set he had already built for a project.
In the photograph, M.anifest is dressed in a leopard print suit, posing with a shopping cart staring avoiding eye contact with us, evidently "Shopping for Jesus." His name and the project title faintly inscribed at the top."I am obsessed with other art forms that aren't music. People should want to print my artwork and put it on their walls even if they don't like the music," he boasts.
Ria Boss 'Bloodbath' cover by David Nana Opoku Ansah
Let's get this out of the way, Ria Boss is crazy about her nails. Back in 2019, Ria started a project where she released an EP every Friday until her birthday in November. Similar to Kanye West's GOOD Fridays she called hers Thank God It's Ria. Bloodbath is the fourth body of work under that series.
"Bloodbath is the project I call my rage baby," Ria tells OkayAfrica. "I had a lot of anger, and it felt like something in my life was being broken and born again," she recalls. Her rage, anger, and pain are beautifully captured in this gory yet beautiful artwork.
Photographed by producer, photographer and filmmaker David Nana Opoku Ansah, Ria's hands are covered in blood, some of her long nails broken with blood dripping off the rest. Going up, her arm isn't covered in blood denoting rebirth from a place of destruction. "Initially, we agreed to photograph Ria bathed in animal blood," David tells us. Finding enough blood seemed impossible, and the afterthoughts of unknown health implications deterred them from going extreme with creating this artwork.
To Ria, cover art should tell what the soundscape experience will be. "I love artworks that evoke some sense of nostalgia while staying on theme like Kojo Cue's 21 Memory Lane," she adds. "Efya's Janesis is one of the most iconic artworks to come out of Ghana. Hanson Akatti is such a phenomenal designer"
Efya 'Janesis' cover by Hanbson Akatti
Hanson Akatti is indeed phenomenal. For his cover artwork, he takes inspiration from the 1960s and '70s. "It was the golden era for album covers and graphic arts in general," Hanson explains.According to Hanson, the day that spawned the Janesis cover started with driving around with Efya photographer Charles Lawson for a shoot. One of the photographs from this session would later be distorted to create this artwork for Efya's debut album.
"I wanted to create some sort of iconic imagery inspired by David Bowie's pop art," Hanson shares on his inspiration. The teardrop on Efya's face is a reference to the lighting flash across the face of Ziggy Stardust, David Bowie's character from his iconic 1972 album. "The teardrop represents emotion, passion, and all the things that make us romantic human beings. The different lights symbolize the different personalities of Efya, but it's also open to everyone's own interpretation."
Fokn Bois 'FOKN WIT EWE' cover by Hanson Akatti
"Artworks are the beginning of the performance. Once they see the artwork, they have started listening to the song with their eyes," Wanlov tells OkayAfrica. The cover for Fokn Wit Ewe carries subtexts of relevant social and cultural moments in Ghana's news and pop culture from 2012. After almost a decade, both artwork and the project's themes are still topical. "We're fans of Lemi Ghariokwu's artworks for Fela Kuti," Wanlov shares. On most of Lemi's work, the subjects the afrobeat legend sang about were seen in caricature form.
After sketching some designs, FOKN Bois' Wanlov and M3nsa reached out to Hanson Akatti to bring their vision to life. The artwork depicts the duo in bed with an Ewe, under a Ghana flag sheet, bearing the title of the social commentary rap album, as aliens watch over them. Under the bed, a Bible lays on top of a Quran depicting the Christian dominance in Ghana. Bleaching creams on both sides of the bed, fan art of Bruce Lee on the right side of the wall and Haile Selassie on the left. On either side of the floor, there is a newspaper carrying the biggest headlines of the year, a campaign poster of Barack Obama, and the group's name.
Hanson's inspiration for this art was inspired by cartoons grew up watching on Ghana Television. "Most of those cartoons were influenced style by Pablo Picasso's cubism," Hanson recalls. "His main inspirations were West African design language. The geometric nature of our face masks gave him ideas and philosophies for cubism," the designer adds.
Pure Akan 'Onipa Akoma' cover by Pure Akan, Francis Kokroko & Daniel Mawuli Quist
Some of the best covers are simple photographs. "There weren't enough artistic approaches to the artworks of the songs that I listened to growing up. It was often an image of the artist or band slapped on the cover," Pure Akan shares his earlier experiences with music artworks. The photograph on the Onipa Akoma cover reference the themes of the album: rap, highlife, and folktales. Onipa Akoma is a personal reflection of humans and themselves, as well as the relationship between morality and spirituality.
On the cover, Pure Akan is clutching a Bible to his chest with one hand and a wedding gown resting on the other hand. He is standing in front of a church with a cross on the top. "The Bible represents the spiritual side of humanity which is necessary on this journey called life," he explains the concept. "The wedding gown signifies our desires, the church and the cross in the back denotes the morals of the world," he adds. The making of this album cover was a collaborative effort. Pure Akan, photographer Francis Kokroko and stylist Daniel Mawuli Quist wanted to create something that depicted Ghana both socially and culturally.
Rvdical the Kid 'Little Planet' cover by Araba & Reiss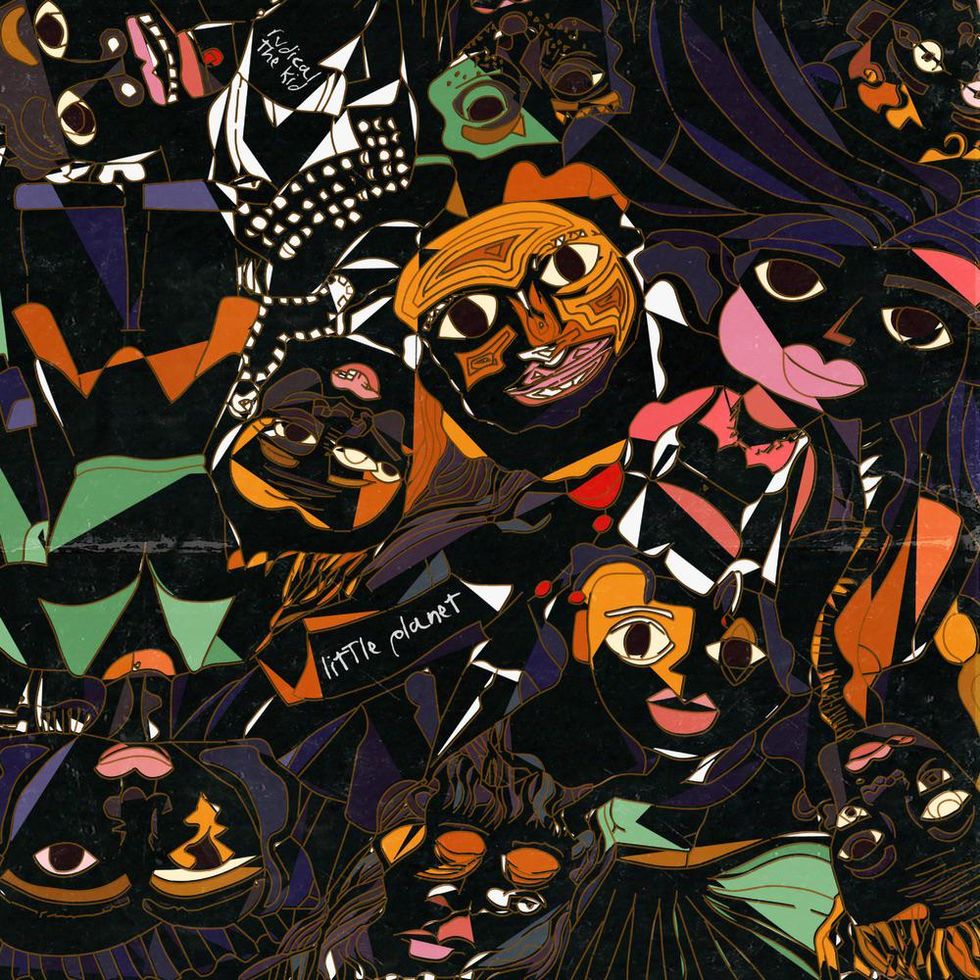 On the cover of Little Planet, people are outlined in what look like single stroke lines seamlessly interacting among themselves. They're mismatched and collaged, blurring the lines between the characters. "The characters are the featured artists on the project," Rvdical the Kid explains about the artwork, which was inspired by his love of the vinyl era.
"Artworks are as important as the music. Artists who don't invest in their artworks aren't serious about what they are presenting. The artwork needs to be able to exist without the music," Rvdical explains. "Reiss colored it in a way that melted into the characters Araba had drawn. When you are collaborating with people, you want to fuse every part of your being to whatever it is that they are bringing to the table," shares the collaborative story behind the album art.
Rvdical is colorblind, and judges 'colors' based on how they make him feel. The tones matched exactly what he wanted, but he still felt something was missing. "I inverted the artwork and immediately saw a face staring at me. That was when I knew we were done," he explains.
Bryan the Mensah 'Not Going Outside' cover by William Tabbica
Bryan The Mensah's artworks are all hits, there's not a single miss. Days after announcing Not Going Outside, a lockdown was announced in Ghana. "That was purely coincidental, and great timing," he shares. In a photograph by William Tabbica, the rapper is seen in his pajamas, holding a mug and looking outside from his living room. In the back, the television is on, and yellow balloons float behind him. "I am comfortable in my own space, and happy to be in my lane," the rapper explains about the concept he designed.
Cina Soul 'Matanoia' cover by Tano Jackson
There have been incredible album covers that pay homage and compliment the communities the artists call home, like M3nsa's No. 1 Mango Street,R2Bees' Site 15, and Pappy Kojo's Logos II. Cina Soul's Metanoia is another great example. "Metanoia is my debut EP, so it only felt right to go back to my roots," Cina Soul shares. "I didn't want to create a cover art that was so traditional because I knew the songs would do that," she adds.
The dark artwork sets her sitting on a canoe with the historic Jamestown lighthouse towering over her. "It's minimal with an ethnic feel to it. From a distance you can tell that there is more than one shade of activity happening, and you might miss the canoe," designer Tano Jackson explains. "The canoe is a subtle hint of my people being fisherfolk, the lighthouse pointing me in the right direction as I go through my career," Cina adds.
Darkovibes 'Kpanlogo' cover by Kwame 'Midichi' Adjaye
Ghanaian contemporary visual artist Kwame 'Midichi' Adjaye is known for his eccentric representation of characters with exaggerated eyes, in a blend of realism and port art.
After listening to Darkovibes' Kpanlogo, Midichi scheduled a meeting to discuss the themes of the album with the artist and his team. "Most of the songs are about love, and affirmation of beautiful women," Midichi explains. The cover is a portrait of Darkovibes between two figures drawn in a pop of bright colors. Even with beaks where their mouths should be, the women are beautiful. "Those two figures represent the women on the album," Midichi adds. The strokes at the bottom are the drums, signifying the heartbeat of the genre because there is really no Kpanlogo without drums.
SPECIAL MENTIONS (Amaarae, R2Bees, Pappy Kojo & more)
Though there is no certainty that an album will be automatically good based on their artworks, these ones listed and these special mentions are great both sonically and visually. And we'd recommend you give these records some spins.