When Ice Prince's first album arrived in 2011, it was replete with a blend of chilled, exciting hip-hop and colorful, bouncy pop tunes. His persona oozed newness. A young chap whose clothing style and intonation matched the kind of music he was making. The rap was distinctive, a mix of punchy flows and sharp lyricism with particular emphasis on storytelling. He alongside Wizkid and Olamide had injected dynamism and freshness into the scene and they were all armed with popular debut hit songs.

For Ice Prince, it was "Oleku," one he regards as an anomaly. "First of all I don't like to refer to Oleku as a hit," Ice Prince boldly blurts out about his debut, although he admits "it's a classic, timeless song." It's been a decade since "Oleku" rang around in clubs, serenaded end-of-the-year school parties and turned into a tune which enjoyed heavy rotation on radio. It's what comes to mind when the name Ice Prince pops up anywhere. The song is like a trademark to him but now in 2021, Ice Prince is so much more than that.
Rising from the northern Nigerian city of Jos to emerge as a symbol of Nigerian music, one that led to a meeting with Jay Z and ultimately winning a BET award in 2013, Ice Prince's past is well stocked with feats and achievements.
The energy he arrived with in 2011 hasn't simmered down any bit. The same mindset from his debut album still remains but now it's infected with some new life philosophies, garnered from both the good and ugly moments of life. His cool attitude persists, cuddled with his fiery energy from his ferocious rap style.
Now signed to 300 Entertainment, the same label of American hip-hop stars Young Thug and Megan Thee Stallion, Ice Prince feels no pressure. He has his eyes set on what's coming, buoyed by his feats and experiences in time past. His fourth studio album is almost done, he tells me via phone call on a hot Thursday afternoon.
This conversation has been edited and condensed for context and clarity.
---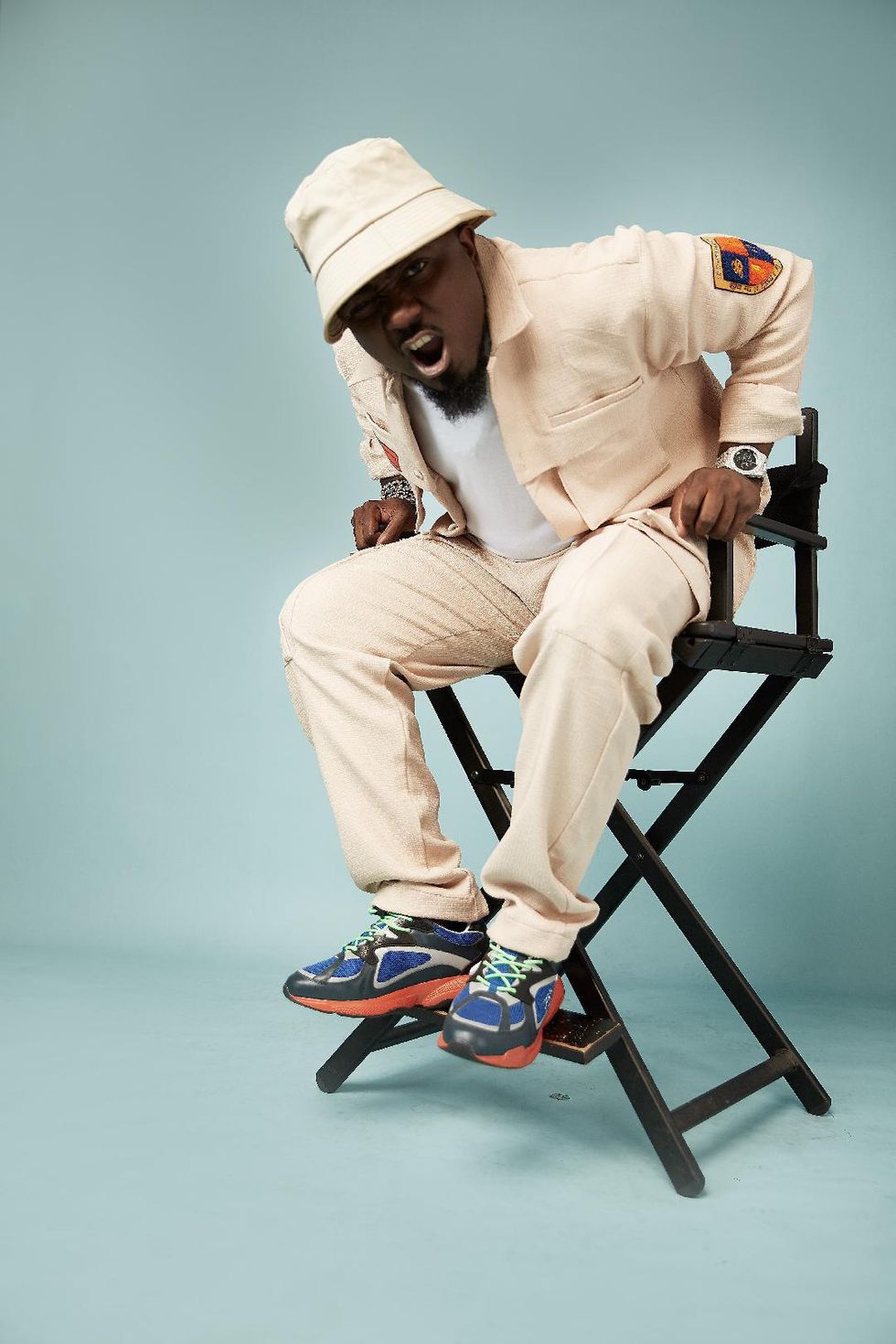 Ice Prince Photo: Bolaji Odukoya
You have a new record with Oxlade, "Kolo," a delightful Afropop track. What inspired it?

The new school vibe inspired that record. A lot of new music that's out right now that's a little bit different from what was attainable like five years, ten years ago. There's a new sound that exists right now that's so inspiring, that's so melodious, so Afro, you know the whole world is Afro right now.
So one of the biggest inspirations behind the song is the time that we're in and also that last year was a pandemic year. There's a lot of crazy, confusing kind of love in the air. So I fell in love with this girl that got me kind of crazy and I wanted to make a song about a girl making me crazy and that was literally all I said to Oxlade for him to come up with that amazing hook and Egarboi laced the beat for us. I did my thing on it and yeah man, we gave the video to UAX studio to make it happen for us and here we are right now.
"You know the whole world is Afro right now."
Many know you as Ice Prince, and also there are some folks that know you as Panshak Zamani, what's the difference between those two worlds?
I've actually never heard that question before. I think the difference between the two, off the top of my head is that Panshak Zamani is fire and Ice Prince is ice. So it's fire and ice, that's who I am. That's actually the name of my next album. Fire and Ice. My next album will be both Panshak Zamani and Ice Prince.
Ice Prince - KOLO (feat. Oxlade) [Official Video]youtu.be
Let's take it back, what initially made you settle on music?

For me, music at some point was my only option. That was the only option I had because I had to drop out of university two months in. I didn't spend up to two months in school and I had to drop out because of some measly 20,000 Naira at the time (maybe $50 or $60 at the time, I'm talking about 2006/2007) I dropped out of school because I couldn't afford a small amount of money and the only place I could keep myself out of trouble, out of the street life was the studio.
I just literally became a studio rat from there on and luckily for me it was around the time when MI just moved back to Nigeria from school in America and it was about the same time me and Jesse Jagz were in the same church. So it was easy for me to find a family in the Abagas around the time I was going through a tough period, it looked like my future there was no school anymore and it was just music for me after school didn't work out. I'll say the fact that I wasn't able to go to school was what pushed me into doing music.
"The only place I could keep myself out of trouble, out of the street life, was the studio."
It's been over 10 years now since the release of "Oleku." What inspired the record? How did that song come about and what impact did it have on your career going forward at that period?
First of all, I don't like to refer to Oleku as a hit. It's a classic. It's a timeless song. It's not even a song, it's an anomaly. It's something that even I personally cannot explain to you. Any artist could have made that song. Anybody could have sang that song. I think God just chose me for whatever reason you know, you can't explain what God does.
"Oleku" is not a song, it's a classic. And the inspiration was, I'll say God gave us that inspiration because Jesse Jagz made that beat under ten minutes. I've been saying this for the past ten years and I really mean it. We didn't really know it was going to really be like that. When I submitted the song to my label, Chocolate City, it wasn't like the top choice; it wasn't a song on the release plan. There's a story on how the song was released. It was leaked by Anuel, the official photographer for EME back then. Anuel was in university at the time in Minna and we went to perform in Anuel's school and I left the song on Anuel's computer. Somehow the song leaked and it became very big in Anuel's university, Futminna. From there on, it just became a global smash and even the record label couldn't stop it at that point. It just became something that was big. I wouldn't say "Oh I was thinking about something," nah it was just God. Inspiration from God, it's not a song, it's a classic. It's timeless.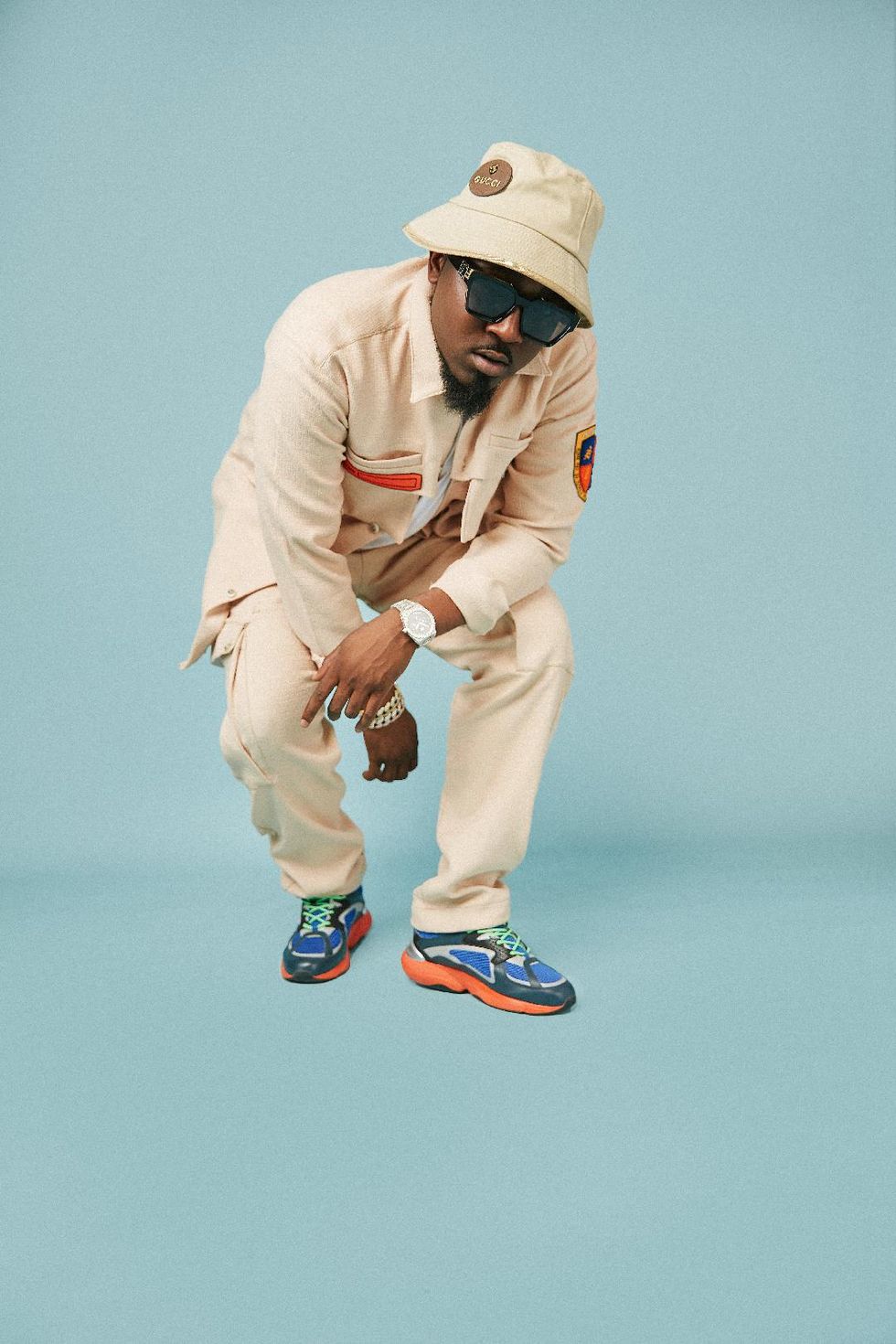 Ice Prince.Photo: Bolaji Odukoya
You mentioned you're making an album, do you feel the urge to try something new?

Yeah. It's not even an urge. It is supposed to be like that. You know, you can't keep doing something over and over again. Like you always have to reinvent yourself, come up with something new, something fresher. So it's not even supposed to be an urge, it's not even like I'm supposed to be out here urging to be new. So most definitely I've been working on this album for the past four to five years now.
My last album came out in 2016 that is, Jos To The World. And so my fourth studio album, like you can imagine how much time it's taking me to write. And in between those times, music has changed in so many different ways. So many artists, so many new sounds, new beats, new producers, new ideas, new topics to talk about. Most definitely, everyday I'm out here trying to reinvent myself.
Last year, you signed to 300 Entertainment. How did it happen and how do you feel being in the same record label with Young Thug, Megan Thee Stallion, and Gunna?
It's an honor to be signed to 300 Entertainment. Like it's a privilege, it's a big platform. Inasmuch as it's a big move for me, it's also a big move for them. I got introduced to 300 by my publicist, Rickie Davies. She's been my publicist since 2012. I don't know if you know this but "Oleku" was the first Afrobeats song to be played on BBC1 radio, this is back in like 2012.
Rickie was the one that made that kind of move happen. She's a day one family of mine, Rickie just called me out of the blue one day and said 'yo Ice I have this deal on my table and I think you're the one who deserves it the most.' That was what she said to me.
300 is the label but my management is a whole different company. My management are all Africans. I have DapperDamn out here with me In Nigeria, Hadja Kobele, she's from Guinea, Nigel who lives in America but he's Nigerian. And Rickie Davies is Ghanaian. My management is all African.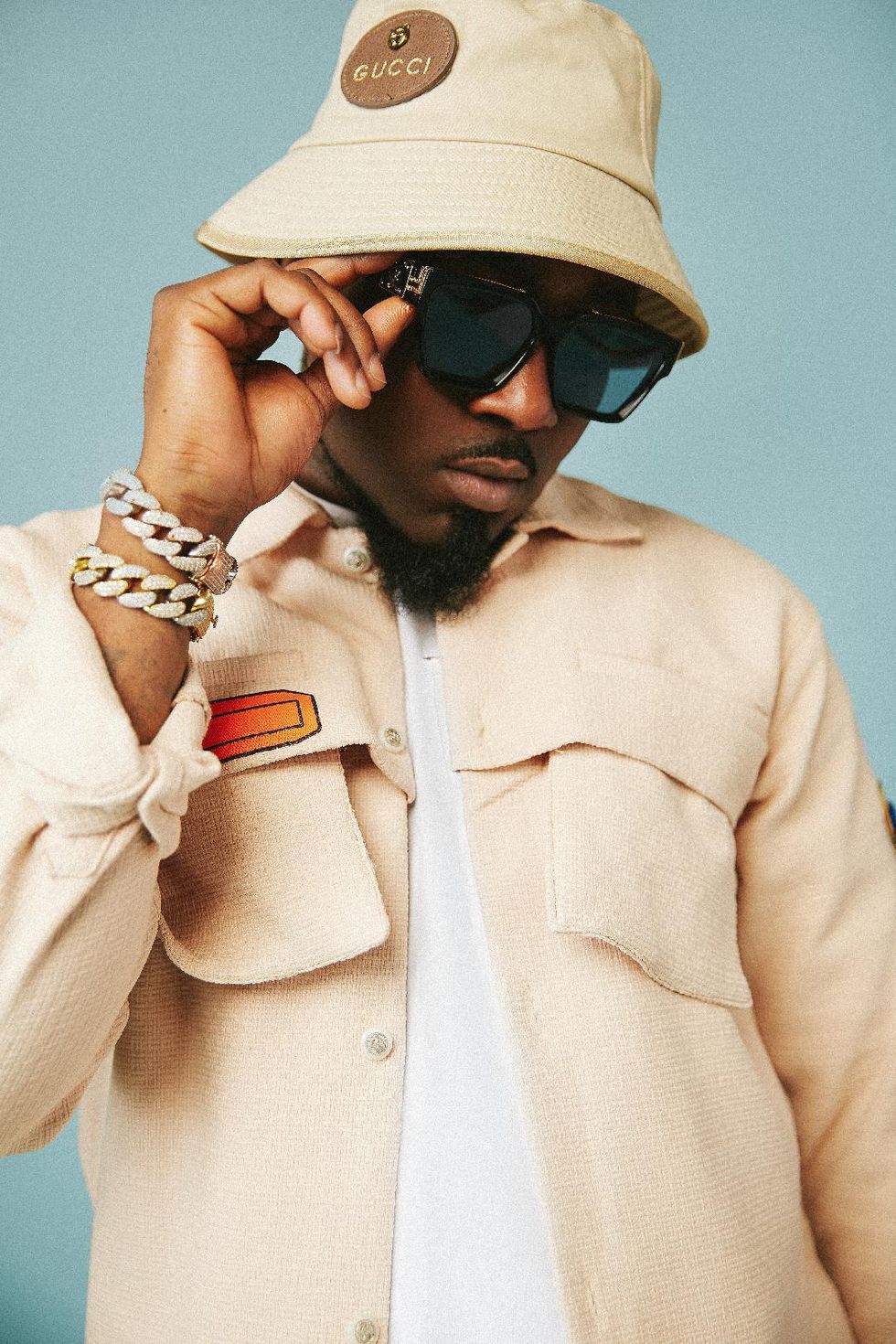 Many feel like for a couple of years, you took a break and the intensity dwindled. Now that you're signed to a record label, there are huge expectations from you.They feel like Ice Prince is back. How was that period for you?

You know what's crazy is that I don't feel like I've gone anywhere. That's weird. I feel like I've been there, I've been right next to you. So maybe you just love me such that you've missed me so much. I've always been there. I did one of the biggest reality TV shows with Linda Ikeji on Linda Ikeji TV. I gave you records with Masterkraft, I did one with Yung Willis titled "Feel Good." I've been there.
I totally understand, I totally get it. The expectations people have of me sometimes can be a little bit overwhelming. I don't take it as a bad thing. I see it as a good thing actually. If people don't expect from you, then what are you really doing? If people are expecting something from you, it's a good thing.
My vision right now is way beyond one place. My vision is to see Africans really do stuff. I want to see Ghanaian artists collaborate with Kenyans. Nigerians do stuff with South Africans. Angolans do stuff with Rwandans. That's where my vision is. Recently I won't even lie to you, I've been working with pan-African artists. Me and my man Sarkodie have something crazy that's about to drop apart from the Oxlade record. Me and Khaligraph Jones and Koffi Jammar just put out something and it's one of the biggest rap songs in Ghana right now.
I don't really pay attention to what people say about me or people think about me as long as you hear from me and you're happy to hear from me, I'm happy and I'm good to go.
How was 2020 for you? You said you wanted to release an EP last year but that didn't happen.
Last year was rough for everybody. My last single "Make up your mind" was supposed to drop in March but it dropped in December. But luckily for me, I'm not such a heavy spender, I'm able to balance my life with some of my reserves or whatever I have left in my account. I went through a whole year with that. I did no show until December when I got back on tour with Hennessy in December 2020 and we started making money there.
But then the whole year was quite rough and all we could do was lock ourselves up in the house and make music
2020 for me was good, I'm lucky enough that I was able to at least release something for my fans, "Make up your mind" and I hope they're loving it. The only ugly thing about 2020 was the EndSARS protest in Nigeria and I wish and hope that we never have to go through that again and I pray that our government and we citizens can co-exist without us having to report the police all the time, I just hope we never see that darkness again in Nigeria. That was my darkest part of 2020 alone.
I checked your Instagram and saw you were in the studio with Ikechukwu and Naeto C recently. I know you want to be discreet about your forthcoming album, but what should we expect?
Expect the worst and the best. The good, the better and the ugly. In fact, I don't want to be discreet. Let me tell you, I have a couple of Tempoe beats on that album. I've given you titbits like that. And there's Blaq Jerzee too.Recently I was in Jos and I spent a good amount of time with Jesse Jagz in the studio, I spent a good amount of time with Sammy Gyang, because those are my original producers from like the first two to three albums. I still find time as much as I can to spend time with my oldies in the studio. Me and MI have been going back and forth on different beats. I've been sending MI a lot of my ideas to see how he can help me to finish it up. Inasmuch as I'm still rooted to my roots, I still realize that the future is coming and I'm trying to align myself with that future. On my next project, you're going to be hearing a lot of new producers, new artists, new shit basically.
Will you be baring your life experiences on the album?
100% from the intro. The intro is called "Ride With Me." Produced by Sammy Gyang. Sammy Gyang is the producer of "Whiskey." I say a whole lot in that intro. I can't wait for people to actually hear, you know I don't play with my intros. From my first album to my second, to my third, I don't joke with the intros. That's another second clue I've given you.